Ghost Tours in New Jersey Where Big Kids Can Investigate Paranormal Activity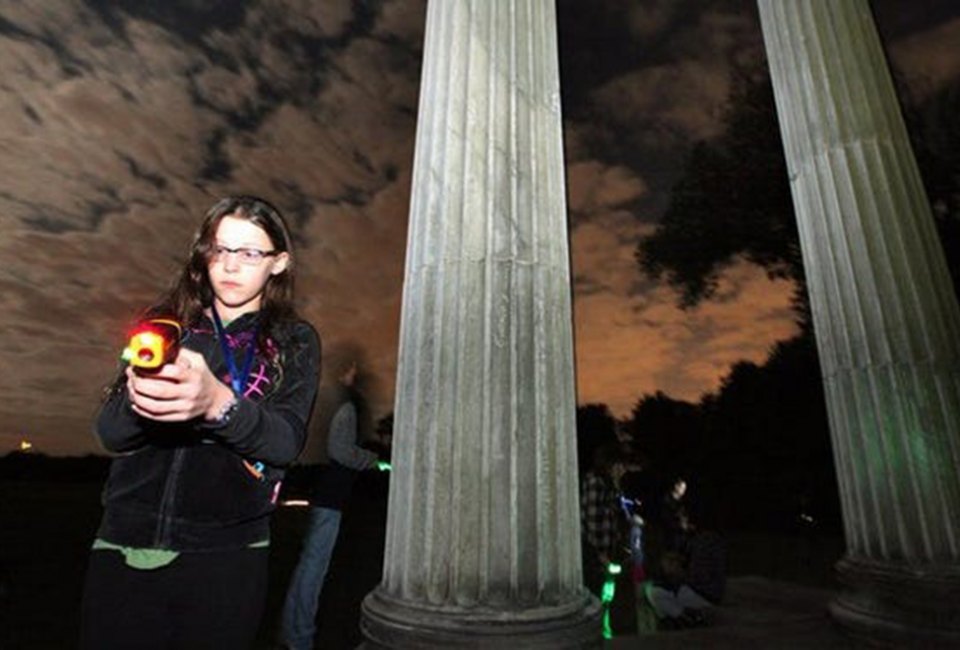 10/4/21
- By
Kaylynn Chiarello Ebner
Halloween is just around the corner and if your kids are like mine, they're already planning how to build an epic stash of sweets and spinning spine-tingling spooky tales. My younger son is all ears when it comes to scary stuff, whether it's the Jersey Devil or the Legend of Sleepy Hollow. So, this year, we decided to try something new: a walking ghost tour. There are several well-known ghost tours near New Jersey, offered both seasonally and year-round where amateur paranormal investigators can embark on an after-dark expedition.
Before buying tickets, though, I wanted to make sure my son was really ready for a more grown-up outing. After all, there's no getting around the serious topics we'd encounter. So I grilled him: Would hearing ghost stories frighten him, or would he find them entertaining? Did he mind a late night and a walk in the dark? Would he have the patience to be on his feet for more than an hour? After a bunch of enthusiastic responses, we booked our tickets and headed out. Read on for details on our night and a handful of spooky spots where you can embark on your own Garden State ghost tour, and find more seasonal happenings in our Guide to Halloween Activities in New Jersey.
Our tour guide led us by lantern through the streets, stopping at various sites to tell us stories of phantom carousel music, the lady in the lake, the blue ghost, and other unsettled spirits. Most stories started with a bit of a history lesson about the area and buildings before revealing things that go bump in the night. At first, I was worried it would be too slow-moving for my child, but he got totally caught up in the tales and listened attentively. It helped that our guide was super engaging and each tale was only about 10 minutes, so there was a lot to see and hear. Overall, we had a great time, but ended up calling it a night after about 90 minutes when bedtime called.
I have to admit; while we loved our ghost tour, it may not be appropriate for all kids. But if you have a teen or tween who loves a good scary tale and has the patience to take it all in, these ghost tours are an awesome bonding experience for the whole family (grandparents included).
Read on for more details on the Asbury Park tour, plus other locations offering ghost tours in New Jersey this fall:

Go on a lantern-guided ghost tour in Asbury Park. Photo by the author
Paranormal Books & Curiosities hosts lantern-led ghost tours most of the year on Friday and Saturday nights, as well as boardwalk ghost tours during the summer. Hear all the untold secrets of the historic downtown district, visit scenes of ghastly crimes, and find out the truth behind some of New Jersey's spookiest ghosts. Tours are about 90 minutes, so be prepared to be on your feet for a while.
This annual event, hosted by the New Jersey Ghost Organization, takes a tour of the historic Old Bridge District in East Brunswick. Explore the haunted history of this little village with real paranormal investigators. The walk is limited to public streets and is stroller/wheelchair friendly. Tours are held Friday and Saturday nights from Friday, October 15-Saturday, October 23, and step off at 7pm.
These lantern-lit walking tours are held Fridays (Red Bank) and Saturdays (Keyport) from August through Halloween at 7pm and 8:30pm, rain or shine. Tours last anywhere from 60-90 minutes and routes follow town sidewalks.
RELATED: The Best Halloween Events in New Jersey for Families in 2021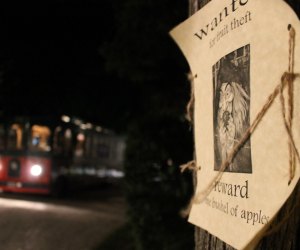 Take a 30-minute trolley tour through darkened streets of Cape May beneath flickering gas lamps and discover the history of the Cape May ghosts.
Ride around Cape May in a trolley as you hear tales of the town's haunts. These tours are pretty short (30 minutes or so) and are held several times per week.
On Fridays and Saturday nights in late October, take a PG-13 rated tour through Princeton's spookiest spots. Guests use science and technology to track down souls of the past and hear spooky legends from Princeton's history. Ghost hunter guides train guests to use EMF meters, dowsing rods, therma-meters, and the Psyleron Lamp to interact with the other side. The tour enters the cemetery of Nassau Presbyterian Church, and while you won't conduct any investigations there, you can see the resting places of some famous locals. Stories are uncensored and border on graphic.
In addition to these recurring tours, Haunted History Productions offers single-day ghost walks in October such as the Woodbridge Ghost Walk on Saturday, October 9; Campfire Stories, Ghosts, and Legends in Cranford on Saturday, October 16; Haunted Somerville on Saturday, October 23; and Mischief Night Madness in North Branch on Saturday, October 30.
Unless noted, photos courtesy of the tours
Places featured in this article:
---
Paranormal Books and Curiosities
---
Cape May Trolley Tours
---
Princeton Ghost Tour/Hunt & Cemetery Visit
Sign up for the Mommy Poppins Newsletter today!
i