Grounds for Sculpture: A Hidden Gem in New Jersey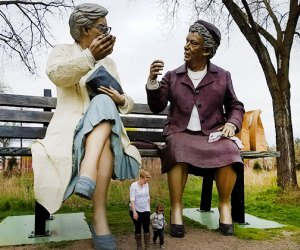 5/8/17
- By
Cait Sumner
With 42 acres of gardens and sculptures, the Grounds for Sculpture in Hamilton, New Jersey, is perhaps not your typical family museum or park outing. Yet, even my 2-year-old was fascinated with the various art we discovered, including many pieces that towered well over both of our heads! Plus, he absolutely loved being outside and walking around the grounds, which are built on a portion of the former site of the New Jersey State Fairgrounds.
Situated just outside of Trenton, and just over the state line from Pennsylvania, the garden draws in visitors from all over. There are fun surprises hidden around seemingly every corner as you explore the grounds: a spray of mist, a lotus pond, little bridges, peacocks, and more. Whether you're 2 or 92, this outdoor museum likely holds something exciting for everyone.
Although I had heard about the Grounds for Sculpture, I didn't really know what to expect, or whether or not my toddler would be into it. So we checked out the FREE museum pass from one of our local libraries and hit the road for the hourlong drive from Philadelphia.
The first thing we noticed was just how big it really was! Be prepared to do a lot of walking, and definitely pack a stroller and/or baby carrier for younger kids. They will want to walk on their own, but they'll be glad for the occasional break (and so will your arms).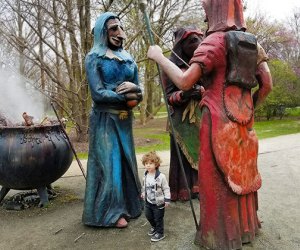 This statue included a cauldron that actually bubbled.
Founded by one of Jersey's own famous sculpture artists, Seward Johnson, the nonprofit now boasts nearly 300 sculptures! If you're worried your child might not be interested in looking at sculptures, don't be. There are life-size people, giant 25-foot tall sculptures, great photo opportunities, a hidden statue of Venus with a mist feature, and so much more. It almost feels like you're traveling through a maze of artwork. We loved the little bridge, Monet's Bridge, that took us toward "Rat's Pond" and the restaurant. There were also a number of sculptures that took their cue from famous paintings, including "Dans la Serre," or "In the Conservatory" by Édouard Manet, which I happily posed next to (see photo below), and of course, a good deal of works from Seward, too.
The park is divided into several sections, including a Sculpture Court, Lakeside, Museum Orchard, and more. You might want to peek at the map ahead of time to zero in on which section(s) your family wants to visit most, or even click through the pictures of some of the artwork and artists to find any must-sees. In hindsight, we might have skipped "The Meadow" section, because there was less to see there and it was a bit of a hike.
Although climbing is not allowed on any of the statues, it's OK to touch most of them, making it perfect for curious little hands. Each statue has a little sign that indicates whether or not you can touch it. The indoor art section is not for touching.
RELATED: Storm King: An Outdoor Sculpture Garden with Room to Run in Westchester, NY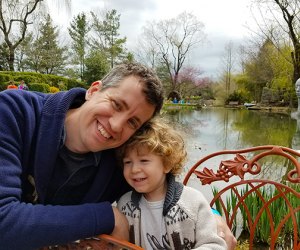 Enjoying the beautiful view at Rat's Restaurant.
It will take some time to walk and enjoy the whole of the gardens, so I recommend going in the morning and staying for lunch. You can pack a picnic lunch, which is probably you're best bet. There is a lovely French restaurant, Rat's Restaurant, on the grounds with a beautiful pond view and outdoor café seating, but it is quite pricey. We ended up eating here and it was delicious and beautiful, but had we realized we could have brought a lunch or known that there were also two cafés with sandwiches on the grounds, we probably would have opted to save the money. The Van Gogh Café probably would have been our next choice. It's aptly named for the artist who inspired it and looks much like one of his paintings. Both cafés also have outdoor seating and all the dining options serve beer and wine for mom and dad. Rat's Restaurant also has happy hours on weekdays and is accessible without full admission to the grounds. The cafés close early, so check the website for hours before you go.
The Grounds for Sculpture hosts a number of events throughout the year, including a Mother's Day picnic, regular "Tots on Tour" programs for little ones, outdoor movies in the summer, festivals in the spring and fall, and drop-in family art programs. Free tours of the grounds are offered, too. Check its calendar for what's coming up.
Overall, this little gem far exceeded my expectations. It's one of those family outings that both parent and child can enjoy, which makes it tops in our book.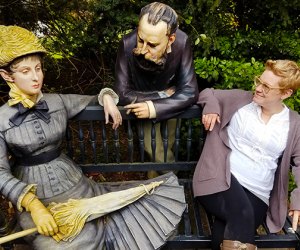 A photo-op with a sculpture that depicts the famous Édouard Manet 19th century painting, Dans la Serre.
Good to Know Before You Go
Bring water and pack a lunch—or splurge on grub from one of the onsite cafés.

Wear sunscreen and hats- you will be outside most of the time.

Bring a stroller and/or baby carrier; you'll be doing a lot of walking.

Wear comfortable shoes for walking and dress for the weather.

Buy your timed ticket online before you go (or check your local library for a museum pass! Children 5 and under are FREE.
Grounds for Sculpture is located at 80 Sculptors Way, Hamilton, New Jersey. It's about an hour from the Philadelphia area, and about 90 minutes from the New York City area. Memberships are also available. Parking is FREE. It's open year-round from Tuesday through Sunday. Closed on Mondays.
All photos by the author.