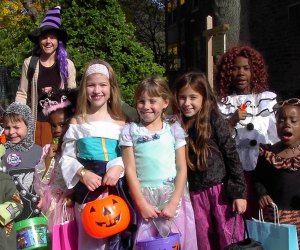 Top Trick-or-Treat Neighborhoods in Philadelphia
Philly is routinely recognized as one of the best cities in the country for Halloween trick-or-treating. So where exactly are the houses decked out in the spookiest decor, with families doling out the full-size candy bars? We're running down the best Philadelphia neighborhoods to trick-or-treat for kids, and even parents who've been known to sneak a Reese's pumpkin or two.
After COVID restrictions called off most of the door-knocking last year, Philly families are excited to hit the streets again for neighborhood celebrations. We've talked to local parents and candy-givers alike, and gathered up the top places to score some sweet treats. Native Philadelphians know that we always trick-or-treat on Halloween, whether it's a school night or not. But throughout the region, there's plenty of Halloween fun for little kids and haunts for big kids too, virtually every night of October.
Kids will definitely want to pound the pavement in Philly fully costumed, so we've got some inspiration if you're still searching for the perfect look. Once you're ready to go, read on to see which neighborhoods made the cut.
OUR LATEST VIDEOS
The Best Neighborhoods to Trick-or-Treat in Philadelphia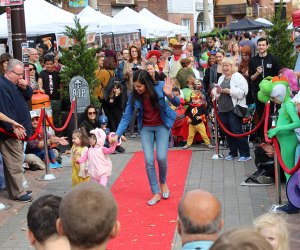 Don't miss the red-carpet parade in East Passyunk. Photo courtesy of East Passyunk
East Passyunk
The East Passyunk neighborhood literally rolls out the red carpet for Halloween, and costumed kiddos stroll down in style while neighbors cheer them on. The family feel of Halloween is palpable in this corner of South Philly, and events for families like this year's Fall Fest and Spooky Saturday will feature a photo booth and live music in addition to the costume parade. Heck, even the pets don costumes in East Passyunk. Its tradition for decorating, stoop sitting, and treat giving is nothing new, making it one of the most highly recommended trick-or-treat spots in the city. A few blocks are even shut down to traffic, so kids can walk around safely. Head to South 13th Street, especially between Reed and Morris.
Northern Liberties
Halloween is no joke in NoLibs, where the community comes together to make Halloween celebrations as memorable as possible. Many of the densely packed homes enjoy decorating and have participated in contests in years past. The Little Halloween Parade and Festival is back this year at Liberty Lands Park, so head there first for some kid-friendly activities, before going out to knock on doors and collect even more candy. Don't let Northern Liberties' reputation as a hipster paradise fool you, plenty of young families inhabit this neighborhood and make it a special place to be on Halloween.
Fairmount
Due to its close proximity to many museums, Fairmount is well-known as a wonderful neighborhood in Philly for families. Fairmount always welcomes Halloween, and offers rowhomes that are packed closely together. Little legs don't have to walk too far to get their fair share of treats.
Society Hill
Society Hill has its own spooky feel, as one of Philly's oldest neighborhoods, with nightly ghost tours passing through its cobblestone streets all month long. Delancey Street is blocked off to traffic between 2nd and 4th, so kids can walk around safely gathering treats. The residents here really go all out with Halloween decorations, making it a magical place to trick-or-treat. Three Bears Park serves as the Halloween hub in this neck of the woods, with families meeting there and dispersing in every direction to collect candy. Society Hill can get packed quickly, so arrive early to plan out your route and get the best loot.
Graduate Hospital/ Southwest Center City
Graduate Hospital is a busy area on Halloween night. It's a very kid-friendly place full of young families, so it's great for walking around. A little closer to Rittenhouse in the Southwest Center City area, Delancey Street between 18th and 20th usually goes all out with their decorations.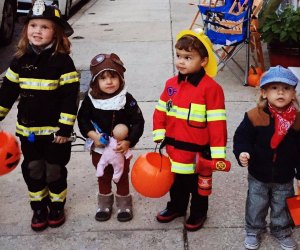 Grab your little trick-or-treater for a night of Halloween fun in Fishtown. Photo by Mommy Poppins
Fishtown
Due to a lack of doorbells, everyone sits out on their stoops in Fishtown to hand out candy, making the area feel like one big Halloween party. Neighbors really go the distance with decor, showcasing haunted yards and porches. The 1300 block around Marlborough Street to Montgomery Avenue is always popular, and some of the best trick-or-treating can be found near Palmer Cemetery, where residents take their role as treat providers very seriously.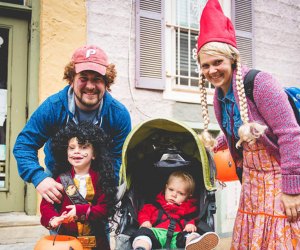 Hit the streets in Manayunk. Photo courtesy of JPG Photography
Manayunk/Roxborough
Everyone handing out candy in Roxborough sits outside, so you won't have to worry about knocking on doors, which makes things a little easier in the city's hilliest neighborhood. Down on Main Street, catch Halloween in Manyaunk, held October 30th this year, to collect treats and goodies from the local shops and restaurants after participating in the Kid & Pet Costume Parade. Don't worry, you can still come back to Manayunk on the 31st to score big treats up and down the hills at all the rowhomes.
Chestnut Hill
Chestnut Hill is another super family-friendly neighborhood where the Halloween celebration is twice as nice. Halloween on the Hill takes place in the afternoon at local businesses and shops lining Germantown Avenue. Then, come back at night to knock on doors along the gorgeous side streets off of the main drag.
Crestmont Farms
If your priority is full-size candy bars, come to Crestmont Farms. This area is located in the Northeast, made up of larger single-family homes. You'll have to do a bit more walking here since the houses aren't as close together, but it's worth it for the sweet returns.
The Best Neighborhoods to Trick-or-Treat in the Philly Suburbs
Levittown
Levittown is a community-oriented area that feels like it was built for trick-or-treating. Many of the houses are gathered close together, making it convenient for young children to rack up the good stuff quickly. A lot of people in the area will sit on their front porches to hand out candy, and some will create spooky, haunted porches.
Drexel Hill
Drexel Hill has long been known as a great family neighborhood, home to lots of younger families that love celebrating Halloween. This neighborhood gets packed with kids because it's the rare suburb that still has a lot of rowhomes. If you're looking to hit up a lot of houses in a short amount of time, Drexel Hill is the perfect place.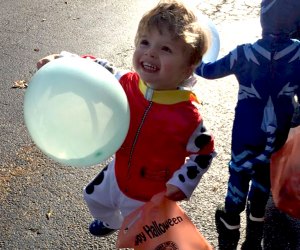 West Chester trick-or-treating. Photo by Mommy Poppins
West Chester
With lots of homes close together, West Chester is an ideal spot for trick-or-treating. Area residents love to decorate and you can definitely find full-size candy bars. If you want to show off your costume a little early, head to Market Street for the annual West Chester Halloween Parade.
This article was originally published in 2019.