The Best Places to See Manatees Near Orlando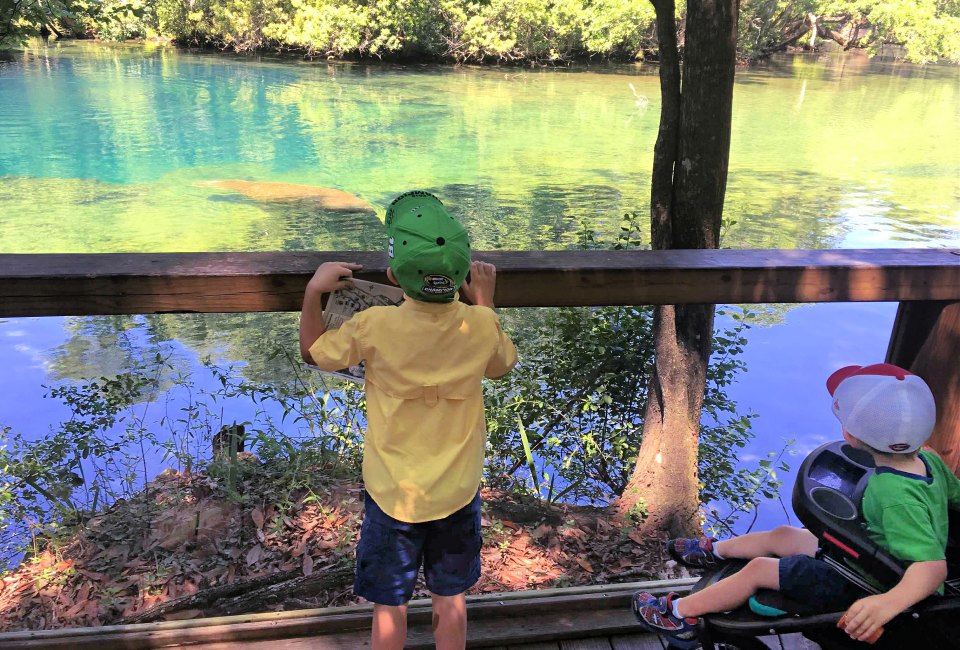 1/8/21
- By
Charlotte B
Winter months are the best time for manatee spotting in Central Florida. When the weather is cold and water temperatures drop below 68 degrees, these warm-blooded mammals congregate in freshwater springs, which remain at a constant 72 degrees year-round. Mid-November through March are ideal months to spot these gentle giants, so read on for the best places to see manatees within a few hours of Orlando.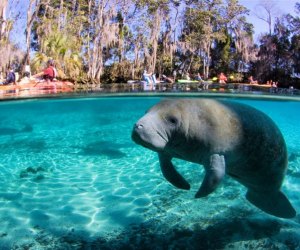 These gentle giants love the warm waters of Central Florida. Photo by David Schrichte/Save the Manatee Club
Best Places to View Manatees Near Orlando
Located north of Orlando, this state park is one of the largest winter safe havens for manatees in the state and a designated manatee refuge. Visitors can view manatees from a boardwalk that runs one-third of a mile from the St. Johns River to the headspring. The manatee count has grown significantly over the years, with upwardsof 500 manatees today. In addition to manatee sightings, visitors can enjoy a guided river boat cruise, a hike along the 4.5-mile Pine Island Trail, or rent a canoe or kayak to explore the river. There is also a playground, several picnic facilities, a gift shop, and concession area. The park often reaches capacity quickly during the winter months, especially on the weekends, so plan to arrive early.
This wildlife park makes for a great day trip from Orlando. Manatees can be viewed either in the park's underwater "fishbowl" observatory at the headspring or through a pavilion overlooking Blue Water, an area where wild manatees congregate before entering the spring. Multiple daily programs are also offered to educate visitors about manatees and the park's role as a rehabilitation center for injured and orphaned manatees. In addition to manatees, other animals that call the park home include the endangered Florida panther, red wolves, black bears, Key deer, bobcats, alligators, and the oldest hippopotamus in captivity.
Located near Three Sisters Springs, this city park is easily accessible and includes a spring that feeds into Crystal River. It is a great spot to see manatees in the colder months. There is a small circular boardwalk that allows for prime manatee viewing, as well as a small beach area, playground, kayak launch, and picnic areas. The trolley to and from Three Sisters Springs also provides access to Hunter Springs Park.
RELATED: Six Family-Friendly Boat Trips in the Orlando Area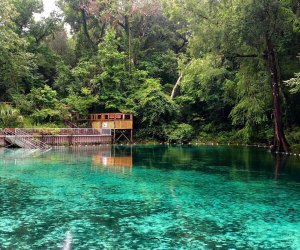 The aptly named Manatee Springs State Park offers great viewing possibilities. Photo courtesy of Friends of Manatee Springs State Park
This spring is a bit of a drive (about 2.5 hours from Orlando), but lives up to its name, with manatees traveling from the Suwannee River into the spring area during cold months. The park also offers more than 8 miles of hiking trails. Manatee viewing is available along the boardwalk that runs from the spring to the river, and along some of the nature trails. There is a playground for kids, onsite canoe and kayak rentals, bicycle rentals, and campsites as well.
While this is not a spring like the other locations described here, the intracoastal riverside area of this beachfront park offers a great opportunity to see manatees year round, as well as dolphins and pelicans. Other amenities at the park include tennis courts, basketball courts, a playground, and fishing pier. Visitors can also rent a kayak to see manatees up close.
This popular wildlife refuge has a dedicated manatee observation deck that is handicapped-accessible. The refuge waters are a safe place for manatees year round and offer plenty of food for them.
Tampa Electric Company created a manatee viewing center for public access after seeing how manatees would congregate in the clean, warm waters of the Big Bend power station's discharge canal. There is also an environmental education building complete with displays to educate guests about manatees and their habitat as well as a hurricane simulator and a habitat loop trail with an observation tower.
Just north of Tampa and part of the Crystal River National Wildlife Refuge, Three Sisters Springs is also a favorite for manatees during cold months. Admission fee to the park includes a short trolley ride to and from the spring. A boardwalk circles the one-acre spring, allowing visitors great views of these gentle giants in one of Florida's most beautiful springs. Guests can also enjoy hiking trails, bicycling, and spot other wildlife such as birds and reptiles.
Sign up for the Mommy Poppins Newsletter today!