Restaurants in Miami Where Kids Can Play While Parents Eat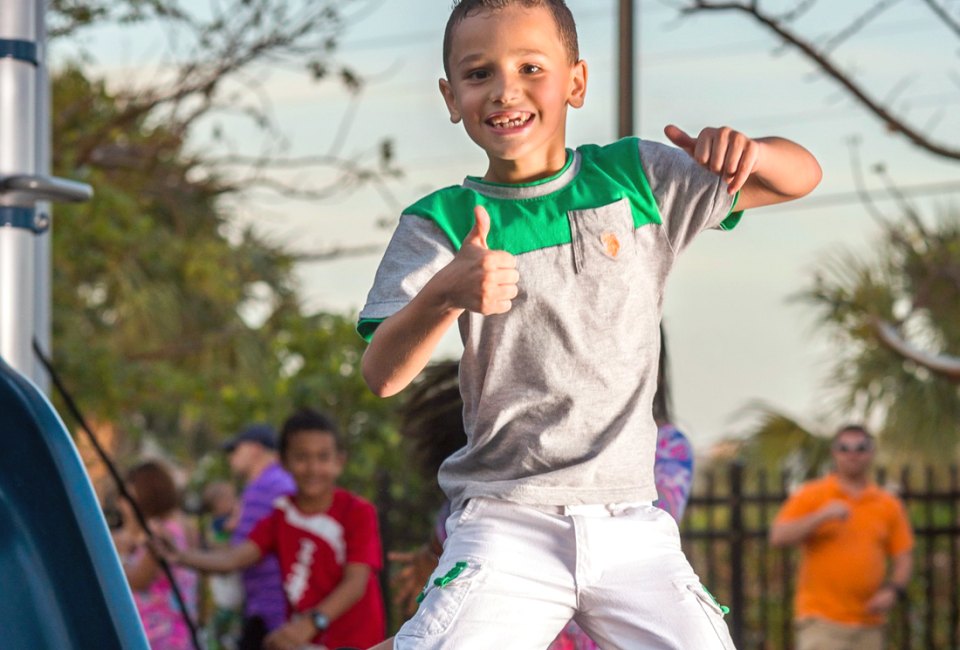 2/5/23
- By
Lindsey Scannell
It takes special South Florida and Miami restaurants to cater to the needs and wants of kids. Many children love to be outside and active; and in South Florida, families especially enjoy beautiful waterviews and good food. We have found amazing restaurants in Miami, Fort Lauderdale, West Palm Beach, and beyond where adults AND children can have fun, eat delicious food, and enjoy cool, kid-friendly amenities.
Forget just a boring kid's menu—these South Florida and Miami restaurants will keep children occupied with on-site game rooms, playgrounds, pools(!), and more. Hope you brought an appetite because we're digging into awesome restaurants in South Florida the whole family can enjoy!
For more places where kids can romp, check out our list of Indoor Play Spaces in South Florida. And don't forget to fill up your South Florida bucket list by visiting our itinerary of 55 Fun Things to Do Around Miami with Kids Before They Grow Up. Get more info about South Florida by subscribing to our newsletter now!
Best Miami Restaurants for Kids
Glass & Vine's covered outdoor dining restaurant in the park is near a large playground. Though the playground isn't part of the actual restaurant, it's very close. If you get the right table, parents can watch their kids on the playground from the table, for either brunch, lunch, or dinner.

It's all about grilled cheese and outdoor fun at Ms. Cheezious. Photo courtesy of Ms. Cheezious
Aside from the extensive grilled cheese menu for the pickiest and most gourmet of eaters, this Miami restaurant has a large courtyard that kids can play in. They also have a selection of board games available for kids to enjoy.

Kids love the pizza and courtyard at Ironside Pizza. Photo courtesy of Miami Ironside
Pizza, wine, and a colorful courtyard next to the outdoor dining patio make this a win for families who like Italian food. Kids can stretch out and enjoy the open courtyard while parents dine at a nearby table.
The perfect Miami restaurant for airplane lovers, 94th Aero Squadron sits alongside Miami International Airport. Watch, hear, and even potentially feel planes take off and depart while you eat. You can even play the what-airline-is-landing-next game.
Fill up on breakfast, brunch, and lunch with an Australian spin. Threefold Cafe has a menu perfect for adults and kids alike. The best part is that there is a kid's activity area in the back of the Coral Gables location, which can entertain kids while waiting on meals.
Marker 88 – Islamorada [Temporarily Closed]
Located 1.5 hours south of Miami in the Florida Keys, this beach restaurant is the perfect option to enjoy a meal while kids have fun. Children can wade and play in the water while parents eat at a table on the sand. Music and island vibes are present daily.
Kid-Friendly Restaurants Near Fort Lauderdale

Get ready for a feeding frenzy at 15th Street Fisheries. Photo courtesy of 15th Street Fisheries
Set on the Intracoastal, 15th Street Fisheries has indoor and outdoor seating options and live music most days. Kids have the chance to throw their extra fries into the water from the dock and watch as the tarpon feast. The spot sells tarpon feed to keep the fun going!
This beachside restaurant set along the Hollywood Boardwalk is a casual, tasty eatery. Kids can play on the boardwalk, and since the restaurant is next to the bandshell with live music and shows, they'll get tableside entertainment.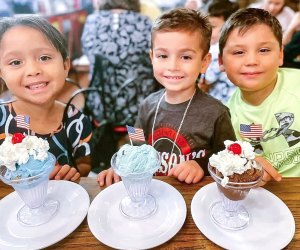 Satisfy your sweet tooth by getting a scoop at Jaxon's Ice Cream Shoppe. Photo courtesy of Jaxon's
Go back in time to a restaurant that celebrates the past with a ton of memorabilia (and speaking of time, Jaxon's usually does have a wait to get seated). Families enjoy the creative menu, popcorn waiting on the table, and fun waitresses who buzz by with a show and balloon twister. Did I mention the homemade ice cream?!
Wild times await in a restaurant decorated with jungle decor, animatronics, and a menu of American and tropical fare. Kids can watch the surroundings come alive, as the Rainforest Cafe is sure to keep kids wildy entertained.
A fun and exciting menu with beers brewed on site, this brewery is a fun option. Funky Buddha also offers cornhole and board games to keep kids entertained.

A kids menu is available at the picturesque Sandbar Grille. Photo courtesy of the restaurant
When seated outside, some of the Sandbar Grille's tables have a direct view of the beach. This is a great place for parents to enjoy a beverage and meal while kids play on the beach in front of them.
Restaurants Near West Palm Beach for Kids
Copperpoint brewery offers access to on-site food trucks scheduled each day. In addition to food trucks, enjoy the large game room and both indoor and outdoor spaces for kids to expel energy.
This restaurant has a direct water view and a pool in the center of the restaurant! Your kids can swim as you sit and enjoy a wonderful, poolside meal. Add live music and Blue Point is the perfect spot for a family meal.
Enjoy arcade games, ping pong table, fish pond, hammocks, swings, and large outdoor areas to allow kids the option of getting up and moving around. With a laid back, fun atmosphere, this West Palm Beach restaurant is perfect for hours of fun.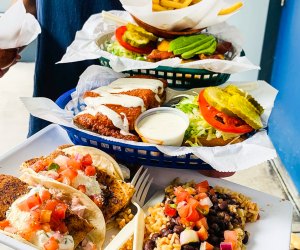 Fill up on Burger Shack's signature burgers, as well as tacos and more. Photo courtesy of Burger Shack at Lighthouse Cove

With an an attached playground, cornhole, and mini golf course, Burger Shack is a casual sports restaurant with televisions lining the indoor dining area. Please note that only some of the tables overlook the attached playground.

Rocco's Tacos & Tequila Bar sits by the courtyard in Boca Center (there are additional Florida locations). Many of the tables offer a direct view of the courtyard, where kids can play on the turf areas, ride scooters, and pretend to sing on a stage. Get a sweet dessert around the corner at Hoffman's!

Sign up for the Mommy Poppins Newsletter today!

i