Lion Country Safari: Drive-thru Zoo with Wildlife, Water Rides, & More in South Florida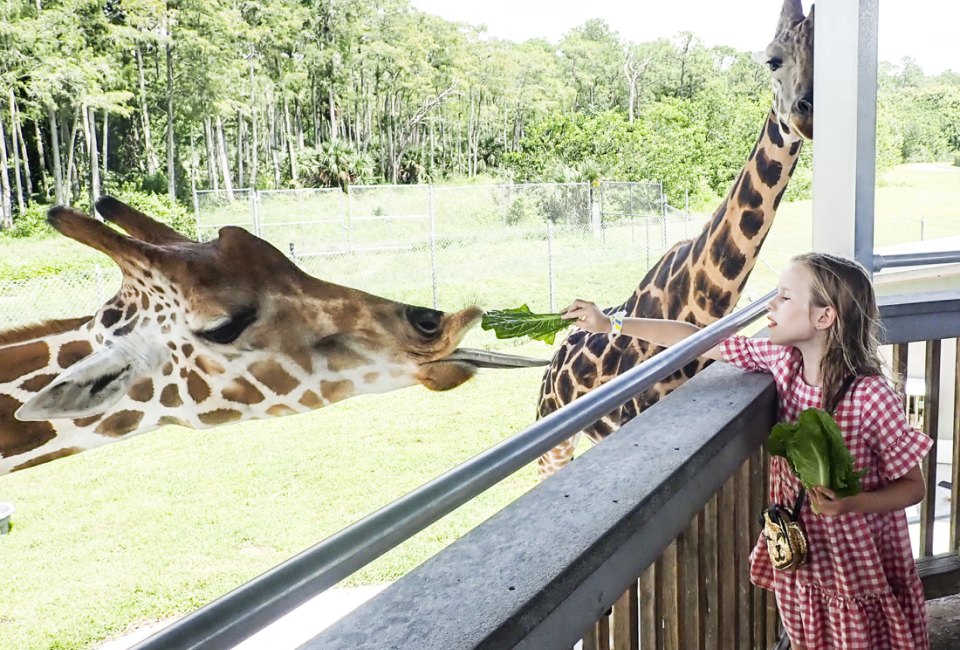 7/24/22
- By
Jackie Jones
With more than 900 animals, a water park, and carnival rides, Lion Country Safari in Loxahatchee is a must-see attraction for visitors and locals in south Florida. Located 90 minutes north of Miami (30 minutes outside West Palm Beach), Lion Country is the kind of place where a family can spend the entire day and still not see everything this park has to offer. Its drive-through wildlife preserve is one of our favorite drive-through zoo experiences. Visitors can expect to see rhinos, giraffes, and lions up close. And I mean close. Last time my family visited, an ostrich approached our car and started pecking at a parking pass in the window (much to my daughters' delight!) Even more animals are on display in the park's walk-through zoo. And if you visit on a warm day, which is likely in south Florida, be sure to pack swimsuits; the splash pad and water slides here are some of the best in the area.
Here's more on what to do at Lion Country Safari—and for more ideas on Miami family activities, check out our South Florida and Miami guide.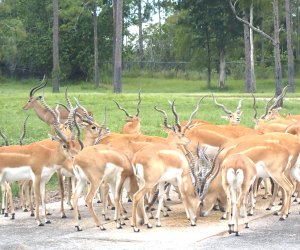 Lion Country Safari has traffic jams kids don't mind waiting in.
Lion Country Drive-Through Safari
When you arrive at Lion Country Safari, the first thing to do is drive through its four-mile safari experience. The tour takes about 90 minutes, though some visitors like to linger longer. Polite passing is allowed, and there's an option to bypass the lion reserve (where traffic can build up). The safari park is divided into seven habitats where herds of animals roam in a naturalistic environment. To learn about the wildlife, guests can tune into the park's streaming audio tour, accessible through smart phone. (FYI: my kids think the tour is a bit slow.) Expect to see impalas, chimpanzees, wildebeests, and water buffaloes playing, eating, roving around and just... doing their thing. Don't be surprised if a zebra crosses the road right in front of your car, or if a curious alpaca approaches your passenger side! Needless to say, there are plenty of great photo opportunities to be had. Just remember to keep your windows up!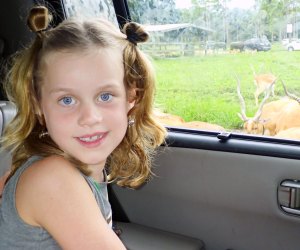 Keep the windows rolled up while on safari!
Lion Country's Walk-Through Zoo
The animal viewing doesn't stop at the safari. Lion Country has dozens of creatures on display in its walk-through zoo as well. Some of our favorites are the colorful macaws, playful squirrel monkeys, and American alligators (this is Florida after all.) Kids can visit with sheep and goats inside a petting zoo, and animal food is available to purchase (we consider it a bargain at just two dollars). Our family loves standing eye-to-eye with the giraffes on their feeding platform. Their blue tongues look so funny as they lap up lettuce leaves from eager children! (This experience costs five dollars extra.) Though currently closed, there's also an opportunity to feed lorikeets inside an aviary, or koi fish in a pond. Be sure to bring quarters for the fish food machines.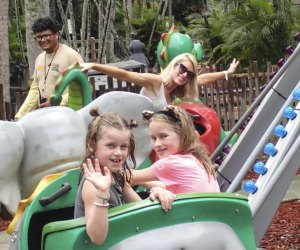 The fun doesn't stop with a safari...
Rides & Water Park at Lion Country Safari
After you've had your fill of seeing the animals, get some wiggles out on the complimentary rides. Take to the skies on the flying elephants and dragons, or go for a whirl on the safari-themed carousel. Toddlers enjoy riding the choo-choo train, and the whole family can hop on board a pontoon boat for a tour of the park's Lake Shannalee. (Ambitious visitors can tour the lake via paddle boat too.) There's also a 16-hole mini golf course and a gemstone mining experience (the latter is available for purchase). We love the 90-foot long sack slides, located next to the water slides.

Lion Country Safari has a water park, too!
Ready to get wet? Thrill seekers can't get enough of the steep drop on the park's free-fall water slide. A slower, loopier water slide next to it makes for a more relaxing ride. And if your kids are into splash pads, you're in luck: Lion Country Safari has two. Safari Falls is huge—with slides, water sprayers, and a giant dump bucket. For the littles, there's the Safari Splash Playground, which has its own 23 water features.

Photo courtesy of Lion Country Safari
Everything Else To Know about Lion Country Safari
There is a restaurant at Lion Country Safari, as well as several snack vendors and a BBQ stand. Hot dogs, burgers, and pizza are all on the menu. The park has a nice covered picnic area should you decide to bring your own food. Lion Country Safari is open 365 days a year, rain or shine (we took grandparents there on Thanksgiving and it was a big hit). Workers say the animals are actually more active on wet, cool days, though the rides and water park shut down during lightning alerts. An award-winning KOA campground is located next to Lion Country Safari (something that's definitely on my bucket list for this fall). The park offers plenty of online discounts, including its current Summer Savings Pass. Kids ages two and under are always admitted for free.
All photo courtesy of the author unless otherwise indicated.
Places featured in this article:
Sign up for the Mommy Poppins Newsletter today!

i