10 Amazing Drive-thru Zoos and Safaris in 2020
If you're itching for a safe, socially distanced family travel option, why not go on a safari right here in the US? A drive-thru safari, that is, where you can experience a day at the zoo without shoulder-to-shoulder crowds (or sneezes!). Zoos and wildlife preserves nationwide are reimagining how families can take a drive on the wild side by giving them the chance to see animals from the comfort of the car.
When planning your visit, be sure to make reservations in advance and pay attention to the rules of your safari. Some restrict certain types of vehicles and others do not sell tickets in person. Even if a day at the zoo isn't a typical one during summer 2020, the drive-through option is bound to create wild and wonderful family memories. So, go ahead: Your next big adventure awaits!
Find more local day trips and travel ideas in our Weekend Getaways Guide.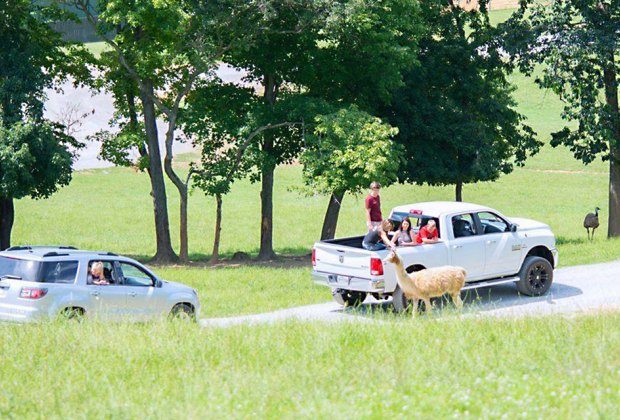 Visit Virginia Safari Park and enjoy the 180-acre drive-through safari.
At this 180-acre safari, guests journey over a three-mile gravel loop that passes through the habitats of about 1,000 animals. Watch llamas run through fields, cross paths with an elk, marvel at the zebras, and spot kangaroos hopping along the way. Looking for a more up close and personal animal experience? At Virginia Safari Park, visitors are encouraged to interact with the furry residents by feeding them the park's specialty grain right through the car window.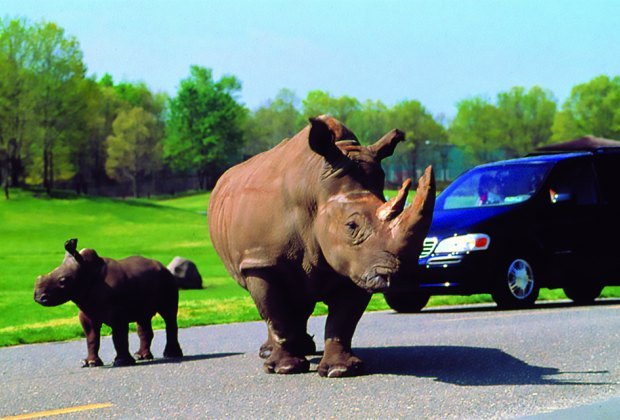 The Six Flags in NJ is allowing visitors to drive their own cars through the safari for the first time in years.
After an eight-year hiatus, Six Flags Great Adventure in New Jersey is once again allowing guests to drive their own vehicles through the 350-acre Wild Safari preserve, which is home to 1,200 animals. Your wild adventure includes many curious animals like ostriches and giraffes that will walk right up to your vehicle as you weave through the various sections of the exhibit (touching and feeding the animals is strictly prohibited). You'll be able to get a good look at elephants, tigers, lions, baboons, and wild animals as you safely pass their enclosures. An audio tour gives info on each animal as you pass by. Be sure to get tickets online ahead of time as capacity is limited and don't forget to bring snacks; it can take one to two hours to complete the trip between the drive-through and the wait to get in. Portable toilets are available at entrances and exits (we suggest using it before you enter).
Explore this 1,800-acre park and you'll encounter more than 1,100 animals from the comfort of your car. Giraffes, zebras, tortoises, cheetahs, and rhinos all call this conservation home along with a gaggle of other animals. You can buy pellet feed to toss on the ground for the animals to munch on. Don't forget to bring snacks and drinks (or purchase to-go items from the cafe) as it takes at least two hours to drive through the conversation. Buy tickets for the self-drive tour in advance; they are not available for purchase in person during the pandemic.
Adventure awaits at Natural Bridge Wildlife Ranch. The 450-acre safari drive-thru in San Antonio, Texas, gives visitors a host of animal interactions and beautiful views reminiscent of an actual African safari. Say hi to ostriches, giraffes, zebras, and buffalo that you'll meet along the way. It takes a little over an hour to complete the four-mile drive, and there are a couple of different options for which route to take, so check out the map before your visit.
RELATED: 10 Wildlife Tours and Safaris Near Orlando

There are options to feed the animals at the Wild Animal Safari in Georgia.
Journey on a 3.5-mile trail to see 75 wildlife species running free at this 300-acre park located about an hour outside of Atlanta. You'll see camels, cattle, elk, water buffalo, giraffes, and more. Drive in your own vehicle or rent a zebra van (check availability when you arrive). Plan for the trip to take about an hour, and buy bags of animal food on-site for a truly hands-on experience. A second Wild Animal Safari location is open in Strafford, Missouri, with a slightly smaller, but super fun drive-through experience.
Located about an hour from Boston, Southwick's Zoo now allows guests to take a self-driven tour of the 200-acre park after the zoo closes to foot traffic for the day. These 45-minute tours provide a unique opportunity to see wildlife species that are more active around dusk. An audio tour is also available to download or stream. Tours take place Mondays and Wednesdays at 4:30pm, 5:30pm, and 6:30pm, and the zoo advises guests to arrive 30 minutes before their reserved time slot. Bonus: If you're craving New England comfort food, drive-through guests are welcome to place a takeout order from Galliford's Restaurant & Tavern to pick-up after the tour.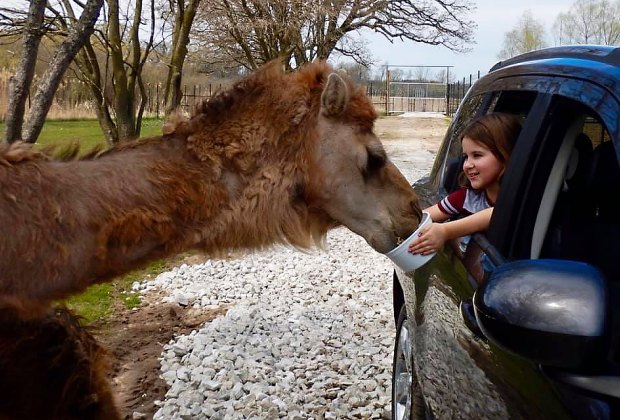 Meet animals from around the world including emu, camels, cattle, zebras, donkeys, and more at Safari Lake Geneva.
This wildlife preserve, which recently opened a drive-through option, is home to animals from around the world including emu, camels, cattle, zebras, donkeys, and more. No need to worry if your favorite furry is hiding during your drive-by. The Drive-Through Safari Adventure allows guests journey through the safari as many times as they'd like during their time slot! Purchase an animal feed bowl for an additional fee and enjoy a truly up-close-and-personal experience. Chicagoans: Safari Lake Geneva definitely has day trip potential; it's only about 1.5 hours from the city. Online reservations are required.
It's back! If you missed out on getting tickets for San Antonio Zoo's sell-out Drive-Thru Zoo fear not: the zoo reopens the self-drive experience starting July 12. Open Sundays-Wednesdays, you'll drive right through the zoo past lions, tigers, bears, crocodiles, kangaroos, and all your faves. Drive-through snacks will be sold along the way. The experience lasts about 30 to 60 minutes, and reservations are strongly recommended.
Feed animals from your car window as you drive through more than 200 acres at Arbuckle Wilderness in Oklahoma where hundreds of exotic animals roam. See creatures from over five continents like camels, llamas, donkeys, giraffes, rhinos, and more. It's open seven days a week and just about an hour from Oklahoma City.

Many animals at the Lion Country Safari in Florida will come right up to the car.
Located 30 minutes west of West Palm Beach, Lion Country Safari is said to have been the first drive-through wildlife preserve in the country. The 90-minute drive-through has seven sections where families will see a wide variety of critters like tortoises, tapir, water buffalo, antelope, zebras, rhinos, chimps, giraffes, and (of course) lions. Though the walk-through safari is typically included in the drive-thru ticket, it is currently closed due to the coronavirus pandemic.
All photos courtesy the respective safaris and zoos. Video by Mommy Poppins