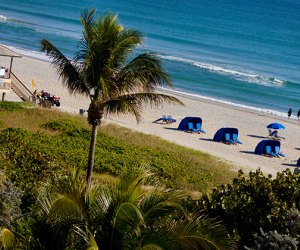 25 Things To Do with Kids in Palm Beach County, Florida
You might think of Palm Beach as a preppy playground for America's elite. In truth, Florida's largest county offers families an array of activities at a variety of price points.
If you want to explore nature on land or at sea, the 38 diverse cities and towns within Palm Beach County are loaded with eco-options. Of course, most people come here to frolic in the 47 miles of Atlantic surf, so slather on the sunscreen and schedule plenty of unstructured time to build sand castles and jump waves.
If you're seeking a value vacation, you can score big summertime bargains. As the heat and humidity rise, resorts slash their room rates until just before Thanksgiving. Flights to Palm Beach International Airport take about two hours from New York or Philadelphia, with the journey from Boston adding on a few extra minutes. Book a nonstop flight and you can be here in less time than it takes to drive from Manhattan to the Hamptons on a Friday night.
1. Palm Beach County is a prime turtle nesting spot and the Loggerhead Marinelife Center, a rehabilitation hospital for injured sea turtles, provides the chance to learn about these fascinating reptiles.
2. Meet the iconic manatee at Manatee Lagoon in West Palm Beach, where a dedicated area for viewing these adorable sea cows allows for up-close access.
3. Busch Wildlife Sanctuary in Jupiter offers visitors an opportunity to observe Florida wildlife, including bald eagles, deer and black bears.
4. Malayan tigers, Mexican spider monkeys, and jaguars all call the intimate Palm Beach Zoo in West Palm Beach home.
5. The Sandoway House Nature Center in Delray Beach offers a window into South Florida's fragile marine and freshwater environments through encounters with some of Florida's native and invasive reptile species.
6. John D. MacArthur State Beach, a haven for several endangered plant species, is home to a terrific nature center, where kids can learn about marine life and the estuary ecosystem.
RELATED: 25 Things to Do in Tallahassee, Florida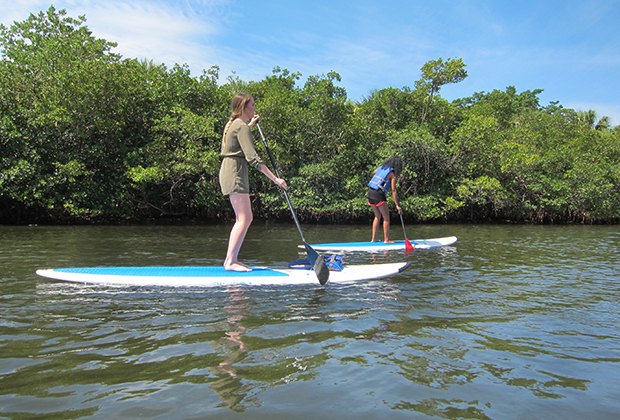 Stand up paddle boarders can meander up the Intracoastal Waterway in Jupiter. Photo by the author.
7. Blueline Surf & Paddle Co. in Jupiter is one place to go for stand up paddle board lessons and guided kayak tours.
8. Learn to snorkel with the friendly guides of Visit Palm Beach.
9. Once you've got snorkeling down, head to the Blue Heron Bridge area at Phil Foster Park, where you'll find an underwater snorkel trail loaded with octopus, spotted rays, and starfish.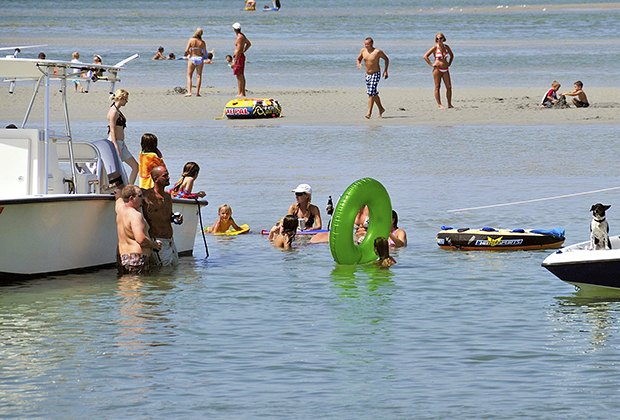 Snorkelers are drawn to the clean, tropical waters of Peanut Island.
10. Peanut Island, near Riviera Beach, is an 80-acre treasure that was once the site of JFK's secret bunker. Clear waters entice snorkelers and swimmers while the pathways that circle the island attract nature seekers.
11. When you feel the need for a deep freeze, take a spin around the ice at Palm Beach Ice Works in West Palm Beach or Palm Beach Skate Zone in Lake Worth for frosty skating fun.
12. Score a strike at Jupiter Lanes, home to 60 state-of-the-art bowling lanes.
13. Rapids Water Park's splashy rides include a 25,000-square-foot wave pool, a quarter-mile lazy river, and "Brain Drain," where adventure seekers enter a launch tube and wait for the bottom to drop out beneath them for a 300-foot tube slide.
14. South Florida Science Center and Aquarium in West Palm Beach features more than 50 hands-on educational exhibits, a planetarium, an early childhood education room, theater, science lab, and butterfly garden.
15. The Four Arts Children's Library's vast collection, special exhibits, storytime, and botanical garden make this an alluring place to spend quiet time.
RELATED: 25 Things to Do with Kids in Daytona Beach, Florida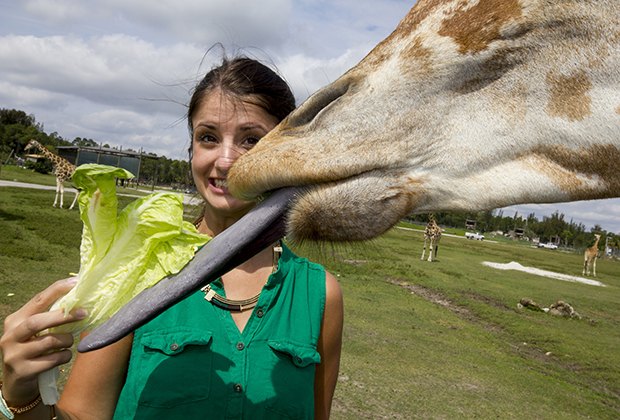 Feed a giraffe at Lion Country Safari, or see one of the other more than 900 animals it hosts.
16. Lion Country Safari in Loxahatchee is Florida's only drive-through safari adventure with more than 900 animals, including giraffes, lions, and the largest herd of zebra outside of Africa.
17. The amphibious vehicles at Diva Duck Tours give narrated 75-minute tours of the historic sites and mansions of Palm Beach.
18. Consider a round of twilight mini-golf with the waves as background soundtrack at Lighthouse Cove Adventure Golf in Jupiter Beach.
19. If your kids take a shine to the high brow, the Flagler Museum is a Downton Abbey-esque gilded-age mansion. Grab a kid's activity guide at the entrance.
20. The 10-mile Lake Trail in Palm Beach provides flat, traffic-free cycling with postcard-like scenery along the Intracoastal Waterway. Rent bikes, tandems, helmets, and inline skates at the Palm Beach Bicycle Trail Shop.
21. A free, family-friendly concert series, Clematis By Night, takes place on the West Palm Beach waterfront every Thursday night from 6-9pm. 

22. Screen On The Green screens alfresco family-friendly movies every second Friday of the month at the West Palm Beach waterfront.
23. The Cultural Council of Palm Beach's cultural concierge is a complimentary service that provides an arts-infused itinerary tailored to your family's interests.
24. Visit the Impressionist collection at the Norton Museum of Art on Saturday morning for the Family Studio program, a thematic tour followed by a related art workshop. Note: The museum is closed until July 4 for reinstallation.
25. When heat and humidity increase the cranky factor, head to an indoor playground such as Cool Beans, Monkey Joe's, and Joey's Outback Adventure.
Stay
Summer equals savings at Palm Beach County hotels. For example, book a stay at the Delray Sands Resort, a beachfront charmer in Highland Beach. Kids will love the pool, and the rooms are clean and spacious. Stay for two nights and get the third night free until August 31.
The Eau Palm Beach Resort in Manalapan is an elegant hotel with a festive air. The friendly staff makes even rambunctious young guests feel welcome from the get-go. A supervised kid's club complete with a climbing wall, multiple sparkling pools and an unbeatable oceanfront location will have you all feeling like a million bucks. Best of all, it won't cost a million. Book two nights and get the third free until November 20.
For additional trip planning information, visit www.PalmBeachfl.com
Top image: The oceanfront dominates at Delray Beach, but this artsy community offers plenty more for kids. Unless other noted, all photos courtesy of Discover The Palm Beaches.