Sugar Sand Park: South Florida's Best Kept Secret Playground Plus Free Science Museum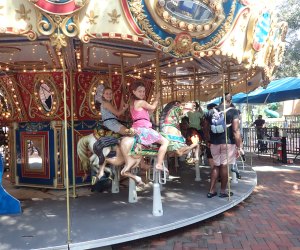 There are parks and then there are parks, and Sugar Sand Park in Boca Raton definitely falls into the latter category—guaranteed to blow your kids away and keep them entertained for hours. Located right off I-95 between Miami and West Palm Beach, this park is truly a local gem. Features include a gigantic, all-inclusive playground with a splash pad in the middle, as well as a free science museum for children. But that's not all! The 132-acre park also has a carousel and a theater with regular family programming.
Here's more on why Sugar Sand Park is my family's new favorite play spot, and what you can expect when planning a visit.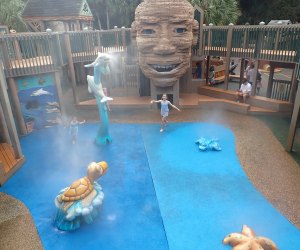 The splash pad is a great spot for hide and seek. Photo by the author
Sugar Sand Park Playground and Splash Pad
Don't be surprised if your kids bolt out of the car once the Sugar Sand Park playground comes into view. The three-level, science-themed play space really is that impressive. There are giant twisty slides, swings, spinners, monkey bars, climbing structures, and plenty of educational elements mixed in—my daughters especially like the stations where they can find out how much they would weigh on other planets.

There's also a splash pad with sea animal displays right in the center of the playground for cooling off. This is an excellent spot for a family game of hide and seek if your kids are older like mine; for littler ones aged toddler or younger, you may want to keep an eye on them during a busy weekend outing—or take them over to the sweet, train-themed playground that's just for littles.

The Science Explorium is part of what makes this park special. Photo by the author
Children's Science Explorium
Located next to the playground is a children's science museum that's packed with hands-on exhibits intended to spark curiosity about how and why things work as they do. And it's free! (A $5 donation is suggested, but not required for entry.) Watch your kids' eyes grow wide as they try making music on a theremin, driving a robotic car, or powering a wind cannon. Through the end of 2022, visitors to the museum can also experience the Mindbender Mansion, a room full of brainteasers and puzzles.
After getting their fill of the indoor activities, kids can check out the Explorium garden, where families are likely to see some cool wildlife. Stop by the front desk beforehand to get a 'Bugio' bingo card; kids can win small prizes for spotting creepy crawlies while walking the nature trails (we saw some giant orb-weaver spiders).
The museum is recommended for children ages 5 to 12, though littler ones can definitely enjoy themselves here, too. The Explorium hosts regular classes and events, like its popular Friday Night at the Museum drop-off event and its free monthly Eyes to the Skies telescope viewing. Be sure to check the calendar before visiting.

It's not hard finding photo ops at Sugar Sand Park. Photo by the author
Sugar Sand Carousel & Willow Theatre
No trip to Sugar Sand Park is complete without a ride on its classic carousel. Tickets only cost one dollar, and the ride's 30 horses are beautiful reproductions of hand-carved wooden originals from the 1800s. (There are also two wheelchair accessible chariots.) The carousel is open Fridays through Sundays from 10am to 2pm.
Meanwhile, the park's Willow Theatre offers tons of family programming. Catch a magic show, dance competition, or musical in this 155-seat performance space. Tickets are pretty reasonably priced, and family shows are usually about an hour long (so young audience members don't get too squirmy).

Kids can play a scavenger hunt game for prizes. Photo by the author
Parking, Hours, Restrooms, & More at Sugar Sand Park
Parking is free and plentiful at Sugar Sand Park. Along with its other amenities, the park offers basketball courts, baseball fields, and several covered pavilions with picnic tables. The park is also home to a community center and a 14,000-square-foot gymnasium. Restrooms are clean, and there are a few water fountains where kids can fill up a bottle.
The playground is open every day from 8am until sunset. The Explorium is open Monday through Friday from 9am to 6pm, and 10am to 5pm on the weekends. FYI: during bad weather, the outdoor play space shuts down, and the splash pad only runs when temperatures are 72 degrees or above (but then again, that's most days in south Florida!).

Your kids probably won't want to leave! Photo by the author