Top 20 Splash Pads and Spraygrounds near Miami and Fort Lauderdale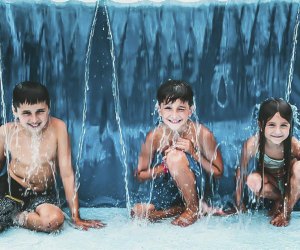 6/12/22
- By
Odalys Quevedo
If this summer is the typical South Florida summer, then it's going to be a scorcher, and one way to keep the kids cool and entertained is by hitting a splash pad. Check out our list of the top 20 sprinkler parks, spraygrounds, and free splash pads in Miami and Fort Lauderdale, with a few waterplay areas in the Keys and West Palm Beach areas as well.
For more ideas for things to do today with kids, check our South Florida family activities calendar, or dip into our summer activities guide.
Miami
The splash pad and pool at Murray Park Aquatic Center are open from mid-March to mid-September. In addition to the splash pad, features include zero depth entry at the outdoor pool, restrooms, and a locker room. Contact the office at (305) 668-3876 before visiting, to make sure the facilities are open.
Pinecrest
Aside from its beautiful botanical gardens and family events, the Splash 'N Play at Pincrest Gardens is one of the highlights of any visit to this park. There is $5 admission charge for the park, and proper swimming attire is required on the splash pad. (Disposable diapers are not allowed.)
Miami
The South Pointe Park Splash Pad is a motion-activated mini splash zone with water cannons, located at the picnic and barbecue areas. The park also has direct access to the beach as well as walking trails, a jungle gym, and panoramic views of the South Beach shoreline. Admission is free.
Miami
Zoo Miami features several waterplay areas, including spouting fountains, spilling buckets, and shaded seating for parents. Some of these areas may be closed at times; call (305) 251-0400 for more information before visiting.
Miami
The free splash pad at Westwind Lakes Park is open only during the summer months. The park office can confirm dates for the season at (305) 388-4771. Other facilities at the park include a skate park and volleyball courts.

Charnow Park has shaded seating right by the splash pad. Photo by Tamano Economico, via Wikimedia (CC BY-SA 4.0)
Hollywood
Located at N Broadwalk and Connecticut Street in Hollywood Beach, Charnow Park's Splash Fountain is adjacent to a shaded seating area, picnic pavilions, and paddleball courts that have been a popular feature on Hollywood Beach since the 1930s.
Parkland
Along with a free splash pad complete with actual water cannon, Liberty Park also offers 7 acres of green spaces, including a dog park, picnic pavilion, BBQs, horse corral, and various shaded playgrounds.
Plantation
Located in the city of Plantation's Historic District, Plantation Woods features two playgrounds and a free splash pad right in the middle. Water shoes are recommended. While at Plantation Woods, watch for the squirrel statues and tree houses as well!
Deerfield Beach
Sullivan Park is located in Deerfield Beach. Aside from a free splash pad, visitors can also enjoy a covered picnic pavilion and a covered playground.
Aventura
The Founders Park splash pad is located in the north section of the park. The park also features an exercise trail, tennis courts, shelters, a playground, and an athletic field,
Key Largo
The activity spray gym at Jacobs Aquatic Center is one of this facility's main attractions. Visitors can also indulge in three pools and year-round aquatic programs.
Key Biscayne
Village Green offers a free tot lot with interactive splash fountain, as well as a community bandstand, restrooms, fountains, and small shade pavilion.
Pembroke Pines
The Pembroke Pines YMCA Aquatic Center features water slides, pools, and a splash pad to beat the heat this summer.
Doral
The splash pad at Doral Legacy Park is open seasonally (from March to November). Call (305) 341-3601 for seasonal information.
Fort Lauderdale
Fort Lauderdale's Las Olas Oceanside Park is part of The Loop Fort Lauderdale Beach, which offers a variety of family fun and a free waterplay area.
Fort Lauderdale
Located in Fort Lauderdale, Osswald Park has a free splash pad in a park that includes a playground, volleyball court, tennis court, racquetball court, driving range, 3-hole golf course, and walking/jogging trail.
Miramar
Enjoy the splash pad, playground, horse corral, shelter rentals, nature trail, and more at Miramar Pineland Park.
Davie
Located in Davie, Shenandoah Park offers a large, free waterplay area on an enclosed splash pad, along with a fitness area and two playgrounds.
Sunrise
In addition to the splash pad, Cypress Preserve Park features a 9-hole disc-golf course and a nature trail with exercise stations.
West Palm Beach
This city park is home to a free splash pad and adjacent playground, with the added bonus of a great view of planes landing at the nearby airport. Restrooms are available, though shade is not.
Boca Raton
Kids love this park for its wonderful science center and playground, but the splash pad at the center is also worth a visit, with sea animal displays that spray and plenty of spots to sit.