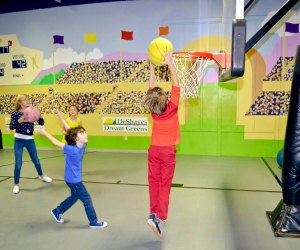 A Dozen Museums for Kids and Families in Central and Southern NJ
Winter's not over yet, and if you're running out of ideas, don't despair—there's plenty of indoor fun to be found at museums throughout central and southern NJ. At these wonderful and varied spots, you can explore a battleship, learn all about insects, ride a vintage train, gaze at the stars, and even see a shrunken head!
For more educational fun, check out our list of the best museums for kids in northern NJ, or take a ride across the river to check out one of the many excellent museums in Philadelphia.

Visit the museums' websites for hours and admission.
Battleship New Jersey – Camden
Located a short stroll up the waterfront from the fabulous Adventure Aquarium and Camden Children's Garden, you'll find the Battleship New Jersey Museum and Memorial. America's most decorated battleship is an impressive sight, and even more so once you're aboard. You're free to explore the ship from a sailor's perspective—climb into a bunk or a gun turret—and even go where he couldn't: the admiral's chair.
The Children's Museum of Somerset County – Bridgewater
This volunteer-run museum, currently located in the PeopleCare Center, is open on select weekends throughout the year, and it also hosts a variety of special programs geared toward ages 3–9. Upcoming programs include Robots on Saturday, February 23, 2019; The Magic of Conrad on Saturday, March 2, 2019; and NJ Makers Day on Sunday, March 24, 2019. Check the museum's Facebook page for more.
RELATED: Indoor Play Spaces for Kids in South Jersey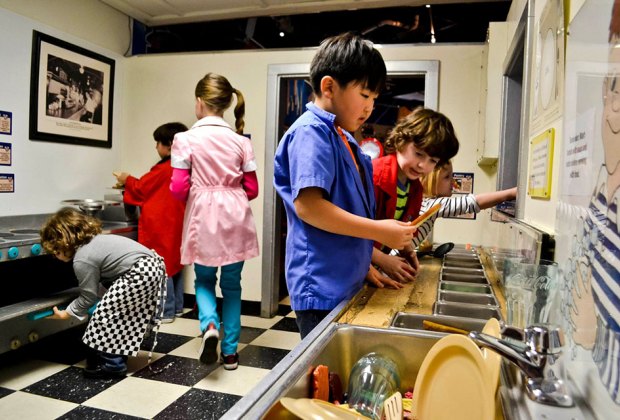 Cook up some fun at the Silver Diner at the Garden State Discovery Museum.
Garden State Discovery Museum – Cherry Hill
Creativity and interactive play are encouraged at this delightful children's museum that is a Mommy Poppins NJ favorite. You'll want to carve out a decent chunk of time for your visit, as there are so many wonderful areas for kids to explore. Aspiring athletes can shoot hoops at a miniature basketball court or make slap-shots at a hockey rink. In the Dinosaurium, kids can climb a replica T-rex skeleton and dig for bones in a small excavation area. Pint-sized reporters can get behind the camera or deliver news from the anchor's desk in a mock Action News studio, complete with weather map. Many more imaginary play areas abound, and other attractions include a rock wall, storybook castle, tree house, arts & crafts area, and a butterfly garden.
Hunterdon Art Museum – Clinton
This regional art center houses a collection of contemporary artists and offers a wide selection of art classes and workshops for kids, as well as a popular summer camp program. Visit now through Sunday, June 2, 2019, to catch the Young Artists Showcase, an annual exhibition that features work by elementary, middle, and high school students throughout Hunterdon County.
RELATED: The Best NJ Zoos and Aquariums for Animal Encounters with Kids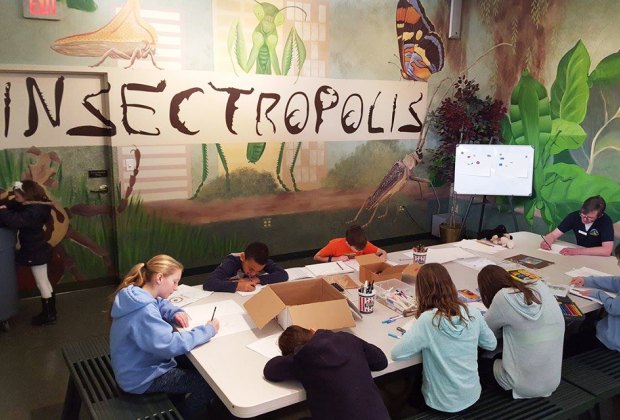 Insectopolis will inspire an appreciation for creepy-crawlies.
Insectropolis – Toms River
Get up close and personal with insects of all shapes and sizes at this "bugseum." If you've got a bug-obsessed kid, this place is definitely worth a trip. The museum is set up like a city—start out by learning the basics at Bug University, then make your way through other areas such as Creepy Tavern and Rubber Tree Power Plant. You can find out how bees communicate at Hive Airport and visit the bug "outlaws" at Rock State Prison.
RELATED: Historic NJ Villages That Are Fun for Kids and Families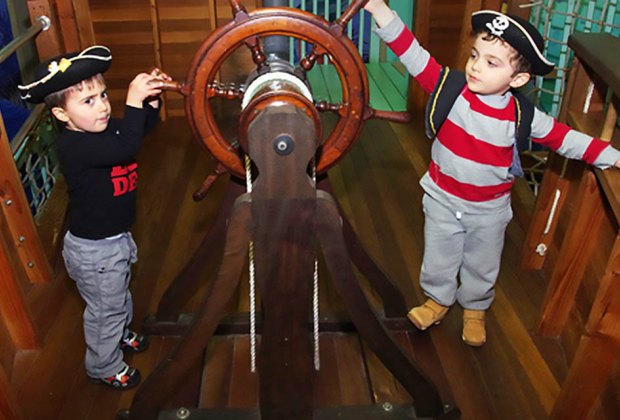 The under-6 crowd will have a seaworthy experience in the Monmouth Museum's WonderWing area.
The Monmouth Museum – Lincroft
Located on Brookdale Community College's campus, the Monmouth Museum is a great resource for local families. In addition to its expansive art gallery, the museum houses two wings specifically for children: the WonderWing for ages 6 and under, and the Becker Children's Wing for ages 7-12. The WonderWing provides an interactive seashore environment complete with a pirate ship, tree house, kelp forest, and whale slide for little ones to explore. In the Becker Wing, exhibits are based on cultural history and science, including the current exhibit, Ancients to Astronauts: How We Communicate.
New Jersey Maritime Museum – Beach Haven
See shipwreck artifacts, historic photos, navigational equipment, diving gear, and much more at this museum, which houses the most extensive collection of maritime history and artifacts in New Jersey.
The New Jersey Museum of Transportation – Farmingdale
Founded in 1952, the Pine Creek Railroad is one of the country's longest-running narrow gauge railway exhibits. The Museum contains many rare antique pieces of railway equipment and structures, but best of all you can hop aboard and ride the train. The Museum is closed January through March. See the operating schedule here.
New Jersey State Museum – Trenton
This museum's exhibits shine a spotlight on history, art, and science. You can see models of Native American houses, learn about WWI, and check out casts of dinosaur fossils found right here in NJ. The museum hosts exciting new events monthly, including the upcoming Jersey Crocs Rule and Objects Count.

The Old Barracks Museum – Trenton
The Old Barracks brings Colonial America and Revolutionary War–era New Jersey to life through demonstrations, exhibits, and other interactive programming for kids and adults.
Princeton University Art Museum – Princeton
This family-friendly museum houses an impressive collection of more than 100,000 works of art, from ancient to contemporary, in all media. It also offers a host of self-guided family activities, as well as Art for Families sessions on Saturday mornings. Admission is FREE.
Ripley's Believe It or Not! – Atlantic City
Searching for something out of the ordinary to do with the kiddos? You can't go wrong with a visit to Ripley's "Odditorium" in Atlantic City. Bizarre artifacts, including the world's smallest production car and a shrunken human head, share the floor with hands-on exhibits and unusual artwork. Don't miss the drawings of superstars such as Lady Gaga and Beyonce, hand-painted onto real crickets! Adventurous older kids (and adults) should check out the Laser Maze Challenge—think you can successfully navigate a room filled with lasers without breaking a beam?
Photos courtesy of the museums
Originally published 2014