Family-Friendly Breweries in New Jersey Where Kids are Welcome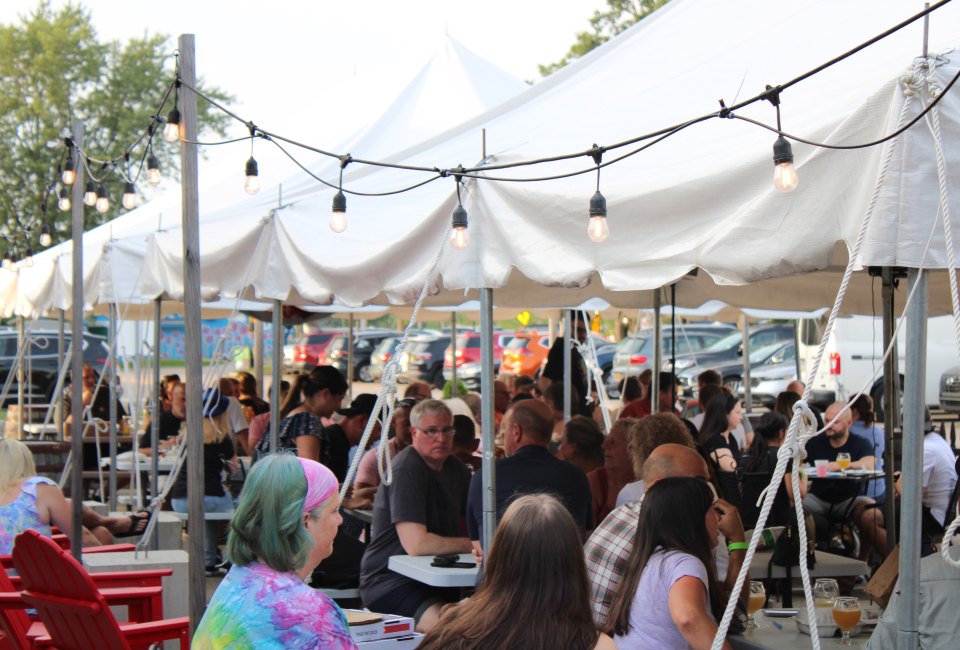 7/18/23
- By
Lisa Warden
Family-friendly breweries in New Jersey are great places to visit if you love trying different beers, or if you can't find a babysitter but still want an afternoon out.
My first suggestion for maximum fun would be to aim for a brewery with outdoor seating (bonus if it is fenced!) or one that has a large indoor area like a warehouse. Kids are loud, and they seem louder indoors. We like to go to breweries that have entertainment for the kids, like a chalkboard, corn hole, a large outdoor connect four, or, if indoors, something like board games.
Many breweries allow you to bring food in, so you can bring your own drinks and snacks or come armed with takeout–although the ones that serve food don't generally allow you to bring food in. Finally, make sure your kids are having fun in a responsible manner, especially since in many breweries people are walking around with glasses in their hands.
Check out our stories on Family-Friendly Beer Gardens in New Jersey or Family-Friendly Vineyards and Wineries in New Jersey if wine is more your jam. And our Family-Friendly New Jersey Restaurant Guide has lots more ideas for dining out with the whole family in New Jersey.
Subscribe to our newsletters to get stories like this delivered directly to your inbox.

String lights set the mood at Forgotten Brewery. Photo courtesy of Forgotten Boardwalk
Family Friendly Breweries in South Jersey
This South Jersey brewery has a fun Jersey Shore vibe. One of its signature beers is a funnel cake-flavored cream ale. You can get boardwalk-style snacks, including a pint of popcorn with free refills. This brewery has an outdoor area with seating and a giant Connect 4 that keeps the kids occupied. String lights set the mood when it is dark.
Eclipse is our family's favorite South Jersey brewery! Many breweries are dominated by IPA-style beers, but this brewery has more of a variety of different beers (as well as IPAs if you love them). I also love the potted flowers around the outdoor area, which has tents for cover from the elements and cornhole to entertain the children. If you have older kids and are willing to step outside of the outdoor drinking area, there is a small outdoor exercise spot for your children to burn off some energy. There is a blackboard and some chalk in the bathroom, so don't be too worried if your child disappears in there for a while.
Flying Fish is a larger brewery, so you might have seen some of its beers in stores or restaurants. The brewery offers many different beers and often has a food truck parked in its lot. This brewery is a good choice for both its indoor and outdoor seating areas. Outdoors there is a large Connect 4 game for your kids and picnic benches for seating. Indoors is quite large, with tables and an array of board games.
RELATED: New Jersey Restaurants Where Kids Eat Free

The indoor area at Bonesaw Brewery is a homey space with couches and a fireplace. Photo by the author
This rustic-style brewery also has plenty of indoor and outdoor seating options and offers many different types of beers. The indoor area is large and has a fireplace and some couches that give it a cozy feel. The outdoor seating area is covered and there is a game of corn hole for the kids to play. Oftentimes there are food trucks parked in the lot, and the brewery offers craft sodas, too.
RELATED: 10 Best Kid-Friendly Coffee Shops in New Jersey

Old Hights Brewery in Hightstown has a relaxed vibe and plenty of outdoor space. Photo courtesy of Old Hights Brewing Company
Family Friendly Breweries in Central Jersey
What could be better than an award-winning brewery in darling downtown Hightstown? This brewery has both indoor and outdoor seating, as well as a fire pit, and it's only a couple of blocks away from Peddie Lake and the Peddie School (which has fields, a track, and a small playground). Not only is Hightstown the cutest little town, but it also has many excellent dining options. My favorite is Mannino's 4 Pizzeria, which has fantastic grandma-style pizza.
This is another award-winning brewery in a great town. Flemington has many tasty restaurants and is nice to just walk around. Lone Eagle Brewery has both indoor and outdoor covered seating. Be sure to try the award-winning IPA!
This farmstead brewery aims to use all farm-grown ingredients in its beers. Screamin Hill requires you to take a tour before purchasing any beer. There is covered outdoor seating and for any pet-loving kids, the farm has two dogs on the premises (so other dogs are not permitted). Be sure to try the brewery's variety of berry beers and its pumpkin beer, which uses pumpkins grown on the farm.
Family Friendly Breweries at the Jersey Shore
If you have a child who loves airplanes, this brewery is located inside the Cape May Airport Complex, so you can watch planes taking off and landing while enjoying a cold one. The brewery is also right next to the NAS Wildwood Aviation Museum, so you could pay them a visit after the brewery! Cape May Brewery is popular and crowded in the summer, but it does have indoor seating and a covered outdoor area that is enclosed. If you want to make a weekend of it in Cape May, consider visiting the Cape May Zoo (which is fabulous and free!), checking out the Harriet Tubman Museum, and for some real adventure, taking a biking tour on an old railroad track with Revolution Rail Company. Check out our article on 30+ Things To Do in Cape May with Kids for more ideas.
RELATED: Where To Enjoy High Tea in New Jersey with Kids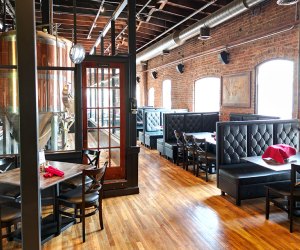 Woodbridge Brewery has a modern, neo-rustic feel. Photo courtesy of Woodbridge Brewery
Family Friendly Breweries in North Jersey
This brewery has a modern, rustic feel and has both large indoor and outdoor seating areas. What makes it unique, though, is its rooftop deck with barrel tables and strung lights setting the mood. The brewery offers a large selection of beers and on Wednesday evenings has live music on the rooftop deck.
This large brewery has plenty of seating, both indoor and outdoor, and some of the outdoor seating is covered. The brewery also has a full food menu including pizza and burgers, and offers fancy mixed drinks if someone in your party doesn't like beer. Woodbridge hosts quite a variety of parks to visit and a SeaQuest Aquarium if you want to make a day of it.
Sign up for the Mommy Poppins Newsletter today!