34 Things To Do in Cape May with Kids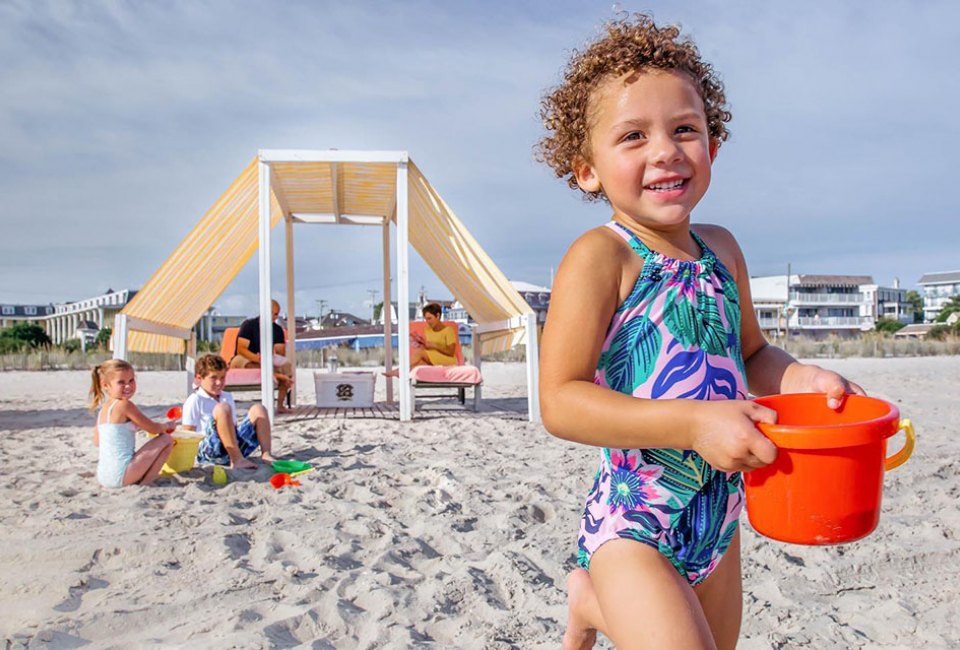 7/14/23
- By
Dore Duhaime
Charming Cape May is one of the Jersey Shore's top family destinations for good reason. With its wide beaches, quaint boardwalk, mini golf courses, parks, and ice cream shops, Cape May can entertain kids of all ages. The shopping and family-friendly restaurants can't be beaten. Head down to Exit Zero, on the southern tip of the Jersey Shore, and enjoy all this town has to offer, from its fabulous beaches and amazing free zoo to the historic lighthouse and blazing sunsets.
Read on for our list of 30-plus can't-miss things to do during your visit to Cape May. And find more seasonal activities and day-trip ideas in our Ultimate New Jersey Kids Summer Vacation Guide.
Subscribe to our newsletters to get stories like this delivered directly to your inbox.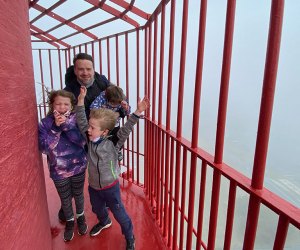 Climb to the top of the lighthouse for a view and a windy thrill! Photo by Rose Gordon Sala
Best Things To Do with Kids in Cape May
1. Cape May Lighthouse
Climb the 199 steps up the Cape May Lighthouse for an incredible view of the Atlantic Ocean meeting the Delaware Bay. Just remember that you'll need to climb back down, too! Our legs were shaking but the kids seemed fine.
2. Cape May-Lewes Ferry
Ride the Cape May-Lewes Ferry for a day trip to Delaware. Or just enjoy the playground, mini-golf, and picnic offerings at the ferry landing.
3. Summer Movies on the Beach
Catch a movie after dark on the sand, weekly at Stockton Beach.
4. Historic Cold Spring Village
This historic living history museum lets kids get hands-on with local history and culture.
5. Mini Golf
Swing your mini-golf club at one of four local putt-putt courses. And check out this review of miniature golf courses throughout NJ, including the Jersey Shore.
RELATED: 105 Free Things To Do in New Jersey this Summer with Kids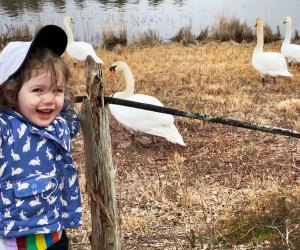 Walk the nature trails at Cape May Point State Park and you might just see some wildlife. Photo by Rose Gordon Sala
6. Cape May Point State Park
After your lighthouse climb, explore the rest of Cape May Point State Park, including the beach, nature trails, and wildlife. We found a group of friendly swans along one path and the abandoned WWII-era gun Battery 223 smack in the middle of the beach.
7. Ride Bikes
Rent bicycles and cruise along the boardwalk in the morning, or along the breezy bike lane on New Jersey Avenue. If your littles are too young to pedal, strap them into a surrey. There are many paved and dirt trails to explore by bike in Cape May.
8. Aviation Museum
Visit the NAS Wildwood Aviation Museum, where kids can climb into the cockpit, play flight simulation games, and check out an air traffic control tower. Before you visit read our review of the museum.
RELATED: The Best NJ Zoos and Aquariums for Animal Encounters with Kids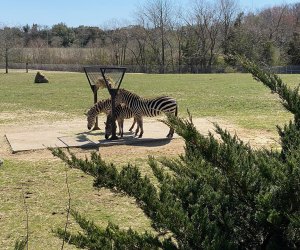 Say hello to the zebras at the Cape May County Park & Zoo. Photo by Rose Gordon Sala
9. Cape May County Park & Zoo
Explore the wildlife, including zebras, giraffes, and pink flamingos, at the Cape May County Zoo. Your own little monkeys can swing on the playground equipment near the entrance. It's open daily and always FREE, although donations help keep it running.
10. Jersey Shore Alpacas
Schedule a tour to meet the friendly creatures at Jersey Shore Alpacas.
11. Cape May Convention Hall
Enjoy music, magic shows, movies, and more kid-friendly entertainment at the Cape May Convention Hall. Find the event schedule here.
RELATED: Guide to Family Day Trips in New Jersey

Visit the Harriet Tubman Museum to learn about Tubman's life. Photo courtesy of the museum
12. Harriet Tubman Museum
This brand-new museum celebrates the famed abolitionist, who once lived in Cape May. Read our review of the museum for tips on visiting the museum with kids.
13. The Original Fudge Kitchen
Taste a morsel of freshly made fudge at The Original Fudge Kitchen, which is located within the Washington Street Mall. Salted caramel, mint, and peanut butter are faves.
14. Trolley Tours
Soak up the town's Victorian charm on a trolley tour or horse-drawn carriage ride, or stroll past rows of stately, gingerbread-style homes.

Dolphins sometimes make an appearance on Cape May Whale Watcher cruises. Photo courtesy of the tour company
15. Whale Watching and Dolphin Cruises
Board a whale-watching cruise to spy on dolphins and whales up close.
16. Cape May Birding
Follow nature trails through the various bird and wetlands sanctuaries and centers to watch the birds of Cape May take flight. Try the Nature Center of Cape May or the Cape May Bird Observatory.
17. Kayak in Cape May Harbor
Rent a kayak or paddleboard to explore the harbor.
18. Revolution Rail
If your family is looking for adventure, consider biking along an abandoned railroad track and through Garrett Family Nature Preserve with the company Revolution Rail. Read our review of the experience here.
Top Attractions in Cape May For Families
19. Cape May Beaches
Stretch out on Cape May's famously wide beaches, and watch from your beach blanket as dolphins swim by, frolicking in the surf. There are both ocean and bayside options, and along the Beach Avenue entry points, you'll find comfort stations and restaurants.
RELATED: New Jersey Beaches, Lakes, Pools, and Water Parks Guide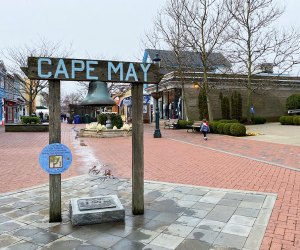 Explore the shops along the Washington Street Mall pedestrian area on foot or bike. Photo by Rose Gordon Sala
20. Washington Street Mall
Stroll along the Washington Street pedestrian mall to go window shopping at art galleries, specialty clothing stores, souvenir stalls, and sweet shops. Take a break for a sit-down lunch at one of the many restaurants available along the car-free walkway.
21. Emlen Physick Estate
Tour the historic Emlen Physick Estate for a glimpse back in time to the Victorian resort town's prior splendor.
22. Farmers Market
Indulge in some fresh-made guacamole, crab cakes, or raspberry lemonade at the West Cape May Farmers' Market on Tuesdays. Make sure to stay and enjoy the free live music in the afternoons!
23. Salt Marsh Safari
Cruise through the coastal wetlands on a Salt Marsh Safari to see crustaceans, plant life, and inland tidal flows.
24. Beach Plum Farm
Amble along the dirt paths at Beach Plum Farm, picking berries, feeding hens, and smelling flowers as you go. Grab a fresh-brewed iced tea and sandwich at the barn.
25. Wine & Brewery Tours and Tastings
Enjoy outdoor tastings of local brews, wines, and spirits at several Cape May spots, such as Cape May Winery, Cape May Brewery, and Cold Spring Brewing. Many offer picnic tables and wide-open spaces where kids can goof off while grown-ups relax. If you love visiting breweries and wineries, here is a complete review of family-friendly breweries in NJ and family-friendly wineries in NJ.
26. Arden Kids
Stock up on cute baby and kid clothing, including seasonal accessories like rain gear or sunglasses and beach items at this Washington Street Mall shop. For more baby boutiques worth a visit in New Jersey, see our review.
RELATED: Best Family-Friendly Restaurants at the Jersey Shore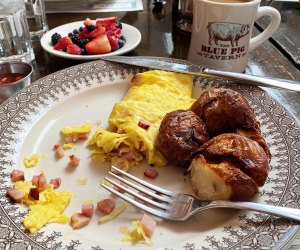 The brunch at Blue Pig Tavern is just right for fueling a beach day. Photo by Rose Gordon Sala
27. Brunch at Blue Pig Tavern
Indulge in a lazy brunch at this foodie haven located within Congress Hall. Don't worry, there's a kids' menu, too.
28. Willow Creek Winery
Listen to music, sip sangria, and enjoy a kid-friendly meal at the pretty Willow Creek Winery. The vineyard hosts firepit Fridays this summer. It's not far from the lighthouse, making it a nice stop for a meal before returning to the hotel.
29. Sunset Beach
Watch the sun setting in a blaze of colors over Delaware Bay on Sunset Beach in Cape May Point, where a patriotic flag-lowering ceremony is held each evening.
RELATED: Best Jersey Shore Hotels for Families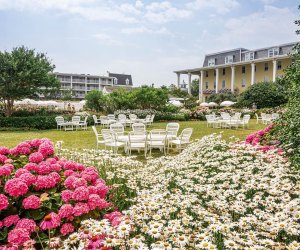 The beach-side Congress Hall is a lovely hotel in any season. Photo courtesy of the hotel
Best Hotels in Cape May for Families
30. Congress Hall
Book a stay at the beach-side Congress Hall, a luxurious but family-friendly Cape May resort. When summer is in full swing the resorts host carnivals and picnics on the lawn.
31. Sea Crest Inn
For a great location, fabulous views, large balconies, and a pool, check out this family-friendly beachside resort.
RELATED: Top NJ Water Parks for Kids

Head down the water slides at Raging Waters Water Park at Morey's Piers. Photo by Ki[p Dawson
Theme & Water Parks Near Cape May
The quaint streets and clean beaches of Cape May are perfect for a weekend or week away. But the kids may also want some big-time all-day amusement park entertainment. For that kind of fun, head a little more north along the shore for roller coasters, arcades, kiddie rides, boardwalk treats, and of course, water slides and wave pools.
32. Morey's Piers
Drive a few minutes north a few miles into Wildwood for more than 100 thrill rides, water parks, arcades, and more entertainment on the boardwalk at Morey's Piers. Many families stay in Wildwood and day trip into Cape May, too.
33. Ocean City Boardwalk
Stroll the Ocean City, New Jersey, boardwalk for arcades, fried and sweet treats, and to sample its amusement park rides. Playland's Castaway Cove and Gillian's Wonderland Pier are both accessible from the boardwalk and small enough to enjoy for a morning or afternoon before returning to the calm of Cape May. There's also a water park for cooling off: OC Waterpark.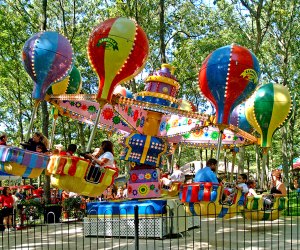 Storybook Land is a wonderful amusement park for kids of all ages. Photo courtesy of the park
34. Storybook Land
This toddler and preschooler-friendly Jersey amusement park is worth the hour-long drive from Cape May. Everything moves at just the right pace for younger kids!
A version of this article was first published in 2017. Additional reporting by Rose Gordon Sala.
Click Here to Sign Up!
i