Family Getaway to Wildwood, NJ: Beach, Water Parks, Rides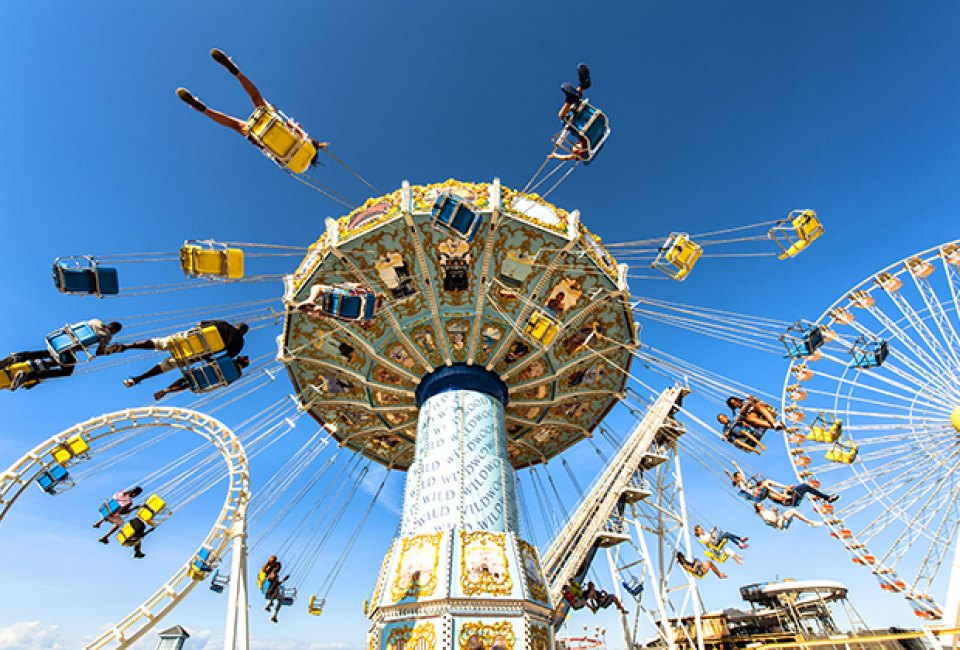 7/12/17
- By
Rose Gordon Sala
Along the Jersey Shore, beaches and boardwalk offer endless summer fun for kids, but each shore town has its own personality, top sights, and vibe. So how do you know which is right for your family?
We've explored nearly all of them, from Cape May at the southern point, on up to Asbury Park. I just returned from a family trip to Wildwood and its action-packed boardwalk and Morey's Piers with a bazillion rides, multiple water parks, games, and so much more. It's busy and chaotic, but exudes retro charm thanks in part to its Doo-wop-themed diners and local customs like when the whole boardwalk stops in its tracks at 11am to raise their hands to their hearts as the national anthem plays over the loudspeaker.
Read on for all the details on what to expect from your summer getaway to this Jersey Shore hot spot.
The Wildwoods have a bit of a reputation of being a raucous section of the Shore, but I didn't find that to be the case. It's probably wise to avoid it around prom season when Jersey teens descend on the town in party mode, but a summer weekend (or week) tends to be filled with flocks of multigenerational families who fill the boardwalk with bikes in the early morning hours and the amusement parks, beaches, and restaurants the rest of the day.
It's comprised of three towns—North Wildwood, Wildwood, and Wildwood Crest—five miles of beach, and a roughly two-mile boardwalk, which is loaded with the typical kitschy beach supply shops, but also the aforementioned Morey's Piers and all the amusement park fun that comes with it.
RELATED: 70 Things to Do with Kids at the Jersey Shore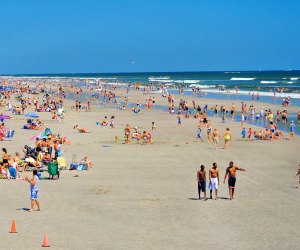 No beach badge required. The Wildwood beaches are FREE. Photo courtesy of Wildwoods Tourism.

Beaches
The best part of Wildwood's beach? It's all FREE! Yep, no beach badges at this Jersey Shore. Access points run throughout the towns, including right off of the entertainment piers. The beaches here are huge, by the way. They're super deep, so that you're walking quite a ways (15 minutes with slow toddlers) to get from the boardwalk or street to the actual water. Bring a cart or wagon to haul all your stuff to the water's edge. You will find porta-potties and chair and umbrella rentals about at the halfway point on the beach before you hit the wet sand. When the tide goes out the kids might even be left with some cool mini tide pools.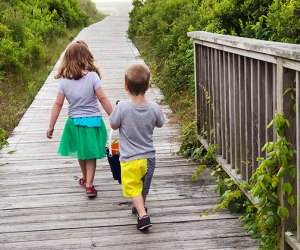 The beach is deep in Wildwood and Wildwood Crest (pictured). Bring a wagon to haul all your stuff to the ocean; you'll be walking for a bit!
The sand was a bit scratchy, not that fine soft sand, but clean when we visited. If you want a quieter scene, head toward the beaches of Wildwood Crest. If you want to hit the rides later, park yourselves in front of the piers in Wildwood proper. There are both lot parking options and metered on street parking.
Be warned: The beach plays host to a number of events, some more family-friendly than others. There are outdoor movies, sand castle competitions and more, but the weekend I was there, there were thousands of jeeps parked on a section of the beach for for some sort of show. The kids thought it was cool, but...yuck. Check the Wildwoods full event calendar before you plan your trip. There's even a section of the beach reserved for dogs (just look for the giant red fire hydrant) during non-peak hours!
Morey's Piers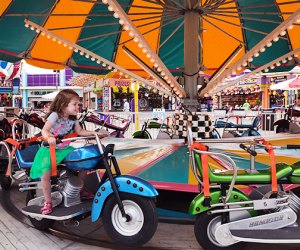 There are tons of kiddie rides, along with plenty of high-thrill coasters at Morey's Piers.
The amusement park fun is all set up along the various piers off of the boardwalk. You can ride the tram car (for a fee) as you peruse the options. Owned and operated by the second and third-generation of the Morey family since 1969, Morey's Piers has more than 100 rides on offer, from dozens of kiddie rides like carousels, ride-on cars, trains, and boats to intermediate thrill rides that spin, twist, splash to huge roller coasters with names like the Great Nor'Easter and the Great White, log flume rides, and even a Ghost Ship. Get a wristband and let the kids go wild with the rides. It's a splurge, but you'll save money (and headaches) overall by going this route unless you have the discipline to limit them to just a few rides each.
RELATED: Top Amusement Parks and Water Parks in New Jersey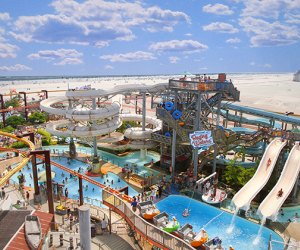 Raging Waters Water Park is just one of several water parks in Wildwood. Photo courtesy of Morey's Piers
The three main entertainment piers from Morey's are as follows: the northern most pier is Surfside Pier, which contains the Ocean Oasis Water Park, the popular Great Nor'Easter coaster, and plenty more. Hop just a few minutes south along the boardwalk and you'll find Mariner's Pier with the Raging Waters Water Park, the iconic Giant Wheel where you can even reserve breakfast if you're looking for a special splurge, and of course plenty of mild and gentle kiddie rides and games. We spent a lot of time at this pier as it was tightly packed with kiddie rides at the outset and games that the kids couldn't resist (we came home with way too many plush animals). My 2- and 4-year-old were able to go on plenty of the rides on their own, but there were an equal number that I could accompany them on, too.The third pier, Adventure Pier, has fewer attractions but hosts boating, events, and the famous Great White coaster.
Figure out which water park you might like to go to ahead of time, so you can reserve a morning or afternoon to hit the water slides. There are the two already mentioned but also the Splash Zone Waterpark on the boardwalk too. So many options!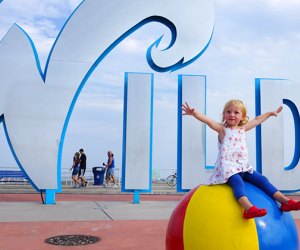 Pose for a selfie at the Wildwoods beach ball sign along the boardwalk. Photo courtesy of Wildwoods Tourism
More Boardwalk Attractions
You'll find plenty more to do on the boardwalk, including a mini aquarium, Ripley's Adventure Maze, a ride on a monster truck course directly on the beach, mini golf (just a block away near the Instagram-ready Wildwoods sign at 4501 Boardwalk), and bike riding. Bicycles are allowed on the boardwalk every morning before they are booted off around 11am to make room for the tram car. You can find rental spots all along Ocean Avenue, the main drag that runs parallel to the beach. Consider a surrey bike for multiple passengers. Toddlers and little kids can sit up front with the horn, while you pedal!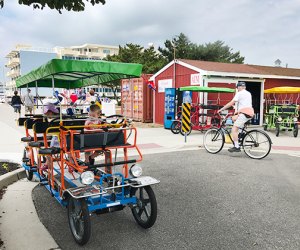 Surreys are perfect for families with small kids.
There's of course plenty of water sports to explore, too: parasailing, jet skiing, boat rentals and whale watching. You'll find go-karts, too, and even a lighthouse to check out. Search through the top attractions and tour operators ahead of time, or just stroll the boardwalk to see what the kids gravitate toward.
Where to Eat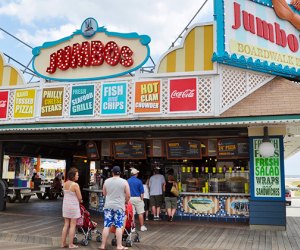 Jumbo's Seafood Grill has great seafood, but also kid options and indoor or outdoor seating. Photo courtesy of Morey's Piers
On the boardwalk you'll find everything from pizza, ice cream, candy, and fries to sitdown seafood fare and juice bars. Some spots are grab and go, while many others offer outdoor and even some indoor tables. We loved the steamers at Jumbo's Seafood Grille, while the kids gulped down mac and cheese and lemonades between rides at Mariner's Pier near Schellenger Avenue. The kids also wolfed down crepes from La Bakerie, while we loaded up on coffee. Joe's Fish Co. and Curley's Fries are also popular spots at the Surfside Pier near 25th Street, or try Stubborn Brothers Beach Bar & Grille if you want to overlook the beach while you dine. Grab breakfast omelettes, smoothies, or a kids lunchbox (PB&J or grilled cheese with cookies and juice) at Stuey's Juice Bar & Bistro at the south end of the boardwalk near Ocean Towers South.
Don't forget to use Yelp to search around for highly rated restaurants, too. We stumbled upon the Dogtooth Bar and Grill this way, and enjoyed everything from super fresh oysters and salads and steak for the grown-ups to pasta dishes for the kids. There was a huge line out front, but we barely waited over five minutes when we walked up around 6:30pm on a Saturday night. Another popular off-the-boardwalk spot is Jersey Girl, with its diverse menu and proximity to the beach.
Where to Stay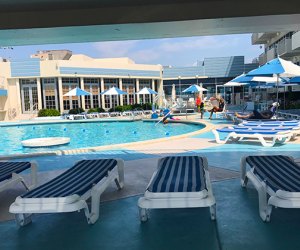 The pool at the Pan American Hotel offered the perfect post-amusement-park dip.

There are thousands of mostly independent hotels throughout the Wildwoods. We received complimentary accommodations at the Pan American Hotel in Wildwood Crest. It offered an outdoor pool, kitchenette, and a popular onsite restaurant. Our room had a daybed, plus two queen-size beds, making it ideal for families. There was a playground right outside, bike rentals, and of course the beach. We were just past the boardwalk, though, so it was a walk to the rides before the tram car started up in the morning. You might also consider these Morey's resorts, which will offer a wristband deal to the rides with your overnight accommodations: The Starlux, The Port Royal, and The Blue Palms. I met a family along the boardwalk who had been coming to Wildwood for years and she recommended the Adventurer Oceanfront Inn for its two-room suite options, pool, and proximity to the beach.
But really there are quite literally thousands of hotels from which to choose. You can sort by interest on the Greater Wildwoods Tourism site. Either way, there are a few things to look for when considering which room to book:
Is there a separate room for the kids? Many of the hotels offer suites connected by a sliding door for privacy (a sanity-saving option for different bedtimes!) while keeping the family technically all in one room.

Is there a pool, and is there a kiddie pool? Sometimes it's nice to just take a dip in the hotel pool instead of hauling all your stuff out to the beach.

Is there a restaurant on site or next door? A restaurant attached where you can grab breakfast before you head out for the day, or a non-fried dinner or quick lunch is super convenient when the kids are suddenly starving.

Where is it located on the boardwalk? If you have little ones (read: short legs), perhaps you want to stay closer to the middle of the boardwalk to be able to reach the action faster. Or, if you plan to spend more time at the beach than the piers, stay further down the boardwalk and into Wildwood Crest.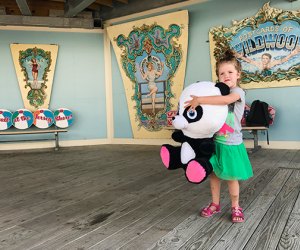 The retro feel of the boardwalk adds to charm of the Wildwoods.
Those in New Jersey might just day trip it to Wildwood, but those in Philly should know it takes just under two hours and for those in the NYC metro area, it will be more like three to four hours, depending on traffic. Don't forget that Wildwood sits in Cape May County, so not far from the pretty Victorians and quieter beachfronts just south. There's also Storybook Land, the FREE Cape May Zoo, and the cool boardwalk nature trails at Cattus Island County Park just north in Toms River—all worthy of a day trip from Wildwood if you're staying the week!
Top photo courtesy of Wildwoods Tourism. Unless otherwise noted, photos by the author.
Places featured in this article:
t Click Here to Sign Up!