Whale Watching Boats for NYC Kids: See Dolphins and Whales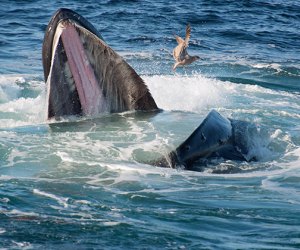 Most New Yorkers were entranced back in 2014 when the unexpected happened—a humpback whale surfaced in New York Harbor and not only survived, he (or she) toured the city for days. My office was all abuzz, and my daughter and I tracked the whale on social media. (Who says New Yorkers hate tourists?)
When I moved to New York 20 years ago, I'd never have dreamed that we'd have healthy marine life frolicking in our waters, but apparently, whales started appearing in 2010. The numbers have increased exponentially every year since, which is great news for urban kids who want to see a whale outside of the American Museum of Natural History.

We've rounded up four local whale watching cruises, all about a two-and-a-half-hour drive from NYC. (One is even in Queens!). And if you want to make a vacation out of it, we've got the scoop on the best place for a whale-watching weekend getaway on the East Coast.
Whale Watching Day Trips from NYC
American Princess Fleet — Rockaway, Queens
Various dates and times from May 6-September 24
$48 for adults, $33 for children ages 5-12, Free for children under 5
The only whale watching operator in New York City offers four-hour excursions out of Queens' Jacob Riis Park. The tour operator touts a 90% sighting rate from last year, and on their latest trip, participants spotted two humpback whales.

Both Montauk, Long Island and the Jersey Shore are about two and a half hours by car from Midtown Manhattan and make for great day trips. There are lots of things to do beyond whale watching, of course, including top beaches, amusement parks, and more.
RELATED: The Best Boat Rides for NYC Families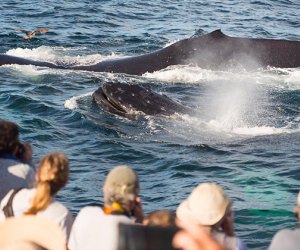 Get up close to humpbacks on the Viking Starship out of Montauk. Photo by Dr. A. H. Kopelman for CRESLI.

Coastal Research and Education Society of Long Island — Montauk, Long Island
July 2-September 3, 9:30am-3:30pm
$75 for adults, $40 for children ages 5-12, Free for kids under 5
This marine mammal research organization hosts whale watching cruises in partnership with Viking Fleet. Tours are narrated by experienced naturalists/marine biologists who help spot mammals and other interesting sea life. Last year's sightings (a 91% success rate) are detailed on the website. CRESLI also offers Seal Walks, Seal Cruises, and multiday bird and whale watching trips to sighting hot spot the Great South Channel in the Gulf of Maine.
The Starlight Fleet — Wildwood, New Jersey
April-November 10am and 1pm; also Saturday and Sunday at 9:30am
Prices range from $30-$40 for adults, $20-$25 for children 7 and up, free for one child under 7 per paying adult
These trips are perfect for families because they vary in length—from two to three hours—and focus on different interests. Plus, in the unlikely event you don't spot marine mammals, your next trip is on them (subject to availability)! The Starlight Fleet offers daily whale and dolphin trips from Wildwood with complimentary coffee and doughnuts on morning excursions. All trips are led by an experience marine biologist and educator, and offer a touch tank for the kids. Don't forget to take advantage of the online coupons when booking!
RELATED: 11 Best US Aquariums for Your Next Family Vacation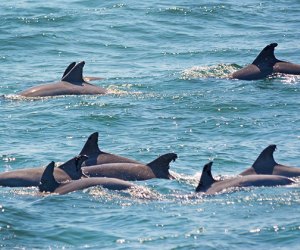 Glimpse dolphin pods and more on The Cape May Whale Watcher.

The Cape May Whale Watcher — Cape May, New Jersey
Daily April-November at 10am and 1pm
$40 for adults, $25 for children ages 7-12, free for one child under 7 per paying adult
These daily trips, ranging from 2.5-3 hours, take you into the Delaware Bay Estuary where sightings of whales, dolphins, and porpoises often happen relatively close to shore. The trips, which include historical highlights, are narrated by the captain, and mammal sightings are guaranteed or you get a free trip. The Cape May Whale Watcher also offers dolphin cruises, including a sunset cruise with complimentary pizza and hot dogs.
Whale Watching Weekend Getaways
About an hour north of Boston, Gloucester, Massachusetts, is known to have some of the best whale watching on the entire East Coast. There are several tour operators in town and they all head to Stellwagen Bank National Marine Sanctuary about five miles offshore to see humpback, minke, and fin whales.
Frances Fleet — Narragansett, Rhode Island
Tuesdays, Thursdays, Fridays, Saturdays from June 27-August 9, departing at 1pm
$50 for adults, $40 for under 12
Thirty minutes from Providence or Newport, this excursion could be the highlight of a weekend getaway. This whale-watching tour is a little more expensive than others--but it's also longer, clocking in at 4.5 hours. You're likely to see Finbacks, and other possibilities include humpbacks, minke, pilot, false killer, and even a sei whale. If you don't see a whale, you'll receive a voucher for another whale trip or a discount off a deep-sea fishing trip. There are family packages on Tuesdays and Fridays, with two adults and two children under 12 for $140 total.
Things to Know Before You Go
Pack extra clothes and wear layers. It can get chilly out on the water, even when it's hot on the shore.
Whale watching boats move fast and can get rocky. It's a good idea to bring Dramamine even if you don't tend to get seasick easily—and if you do, definitely take some prior to setting out to sea! There are also child-safe "Sea-Bands" that you might consider.
Bring a few pairs of binoculars. It can help you find whales and dolphins.
There's no guarantee. Tell your children that it's possible you might not see any marine mammals, so they won't be crushed if it doesn't happen. Plus, you can always choose a tour that guarantees you another excursion if you don't spot a whale or dolphin.
Have fun! It's always especially exciting for urban families to get out there on the water, so consider whales or dolphins an added bonus.
A version of this article first published in June 2013, but it has since been updated.
Top photo: Open-mouth feeding Humpback on the Viking Starship out of Montauk. Photo by Dr. A. H. Kopelman for CRESLI