American Museum of Natural History: Ultimate Guide to Visiting NYC's AMNH with Kids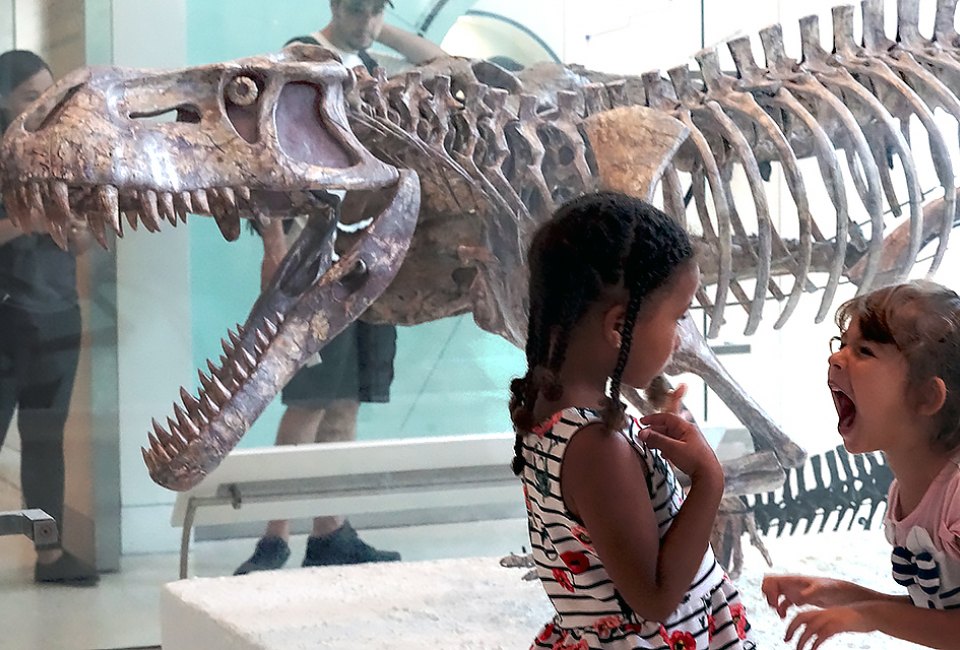 1/19/23
- By
Jody Mercier
The American Museum of Natural History is one of the foremost natural history museums in the world and is certainly one of our top 100 things to do in NYC. There's so much to see at AMNH you can't cover it all in one day, especially with kids in tow. Luckily, we've been there a bazillion times and are happy to share everything you need to know to plan a visit to AMNH.
Here's your insider's guide to our top things to see and tips for navigating The American Museum of Natural History with kids. Find more must-visit museums in our Guide to Family-Friendly Museums in NYC.
Subscribe to our newsletters to get stories like this delivered directly to your inbox.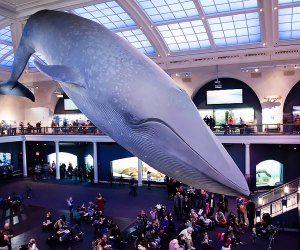 Walk under the iconic blue whale in the Milstein Hall of Ocean Life. Photo Courtesy of AMNH
AMNH Must-See Exhibits
Find It: First floor
Best For: All ages
The big blue whale suspended from the ceiling in the Milstein Hall of Ocean Life is one of the most iconic sights in the AMNH. The still-life panoramas that dot the edge of the room are equally breathtaking. My kids often flock to the pod of dolphins and get a good giggle at the walruses.
Steer clear of the giant squid in the corner opposite the entrance if your kid is easily scared. It can be a bit dark and intimidating! The Hall of Biodiversity leading into this hall is a sight to behold on its own, and these two galleries alone could make an entire visit for toddlers.
RELATED: NYC's Most Kid-Friendly Museums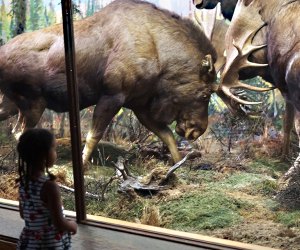 Stare in awe at the majestic moose dioramas.
Find It: First floor
Best For: All ages
Perhaps this is our family's favorite because I have Rocky Mountain roots, but my kids love to see the animals of the wild, wild west. The moose have always been a big draw—my daughter was a moose-in-a-tutu one Halloween—as is the towering grizzly bear who strikes an imposing pose, standing on his hind legs. Even though we've seen some of these animals in real life, there's something spectacular about being this close to them.
RELATED: Best Children's Museums in NYC for Families to Visit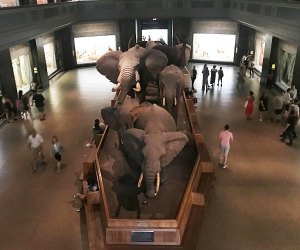 See an elephant stampede in the Akeley Hall of African Mammals.
Find It: Second and third floors
Best For: All ages
Speaking of spectacular, I have countless photos of my kids in front of the stampeding herd of elephants in this hall. This is also where you'll find lions, giraffes, and countless other animals who roam the African savanna. The collection is so large, the dioramas here actually need two floors to fit all the species in. My personal favorite, though, has to be the Water Hole.
Find It: Fourth floor
Best For: All ages
The AMNH has so many dinosaurs that nearly the entire fourth floor is dedicated to its collection of fossils, and in fact, only a fraction of them are on display. The gigantic Titanousaur is so big its single skeleton doesn't fit in its gallery—instead, it cheekily peeks around the corner greeting visitors as they emerge from the elevators.
Start your dino exploration in this hall, officially called the Wallach Orientation Center, where you can watch a video about evolution and learn about the museum's fossil storage in the Big Bone Room. From there, venture through the other dino halls. The biggest, most recognizable fossil collections are found in the Hall of Saurischian Dinosaurs (Hello, T. Rex and Apatosaurus!) and Hall of Ornithischian Dinosaurs, which houses Triceratops, Stegosaurus, duck-billed dinos, and more.
Tip: If you're trying to direct your kids away from these often-crowded dino halls, consider entering through the main entrance on Central Park West. By purchasing your tickets at the Theodore Roosevelt Rotunda, you can see a trio of impressive fossils and get your dino fix, then be on your way to other exhibits.
RELATED: Top Attractions in NYC: Best Things To See and Do With Kids

See Worlds Beyond Earth in the Hayden Planetarium at the Rose Center for Earth and Space. Photo by M. Shanley
Find It: Lower level, first floor, and second floor
Best For: All ages, but older elementary and middle school kids will get the most out of these galleries
Whether your kid is interested in intergalactic odysseys or not, there's plenty to see in the Rose Center for Earth and Space. The whole gallery is built around the Hayden Planetarium, where you can see a rotating array of out-of-this-world presentations. Take in a short video on the Big Bang and then walk the Cosmic Pathway for a brief history of the universe.
When your feet return to terra firma, you can explore asteroid fossils by venturing into the David S. and Ruth L. Gottesman Hall of Planet Earth, with its vast collection of geological specimens. The 81st Street entrance drops you squarely in the Rose Center, and makes it an easy entry/exit point if the solar system is the only thing on your museum to-do list for the day.
RELATED: 7 Space Museums Near NYC for Out-of-This-World Fun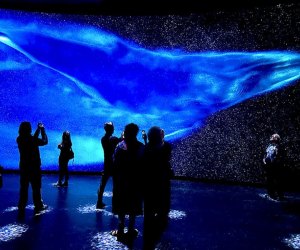 Go everywhere from under the sea to the Amazonian tree tops during the stunning Invisible Worlds show.
Find It: West side of the building; enter from Columbus Avenue and 79th Street and make it your jumping-off point to a museum visit
Best For: All-ages
This brand-new building adds 230,000 square feet of exhibition space to the American Museum of Natural History's footprint and brings with it not only an architecturally stunning building but also a trio of very cool new exhibits and 18 new or upgraded classrooms, ensuring that it lives up to the "education" in its name.
See nearly two-dozen species of live insects in the 5,000-square-foot Susan and Peter J. Solomon Insectarium on the ground floor. A highlight of which is surely the leafcutter ant colony—one of the largest on display anywhere in the world.
The second floor is home to the Davis Family Butterfly Vivarium, which replaces the popular annual butterfly exhibition with a new year-round home. During any given visit, see up to 1,000 butterflies soaring about in this temperature-controlled environment or peep the next residents in the pupa incubators.
On the third floor, step into the immersive mash-up of art and science to see Invisible Worlds, a 12-minute show with stunning graphics and a storyline about Earth's interconnectivity displayed in eye-popping fashion on a 360-degree display with soaring 22-foot-high ceilings. It's one of those awesome you've got to see it to believe it experiences.
Tips for Visiting The American Museum of Natural History
Is AMNH Admission Free?
Though the general admission prices are listed on the website, general admission is pay-what-you-wish at the ticket counters for residents of New York, New Jersey, and Connecticut. While you will be able to access the permanent exhibitions, you may not see all of the special exhibitions unless you pay the full "General Admission + All" price.
How long does it take to visit AMNH?
It's hard to see everything at AMNH in one day, especially with young kids in tow. You should have at least two and half hours to see the top exhibits. You could easily spend a whole day, especially if you take a lunch break at a nearby kid-friendly restaurant.
Are strollers and backpacks allowed in AMNH?
Yes, strollers and bags are allowed in the museum and there are ample elevators, although they can get crowded. You can also bring food and snacks, although eating outside food, besides water, is not allowed in the museum. Lockers are available on the lower level. Other family-friendly amenities include a lactation room (lower level near the Rose Center for Earth and Space) and changing-table-equipped restrooms.
When to Visit AMNH?
The museum hosts numerous special exhibitions each year, so keep an eye on the exhibition schedule for what's new. The museum gets extremely crowded on holidays, weekends, and days NYC public schools are closed. If you are looking for something to do on a rainy day, make sure to go as early as possible to avoid crowds.
What else can we do nearby AMNH?
When you've had your fill of the museum, head outdoors to the hidden sprinklers on the Arthur Ross Terrace, across the street to one of Central Park's best playgrounds, or further west for a kid-friendly restaurant. There is also a cafeteria on the lower level near the subway entrance, as well as cafes on the first and fourth floors.
If you're booking several top attractions in New York City and looking to save money, consider purchasing a Go City Explorer Pass, which includes discounted admission to One World Observatory, the 9/11 Memorial and Museum, the Statue of Liberty, the American Museum of Natural History, and more.
Unless noted, photos by the author
This piece, originally published in 2010, has since been updated.
Disclosure: We may earn a small commission if you click through our link and make a purchase. This revenue helps us maintain this site, so thank you for supporting us.
Places featured in this article:
---
American Museum of Natural History
Click Here to Sign Up!
i