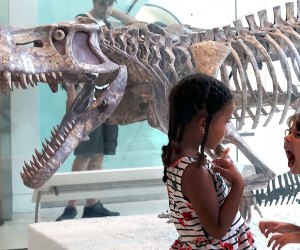 American Museum of Natural History in NYC: What to See with Kids
The American Museum of Natural History may be one of the foremost natural history museums in the world, but a visit here is a rite of passage for all NYC kiddos. The building's imposing footprint and vast collection can make the trip a slightly daunting proposition, especially for first-timers.
Never fear: Not only is AMNH one of NYC's most kid-friendly museums, it's also easy to check out a hall or two on one visit and still leave dozens of other exhibits for a totally new experience on your next visit. Read on for our top sights and kid-friendly tricks for checking out this amazing institution.
Museum Must-Sees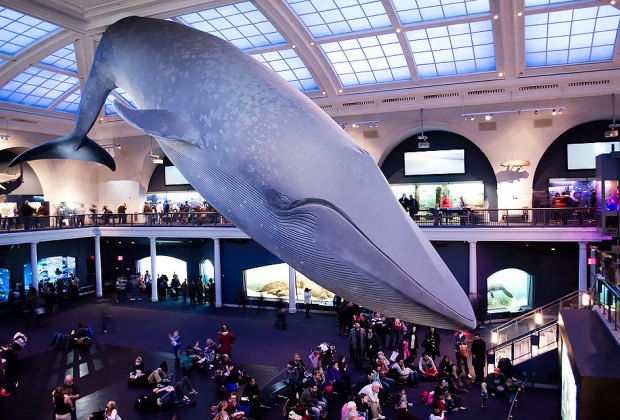 Walk under the iconic blue whale in the Milstein Hall of Ocean Life. Photo Courtesy of AMNH
Milstein Hall of Ocean Life
Find It: First floor
Best For: All ages
The big blue whale suspended from the ceiling in the Milstein Hall of Ocean Life is one of the most iconic sights in the AMNH. The still-life panoramas that dot the edge of the room are equally breathtaking. My kids often flock to the pod of dolphins and get a good giggle at the walruses. Steer clear of the giant squid in the corner opposite the entrance if your kid is squirmy. It can be a bit dark and intimidating! The Hall of Biodiversity leading into this hall is a sight to behold on its own, and these two galleries alone could make an entire visit for toddlers.
RELATED: Family-Friendly Restaurants Near the American Museum of Natural History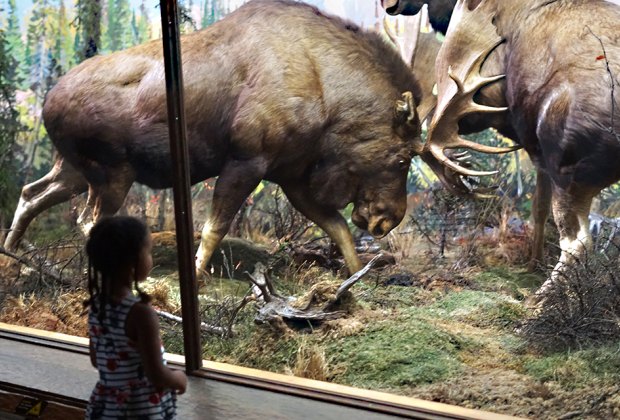 Stare in awe at the majestic moose dioramas.
Bernard Family Hall of North American Mammals
Find It: First floor
Best For: All ages
Perhaps this is our family's favorite because I have Rocky Mountain roots, but my kids love to see the animals of the wild, wild west. The moose have always been a big draw—my daughter was a moose-in-a-tutu one Halloween—as is the towering grizzly bear who strikes an imposing pose, standing on his hind legs. Even though we've seen some of these animals in real life, there's something spectacular about being this close to them.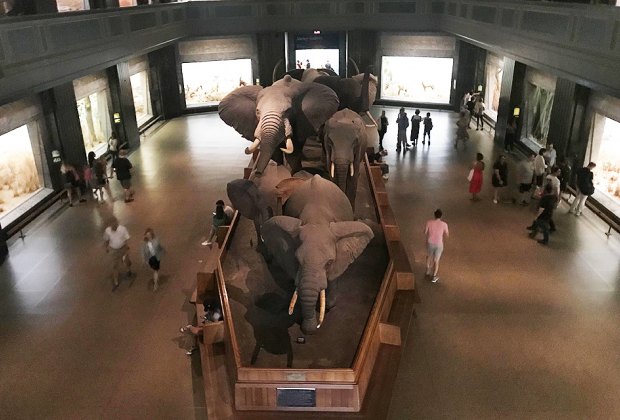 See an elephant stampede in the Akeley Hall of African Mammals.
Akeley Hall of African Mammals
Find It: Second and third floors
Best For: All ages
Speaking of spectacular, I have countless photos of my kids in front of the stampeding herd of elephants in this hall. This is also where you'll find lions, giraffes, and countless other animals who roam the African savanna. The collection is so large, the dioramas here actually need two floors to fit all the species in. My personal favorite, though, has to be the Water Hole.
Dinosaurs
Find It: Fourth floor
Best For: All ages
The AMNH has so many dinosaurs that nearly the entire fourth floor is dedicated to its collection of fossils, and in fact, only a fraction of them are on display. The gigantic Titanousaur is so big its single skeleton doesn't fit in its gallery—instead, it cheekily peeks around the corner greeting visitors as they emerge from the elevators. Start your dino exploration in this hall, officially called the Wallach Orientation Center, where you can watch a video about evolution and learn about the museum's fossil storage in the Big Bone Room. From there, venture through the other dino halls. The biggest, most recognizable fossil collections are found in the Hall of Saurischian Dinosaurs (Hello, T-Rex and Apatosaurus!) and Hall of Ornithischian Dinosaurs, which houses Triceratops, Stegosaurus, duck-billed dinos and more. Tip: If you're trying to direct your kids away from these often-crowded dino halls, consider entering through the main entrance on Central Park West. By purchasing your tickets at the Theodore Roosevelt Rotunda, you can see a trio of impressive fossils and get your dino fix, then be on your way to other exhibits.
Rose Center for Earth and Space
Find It: Lower level, first floor, and second floor
Best For: All ages, but older elementary and middle school kids will get the most out of these galleries
Whether your kid is interested in intergalactic odysseys or not, there's plenty to see in the Rose Center for Earth and Space. The whole gallery is built around the Hayden Planetarium, where you can see a rotating array of out of this world presentations. Take in a short video on the Big Bang and then walk the Cosmic Pathway for a brief history of the universe. When your feet return to terra firma, you can explore asteroid fossils by venturing into the David S. and Ruth L. Gottesman Hall of Planet Earth, with its vast collection of geological specimens. The 81st Street entrance drops you squarely in the Rose Center, and makes it an easy entry/exit point if the solar system is the only thing on your museum to-do list for the day.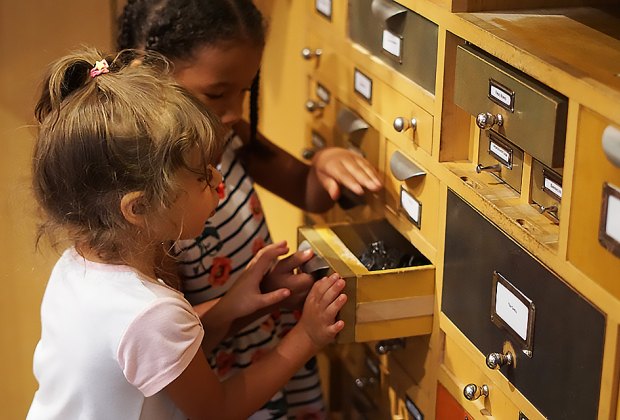 The Discovery Room is exactly what is sounds like—even the littlest of visitors get to experience hands-on exploration.
The Discovery Room
Find It: First floor
Best For: Ages 5-12 officially, though some programming skews younger
Perhaps I've saved the best for last: The Discovery Room is hands-down my favorite spot for young museum-goers. Here you'll find pint-sized, touchable activities for the 5-12 year old set. Play a fossil matching game, explore a specimen cabinet, search for critters in the baobab tree, dig for fossils, use a microscope, hold a Madagascar cockroach and more. I always make this our first stop—if the room is at capacity, you can sign up for a return time to explore later in the day. Another plus: The weekly storytime for preschoolers while big siblings are at school. There are also select Meet-the-Scientist afternoons for older kids and their adults.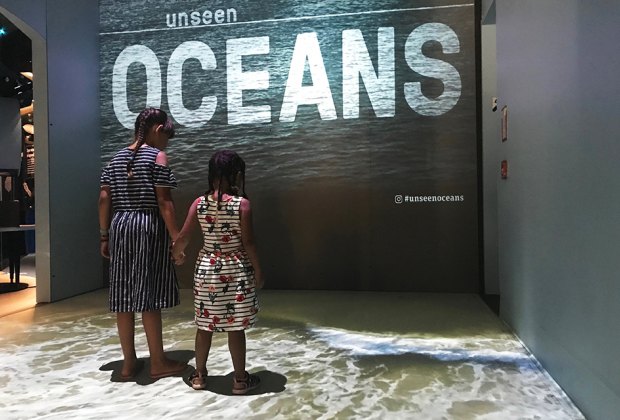 Dive to the depths of the ocean in Unseen Oceans.
Museum Visiting Tips
Keep an eye on the exhibitions. The museum hosts numerous special exhibitions each year, so even once you've covered all the permanent halls, there's always something new to see. Current programming includes the underwater adventure Unseen Oceans, which takes you to the ocean's depths; Our Senses, the sense-tripping exploration of how your five senses help you interpret the world; Inside You, a spin off of its popular The Secret World Inside You exhibition; and a pair of films playing in the on-site IMAX and planetarium theaters. Most special exhibitions require a fee beyond the general admission price.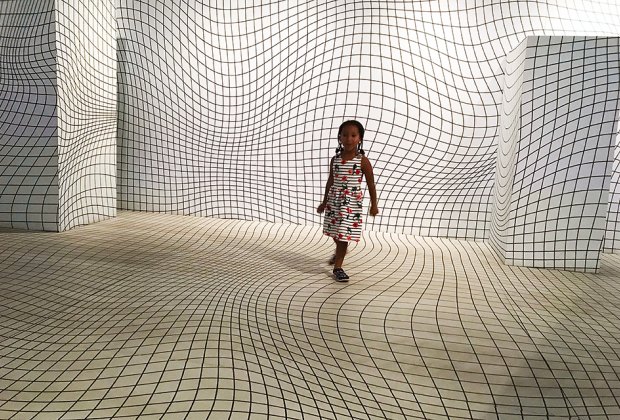 The "Balance Gallery" in the Our Senses exhibit lets visitors discover what happens when our senses disagree.
Admission is suggested. Though the general admission prices are listed on the website, the museum is always pay-what-you wish at the ticket counters. While you will be able to access the permanent exhibitions, you may not see all of the special exhibitions unless you pay the full "General Admission + All" price. But it's hard to see it all in one day anyway, especially with young kids in tow. Though we had tickets to everything on our most recent visit, we missed our planetarium showing. We did get to see Unseen Oceans, Our Senses (although we felt a bit rushed!), and the Amazon Adventures IMAX movie, plus plenty of other favorites. If you have an IDNYC card you might be eligible for a FREE one year membership.
There's a sweet Christmas tree. Like other popular local museums, AMNH has its own holiday tree decked out in origami figures, usually related to current programming. It's worth stopping by if you find yourself there during the holiday season.
There are plenty of kid-friendly amenities. Whether you're coming with a baby in tow and need a lactation room (lower level near the Rose Center for Earth and Space) or a changing-table equipped restroom (there are 10!), the AMNH is very kid friendly. Strollers are allowed, and there are ample elevators, though they can get crowded. Only water is permitted in the galleries, but there is a cafeteria on the lower level near the subway entrance, as well as cafes on the first and fourth floors.
When you've had your fill of the museum ... Head outdoors to the hidden sprinklers on the Arthur Ross Terrace, across the street to one of Central Park's best playgrounds, or further west for a kid-friendly restaurant.
Unless noted, photos by the author
This piece, originally published in 2010, has since been updated.