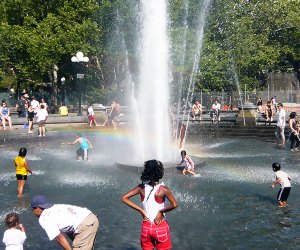 10 Play Fountains Where NYC Kids Can Get Totally Soaked
While all three of my kids love to go for a dip, heading to one of NYC's public pools requires advance planning and me donning a bathing suit. Often, our summer fun is more spontaneous. For those hot summer days when we're out and about or need a last-minute distraction, I keep this list of play fountains in the back of my mind.
A more immersive experience than standard sprinkler parks, these play fountains feature shallow pools of water for wading, plus jets shooting H2O sky high. They're the perfect place for kids to frolic and get completely doused without mommy having to go all in—literally. Best of all? They're all completely FREE.
Here are 10 fun play fountains in NYC where kids can get absolutely soaked. Most opened for the season over Memorial Day weekend, though some start flowing earlier if temperatures hit 80 degrees.
Sign up for our FREE newsletters to receive posts like this delivered to your inbox.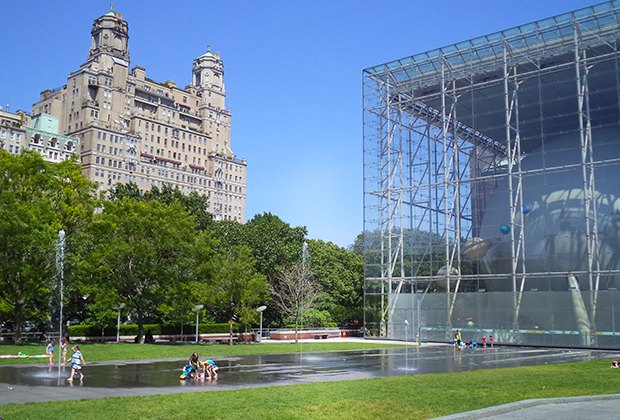 The water play area at the American Museum of Natural History is an under-the-radar gem! Photo by Meg Stewart via Flickr
Arthur Ross Terrace — Upper West Side
Outside the American Museum of Natural History, look for a staircase near 80th Street and Columbus Avenue
When you think about all the fun to be had at the American Museum of Natural History, water play probably isn't on the list. However, we happily discovered kids can cool down on this 1-acre terrace adjacent to the Rose Center for Earth and Space. Grassy knolls line the sprinklers, and though there are only four jets cascading into the air, a gentle slope directs the water to the foot of the Rose Center, where it pools. Toddlers and big kids alike love wading and filling their buckets. Since this spot is little known, it's a much calmer experience than playing in nearby Central Park. I had trouble convincing my kids to leave! Bonus: There are shady picnic tables and benches lining the plaza. And, in case you're wondering, you can access this terrace without paying museum admission.
Domino Park Fountain — Williamsburg, Brooklyn
River Street between Second and Third Streets
A newcomer to the scene, Domino Park opened in 2018 and is sure to be a popular spot to cool off this summer. With a tiered seating area overlooking the fountain, parents have plenty of room to lounge and keep a watchful eye while the kids frolic among the 88 jets that make up the fountain. Interactive lights make this a fun spot to play on summer nights as you enjoy the sun setting over the skyscrapers of Manhattan.
Elmhurst Park — Elmhurst, Queens
Grand Avenue between 74 Street and 80th Street
This beautiful community park opened to the public in 2011 bringing with it a much-needed spray fountain for kids. Water recirculates through various, unpredictable spray valves dousing anyone who dares toy with its mist. If you're worried about cleanliness, take note, this spot was one of the first to comply with the DOH's regulations that recirculated water be purified on-site.
RELATED: Water Parks Close Enough to NYC for a Day Trip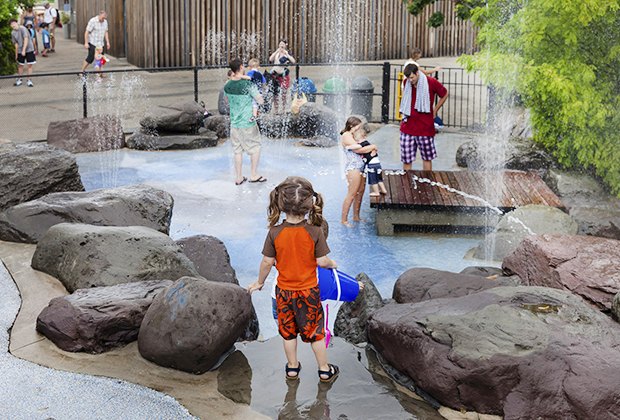 The Pier 6 Waterlab has been a favorite wet spot since it opened in 2010. Photo by Etienne Frossard/courtesy of BBP
Pier 6 Waterlab — Brooklyn Bridge Park
Enter at Joralemon Street and Atlantic Avenue
Brooklyn Bridge Park's spectacular waterfront views are soothing, but when kids really want to cool off, they head to the super-popular Waterlab, one of four distinct play attractions on Pier 6. Man-made cliffs enclose a series of water areas where sprinklers shoot up, out, and all over, totally dousing kids. The water pools on a nice, squishy surface (which saved my clumsy toddler a few times). Head to the destination sandbox next door with its log cabins after the kids dry off, or grab an ice cream (and a beer) at Fornino, directly across from the splash pad. You'll find the bathrooms here, too.
RELATED: Private NYC Pools Where You Can Score a Day Pass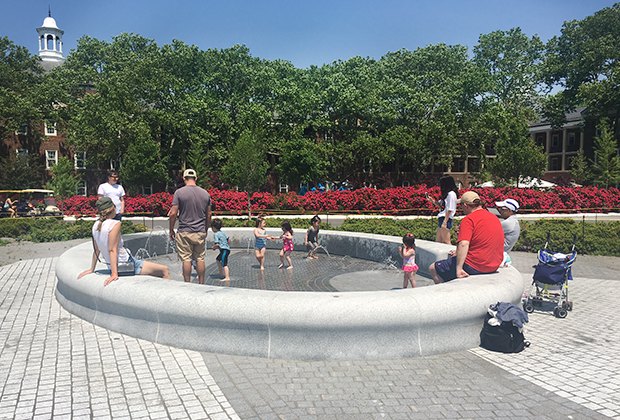 The play fountains at Governors Island are the perfect size for little ones. Photo courtesy of The Friends of Governors Island.
Play Fountains — Governors Island
Liggett Terrace
Located in the Liggett Terrace hedge maze, the trio of circular fountains features 90 programmable water jets shooting from the granite walls and is open daily. Parents can sit on the edges or grab a nearby lounge chair. While you're on the isle, check out The Hills, Adventures at Governors Island, with its zip line, climbing tower, and mini golf, plus the Adventure Playground, and more.
Roberto Clemente State Park — Morris Heights, the Bronx
301 West Tremont Avenue
So, this pick goes against the no-pool rule, but consider this spot a step above your typical city pool. The state park just debuted a brand new pool-and-splash pad for kids and adults alike to frolic. One drawback: There is an entrance fee, but at $1 per kid and $2 per adult, you can still treat the family to a relatively inexpensive afternoon of fun. In addition to a full-size pool, there's a kiddie pool with a shower at one end and an entire sprinkler area where kids can run through geysers and sprays in every shape and size imaginable.
Spiral Fountain — Financial District
Battery Place and State Street
Find this fountain for frolicking where the concrete jungle gives way to the beautiful oasis of Battery Park. Water jets from the surface and spirals mesmerizingly down to the drain. Complete your day in Battery Park with a visit to the nearby SeaGlass Carousel.
Splash Pad at Lakeside — Prospect Park, Brooklyn
171 East Drive
In summer, this two-rink ice-skating complex transforms into a roller-skating spot and a 16,000-square-foot water play area. Forty-seven jets blast kids as a thin layer of water collects at their feet. Parents must sit on the sidelines—the under age 13 rule is definitely enforced.
RELATED: 100 Free Things to Do This Summer with Kids in NYC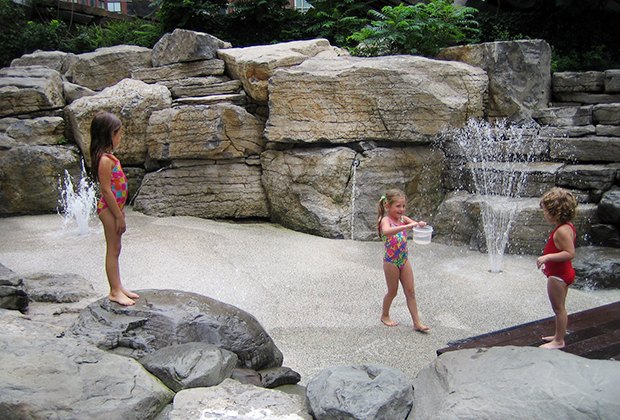 Kids love frolicking in the water play area at Teardrop Park. Photo by sharon_k via Flickr
Teardrop Park — Battery Park City
Between Warren Street and Murray Street, East of River Terrace
Located behind a Battery Park City high-rise, this playground can be tricky to find. But once you locate it, your kids may never want to leave. The super long slide (one of the longest in the city!) dumps kids in a massive sandbox. But in summer, the main attraction is the water play area, where geysers shoot up and douse everything in the vicinity, from the squealing kids to the surrounding rocks.
Washington Square Park Fountain — West Village
In the middle of the park, from Fifth Avenue to Waverly Place between West 4th and MacDougal Streets
We've saved the best for last: Although it wasn't originally intended to be played in, the fountain in Washington Square Park attracts so many overheated kids and grown-ups every summer, the Parks Department doesn't kick anyone out (save for dogs). Here the water shoots skyward from the middle of the fountain, and then crashes back down into the wading pool. Kids who want to get drenched can stand in the streams, while toddlers can hang closer to the edges as parents keep a watchful eye from the dry steps. A word to the wise: It's best to wear shoes here. The water can be murky.
We should add that while we've seen kids (and dogs!) romp in the water at the Unisphere in Flushing Meadows Corona Park and the artsy spray jets outside the Brooklyn Museum, neither of these are meant for playing. If you're caught, you could face a reprimand or even a fine.
This article first published in July 2015 but has been updated for 2019.