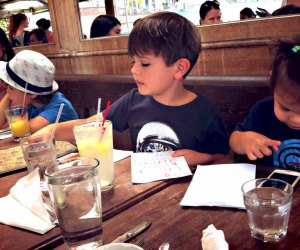 Kid-Friendly Waterfront Restaurants in NYC for Dinner with a View
After a day of running around in the hot city sun, we're all craving that cool breeze that comes off the water. What better way to end a day full of parks and playgrounds than with a delicious meal at one of NYC's many waterfront restaurants? Whether you're facing the East River, the Hudson, or one of the many basins and other bodies of water that feed the mighty rivers and ocean that outline our great city, there are plenty of places to get dinner overlooking the water (even if you're not literally on the water). Check out our list of family-friendly restaurants around the city, and see below for some kid-friendly dining destinations across all five boroughs to line up your delicious dinner with a water view for the whole family.
Agnanti — Astoria, Queens
19-06 Ditmars Boulevard
Agnanti is where you go when you want to feel like you're spending a lazy afternoon lounging at a mom and pop cafe on a tiny Mediterranean island with no cares in the world and an endless supply of strong, Greek coffee. This neighborhood staple boasts some of the best Greek food in the heavily Greek-populated Astoria neighborhood and has outdoor dining year-round (enclosed with heaters in the winter) with views of the adjacent East River and Astoria Park. Plus, it's the type of place where five Greek grandmothers will coo over your child and take him to their table to love him up while you blissfully enjoy your meal.
Alma — Red Hook, Brooklyn
187 Columbia Street
On the formerly industrial Red Hook waterfront, and just a stone's throw from the water where Lady Liberty stands tall (and really close!), Alma is the antidote to everyday dinner. The Mexican eatery offers multiple, colorful floors of dining options, including rooftop dining that overlooks the harbor. Thanks to the scrumptious food and the lovely views, it's always buzzing at this place, so even if the kids are rambunctious, they just become part of the background noise. Plus, there's queso fundido, which is basically cheese with yummy stuff piled into it, sure to please everyone.
RELATED: 50 Things We Can't Wait to Do This Summer in NYC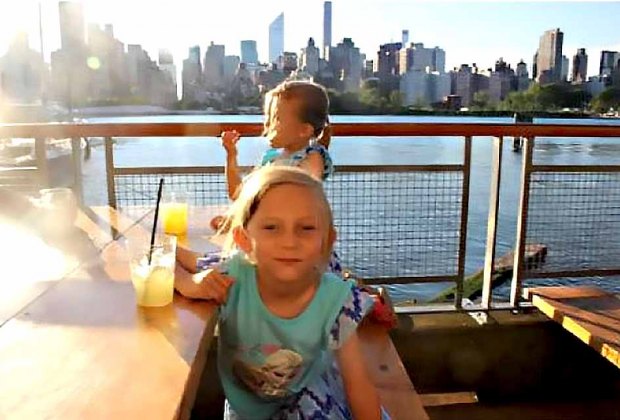 Sip lemonade and soak up the sun at Anable Basin and Sailing Bar & Grill. Photo by Mommy Poppins
Anable Basin Sailing Bar & Grill — Long Island City, Queens
4-40 44th Dr
This place right on the East River is one of Long Island City's best-kept secrets. Tucked away from the hustle and bustle and street traffic of Vernon and Center Boulevards, the main thoroughfares in Long Island City, Anable Basin is a simple, no-frills escape that offers a respite from the city without having to leave it. With straightforward menu items that include kid favorites like hamburgers and hot dogs, plus more adventurous options like bison burger and chevapi (Balkan sausage), this spot is a perfect place to grab a bite and drink in the beautiful Manhattan skyline.
Blue — Snug Harbor, Staten Island
1115 Richmond Terrace
There are few better ways to keep the kids engaged than by having them count tugboats going by. That's one of the perks of going to Blue, an eclectic restaurant with outdoor seating. You can see the water and the passing boats from any seat in the house, whether you're outside or in. The menu is largely adult-friendly but opt for the cheese quesadilla sans shrimp or the delectable chicken wings for the little ones.
Brooklyn Crab — Red Hook, Brooklyn
24 Reed Street
Your kids will have a ball spotting all of the crustaceans at this crowd-pleasing establishment near the waterfront. Brooklyn Crab offers fresh seafood and seating at three different outdoor locations where you can enjoy breezes off the river and enclosed areas where, on a less crowded day, your kids might even be able to run around while you extract every last bite from your crab legs. Plus, a kid's menu means there's a hot dog to fill your child's belly while he makes fun of your shellfish.
City Island Lobster House — City Island, the Bronx
691 Bridge Street
If you haven't been to City Island, now is the perfect time to find an excuse to go. You'll feel like you're in New York City, but strangely also not, on this little island nestled at the north end of the Bronx. City Island Lobster House is right after you cross the bridge so you don't have to sit in traffic on the one-lane road on a popular summer weekend with kids whining. The place is huge and families abound, so you will fit right in. And a kid menu with chicken fingers and burgers means you can enjoy your lobster or steak without fretting about what your kid will eat. Enjoy the sounds of the seagulls cawing and the views of the Long Island Sound (and sounds of Italian Bronx accents).
Cole's Dock Side — Great Kills, Staten Island
369 Cleveland Avenue
This casual eatery overlooking Great Kills Harbor is the perfect place to bring the family on any night of the week. While there's no kid's menu, the seafood-heavy selection also offers more child-friendly chicken and pasta alternatives. Enjoy the view of the harbor from inside the restaurant and the deck.
RELATED: Restaurants With Kid-Friendly Backyards and Patios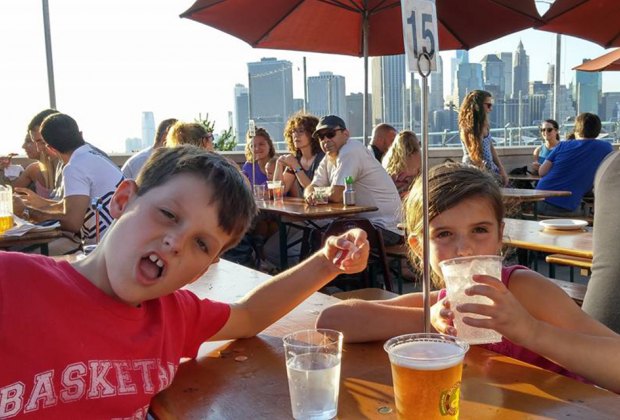 After a day exploring Brooklyn Bridge Park head up to Fornino for tasty thin crust pizza. Photo by Lisa Seibold-Winder
Fornino — Brooklyn Bridge Park, Brooklyn
Brooklyn Bridge Park Pier 6
After running around in the acres that make up the ever-expanding Brooklyn Bridge Park—or after hopping off the Brooklyn ferry from Governors Island—enjoy a lovely dinner at this Italian joint that offers plenty of kid-friendly and adult-artery blocking delicacies including mac and cheese, fried mashed potatoes (which sounds like you've already died from coronary artery disease and gone to yummy heaven), hot dogs and pizza. There are also heart-healthy options like salads and grain bowls and sangria (hey, it has fruit in it, right?).
Tatiana — Brighton Beach, Brooklyn
3152 Brighton 6th Street
Just a couple of blocks down from the chaos that is Coney Island (which is absolutely worth the crowds and long lines at concessions and garbage bags stuck to your kids on the beach) is Brighton Beach. Otherwise known as Little Odessa, Brighton will have you feeling like you've been launched back in time a few generations—and catapulted a few thousand miles East to Russia. Tatiana is a large and very delicious Russian restaurant right on the boardwalk. There are all kinds of people who stumble upon the joint so you won't feel out of place and the waitresses will chat up your kids (who will be busy with the eye candy that is Brighton Beach). Try the sweet cheese varenyky (dumplings), or a cherry blintz smothered in sour cream. Enjoy the scene, including the vast, far less crowded ocean right in front of you while you dine.
Pier 76 — St. George, Staten Island
76 Bay Street
One word: pizza! OK, two more words: craft beer! This joint boasts an outdoor patio with waterfront views that feel so close to Manhattan you can practically touch it. Delight multiple senses as you and your kids chow down on thin-crust pizza, and wash it down with a frothy beer or root beer (there are plenty of other non-alcoholic beverage options too). The menu also includes authentic Italian dishes and sandwiches, as well as kid-friendly dining options including spaghetti, mac and cheese, chicken fingers, mozzarella sticks, sweet potato fries, and more.