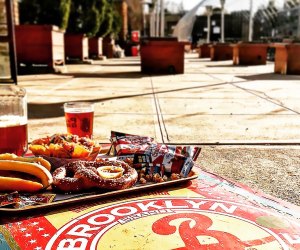 Brooklyn and Queens Beer Gardens Where Kids Are Welcome
New York City is overflowing with family-friendly restaurants, but how about bars? Chasing a toddler through a dimly-lit room that's crowded with tables probably isn't your idea of a successful happy hour. When you're looking to grab a drink with the kids in tow, beer gardens are a better option, with plenty of space for little ones to roam around and menus packed with hearty fare that's sure to please picky palates.
Turns out that Brooklyn could give Bavaria a run for its money when it comes to kid-friendly beer gardens. A few even offer special activities for tots like sing-alongs and playgroups during daytime hours. So whether you're celebrating a birthday, or just making it through the day without a meltdown, here are some of NYC's best beer gardens and halls where families can raise their glasses. We've even thrown in a couple of Queens spots, too.
Remember to call ahead or check the weather if you're looking to sit outside. Some beer gardens are just seasonal, or will close all outdoor seating in cold temperatures.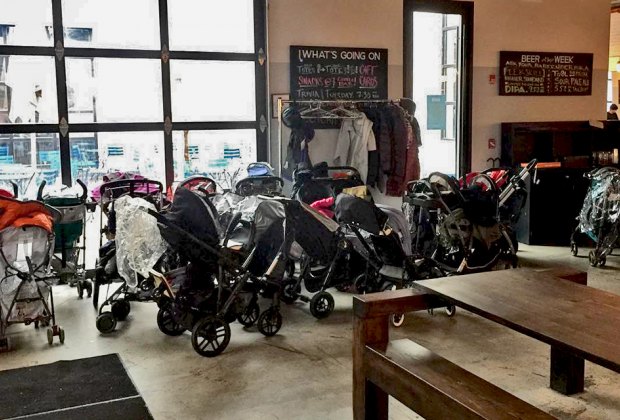 Park your stroller and grab some food and beer at Berg'n.
Brooklyn Beer Gardens
Berg'n — Crown Heights
Opened by the founders of Brooklyn Flea and Smorgasburg, this beer hall is set up like a food court with a variety of vendors offering eclectic eats, from barbecue to spinach pie to bahn mi. Inside, the seating is communal at long tables with benches and there are no high chairs. Families with younger children should head outside where there are smaller tables and a lot less noise. Because Berg'n opens early at 9am and serves coffee and doughnuts, it's a popular morning hangout spot for parents with babies.
Brooklyn Bavarian Biergarten — Park Slope
Prospect Avenue is home to the historic Grand Prospect Hall, which now offers a Brooklyn Bavarian Biergarten alongside the picturesque building. This quirky garden has plenty of lush greenery, fountains, and seemingly endless places for kids to explore. The menu offers traditional Bavarian treats, as well as kid-friendly options for pickier eaters. The garden stays open rain or shine, though the outdoor portion does close in the winter. This seasonal spot planned to reopen the week of April 23, 2018.
Brooklyn Brewery — Williamsburg
This L-train institution, known as one of the founders of the Brooklyn beer renaissance, welcomes families for tours and during its weekend tasting room hours. Don't expect high chairs, though, and do expect massive crowds. The brewery encourages visitors to order food in while they sip beers at communal tables in the tasting room, making for a fun (and noisy) picnic-style dining spot. Try the pizza truck that is usually parked out front or peruse one of the many menu fliers on hand. Strollers (and leashed dogs) are allowed, but be prepared to elbow your way in. Kids under 5 can take a brewery tour for free with parents. Older ones will have to pay up but everyone gets a souvenir glass. (Tours aren't necessary to drink and eat in the tasting room.) Skip the line on Friday nights and arrive when this beer spot opens at noon on Saturday and Sunday to avoid the largest crowds.
RELATED: Top Drop-In Play Spaces for Kids in Brooklyn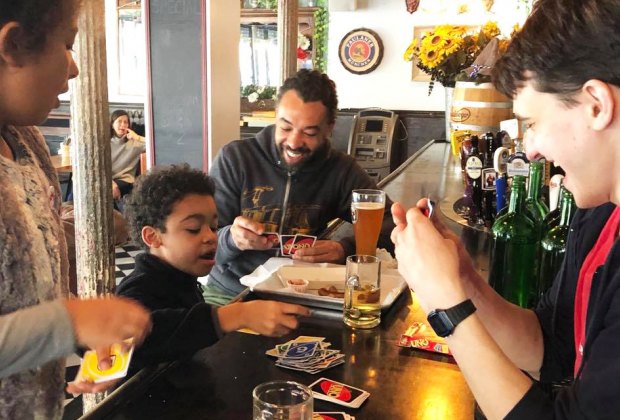 Hop right up to the bar with your kids at DSK.
DSK — Fort Greene
One of the most family-friendly beer gardens in the entire city, Die Stammkneipe (dubbed DSK for short) welcomes visitors of all ages with open arms. While most of the garden is enclosed, it's bright and airy, and there is a smattering of outdoor seating. With 18 beers on tap and traditional German food that even tots will love (a soft pretzel slathered in Nutella, anyone?), DSK is a even popular spot for kids' birthday parties.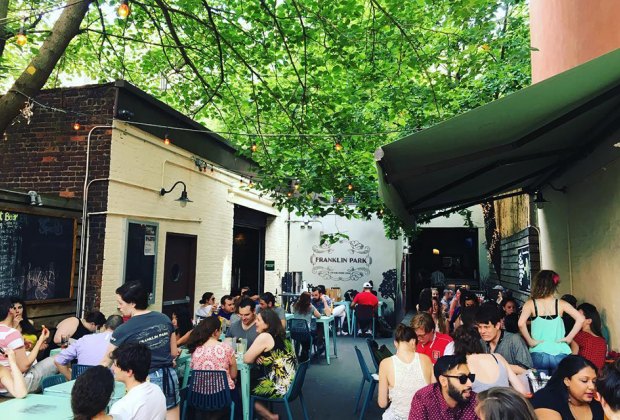 Franklin Park has more than just food and beer; there are games and a photo booth to keep the little ones occupied.
Franklin Park — Crown Heights
In addition to its spacious courtyard, this casual beer garden boasts two indoor bars serving beers that change seasonally. The larger bar has a fireplace and an adjacent game room, where kids can play skee-ball, strike a silly pose in the photo booth, and try to sink a basket in the pop-a-shot. While Franklin Park welcomes kids until 7pm daily, take note: there's just one high chair and the spot doesn't book kids' parties. You're best off visiting for brunch—the food comes from Dutch Boy Burger next door—and then heading out to spend the afternoon at the Brooklyn Museum or the Brooklyn Botanic Garden, both of which are just a five-minute walk away.
Greenwood Park — South Slope
This 13,000-square-foot indoor/outdoor restaurant, bar, and beer garden was formerly a gas station and body shop. During daytime hours, kids and parents are welcome to enjoy the eclectic pub menu (burgers, panko-encrusted chicken fingers, and tater tots), the three bocce courts and the spacious backyard. Even when it's chilly, the outdoor heating lamps keep the temp comfortable and in winter families can snuggle by the indoor fireplace. With 60 beers on tap, casual drinkers and connoisseurs alike should be satisfied. Ages 21 and up after 7pm daily.
KBH — Park Slope
This sleek and large indoor beer hall welcomes customers of all ages. Because the tables are communal with bench seating, it's best for older kids who are past the toppling over phase. Everything about this place is über German, from its Cologne-inspired decor, to its menu full of Bavarian staples like weisswurst and bratwurst, to its extensive selection of bier. While you sip your brew, order the kids pretzels with a side of Nutella. Hopefully they like to share. There's also a tamer kids' menu with PB&J, tater tots, chicken nuggets, and more children's staples.
Lock Yard — Bay Ridge
Bay Ridge finally has a beer garden to call its own. Lock Yard is the perfect watering hole for this family-centric Brooklyn neighborhood. This former locksmith's shop has seamlessly transformed into a cozy pub and year-round outdoor beer garden. Bring your kids earlier in the day for some updated comfort food and a frosty, draft beer (12 choices on tap). The hot dogs are exceptional, and there are plenty more comfort food options for the whole family. They aren't pulling any punches when it comes to the menu—this is not health food, but it's worth every calorie. If you are craving something green, we recommend the (fried) Brussels sprouts.
Mission Dolores — Park Slope
If you aren't looking for it, Mission Dolores is easy to miss. Formerly a tire shop, it blends into the still industrial block on 4th Avenue. Though it's not a traditional beer garden, this hip, rustic indoor/outdoor destination is one for the beer-savvy set. Enjoy a drink and some pinball, but grab a growler and take your kids home by 6pm as the bar is a hot spot for the child-free crowd, too.
RELATED: Brooklyn Restaurants with Great Backyards for Outdoor Dining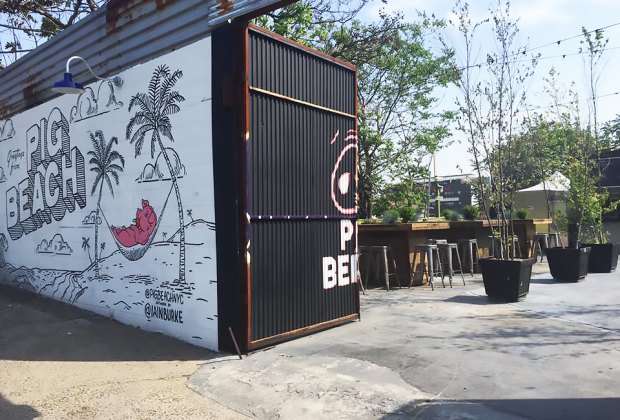 The kid-friendly Pig Beach has local brews, great food, and a huge outdoor area where kids can run around.
Pig Beach — Gowanus
On the banks of the famed Gowanus Canal is stroller-friendly Pig Beach. This casual BBQ and beer garden has indoor and outdoor seating and a relaxed, pleasant ambiance. All its beers are made within a 50-block radius. Bonus: Dogs are welcome! Grab some ribs and enjoy a cold beer while the kids play in the sprawling outdoor area. We recommend visiting on the weekend—it opens at noon. Hours are limited during the week, and it is closed on Monday and Tuesday. Check the website for any changes in schedule as the weather warms.
Radegast Hall & Biergarten — Williamsburg
Attention music lovers: Radegast is well-known for its roster of concerts. On Sunday afternoons, enjoy the live jazz brunch as you drink beer and chow down on dishes like omelets, blueberry lemon ricotta pancakes, or mussels in the large outdoor garden or the indoor hall. Radegast is kid-friendly (high chairs are available) but is clear about its policy: supervision is required at all times, and at 8pm it becomes 21 and over.
Threes Brewing — Gowanus
A brewery as well as a beer garden with indoor seating and a massive outdoor area, Threes Brewing boasts 20 taps serving beverages made in-house, as well as wine and cocktails. As for the food, different restaurants are offered kitchen residencies every few weeks, so the menu is constantly changing, making a meal here an adventure (great for grown-ups but perhaps not for picky little eaters). Check the website before you visit to see who's cooking. Kids are welcome and high chairs are available, but strollers must be left at the front.
Almost Beer Gardens
These last two Brooklyn spots technically aren't beer gardens. However, they are gardens that serve beer and food, and are among Brooklyn family favorites.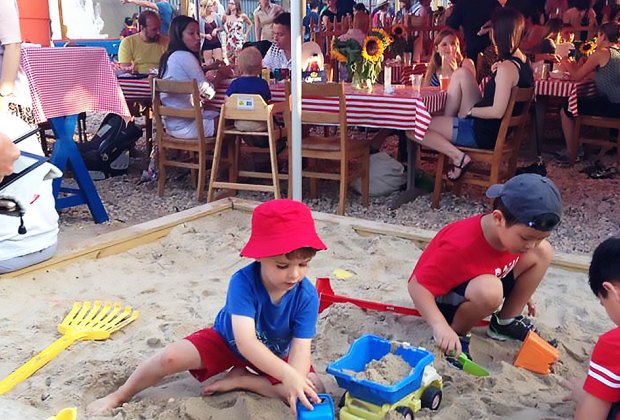 The drinks and games are great at Brooklyn Crab.
Brooklyn Crab — Red Hook
Less German beer garden, more Maryland crab shack, Brooklyn Crab offers delicious dishes featuring its namesake crustacean along with salads and sandwiches, plus beers and cocktails. There are massive outdoor seating areas on three levels with awesome views of New York Harbor and the Statue of Liberty. Kids will love the seasonal backyard featuring an eight-hole miniature golf course, bean bag toss and a sandbox.
Habana Outpost — Fort Greene
Open seasonally, this outdoor eco-eatery specializes in Cuban and Mexican cuisine, but also offers ubiquitous kid-friendly staples like hot dogs, burgers and fries. There's a spacious courtyard, which frequently hosts free family events like a 'Back to School Bash,' or 'DJ Baby School.' Details are available on its blog. The team is passionate about community education and offer free kids programs throughout the year (did we mention they also serve draft beer?). (It opened April 14, 2018 for the season.)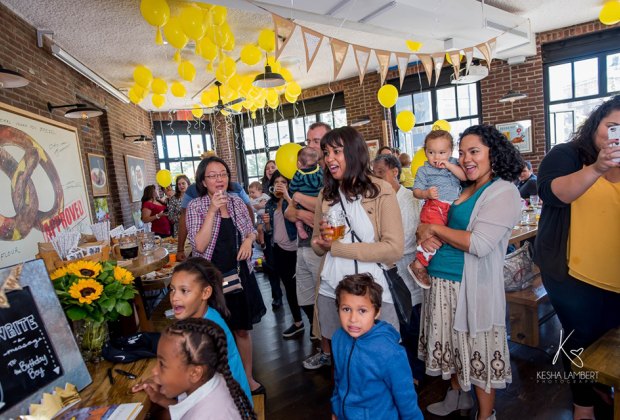 Birthday parties at Bierocracy are a hit with kids and adults too. Photo courtesy of CasadeFallon
Queens Beer Gardens
Bierocracy — Long Island City
If the weather is bad, pack up the kids and head to Long Island City. Bierocracy has all the perks of a traditional beer garden, without the garden part. Weather is a non-issue in this bright, open indoor space. If it happens to be a beautiful day, the front windows open up and offer an outdoor feel. There is plenty of seating and a seemingly endless selection of beers on tap. Its menu will knock your socks off, with a nicely curated mix of classic (burgers and wings), cultural (goulash), and contemporary fare. Its mission is to provide an "old world" feel where are all are welcome. Mission accomplished, Bierocracy!
Bohemian Hall & Beer Garden — Astoria
The building that houses the Bohemian Hall & Biergarten has been around since 1910. This cultural hot spot in Astoria survived prohibition to become the perfect place for families to kick back and enjoy a cold beer and a selection of Czech favorites from their traditional-leaning menu. There is seating inside and outside, and plenty of it! Trees and umbrellas provide shade in the warmer months. It is one of the largest beer gardens in the city. Kids are welcome before 9pm.
A version of this article first published in 2015, but it has since been revised.
All photos courtesy the respective venues.