Brooklyn and Queens Beer Gardens Where Kids Are Welcome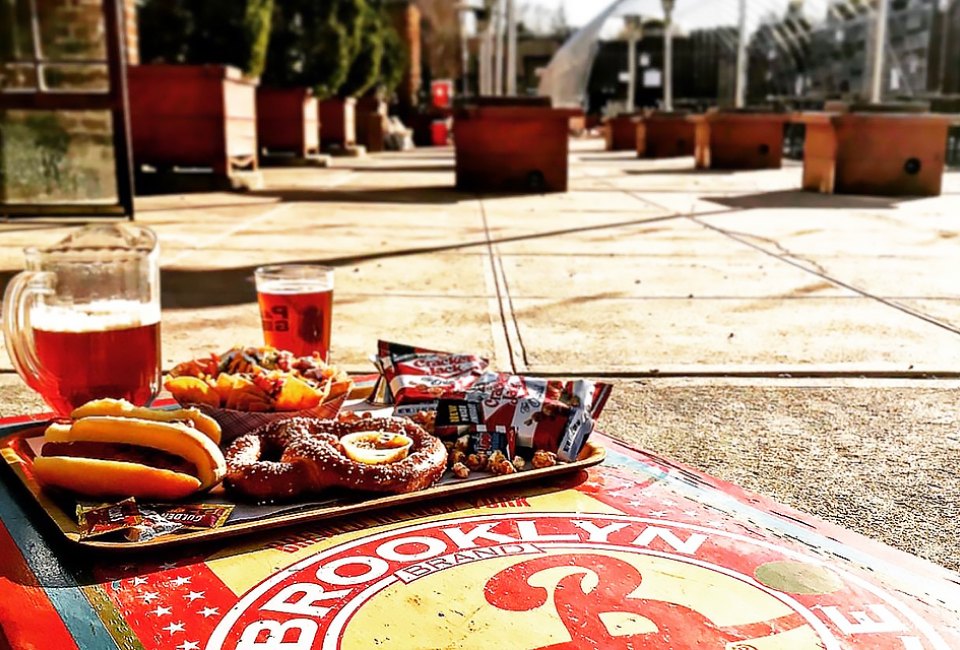 10/19/20
- By
Louise Finnell
When you're looking to grab a drink outside with the kids in tow, beer gardens are a great option, with plenty of space for little ones and menus packed with hearty fare that's sure to please picky palates. As it turns out, Brooklyn could give Bavaria a run for its money when it comes to kid-friendly beer gardens. So whether you have a special occasion to celebrate, or you're simply saluting the fact you've made it through another day of the pandemic, here are some of NYC's best beer gardens and halls where families can raise their glasses. We've even thrown in a couple of Queens spots, too.
For more dining options, check out our roundup of 20 restaurants in NYC offering outdoor dining and visit our Kid-Friendly Restaurant Guide for even more picks.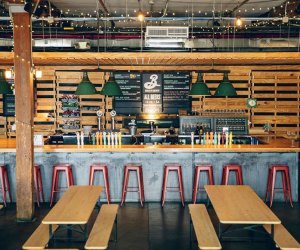 The tasting room at the Brooklyn Brewery offers a spacious seating area.
Family-Friendly Beer Gardens in Brooklyn
This L-train institution, known as one of the founders of the Brooklyn beer renaissance, welcomes families to its tasting room. The space is currently operating at 25% capacity and is open for first-come, first-served indoor seating and to-go and delivery of beer and gear Thursdays and Fridays from 4-8pm, and Saturdays and Sundays from 2-8pm. There is no bar service, but guests can order using the QR code on their table, and orders will be brought to them. Food must be purchased for each member of your group with your first round of drinks. Brewery tours are on hold for now.
DSK — Fort Greene
One of the most family-friendly beer gardens in the entire city, Die Stammkneipe (dubbed DSK for short), welcomes visitors of all ages with open arms. While most of the garden is enclosed, it's bright and airy, and there is a smattering of outdoor seating. With 18 beers on tap and traditional German food that even tots love (German s'mores anyone?), DSK has something for everyone in the family.
RELATED: Kid-Friendly Wineries to Visit on Long Island's East End

Franklin Park has more than just savory food and beer; there are ice cream cookie sandwiches to keep kids happy.
In addition to its courtyard, this casual beer garden boasts two indoor bars serving a seasonally rotating selection of beers. The skee-ball and photo booth area is currently closed. While Franklin Park welcomes kids until 7pm daily, take note: There's just one high chair. You're best bet is visiting for brunch—the food comes from Dutch Boy Burger next door—and then heading out to spend the afternoon at the Brooklyn Museum or the Brooklyn Botanic Garden, both of which are just a five-minute walk away.
Lock Yard's arrival means Bay Ridge finally has a beer garden to call its own. The perfect watering hole for this family-centric Brooklyn neighborhood, this former locksmith's shop has seamlessly transformed into a cozy pub and year-round outdoor beer garden. Bring your kids earlier in the day for some updated comfort food and a frosty, draft beer (14 choices on tap). The hot dogs are exceptional, and there are plenty more comfort food options for the whole family. They aren't pulling any punches when it comes to the menu—this is not health food, but it's worth every calorie. If you are craving something green, we recommend the (fried) Brussels sprouts.
Though this watering hole's well-known concerts are on hold for now, you can still head over for Sunday brunch and chow down on dishes like omelets, blueberry-lemon-ricotta pancakes, or mussels in the large outdoor garden or the indoor hall. Radegast is kid-friendly (high chairs are available) but is clear about its policy: No strollers on Saturdays after 2pm. Children must be supervised at all times and are only welcome during daylight hours. Come nightfall, it's 21 and over.
RELATED: Brooklyn Restaurants With Kid-Friendly Backyards and Patios

Mission Dolores is an off-the-beaten-path pick for a beverage and snack.
If you aren't looking for it, Mission Dolores is easy to miss. Formerly a tire shop, it blends into the still-industrial block on 4th Avenue. Though it's not a traditional beer garden, this hip, rustic indoor/outdoor destination is for the beer-savvy set. There's no kitchen on-site, but there are a few small snacks available for purchase, and you are allowed to enjoy your own takeout food at your table. So have a drink and play some pinball, but grab a growler and take your kids home by 6pm.
This 13,000-square-foot indoor/outdoor restaurant, bar, and beer garden was formerly a gas station and body shop. Families are welcome to enjoy the eclectic pub menu (burgers, panko-encrusted chicken fingers, and tater tots) at tables in the spacious backyard. Kids are welcome at any time, but they need to stay at the table with their group. Even when it's chilly, the outdoor heating lamps keep the temps comfortable. With 60 beers on tap, casual drinkers and connoisseurs alike should be satisfied.
Though not technically a beer garden, Brooklyn Crab offers delicious dishes featuring its namesake crustacean along with salads and sandwiches, plus beers and cocktails. The upper-level outdoor patio seating area boasts awesome views of New York Harbor and the Statue of Liberty. The backyard, featuring an eight-hole miniature golf course, bean bag toss, and a sandbox, is closed until further notice.
RELATED: 18 Family-Friendly NYC Food Halls for an Easy, Delicious Meal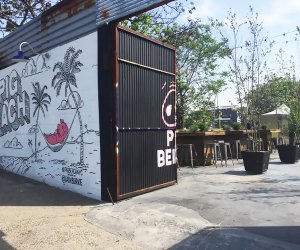 The kid-friendly Pig Beach has local brews, great food, and a huge outdoor area.
On the banks of the famed Gowanus Canal, you find the stroller-friendly Pig Beach. This casual BBQ and beer garden has indoor and outdoor seating and a relaxed, pleasant ambiance. Plus, all its beers are made within a 50-block radius. We recommend visiting on the weekend when it opens at noon. Hours are limited during the week, and it is closed on Tuesdays. Check the website for any changes in its schedule as the weather cools.
A brewery as well as a beer garden, with indoor seating and a massive outdoor area (open Thursdays through Sundays), Threes Brewing boasts 20 taps serving beverages made in-house, as well as wine and cocktails. As for the food, it's teamed up with The Meat Hook for a hearty menu with kid-friendly picks like hotdogs, fries, and pimento cheese-and-crackers. Party size is currently limited to no more than six guests.
RELATED: 10 Queens Restaurants With Backyards for Outdoor Dining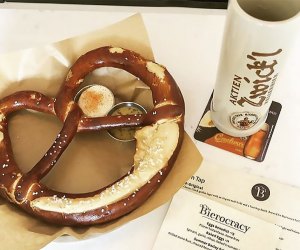 Bierocracy's giant pretzels are a hit with kids!
Family-Friendly Beer Gardens in Queens
If the weather is bad, pack up the kids and head to Long Island City. Bierocracy has all the perks of a traditional beer garden, with less emphasis on the garden. Weather is a non-issue in this bright, open indoor space. If it happens to be a beautiful day, there is an outdoor seating area, too. There is plenty of seating and a seemingly endless selection of beer on tap. Its menu will knock your socks off, with a nicely curated mix of classic (burgers and wings), cultural (goulash), and contemporary fare. Its mission is to provide an "old-world" feel where are all are welcome. Mission accomplished, Bierocracy!
The building that houses the Bohemian Hall & Beer Garden has been around since 1910. This cultural hot spot in Astoria survived prohibition to become the perfect place for families to kick back and enjoy a cold beer and a selection of Czech favorites from its traditional-leaning menu. It is one of the largest beer gardens in the city. Kids are welcome before 9pm.
A version of this article was first published in 2015, but it has since been revised.
Photos courtesy of the venues