Brooklyn Museum Guide For Kids - Everything You Need to Know Before Your Family Visit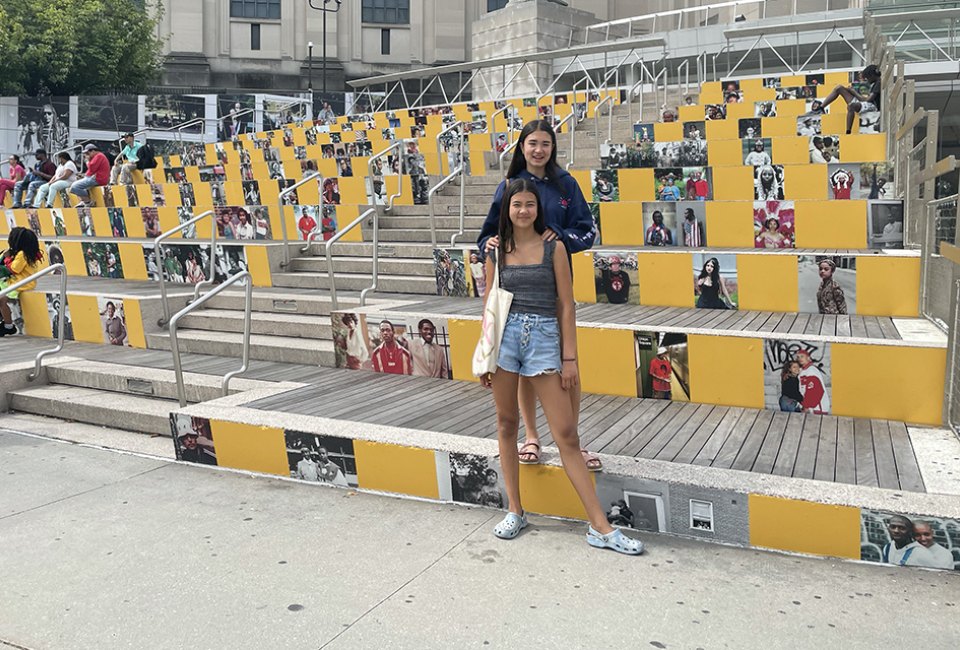 8/18/23
- By
Diana Kim
The Brooklyn Museum is one of the world's premier art museums, yet often overlooked for its more famous Manhattan neighbor, The Metropolitan Museum of Art. But, the Brooklyn Museum is truly worth a visit, whether you're a local or just visiting. Home to an eclectic permanent collection and a rotation of buzzy, crowd-pleasing special exhibitions, the Brooklyn Museum is located in a beautiful Beaux-Arts building right off of family-friendly Prospect Park and definitely worth visiting with kids. Its calendar is packed with kid-friendly programming and family events. We've got tips about the best exhibits to see, things to do, and places to eat during your visit to the Brooklyn Museum with kids.
We've got all our picks for the best museums to visit with kids in NYC and more tips for NYC's top culture spots in our Guide to Family-Friendly Museums in NYC.
Subscribe to our newsletters to get stories like this delivered directly to your inbox.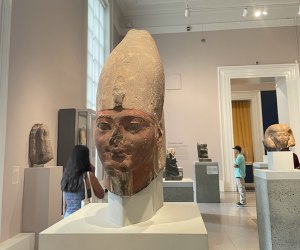 The Brooklyn Museum's sprawling galleries house treasures from antiquities to today.
Best Family-Friendly Exhibits at the Brooklyn Museum
The Brooklyn Museum has a great collection of antiquities from Egypt on the third floor that is fascinating for kids and adults. Its collection features a wide variety of artifacts from every period of Egyptian history. Some of our favorites are the mummy coffins, the busts of Egyptian Queens, and the huge Assyrian relief blocks that once decorated the Pharaoh's palace. There's a great instructional video on how the curators at the museum reconstructed the reliefs.
RELATED: Free Museums and Free Museum Days in NYC for Kids

Faith Ringgold and other American artists are on display in the Brooklyn Museum's fifth-floor galleries.
The permanent American Art exhibit on the fifth floor is a crowd-pleaser. The gallery has paintings, sculptures, watercolors, pastels, drawings, and prints from 1720-1945, all by American artists. Standouts include Gilbert Stuart's iconic portrait of George Washington, beautiful landscapes of New York state by Frederic Church and Thomas Cole, renderings of American life by Edward Hopper, and early modernist works by Georgia O'Keefe and Faith Ringgold. You'll also find a number of works from Native American artists.
RELATED: Visiting The Met with Kids: Exploring NYC's Biggest Art Museum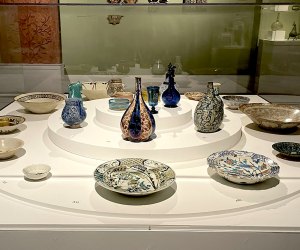 The Brooklyn Museum's Islamic collection includes a beautiful, impressive variety of ceramic pieces.
On the Brooklyn Museum's second floor, there's a nice collection of Islamic Art from cultures in Asia, Africa, and parts of Europe. These pieces date from as early as the 4th century and continue through the present day. Explore a variety of mediums including ceramics, glass, metal works, textiles, and works on paper. Separate sections focus on religious and secular works.
The Arts of the Islamic world segue into the Asian Art exhibition, featuring works from Japan, Korea, China, South and Southeast Asia, the Himalayas, and the arts of Buddhism. Kids gravitate toward the Japanese paintings and woodblock prints, traditional ceramic wares from Korea, and sculptures representing Hindu and Buddhist gods.
RELATED: What Ages Get in Free to NYC Museums, Zoos, Amusement Parks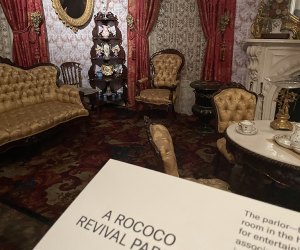 Peek into the past at the Brooklyn Museum's Period Rooms, dedicated to early American decor.
If you've ever wondered how early Americans used to live, the Period Rooms on the fourth floor are a perfect way to glimpse a bit of the past. These American period rooms range in date from the 17th century to the 20th century and show what American homes used to look like. You can also view a collection of American decorative arts like furniture, accessories, and homewares. One note: Currently, the Period Rooms are closed to the general public through June 2024, though school groups can visit them by appointment.
My kids always enjoy this installation by Judy Chicago when we visit the Brooklyn Museum. Located on the fourth floor, The Dinner Party is such a unique and cool installation made of a large triangular table with 39 place settings, each commemorating an important woman from history. The names of another 999 women are inscribed in gold on the white tile floor below the triangular table. The Dinner Party is definitely a conversation piece, which sparks a variety of discussions for kids of all ages.
The recently renovated Steinberg Family Sculpture Garden, located in the back of the Brooklyn Museum, is our favorite spot to rest and enjoy a snack during our visits. The outdoor public venue is also a backdrop for cultural programming like art-making classes, live music performances, poetry readings, and happy hours.
RELATED: Best Things To See and Do at MoMA with Kids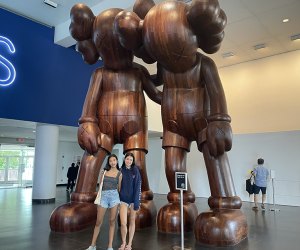 The massive KAWS sculptures are a focal point at the Brooklyn Museum, which hosted a huge exhibition of the artist's works in 2021.
Special Exhibitions at the Brooklyn Museum
The Brooklyn Museum features a rotating group of special exhibitions that hit upon new trends and ideas. They are always buzzworthy—and, often provocative—so make sure they're suitable kids before visiting. Popular past exhibitions have included a Christian Dior exhibition, an exploration of the works of Virgil Abloh, a Basquiat retrospective, and a KAWS exhibition.
Family-Friendly Programming at the Brooklyn Museum
On the first Saturday of most months, the Brooklyn Museum hosts a variety of FREE programming, including art demos and live entertainment from 5-11pm. As part of the First Saturday program, kids are invited to join experienced teaching artists for half-hour art-making sessions. This is an awesome event for the whole family. Advance registration is required and the program is subject to capacity limits.
Plan your visit to coincide with the Brooklyn Museum's robust roster of children's programming. There are family art workshops, kids' art classes and camps, teen public programs, and virtual activities to keep kids engaged when they visit the Brooklyn Museum. Check its calendar for its full listing of programs and events.
Where to Eat near the Brooklyn Museum
The Brooklyn Museum offers a pair of on-site dining options, including a cafe that sells sandwiches, salads, snacks, coffee, and drinks. For a more formal meal, sit down at The Norm to enjoy a diverse menu that highlights local produce and global flavors.
For food options before or after visiting the Brooklyn Museum, eat in nearby Prospect Heights, which has many family-friendly restaurants. Or head to Park Slope, one of Brooklyn's most family-friendly neighborhoods, which is jam-packed with kid-friendly eats.
Know Before Visiting the Brooklyn Museum
The Brooklyn Museum is open Tuesday through Sundays, 11am-6pm. On First Saturdays, it's open 5-11pm.
Small bags are allowed, but larger bags must be checked.
Strollers are allowed throughout the galleries.
General admission for non-members is $16; it's FREE for those ages 19 and under.
Special exhibitions, which include general admission, are $25 per adult, $17 for teens ages 13-19, and $10 for kids 4-12. Ages 3 and younger enter for FREE.
Bring your own headphones to listen to the app-based guides for specific galleries.
A version of this story was published in 2020. Photos by the author
Places featured in this article: