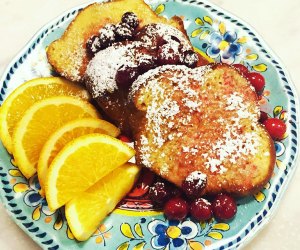 Park Slope Restaurants: Where to Eat with Kids
Brownstone-lined Park Slope has long been known for its family-friendly vibe, boasting plenty of fun indoor play spots, playgrounds, kid events—and great Brooklyn eats. Need to find a child-friendly restaurant after an energy-burning romp in Prospect Park? No problem.
We've eagerly rounded up and taste-tested a list of our favorite family restaurants in Park Slope. Our curated list includes the best dining spots for kid staples like pizza, tacos, and gelato, but also plenty of more exotic fare for adventurous NYC eaters. Plus we tell you who has highchairs and where the baby changing tables are (and are not). Read on and you might just discover your new go-to Brooklyn eatery.
Naruto Ramen
276 Fifth Avenue (between First Street and Garfield Place)
Ramen is a staple in our household and Naruto offers delicious options for our vegetarian family as well as our meat-loving friends. Diners have five broths to choose from, including our favorite spicy miso option. Teriyaki chicken, salads, and homemade gyoza are all great kid options here, too. This small restaurant has seating around an open kitchen, which children find enthralling as they wait for their noodles. A handful of tables and highchairs are also available in the back. An early dinner is the best option for patrons with children as Naruto's fresh noodles are in high demand and the tiny Slope restaurant is known to get packed. There's no dedicated stroller parking, though the accommodating staff will help you find a safe spot to stow away your carriage. Moms to babes: There's no infant changing table here, so pack your changing pad or hustle home in an emergency.

Fast, fresh and delicious, Calexico is a hands-down favorite in our family.
Calexico
278 Fifth Avenue (between First Street and Garfield Place)
Days before Calexico opened its Park Slope location in 2014, a friend and I walked by and were ushered in with four children in tow to enjoy some free, delicious Mexican food. If that doesn't scream family-friendly, what does? The Calexico brothers started with a single NYC food cart, but they now possess a fleet of carts and several very popular restaurant locations. The food is fresh and incredibly satisfying food in a truly family-friendly environment. The menu is refreshingly basic and delicious: burritos, tacos, enchiladas, quesadillas and salads. But you'll often find a few surprises like the grilled pineapple salsa and Calexico's own spin on chipotle sauce. Highchairs and changing tables are available. Bonus: Calexico offers secure stroller parking out front with locks!
L'Albero dei Gelati and Terre
341 Fifth Avenue (between 4th and 5th Streets)
We're always so eager to discover the latest wild gelato flavor (eggplant, beets and lavender) at the L'Albero dei Gelati takeout window that we almost missed the Italian restaurant right behind it. Terre is a new eatery (in the space formerly occupied by the L'Albero dei Gelati cafe) that serves fresh pastas, charcuterie, and organic wines by the glass, as well as a delicious brunch menu on weekends. The family-run business relies on organic ingredients and personal relationships with suppliers to serve up super fresh food. With ample space for strollers, plus highchairs and changing table accommodations, this gem is a standout for families.
Blue Ribbon Brasserie
280 Fifth Avenue (between 2nd and 3rd Streets)
If one member of your family loves raw clams and another will eat nothing but penne, Blue Ribbon is the restaurant for you. Blue Ribbon is a meat-lover's paradise offering a wide selection from pulled pork to brisket to paella and fresh seafood. The children's menu has significantly more variety than most, even if it isn't cheap. This is our go-to spot when carnivorous relatives come to visit, though we vegetarians have no problem filling up. The kale salad and black bean burger are satisfying, especially when followed by a hot fudge sundae. You'll also find a large restroom with a changing table, plus high chairs and a friendly staff who will assist with stroller storing. Blue Ribbon opens at 5pm, so lunch is not an option; however, when our family walks into this bustling scene, we always feel at home.
RELATED: 10 Best Family-Friendly Restaurants in NYC Now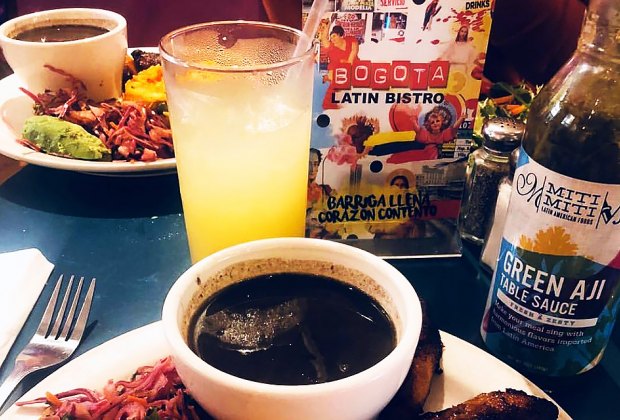 Bogota Latin Bistro prides itself on giving diners a family-friendly experience.
Bogota Latin Bistro
141 Fifth Avenue (between Lincoln and St. Johns Streets)
The entire staff at this lively Central and South American restaurant seem determined to deliver a delicious and fun experience for the whole family. The food is fresh and satisfying and the children's menu extends beyond the requisite cheese quesadilla. Our kids love the black bean empanadas, arepas (yummy cornmeal cakes), and fried yucca. If strollers, high chairs and picky eaters are part of your existence, the folks at Bogota will take care of everything. It does get crowded on weekends, so plan on dining early.
RELATED: Where to Eat with Kids in Fort Greene and Clinton Hill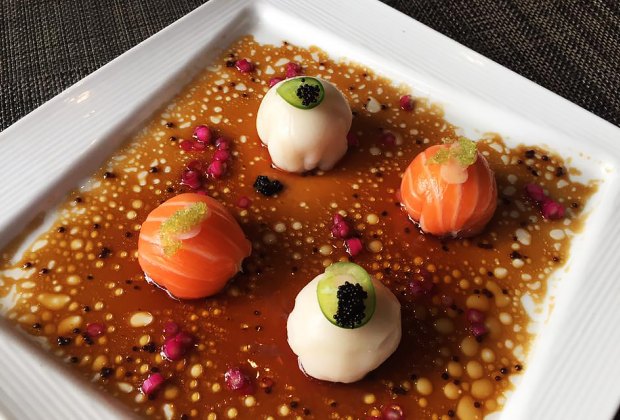 Yamato has tasty bites for little hands.
Yamato
168 Seventh Avenue (between Garfield Place and First Street)
Yamato specializes in sushi and dim dum and does both very well. While there is no children's menu, the dim sum portions are perfect for little ones, as well as the large variety of classic and inventive sushi rolls. Yamato also offers plenty of noodles, soups, and appetizers that my kids go crazy for each time we visit this Slope staple. The staff here are part of the appeal for a parent, too. A while back, my then-toddler yanked a fistful of wasabi from my plate and stuffed it into her mouth! The attentive staff had our stroller, diaper bag and settled bill ready to go in minutes so we could attend to our howling tot. Yamato gets crowded but it's always helpful to parents, finding room for your stroller. There's no changing table here, though. Better bonus? This cozy restaurant has a lovely outdoor space perfect when the sun is shining (and the kids are rowdy).
Bareburger
170 Seventh Avenue (at First Street)
No family-friendly restaurant list would be complete without a burger joint. Yes, Bareburger is technically a chain, but if your family loves burgers, Bareburger's are the best (and organic to boot!). The concept is simple and the menu offers something for everyone: pick a patty (bison, beef, boar, or black bean to name a few options), pick your bun (or heck, wrap it in a collard green leaf if someone is gluten-free), and pick as many (or as few) toppings as you want. Bareburger also has delicious and large salads, and the onion rings are to die for. The children's menu is a lot of fun as little ones get to pick their own meal, side and drink. Outdoor seating feels a bit cramped with strollers, but there is plenty of room inside for families needing more space. Changing tables and high chairs are available.
Namaste
195 Fifth Avenue (between Berkeley Place and Union Street)
Since Namaste's opening in late August 2015, our family has been compelled to go back every other week to experience some of the most delicious Indian food in the neighborhood. Namaste doesn't have a dedicated children's menu, but that's not a problem as most main dishes are meant to be shared. Our go-to starter is the Samosa Chaat—picture four forks greedily clanking for more. The menu includes cheesy naan bread, delectable dal (lentils), rice dishes and grilled chicken for less adventuresome eaters. The food is truly outstanding, as is the consistently welcoming, helpful staff. Namaste has an outdoor space with plenty of umbrellas, as well as highchairs but no baby changing table.
La Villa
261 Fifth Avenue (at Garfield Place)
La Villa's tagline is "Family Friendly Italian Restaurant" and they really mean it. The pizzas are made in a wood-burning stove and the toppings range from traditional to the unexpected (our favorites are fried eggplant and sautéed broccoli rabe). This family-owned business prides itself on the freshest ingredients, organic sauces and homemade mozzarella. La Villa also offers sandwiches, calzones, salad and pasta dishes, making it easy to please everyone in the family. The restaurant is large and the staff is accommodating, but La Villa does get crowded and waits can be a bit long. Our solution: dine early! Though there is no changing table, staff will help stow the stroller and highchairs are available.
Prospect Bar and Grill
545 Fifth Avenue (between 14th and 15th Streets)
This family-friendly South Slope pub is a great spot for kids of all ages. Though they don't have a specific kids menu, their mac and cheese is a definite palate-pleaser. Chicken pot pie, burgers, or an everything pretzel are just a few more kid-friendly options. The space is warm and cozy, and there's a large terrace out back where kids can play while parents enjoy a (reasonably priced) cocktail or beer. The staff is friendly and accommodating. Formerly only open for dinner, this neighborhood favorite just started serving lunch on Thursdays and Fridays, and offer a great brunch on the weekends.
South Slope Eatery
486 Fifth Avenue (at 11th Street)
Another spot on the southern end of the neighborhood, South Slope Eatery has the family-friendly vibe of a diner, with the food and service of an upscale restaurant. Sit down for lunch or dinner, or grab a smoothie or coffee from their to-go counter. They offer a classic kids' menu with chicken fingers, grilled cheese, and spaghetti, as well as great salads, burgers, and creative wraps for the more adventurous eaters. Finish your meal with a shake or a Nutella royale crepe.
RELATED: Best Playgrounds in Prospect Park (Ranked!)

Sit your little one on your lap and have them dig into giant portions of delicious diner food with you.
Little Purity
390 Seventh Avenue (at 12th Street)
There's nothing like a classic diner breakfast! Wake the kids up early to hit this local favorite diner. The restaurant offers kids' books to keep children busy while food is being prepared. The bustling, cozy environment is reminiscent of an old-fashioned luncheonette. The friendly staff are patient and kind to even the squirmiest toddler. Try their breakfast—but keep in mind portions are large, so you might want to split your meal. The Challah French Toast is to die for, and is a hit with children. Bonus: tired parents can enjoy unlimited coffee refills. No changing table, but there's a big bathroom with plenty of elbow room if you need to change a diaper.
Peppino's
469 Fifth Avenue (between 10th and 11th Streets)
This classic neighborhood Italian eatery offers brick oven pizzas and generous pastas in a kid-friendly atmosphere complete with old-school red-checked tablecloths. Split a pizza, calzone, or a hearty pasta dish—you won't leave hungry! The portions are large and the food is rich and delicious. Save room for dessert, as their specials change daily. Family photos adorn the walls, adding to the casual, family-friendly vibe.
A version of this post was published in 2015; it has since been updated. Louise Finnell contributed additional reporting.
Photos courtesy of the restaurants