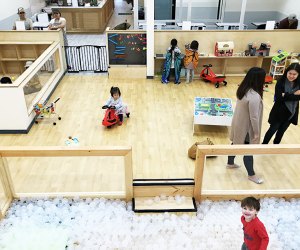 Play Cafes in Brooklyn and Queens: Play Spaces for Kids, Coffee for Grownups
If you're looking for a new spot to grab your morning coffee or merely want to enjoy brunch in peace, these kid-friendly play cafes can't be beat. At these Brooklyn and Queens cafes you will find a welcoming environment, great food, and a caffeine jolt, as well as dedicated and safe play areas for your kids. Several of them are actually play spaces first, and cafes second.
So turn your meal into a play date with a friend, or just sit back and take some well-deserved breathing space. Either way, both you and your kids are sure to have a good time.
Check out our NYC Restaurant Guide for more great eateries, or our Play Spaces Guide for more romper rooms.
Ample Hills Creamery — Gowanus, Brooklyn
Ice cream is inherently kid-friendly, but add good coffee (including affogato, a scoop of ice cream plunked into a Stumptown espresso), a fun play area, and a roof deck, and you've got a whole afternoon of entertainment ahead of you. Stretch out and check out the views from the rooftop if the weather is nice, or enjoy the indoor area with a play kitchen and collection of books to keep kids entertained (at least until their ice cream melts!)
RELATED: NYC Winter Fun List: 50 Things to Do Indoors With Kids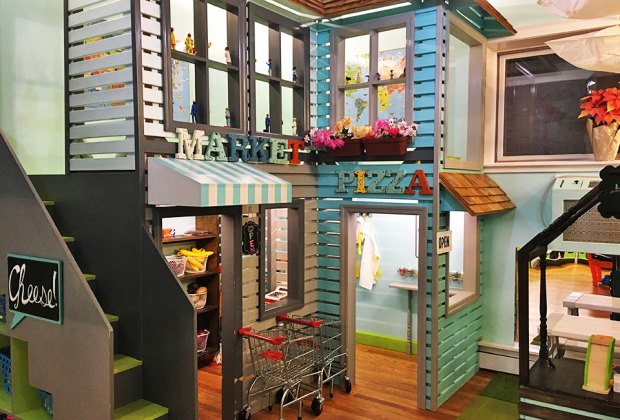 The City Owlets space is filled with imaginary play for kids and coffee for parents.
City Owlets — Long Island City, Queens
This popular LIC play cafe offers multiple play areas, each overflowing with imaginative toys, from cars and trucks to dress-up and a play kitchen. There's even an outdoor space stocked with more playthings in warm weather. Parents can partake in the espresso bar and snacks menu, as well as a full roster of kids' and mommy-and-me classes. Snacks are geared toward kids with pouches, fruit snacks, string cheese, yogurt, and such on the menu.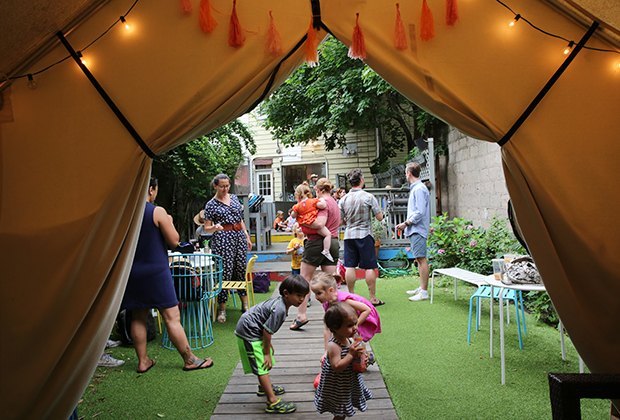 Kids can play indoors or at the outdoor play shed in good weather at Elk Cafe. Photo by Shira Kronzon
Elk Cafe — Windsor Terrace, Brooklyn
Elk Cafe infuses some elegance into your afternoon tea or Stumptown brew, with a stylish and clean decor and an amazing backyard. Instead of a small kids' corner, children get an entire play shed in the backyard. With a small clubhouse feel, the play shed offers a shaded spot to sit and relax, as well as kinetic and educational toys, including a rocking horse, er, rocking elk. Enjoy a bacon, egg, and cheese sandwich at breakfast, ham and Fontina or roasted eggplant sandwich at lunch while the kids scarf down the homemade macaroni and cheese and grilled cheese.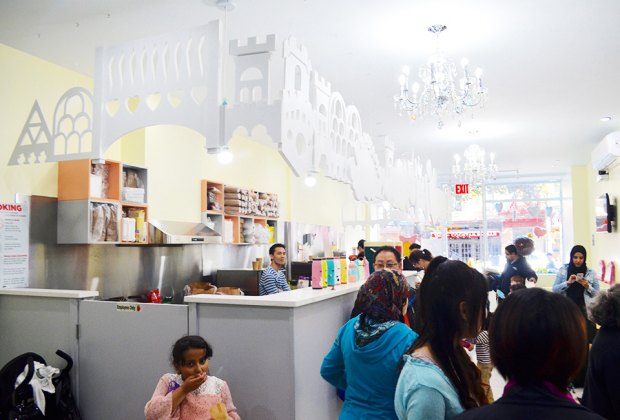 Fairytale Island is bright and airy and offers a cafe full of treats.
Fairytale Island — Bay Ridge, Brooklyn
This Bay Ridge play space puts the emphasis on play over food, but it does possess a full cafe dishing up standard kid fare like pizza and ice cream, as well as lighter lunch options and smoothies. Kids will love the ball pit, indoor playground, and more, and parents will love the ease of combining lunch with playtime.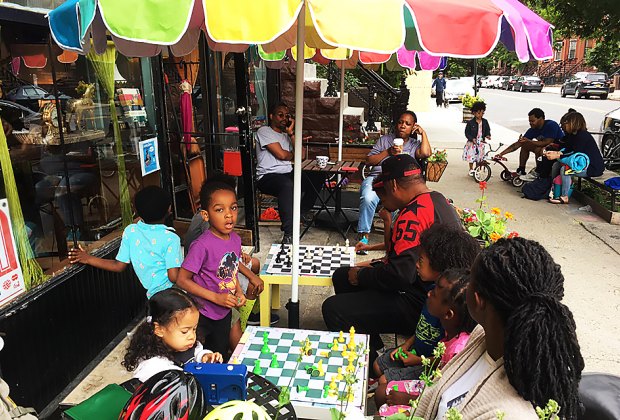 Play and eat inside or out at George-Andre Vintage Cafe. Photo courtesy of the cafe
Georges-Andre Vintage Cafe — Bedford-Stuyvesant, Brooklyn
This French vintage cafe has great drinks and plenty of charm. The small toy kitchen and enclosed play area for kids was originally set up for the owner's son, but now is open to all toddlers and babies. The cafe sports fresh-baked goods, healthy drinks and eats for kids and parents, and a welcoming local atmosphere. Ask the owner or a staff member about planned kid events or the owner's other location, the SuperFrench Studio.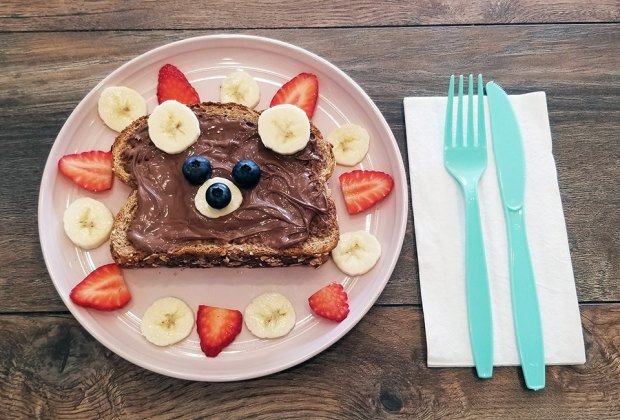 Yummy breakfasts are a major draw at Good Day Play Cafe.
Good Day Play Cafe — Bayside, Queens and Park Slope, Brooklyn
This sweet chainlet of neighborhood play cafes is modeled after Korean play spaces, offering plenty of bespoke wooden and other all-natural playthings, including a mini climbing wall, playground, and a Hinoki cypress wood cube pit. The cafe portion serves up coffee, soups, sandwiches, tea, and smoothies. There's even FREE Wi-Fi. Please note that the Park Slop location is closed on Sundays, and often for certain hours on Saturdays for private parties.
Lark Cafe — Flatbush, Brooklyn
Nosh on a salted chocolate chip cookie with a side of Stumptown, grab a scone, or step up to the heartier lunch options like a pesto chicken sandwich at this popular neighborhood spot. Lark sets aside a playroom for kids and babies, making it a favorite with local parents. The room is separated from the rest of the cafe by a sliding door and comes equipped with bright toys and lounge pillows. The cafe hosts regular children's events and classes, too. Bonus: The cafe also serves beer and wine. We paid Lark a visit a while back; read our impressions here.
RELATED: Drop-in Play Spaces in NYC That Cost $12 or Less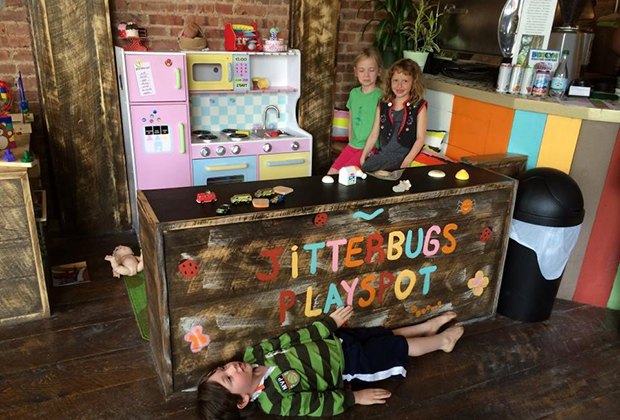 The Jitterbug play area offers kids carefree recreational time at Gratitude Cafe. Photo courtesy of the cafe.
PLG Coffee House and Tavern — Lefferts Gardens, Brooklyn
PLG, formerly known as Gratitude Cafe, is a cozy local bistro offering drinks, breakfast, and brunch, as well as a special children's sandwich menu. Kids can stop by the Jitterbug play area, a partially enclosed spot for tots with a selection of toys for little hands. Parents will enjoy the emphasis on organic ingredients, coffee beans from local roaster Kitten Coffee, and healthy options like a veggie avocado wrap and salads. Gratitude gained a beer and wine license not long ago, adding draft taps and wines by the glass. They also added an outdoor patio. Meet us at happy hour?
Postmark Cafe — Park Slope, Brooklyn
Postmark is a perfect spot for coffee, pastries and a designated area to play. The toy selection is limited, but the downstairs room is kid-friendly and has great floor space for kids to hang out while parents sip their coffee. The atmosphere is bustling and warm, featuring a vintage phone booth (a hit with the kids!) Postmark periodically offers story time for kids, and is affiliated with Church! of Park Slope. The coffee shop functions as a non-profit, so you can feel good about paying for your cappuccino. Many of the workers are volunteers, and the service is friendly and attentive.
Sunnyside Plays — Sunnyside, Queens
Kids will love the indoor playground, toys, climbing tunnel, and more fun provided in a bright, airy room at Sunnyside Plays. Parents can relax in the cafe with coffee or tea, or give kids a lunch break with quick bites like ramen and mac and cheese and snacks like applesauce and juice. The play space also encourages visitors to order from nearby restaurants and eat right in their cafe while keeping an eye on the kids. Classes and special events, including a Friday "toddler" happy hour, are appreciated by locals. Parents can enjoy wine and beer until 8pm, while kids partake in open play. Adults-only classes are also available at select times, from exercise sessions to sip and paints.
A version of this article first published in 2016, but it has since been updated. Louise Finnell contributed additional reporting.