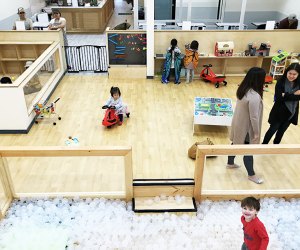 Play Cafes in Brooklyn and Queens
If you're looking for a new spot to grab your morning coffee or merely want to enjoy brunch in peace, these kid-friendly spots are hard to beat. These play cafes in Brooklyn and Queens offer welcoming environments, great food, and a caffeine jolt, as well as dedicated and safe play areas for your kids. Several of them are play spaces first, and cafes second.
So turn your meal into a play date with a friend, or sit back and take some well-deserved breathing space. Either way, you and your kids are sure to have a good time.
Check out our NYC Restaurant Guide for more great eateries, or our Play Spaces Guide for more romper rooms.
Ice cream is inherently kid-friendly, but add good coffee (including affogato, a scoop of ice cream plunked into a Stumptown espresso), a fun play area, and a roof deck, and you've got a whole afternoon of entertainment ahead. Stretch out and check out the views from the rooftop if the weather is nice, or enjoy the indoor area with its play kitchen and collection of books that keeps kids entertained (at least until your ice cream disappears!)
RELATED: NYC Winter Fun List: 50 Things To Do Indoors With Kids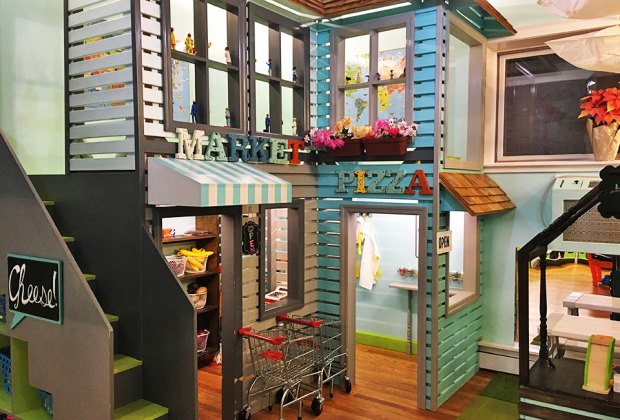 The City Owlets play space is filled with imaginary play for kids and coffee for parents.
City Owlets — Long Island City, Queens
This popular LIC play cafe offers multiple play areas, each overflowing with imaginative toys, from cars and trucks to dress-up garb and a play kitchen. There's even an outdoor space stocked with more playthings for warm-weather visits. Parents can partake in the espresso bar and snack menu, as well as a full roster of classes. Snacks are geared toward kids with fruit and veggie pouches, fruit snacks, string cheese, yogurt, and more on the menu.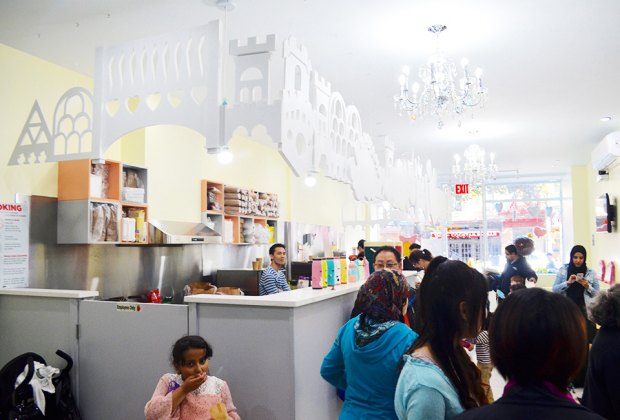 Fairytale Island is bright and airy and offers a cafe full of treats.
This Bay Ridge play space emphasizes playtime over mealtime, but it does offer a full cafe with standard kid-friendly fare like pizza and ice cream, as well as lighter lunch options and smoothies. Kids love the ball pit, indoor playground, and more. Meanwhile, parents love the ease of combining lunch with playtime.
Little Bear Play Cafe serves delicious international fare like Hong Kong milk tea and condensed milk toast. The play area includes a custom-designed play structure with stairs, slides, and a ball pit. There are also stations with toy kitchens, trains, blocks, and books, in addition to a room dedicated to Legos, and arts and crafts.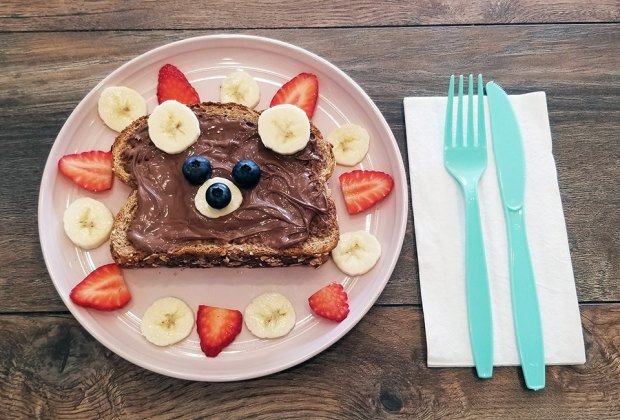 Yummy breakfasts are a major draw at Good Day Play Cafe.
This sweet play cafe is modeled after Korean play spaces, offering plenty of bespoke wooden and all-natural playthings, including a mini climbing wall, playground, and a Hinoki cypress wood cube pit. The cafe serves coffee, soups, sandwiches, tea, and smoothies. There's even free Wi-Fi. Please note: The play cafe is often closed Saturdays for private parties.
Part play space, part healthy cafe, there's something to please everyone at this bright, airy spot. Kids enjoy the whimsical play areas, which include a climbing area, ball pit, Lego table, kitchen set, dress-up area, and more. Parents go for the tasty coffee, free Wi-Fi, and a decidedly laid-back vibe.
Lark Cafe — Flatbush, Brooklyn
Nosh on a salted chocolate chip cookie with a side of Stumptown, grab a scone, or step up to the heartier lunch options like a pesto chicken sandwich at this popular neighborhood spot. Lark sets aside a playroom for kids and babies, making it a favorite with local parents. The room is separated from the rest of the cafe by a sliding door and comes equipped with bright toys and lounge pillows. The cafe hosts regular children's events and classes, too. Bonus: The cafe also serves beer and wine.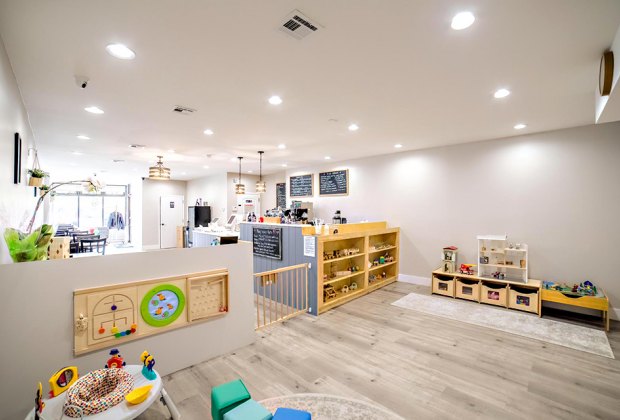 At Lidia's Play Cafe, kids can have fun in a super cool play zone while parents and caregivers sit back and enjoy refreshments.
Named after the owner's daughter, Lidia's Play Cafe is a Montessori-inspired play zone with a simple, uncluttered space and toys focused on development. As a bonus, all toys are made of environmentally friendly wood. The play cafe opened in 2019 and provides a laid-back space to enjoy refreshments while the kids explore different activities.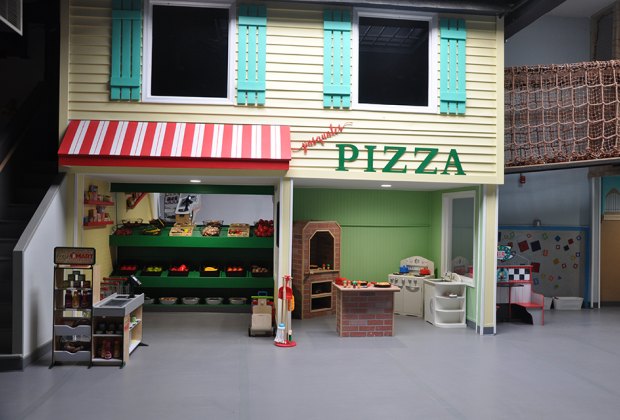 Kids can take a trip around the globe at Kid's Play World while parents and caregivers grab a delicious healthy snack.
Kid's Play World is another recent addition to Queens play space scene with a cafe offering yummy, healthy food options. The owner, a mother of three, was inspired to open a fun space for kids after visiting hundreds of play cafes. She created Kid's Play World so kids could take a trip around the globe without leaving Queens. Each area has a different theme, including a (toy) pizza-making station in Italy and a pyramid wall representing Egypt.
PLG, formerly known as Gratitude Cafe, is a cozy local bistro offering drinks, breakfast, and brunch, as well as a special children's sandwich menu. Kids can stop by a small play area, which is partially enclosed and stocked with a selection of toys for little hands. Parents appreciate the emphasis on organic ingredients, coffee beans from local roasters, and healthy options like avocado toast and smoothies.
Postmark is a perfect spot for coffee and pastries while offering a designated play area. The toy selection is limited, but the downstairs room is kid-friendly and has great floor space for kids to hang out while parents sip their coffee. The atmosphere is bustling and warm, featuring a vintage phone booth (a hit with the kids!). Postmark periodically offers storytime for kids and is affiliated with the Church! of Park Slope. The coffee shop functions as a nonprofit, so you can feel good about where your cappuccino cash is going. Many of the workers are volunteers, and the service is friendly and attentive.
RELATED: Drop-in Play Spaces in NYC That Cost $13 or Less

Grab a coffee or tea while the kiddos romp in the padded play space at Sunnyside Plays.
Kids love the indoor playground, toys, climbing tunnel, and more fun in the bright, airy room at Sunnyside Plays. Parents relax in the cafe with coffee or tea and give kids a lunch break with quick bites. The play space also encourages visitors to order from nearby restaurants and eat right in its cafe area while keeping an eye on the kids. Parents can enjoy wine and beer during happy hour, while kids partake in open play. Sunnyside Plays caters to all age groups, offering classes for babies, toddlers, kids, teens, and even adults.
Photos courtesy of the venues
A version of this article first published in 2016, but it has since been updated. Louise Finnell and Elena Malykhina contributed additional reporting.