Play Cafes in Brooklyn and Queens Where Families Can Nosh and Play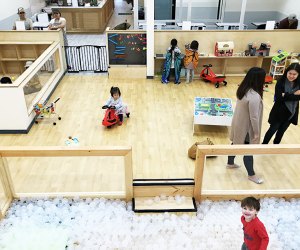 9/21/21
- By
Yuliya Geikhman
Playtime and snack time seemingly go hand-in-hand, and that's especially true at these kid-friendly play cafes where parents can enjoy a cup of joe—and more—while little ones let loose. These play cafes in Brooklyn and Queens offer welcoming environments, great food, and a caffeine jolt, as well as dedicated, safe play areas for your kids. Several of them are play spaces first, and cafes second.
So turn your meal into a play date with a friend, or sit back and relax while your little one explores. Either way, you and your kids are sure to have a good time.
Check out our NYC Restaurant Guide for more great eateries, or our Play Spaces Guide for more romper rooms.
Subscribe to our newsletters to get stories like this delivered directly to your inbox.
Keep in mind, proof of vaccination is currently required for indoor dining in NYC, so be prepared to show your vaccine card and pack a mask for you and your little ones to use when you're not eating.
The popular mini-chain's newest location recently opened its doors directly across from Prospect Park, and the gleaming space does not disappoint. Ice cream (including the location-specific new flavor, Meet Me on the Long Meadow), is inherently kid-friendly, but add a fun play area with books curated by the nearby Greenlight Bookstore and you've got a whole afternoon of entertainment ahead.
This new play cafe—in the space formerly occupied by the PlayDate Cafe—is designed for children ages 6 and younger and boasts a slide, climbing structure, and ball pit plus a wide selection of toys, books, and imaginative play items. There's also soft play equipment for the younger set. The cafe offers a full kids' menu including mac and cheese, berry oatmeal, and fresh juices and smoothies. Alfresco seating (for guests with take-out orders) is available weather permitting.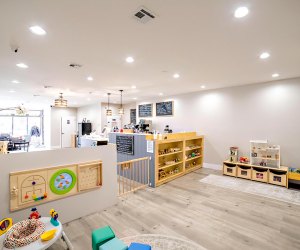 At Lidia's Play Cafe, kids can have fun in a super cool play zone while parents and caregivers sit back and enjoy refreshments.
Named after the owner's daughter, Lidia's Play Cafe is a Montessori-inspired play zone with a simple, uncluttered space and toys focused on development. As a bonus, all toys are made of environmentally friendly wood. The play cafe opened in 2019 and provides a laid-back space to enjoy refreshments while the kids explore different activities.
PLG, formerly known as Gratitude Cafe, is a cozy local bistro that offers drinks, breakfast, and brunch, as well as a special children's sandwich menu. Kids can stop by a small play area, which is partially enclosed and stocked with a selection of toys for little hands. Parents appreciate the emphasis on organic ingredients, coffee beans from local roasters, and healthy options like avocado toast and smoothies.
RELATED: Private Playtime: 13 Indoor NYC Play Spaces That Can Be Rented For Pods or Families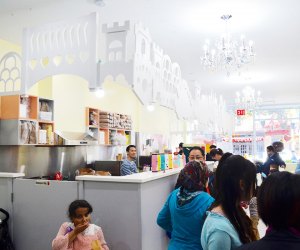 Fairytale Island is bright and airy and offers a cafe full of treats.
This Bay Ridge play space emphasizes playtime over mealtime, but it does offer cafe seating with a temporarily pared-down menu of beverages, cookies, and ice cream. Kids love the ball pit, indoor playground, and more. Meanwhile, parents love the ease of combining snacks with playtime.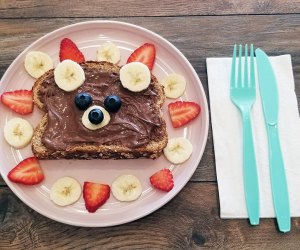 Yummy breakfasts are a major draw at Good Day Play Cafe.
This sweet play cafe is modeled after Korean play spaces, offering plenty of bespoke wooden and all-natural playthings, including a mini climbing wall, playground, and a Hinoki cypress wood cube pit. The cafe serves kid faves like sandwiches and dino nuggets, plus coffee, tea, and smoothies. There's even free Wi-Fi. Please note: The play cafe is often closed Saturdays for private parties.
RELATED: The Top Indoor Play Spaces Across New York City Open Now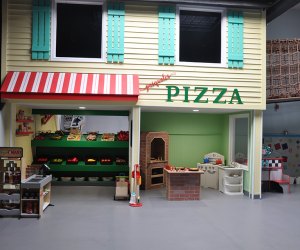 Kids can take a trip around the globe at Kid's Play World while parents and caregivers grab a delicious healthy snack.
Kid's Play World is another recent addition to the Queens' play space scene. Though the cafe is temporarily shuttered, there's plenty of room to feed your child's imagination. The owner, a mother of three, was inspired to open a fun space for kids after visiting hundreds of play cafes. She created Kid's Play World so kids could take a trip around the globe without leaving Queens. Each area has a different theme, including a (toy) pizza-making station in Italy, a pyramid wall representing Egypt, and a mini replica of the Brooklyn Bridge.
Photos courtesy of the venues
Originally published in 2016.