New Art-and-Play Space Opens at Metropolitan Museum of Art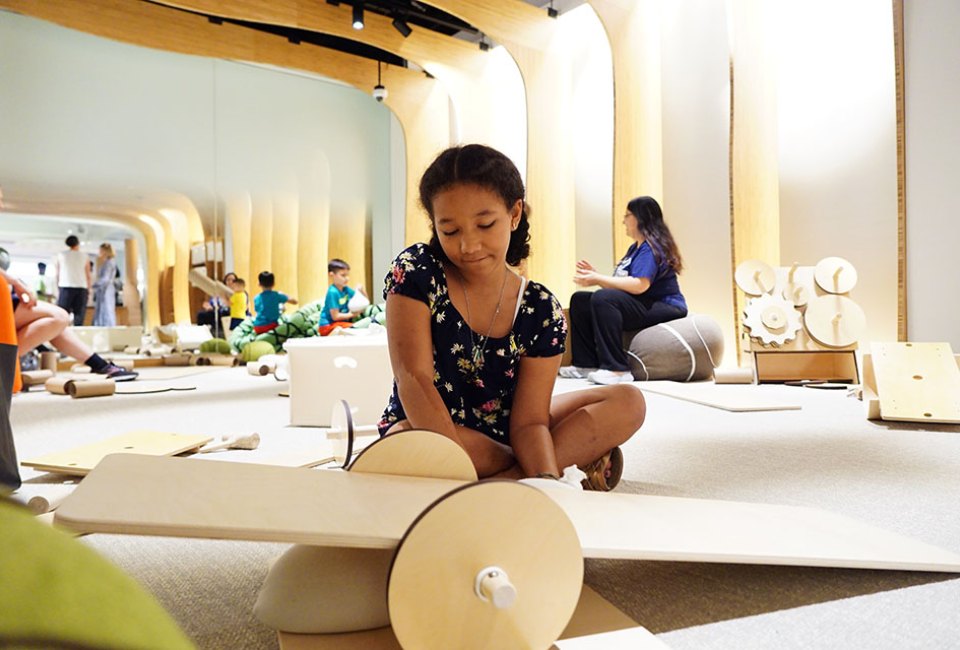 9/11/23
- By
Jody Mercier
When is the last time you stepped into The Met and had a curator encourage your child to touch and feel the exhibits? That tactile connection to artwork—to its making, its preservation, and ultimately, its appreciation—is at the forefront at the 81st Street Studio, the brand-new art and science play space that's now open at The Met's Fifth Avenue location.
Beyond giving city kids a new way to enjoy the wonders of The Met, the 81st Street Studio also makes it very accessible—admission to the space is completely FREE to kids and their families, surely cementing The Met's status on our list of the best museums in NYC for children for years to come.
Subscribe to our newsletters to get stories like this delivered directly to your inbox.

The 81st Street Studio's interactive stations draw on The Met's collection and preservation methods.
Exploring The Met's 81st Street Studio
The 81st Street Studio is a 3,500-square-foot play space laid out on the ground floor of The Met in the Ruth and Harold D. Uris Center for Education. Its multiple levels and play stations keep kids engaged, exploring, and making new discoveries.
Seven interactive stations await—and themes will rotate with time to keep kids engaged and excited over multiple visits. Geared toward children ages 3-11 and their caregivers, there are a variety of ways to play from a supersized marimba designed by Yamaha in the music corner, to a giant interactive video screen where kids can create digital collages and manipulate their images, to more traditional play space features like padded play areas and tons of blocks and building materials.
Framing the whole scene is an impressive collection of books with a diverse variety of topics, authors, and reading levels represented. While you can't check the books out, there are plenty of places for little ones to curl up and enjoy a quiet moment of reading. FREE story times are set to kick off in mid-September with sessions on weekends and Mondays.
As a parent, I loved the ample seating and open sight lines. It's easy to take a break here and watch your kids explore. Speaking of which, should you want to use your visit to The Met's 81st Street Studio as a jumping-off point to the museum or nearby Central Park, you can pick up a Met Field Guide to-go, and use its tools, like notebooks, magnifying glasses, and 3D glasses, to prompt scientific exploration of art, artifacts, and the great outdoors. Visitors who wish to take their Field Guide to the galleries receive a pass that provides FREE museum admission for up to five visitors.
RELATED: Guide to Museums, Galleries, and Exhibits in NYC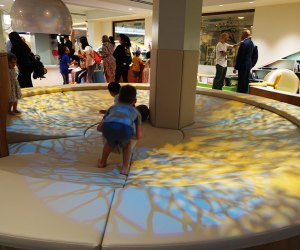 There are spaces for both active and passive exploration in the 81st Street Studio.
Activities for Toddlers and Preschoolers at the 81st Street Studio
Little ones have plenty of space to romp in the 81st Street Studio, from a small slide to a padded nest area, where they can slip off their shoes to climb, roll, and run. A small light table off to the side is surrounded by colorful, clear building blocks at a just-right level for preschoolers, who can build with them, manipulate them, and marvel at the rainbow of colors they produce.
Toward the back of the 81st Street Studio, kids of all ages—including little ones—can build with various materials from boxes and large blocks to sandbags and light-weight wooden pieces.
The multi-level music corner is also an all-ages pleaser. We saw little ones playing with the rainmakers, wall-mounted organ, and castanets.
Programming like FREE story times are also surely going to be a draw for the littlest guests.
RELATED: Peek Inside the Bronx Children's Museum in the South Bronx

Big kids have plenty of fun stations to explore in the 81st Street Studio, including this huge video display board.
Fun Things To Do for Big Kids at the 81st Street Studio
During our visit to the 81st Street Studio, my 10-year-old daughter had fun exploring each of the stations in the space, but the ones that held her attention the longest were a mashup of art-making and technology.
In the center of the room, there's an interactive table where kids can play with projections to bring their own artwork to life or activate hand-made drums—one of the art-making activities during our visit—to create a cacophony of sound. My daughter was thrilled to see her etchings projected onto the table in a rainbow of colors.
A huge video wall dominates one corner and also drew her attention. Laminated cutouts of pieces from The Met's collection inspire kids to create a collage that's projected onto the wall. Once my daughter laid out her design, she used knobs on the table to distort the shapes and change the colors, playing with light and color in the process. While it was the last station we visited, it was her favorite—and I'm confident my daughter will beeline for it during our next visit.
RELATED: Free Museums and Free Museum Days in NYC for Kids

Cozy reading nooks are a perfect break from a busy day of exploring The Met or its new play space.
Admission to the 81st Street Studio at The Met
As I mentioned before, admission to the 81st Street Studio is completely FREE for kids and their caregivers. Guests can access the space by entering the 81st Street entrance on the ground floor. You'll have to pass through security and head around the corner to the play space, but museum admission is not required.
Of course, if you'd like to visit the museum, know that admission to The Met is always FREE for kids under age 12. Nab a Field Guide and your group—up to five—can enter for FREE. If you're bringing the extended family, keep in mind that adults from the tri-state area can take advantage of The Met's pay-what-you-wish admission policy.
Photos by the author
Places featured in this article: