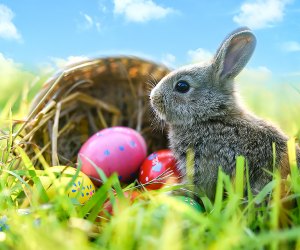 Easter Egg Hunts for Westchester Kids in 2020
This post is being updated for 2020.
Though we're unsure as to how long coronavirus will remain such a debilitating public-health issue, we've long been dreaming of April fun. At this time, we don't know when we'll resume our usual activities. But we've already been gathering a list of Easter egg hunts, the way children collect eggs. Pipe dream? Perhaps we'll need to update this soon with a change of plans, but as cancellations are being announced for only the near term, we're keeping our chins up and keeping an eye on developments.
Below we've rounded up thirteen egg hunts—scattered, like the eggs themselves, throughout Westchester. Some involve prizes or an appearance by the Easter Bunny; one involves a map, and another includes live-animal encounters.
If you're looking for more Easter Bunny action, shake your cottontail over to one of the Easter Bunny encounters we've rounded up, like train rides, meals, and other fun with the fluffy guy. These, too, we'll be updating as needed.
We're doing our best to keep our Event Calendar and Spring Activity Guide for Westchester Kids up-to-date. We also have other resources throughout our website for outdoor and stay-at-home activities.