Easter Egg Hunts Near Westchester in 2022 for Kids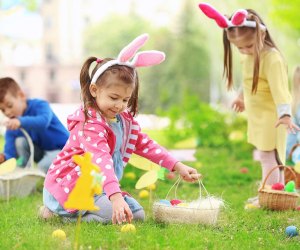 Easter is just around the corner, and Easter egg hunts are back, so grab your baskets and hop to one of these Easter egg hunts near Westchester and the Hudson Valley. Below we've rounded up a dozen Easter egg hunts for local families. Some involve prizes or an appearance by the Easter Bunny, while others include live-animal encounters.
If you're looking for more Easter Bunny action, shake your cottontail over to one of the Easter Bunny photo-ops, brunches, or train rides we've rounded up. For more springtime fun, bookmark our Family Activity Calendar and Spring Activity Guide for Westchester Kids.
As always, please click through to our listings for full details including time, recommended ages, and advance ticket requirements. Please check with each venue for current COVID protocols before heading out to any event.
Subscribe to our newsletters to get stories like this delivered directly to your inbox.