100 Things To Do in DC with Kids Before They Grow Up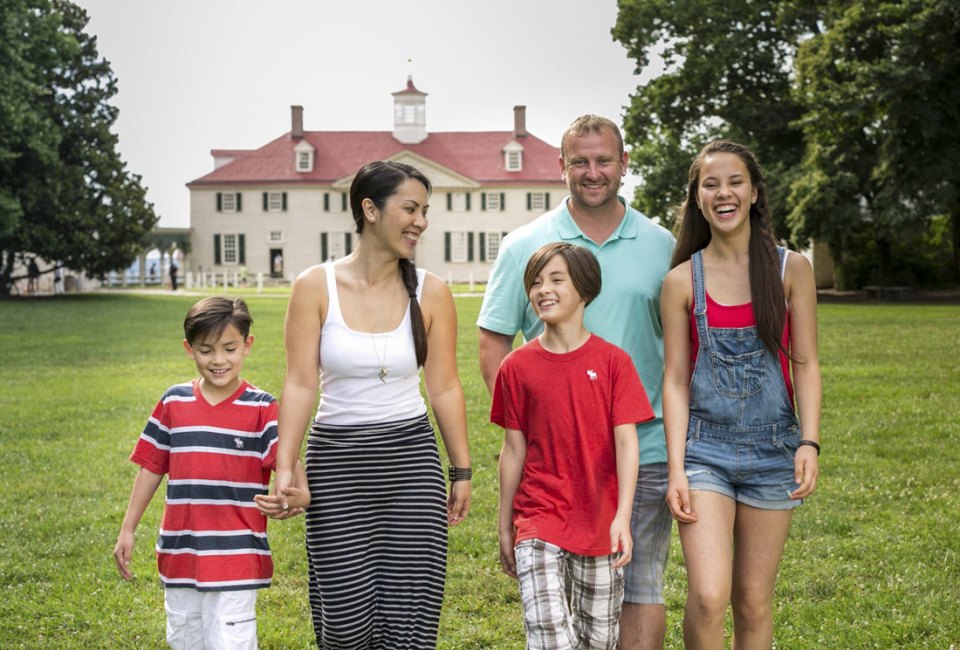 7/16/23
- By
Jennifer Marino Walters
Check out these amazing things to do in DC with kids—including attractions, events, activities, museums, and more—that every DC family really must experience!
The days are long but the years are short when it comes to raising kids. And with so many things to do in DC and nearby with kids, it can be hard for families to decide exactly how to spend their time in and around the nation's capital.
To help you make the most of your precious family time, we've compiled a list of the top 100 things to do in DC with kids before they grow up. In a city bursting with museums, parks and playgrounds, play spaces, and more, you'll certainly never get bored. Get out, explore, and see just how many activities you can cross off our fun list before childhood whizzes by.
Top Things To Do In DC for Visitors
While our list was written with kids growing up in the DC area in mind, it's also a great list for families visiting our nation's capital, since it's packed with iconic things to do in DC with kids. Here are more helpful roundups for anyone visiting Washington, DC:
Best Things To Do In DC with Kids By Age
And Now...
100 Top Things To Do in DC With Kids
1. National Mall
Get up close to all of the monuments and memorials at the National Mall, then visit them again at night for a whole different experience! FREE
2. National Museum of African American History and Culture
Explore Smithsonian's massive National Museum of African American History and Culture. FREE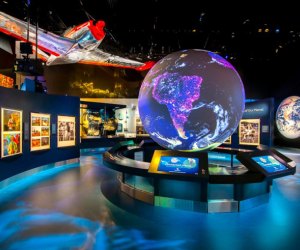 Like all Smithsonian museums, the National Air and Space Museum is free to enter.
3. National Air and Space Museum
See historic airplanes—including one Amelia Earhart flew—at Smithsonian's National Air and Space Museum. FREE
4. Steven F. Udvar-Hazy Center
Head to the Air and Space Museum's outpost in Chantilly to see the Space Shuttle Discovery or a Star Wars X-wing Starfighter. FREE
5. The White House
Write your member of Congress to score tickets for a self-guided tour of the White House. FREE
6. Mount Vernon
Go back in time to experience what life was like at George Washington's beloved home.
7. National Zoo
Get up close to giant pandas, lions, and many other animals at DC's Zoo: the Smithsonian's National Zoo & Conservation Biology Institute. FREE (There is a parking fee.)
8. Arlington National Cemetery
Visit presidents' graves, the Tomb of the Unknown Soldier, and the Military Women's Memorial at Arlington National Cemetery. Volunteer to lay wreaths in December. FREE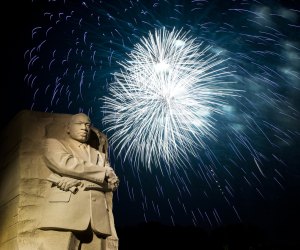 The Fourth of July fireworks look breathtaking above the DC monuments. Photo courtesy of the National Parks Service
9. Fourth of July Fireworks
"Oooh" and "aaah" over the annual Fourth of July fireworks at the National Mall. FREE
10. International Spy Museum
Let loose your inner James Bond at the International Spy Museum.
11. Rock Creek Park
Explore Rock Creek Park, an oasis in the middle of the city. Be sure to visit the nature center, one of several free nature centers near DC. FREE
12. United States Botanic Garden
Immerse yourself in nature at the United States Botanic Garden. FREE
13. Indoor Playgrounds
The DC area is teeming with fantastic indoor playgrounds for kids of all ages.
14. National Portrait Gallery
See the country's only full collection of presidential portraits outside of the White House at Smithsonian's National Portrait Gallery. FREE
15. DC Cherry Blossoms
Head to the Tidal Basin—or one of several other places to see the cherry blossoms—in the spring for an explosion of white and pink. FREE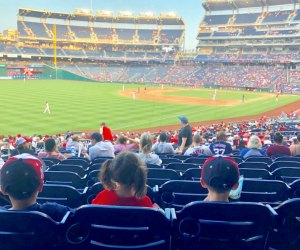 Cheer on the Washington Nationals at Nats Park. Photo by the author
16. Washington Nationals Game
Root, root, root for the Washington Nationals at the family-friendly Nationals Park. Be sure to sign your kids up for the Jr. Nationals Kids Club.
17. Georgetown
Stroll around DC's oldest neighborhood, founded in 1751. Be sure to spend some time on the waterfront. FREE
18. US Capitol
Make a reservation online to take a tour of the Capitol building. FREE
19. National Museum of the American Indian
Explore an Amazonian stilt house, build a giant igloo, and do other hands-on activities at the imagiNATIONS Activity Center at Smithsonian's National Museum of the American Indian. FREE
20. National Museum of American History
See gowns worn by First Ladies, the American flag that inspired the national anthem, and so much more at Smithsonian's National Museum of American History. FREE
21. US National Arboretum
Stroll through the gorgeous gardens of the US National Arboretum, which look different in every season. Be sure to visit the Washington Youth Garden. FREE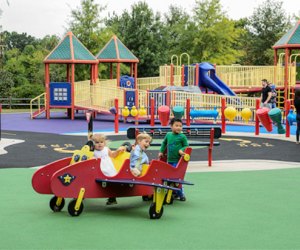 Kids of all abilities can have fun at Clemyjontri Park. Photo courtesy of Fairfax County, Virginia
22. Clemyjontri Park
Spend the afternoon at this fully accessible playground in McLean, Virginia, one of many amazing destination playgrounds near DC. FREE
23. Gravelly Point Park
Lie on a blanket at this Arlington, Virginia park to see planes flying right above your head as they land at and take off from Reagan National Airport. FREE
24. National Postal Museum
Climb aboard a historic railway mail train and a modern mail truck at Smithsonian's National Postal Museum. FREE
25. Old Town Alexandria
Walk the brick-lined streets of the King Street Mile shopping hub, stroll the waterfront, take a ride on the free King Street Trolley, and soak up centuries-old architecture in this circa-1749 neighborhood that was George Washington's adopted hometown. FREE
26. Gadsby's Tavern Museum
Explore this Old Town Alexandria tavern and hotel that were frequented by George and Martha Washington, Thomas Jefferson, and other notable people in the late 1700s.
27. White House Easter Egg Roll
Enter the online lottery to try to score tickets to the White House Easter Egg Roll. It's not an easy feat! FREE
28. Great Falls Park
Watch the Potomac River build up speed and plummet down Great Falls, a breathtaking waterfall in this national park in McLean, Virginia.

Catch a family-friendly show at the iconic Kennedy Center for the Performing Arts. Photo courtesy of the Kennedy Center
29. The Kennedy Center
The Kennedy Center hosts many shows geared toward young audiences, as well as rotating exhibits.
30. National Museum of Natural History
Marvel at the massive dinosaur fossils at Smithsonian's National Museum of Natural History. FREE
31. Peterson's Ice Cream Depot
Indulge in delicious homemade ice cream and play outdoor games at Peterson's Ice Cream Depot in historic Clifton, Virginia. Then visit one of the other must-try ice cream shops near DC.
32. National Children's Museum
Play, learn, and explore at the National Children's Museum.
33. United States Holocaust Memorial Museum
Bring older kids and teens to the United States Holocaust Memorial Museum for a sobering look at the Holocaust. FREE
34. MedStar Capitals Iceplex
Go ice skating at the Washington Capitals' practice facility in Arlington, Virginia. On most days, you can even watch the team practice!

Many special events like the Running of the Chihuahuas take place at the Wharf. Photo courtesy of the Wharf DC
35. District Wharf
Play bocce, search for historical markers, eat at great restaurants, and watch boats drift by at District Wharf. FREE
36. Chessie's BIG Backyard
Play on a fully accessible Chesapeake Bay-themed playground, ride a carousel, and explore a 2,160-square-foot children's trail—complete with a sound garden and spinning rocks—at Chessie's BIG Backyard in Franconia, Virginia. FREE
37. Our Special Harbor Spray Park
Enjoy spray features, bubblers, water tables, and more at Our Special Harbor Spray Park, or another of the local splash pads and sprinkler parks. FREE
38. Embassy Tour
Participate in the Around the World Embassy Tour each May to visit international embassy buildings and experience the music, dancing, food, and culture of other countries. FREE
39. Petting Zoos
Pet and feed all sorts of animals at Leesburg Animal Park in Virginia, Clark's Elioak Farm in Maryland, or one of several other animal farms and petting zoos near DC.
40. National Menorah
Take part in the lighting of the National Menorah on the White House Ellipse. FREE
41. National Archives
See the founding documents, including the Constitution, at the National Archives Museum. FREE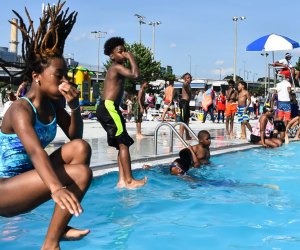 Make a splash at one of DC's free swimming pools. Photo courtesy of the DC Department of Parks and Recreation
42. Free Swimming Pools
Learn to swim or just cool off at the many free public swimming pools in DC. FREE
43. Burke Lake Park
Ride a train and carousel, play a round of mini golf, and do countless other activities at this nearly 900-acre park in Fairfax Station, Virginia.
44. Ford's Theatre
Visit the theatre where Abraham Lincoln was shot, a national historic site. You can also see a live show!
45. Watkins Regional Park
Follow the Yellow Brick Road to this Wizard of Oz-themed playground at Watkins Regional Park in Upper Marlboro, Maryland. FREE
46. National Harbor
Soar 180 feet above the Potomac River on the Capital Wheel, ride a carousel, and do other fun activities at this waterfront area in Maryland.
47. Outdoor Concerts at Wolf Trap
Catch an open-air performance at Wolf Trap's Children's-Theatre-in-the-Woods in Vienna, Virginia.
48. Supreme Court
Explore portions of the Supreme Court building and attend a 30-minute Courtroom Lecture to learn the functions of the Supreme Court, the building's history, and the Courtroom's architecture. You can even attend court sessions, though it's recommended that you don't bring young children.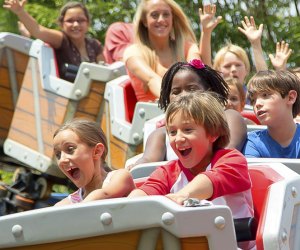 Are your kiddos brave enough to tackle the roller coasters at Six Flags America?
49. Six Flags America
Satisfy your inner thrill seeker at this theme park in Upper Marlboro, Maryland. Or, splash your way through Hurricane Harbor's many slides and pools.
50. George Washington Memorial Parkway
Take a scenic drive, bike ride, or walk along the George Washington Memorial Parkway. FREE
51. National Gallery of Art
Develop your kids' appreciation of art, from classical to postmodern, at the National Gallery of Art. FREE
52. Ninja Warrior Gyms and Obstacle Courses
Challenge yourself at one of these awesome ninja warrior gyms and obstacle courses near DC.
53. Planet Word
Explore the world of words at Planet Word, the world's first voice-activated museum. Marvel at a 22-foot talking word wall, enter a magical library, sing karaoke, and much more.
54. National Building Museum
Get creative at PLAY WORK BUILD at the National Building Museum.
55. The Nutcracker
Seeing the Washington Ballet perform The Nutcracker at the Warner Theatre is an unforgettable experience in itself. Meeting the dancers at Family Day, or having tea with the Snow Queen and Sugar Plum Fairy at the Willard InterContinental Hotel's Nutcracker Tea Party, is downright magical.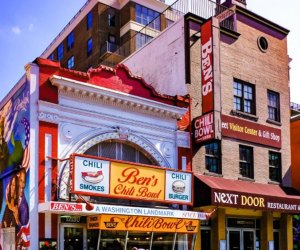 Dig into an original chili half-smoke hot dog at Ben's Chili Bowl.
56. Ben's Chili Bowl
Since opening in its original location on U Street in 1958, Ben's Chili Bowl has become a DC institution beloved by countless celebrities. Ben's is famous for its half-smoke hot dogs, burgers, fries, and—of course—chili.
57. Super, Awesome & Amazing
Climb structures, conquer a ninja obstacle course, splash at a water park, and more at this 30,000-square-foot indoor play place at the St. James Sports Complex in Springfield, Virginia.
58. Wild Water Parks
Glide along a lazy river, sail down water slides, swim in a wave pool, or simply splash around at one of a dozen cool outdoor water parks near DC.
59. Dentzel Carousel
Go for a whirl on this 1921 carousel in Glen Echo Park. It's on the National Register of Historic Places and one of only 135 functioning antique carousels in the country. Or, try one of several other great carousels in the DC area.
60. National Museum of the United States Army
See Army vehicles, weapons, and more at the National Museum of the United States Army in Fort Belvoir, Virginia. FREE
61. Epic Corn Mazes
Don't let fall pass you by without getting lost in one of the amazing corn mazes in the DC area.
62. Theodore Roosevelt Island
Hike, see wildlife, and picnic at this more than 90-acre park. FREE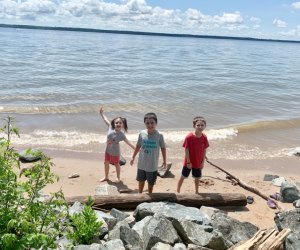 Feel the sand between your toes at Leesylvania State Park. Photo courtesy of the author
63. Parks with Beaches
DC may not be near the ocean, but you'll certainly feel like you're seaside at one of the area's many parks with beaches along lakes or rivers.
64. Old Ebbitt Grill
Old Ebbitt Grill is one of the most famous restaurants in DC, in part because of its location across the street from the White House. Founded in 1856, it is also one of the city's most historic venues: it's DC's oldest saloon, frequented by several presidents including Ulysses S. Grant and Theodore Roosevelt.
65. Gnarly Skate Parks
Practice ollies, kickturns, and heelflips at one of a dozen kid-friendly skate parks near DC.
66. Tudor Place
Tour this historic house in Georgetown to hear stories of six generations of Martha Washington's descendants, as well as the enslaved and free people who lived and worked there for two centuries.
67. Experience Christmas at Gaylord National
Build gingerbread houses, see ice sculptures, meet Santa, and lots more at this Christmas wonderland at National Harbor's Gaylord National Resort & Convention Center.
68. Discovery Theater
Catch a kid-friendly performance at Smithsonian's Discovery Theater.
69. Canal Park
Splash in the dancing fountains in summer, ice skate in winter, and enjoy performances and events at this park along the Capitol Riverfront. FREE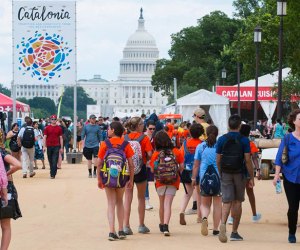 The Smithsonian Folklife Festival is one of the area's most famous festivals.
70. Smithsonian Folklife Festival
Immerse yourself in various cultures at the Smithsonian Folklife Festival each July. FREE
71. KID Museum
Transform your kids into builders and creators at Bethesda, Maryland's KID Museum.
72. American Girl Store and Cafe
There are only 10 locations of this beloved store and cafe across the US, and one of them is at the Tysons Corner Center mall in Virginia.
73. National Law Enforcement Museum
Experience the life of a law-enforcement officer at the National Law Enforcement Museum.
74. Children's Science Center
Perform all sorts of science experiments at the Children's Science Center in Fairfax, Virginia.
75. Library of Congress
Visit the largest library in the world and the oldest federal institution in the country, founded in 1800. Explore Thomas Jefferson's personal library, see the Gutenberg Bible, and lots more. FREE
76. National Book Festival
Celebrate books at the Library of Congress's annual National Book Festival. FREE
77. Museum of Illusions
Have mind-bending fun at the Museum of Illusions Washington.
78. Brookside Gardens
Delight in nature at Brookside Gardens in Wheaton, Maryland. FREE



ZavaZone is just one of many fun trampoline parks near DC. Photo courtesy of the author
79. ZavaZone Trampoline Park
With trampolines, obstacle courses, climbing structures, and more, ZavaZone is the perfect indoor place for kids to burn off energy. Or, try one of the other awesome trampoline parks near DC.
80. President Lincoln's Cottage
Visit the home Abraham Lincoln lived in for more than a quarter of his presidency.
81. National Aquarium
Get up close with more than 20,000 aquatic animals at Baltimore's National Aquarium. Stay the day to explore the rest of the Inner Harbor.
82. Pumpkin Picking
Pick the perfect pumpkin at one of the many great pumpkin patches near DC in October.
83. East Potomac Mini Golf
Try for a hole-in-one on the oldest continually operating miniature golf course in the country, which is on the National Register of Historic Places. Then head to one of the DC area's other fun mini golf courses!
84. Washington Commanders Game
Head to FedExField just north of DC to cheer on the city's NFL team, which was renamed the Washington Commanders in February 2022.
85. Gunston Hall
Tour the Lorton, Virginia home of Founding Father George Mason.
86. Museum of the Bible
Enjoy tons of interactive features at the Museum of the Bible.
87. Go Camping
Pitch your tent under the stars at one of these nearby campgrounds.
88. Dumbarton House
Get a feel for 19th-century Colonial America at Dumbarton House in Georgetown.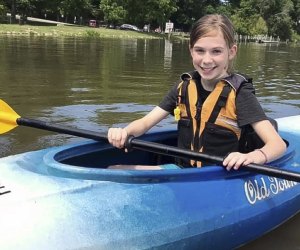 Take to the water on a kayak during the summer months. Photo courtesy of the Atlantic Kayak Company
89. Kayaking, Canoeing, and Paddleboarding
There are plenty of places near DC to hit the lake or river on a kayak, canoe, or paddleboard.
90. Port Discovery Children's Museum
Let your imagination run wild at this Baltimore children's museum.
91. Hirshhorn Sculpture Garden
Meander through Smithsonian's Hirshhorn Sculpture Garden. FREE
92. Dulles Golf Center
Play a round of mini golf or take a swing in the batting cages at Dulles Golf Center & Sports Park in Virginia.
93. Torpedo Factory Art Center
Take a stroll through the nation's biggest collection of working artists' open studios under one roof in Alexandria, Virginia. FREE
94. Yards Park
Enjoy dancing water fountains, free family-friendly performances, outdoor movies, and more at Capital Riverfront's Yards Park. FREE
95. Manassas National Battlefield Park
Visit a Civil War battlefield in Manassas, Virginia. FREE

Learn and play the day away at the Maryland Science Center.
96. Maryland Science Center
Get hands on at the Maryland Science Center in Baltimore.
97. Cox Farms
Hit up the Cox Farms Fall Festival in Centreville, Virginia for a corn maze, giant slides, a hayride, and tons of other fall fun.
98. Dazzling Christmas Lights Displays
If you love Christmas, DC is one of the best places to be. There are so many holiday lights drive-thrus and Christmas light shows—as well as spectacular neighborhood Christmas lights displays—you'll have trouble fitting them all in! Try to cross a few off your list each year.
99. Snow Tubing
Take a day trip to go snow tubing at a resort near DC.
100. The Family Drive-In Theatre
Watch a movie from the comfort of your car at this classic drive-in in Stephens City, Virginia, about 90 minutes from DC.
And if this isn't enough fun things to do in DC, and its surrounding metro areas, don't miss our always packed daily events calendar.
An earlier version of this article first published in 2018 with reporting by Christine Mooney.
All photos courtesy of the locations unless otherwise noted
Sign up for the Mommy Poppins Newsletter today!
i