Best Corn Mazes Near DC for Kids and Families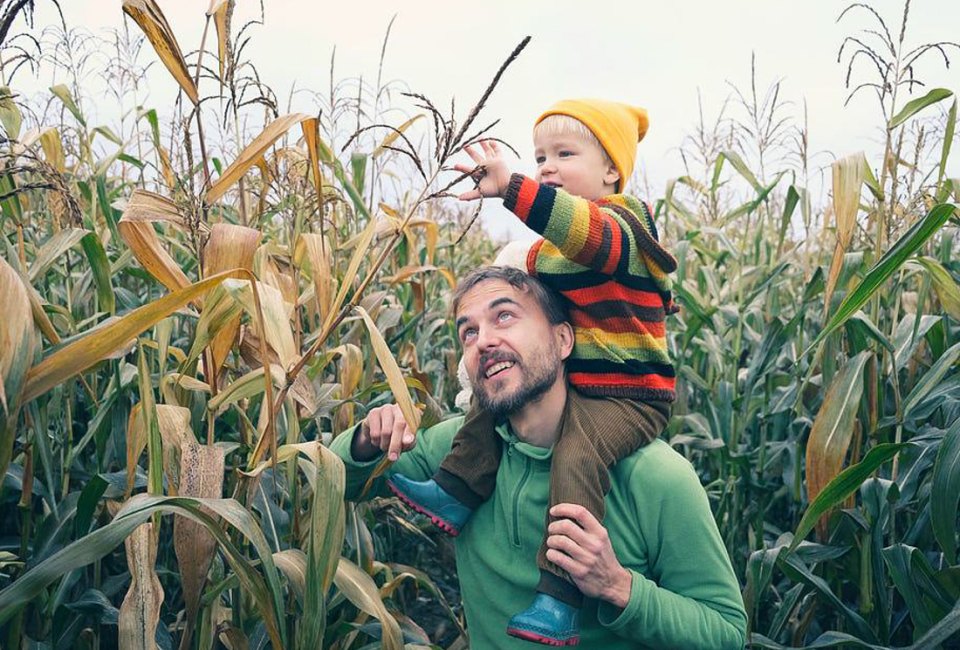 9/15/23
- By
Jennifer Marino Walters
Corn mazes are a popular fall activity for many families. Navigating twisty paths cut through giant stalks of corn, often while solving clues and finding hidden surprises, is a great way for families to bond while enjoying the crisp autumn air. The best corn mazes near DC have fun themes, multiple challenge levels, or even flashlight nights, when visitors can tackle the mazes in the dark with only flashlights to guide them.
Here are 16 of the most ah-maize-ing (sorry, couldn't resist) corn mazes near DC for kids and families, including three haunted corn maze options for only the bravest teens. Many of these corn mazes in Maryland and Northern Virginia are part of larger harvest and pumpkin festivals that offer fun activities such as hayrides, giant slides, petting zoos, and more.
Looking for even more fun things to do near DC with kids this fall? Be sure to visit our Fall Fun Guide for Washington, DC Families and our Halloween Events and Activities Guide for Kids in Washington, DC.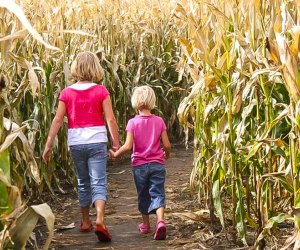 Kids love the interactivity of the Montpelier Farms corn maze.
Best Corn Mazes For Kids and Families Near DC in Maryland
Montpelier Farms features two great corn mazes during its fall festival, which is open on Saturdays and Sundays from September 16 through November 5, 2023, plus Tuesdays through Fridays in October. The first is a seven-acre interactive corn maze with the 2023 theme "Alien Invasion". At dark, it becomes a flashlight maze that's full of fun without the spookiness. The second, smaller maze is called the Spookley the Square Pumpkin Corn Maze, where younger kids can search for Spookley storyboards throughout the maze.
Summers Farm is known for its interactive corn maze, which has a new theme every year. The maze offers over five acres of space to explore, including 2.5 miles of trails and a hidden scenic bridge. It's divided into difficulty phases so the whole family can be appropriately challenged, and there are passports and clues available to help.
Families looking for even more of a challenge can play one of two games while navigating the maze—the Farm Monster Mystery Game, in which they can search the maze for hidden treasure, or Spookley, a farm-friendly adaptation of Spookley the Square Pumpkin. The corn maze is open every day except Tuesday during the Summers Farm Fall Festival from September 16 through October 30, 2023, plus on Halloween.
RELATED: Fall Bucket List for Kids: Top Things To Do Near DC This Fall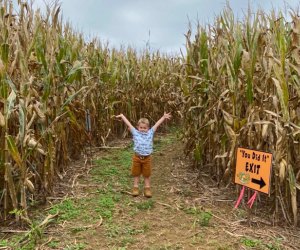 Tackle the 20-acre corn maze at Jumbo's Pumpkin Patch.
If you're looking for a giant maze, Jumbo's is the place to go. Its corn maze, open from September 23 through October 31, 2023, spans a whopping 20 acres. Jumbo's also offers many other activities during its fall festival on Saturdays and Sundays, including hayrides to the pumpkin patch, play areas, a petting zoo, and more.
This popular, eight-acre corn maze has a superhero theme for 2023. Visitors are encouraged to bring their phones, which can provide clues and other fun along the way. Plus, guests are timed and can see where they place on the season's leaderboard after exiting the maze. Staff members—and superheroes—will be located throughout the maze to help if you get lost.
The Maryland Corn Maze is open on Saturdays and Sundays, plus certain weekdays, from September 16 through November 5, 2023. On three Saturday nights in October, visitors can bring flashlights to tackle the maze in the dark. Admission to the maze also includes a slew of other fall activities, including hayrides, a zip line, a petting zoo, pedal tractors, slides, and more.
RELATED: Apple Picking Near DC: Best Apple Orchards for Apple Picking with Kids

Celebrate Frederick County at Gaver Farm's corn maze.
Gaver Farm's intricate corn maze celebrates Frederick County and its agricultural roots with the theme "Frederick County's 275 Years Strong!" It's open every day from September 1 through October 31, 2023 as part of the Gaver Farm Fall Fun Fest, which also includes a hayride to a pick-your-own pumpkin patch, playgrounds, giant slides, a petting zoo, and many more activities.
The Cornfusion Corn Maze, located at Showvaker's Quality Evergreens (about a two-hour drive from DC), has a Mad Scientist theme for 2023. Families can search for hidden items throughout the maze, then enjoy loads of other fall activities at the farm, including a barnyard zoo, a corn crib, pedal cars, a wagon train, a pumpkin patch, and more. The maze is open on Saturdays and Sundays from September 16 through October 29, 2023. On Friday and Saturday nights beginning September 23, it becomes a Flashlight Maze.
With over five miles of trails, the maze at Magnolia Meadow Farms claims to be Maryland's largest corn maze. Families can visit it during the farm's fall festival, which takes place on Saturdays and Sundays (plus two Mondays and Fridays) from September 23 through October 29, 2023 and includes over 20 activities, such as hayrides, slides, and mini zip lines.
Magnolia Meadow Farms is well known for its Moonlit Maze nights, which in 2023 take place on Saturday, October 7 and Saturday, October 28 from 6-10pm. Bring a flashlight to tackle the maze and enjoy live music and food along with all of the other fall activities.
This orchard and creamery boasts a 15-acre corn maze that's in the shape of a circular labyrinth in 2023. It's open Saturdays and Sundays from September 2, 2023 though the first weekend in November. Families can also go pumpkin and apple picking, pet calves, watch cows being milked with a robotic milker, and launch pumpkins from a pumpkin blaster.
RELATED: Fun Fall Train Rides and Halloween Train Rides for DC Families

Have fun navigating the 1.5-acre corn maze at Great Country Farms.
Best Corn Mazes for Kids and Families Near DC in Virginia
At Great Country Farms, families can tackle the 1.5-acre corn maze every day in September in October as part of the Corn Maze and Apple Harvest event or the Fall Pumpkin Harvest Festival. Admission includes tons of other farm activities including playgrounds, jumping pillows, an obstacle course, live animals, and more. On three weekends in September, the farm hosts Family Flashlight Corn Maze Nights, when guests can bring their own flashlights to navigate the maze and then enjoy a cider tasting and fireside s'mores.
Cox Farms' Cornundrum is not your average corn maze. Kids will delight at the numerous hidden surprises throughout the winding maze, including pirates, caves, jungles, and more. Cornundrum is just one of the myriad activities included in the Cox Farms Fall Festival, open on Thursdays through Mondays from September 16 through November 7, 2023 (except September 21 and 22). Families can slide down giant slides, take a fun hayride, feed goats, and so much more.
Visit Belvedere Plantation's Great Adventure Maize Maze during its Fall Harvest Festival on Thursdays through Sundays from September 16 through November 4, 2023, (plus Monday, October 9). The festival also includes giant slides, a zip line, a kids' fun barn, pedal carts, and other fun activities.
RELATED: 21 Fall Day Trips from DC and Fun Weekend Getaways for Families

The corn maze is only one of several fun fall activities at Wayside Farm.
Wayside Farm's 10-acre corn maze has a fun theme for 2023—"This is the Way", featuring Baby Yoda. Visitors can use their sleuthing skills to navigate their way through the maze, then enjoy many other fall activities such as a pumpkin patch and several play areas. Wayside Farm is open Thursdays through Sundays from September 23 through October 29, 2023.
This farm, located about two hours from DC by car, is home to a massive corn maze. There are four separate trails through the 34-acre maze with various levels of difficulty. The first, Story Maze, is a 30-minute search for various story stations. The 45- to 60-minute Trivia Maze offers a medium challenge level and provides trivia. The longest path, the Hole Punch Maze, takes two to three hours and requires visitors to find 21 stations at which to punch their cards (and eventually get ice cream). Finally, the Mystery Maze requires guests to find their way out with no maps or clues to guide them.
The Liberty Mills Farm Corn Maze is open on various dates from September 9 through November 11, 2023. A flashlight maze is available on Saturday nights beginning September 23. On weekends, families can also enjoy a hayride, a play area, and a visit to the farm's pick-your-own pumpkin patch.
Haunted Corn Maze Options Near DC for Teens
Southern Maryland Blue Crabs Stadium transforms into one of Maryland's top-rated haunted attractions, including a truly terrifying haunted corn maze. It's open Friday and Saturday nights from October 6 through November 4, 2023, plus two Sunday (October 22 and 29) and Halloween. November 4 is a blackout night, so don't forget your flashlights.
Only the bravest of teens should attend this hair-rising event, which includes a haunted corn maze, hotel, hayride, and slaughterhouse. It is open Friday, Saturday, and Sunday nights from September 23 through November 4, 2023, plus Thursday, October 19 and 26. November 3 and 4 are blackout nights, so bring flashlights.
16. Cornightmare — Centreville, VA
On Friday and Saturday nights from September 22 through November 4, 2023, Cox Farms transforms into Fields of Fear. Recommended for ages 12 and over, Fields of Fear includes over 20 acres of spooky attractions, including a haunted forest and hayride. The corn maze becomes Cornightmare, a haunted corn maze only for the bravest guests.
All photos courtesy of the farms unless otherwise indicated
Sign up for the Mommy Poppins Newsletter today!
i