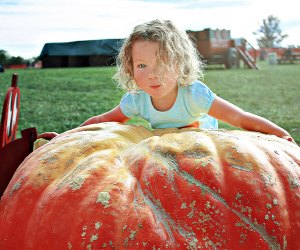 Best Pumpkin Patches Near Washington, DC for Kids
Nothing says autumn like a trip to the pumpkin patch. Getting out on a beautiful fall day to pick a pumpkin, enjoy some apple cider, and have fun on a hayride is the perfect way to celebrate the fall season in the DC area. So we've put together a list of our favorite pumpkin patches near Washington, DC. Many of these pumpkin patches are part of local farms with fall festivals, corn mazes, playgrounds, petting zoos, and other fun activities.
Read on for our list of 12 great pumpkin patches near Washington, DC for families. And for more ways to celebrate autumn, check out our fall fun guide for DC kids!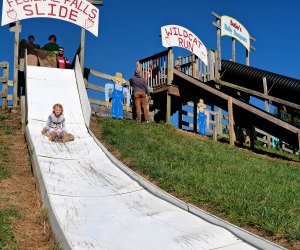 Hit the slide at Butler's Orchard. Photo by Brian Vallelunga/CC BY 2.0
Pumpkin Patches in Maryland
Butler's Orchard's Pumpkin Festival will take place on Wednesday through Sunday from September 25 through October 31. Admission to the festival includes a visit to the pick-your-own-pumpkin patch and a slew of other activities, such as hayrides, a corn maze, jump pads, farm animals, giant slides, and more. It is strongly recommended that you buy tickets ahead of time online to ensure that they are not sold out.
OUR LATEST VIDEOS
Looking for a straightforward, relaxing pumpkin-patch experience? Homestead Farm has just that. Along with a plethora of pumpkins, apples are also currently in season. Admission costs just $2 a person for everyone age 2 and older; after that, just pay for what you pick. The pumpkin patch is open daily from late September through Halloween, and you may just get a glimpse of goats, pigs, and other farm animals.
Pumpkin patch open daily from September 19 - November 8, 2020
Head over to Montpelier Farms for its annual fall festival, which takes place every day except Monday from September 18 through November 7. The festival includes a variety of activities like corn mazes, hayrides, pumpkin bowling, a petting zoo, evening bonfires, and more. When you're all tapped out of the activities, head to the pumpkin patch to pick your own pumpkin. You can also forgo the festival and visit just the pumpkin patch for free; you'll only have to pay for the pumpkins you pick. If you do want to go to the festival, pre-purchase tickets online to streamline your visit.

Pumpkins abound at Clark's Elioak Farm. Photo courtesy of Clark's Elioak Farm
Pumpkin patch is open September 19 - November 8, 2020, from Tuesday-Sunday
This farm is truly magical for young kids, with a fairy garden, an enchanted forest, storytimes, and more. If you're looking to get close to cute farm animals, there's also a petting zoo. And from September 18 through October 31, you can pick a child-sized pumpkin from the pumpkin patch, as well as larger and mini pumpkins and gourds from the farm market. Clark's Elioak Farm is open Tuesday through Sunday.
Enjoy a tractor-pulled hayride to the pumpkin patch, where pumpkins ranging from itty bitty two-ouncers hang out alongside giant 200-pounders. Kids will enjoy the petting zoo and Pumpkin House, and don't forget to browse the country store. If you hate the chore of cleaning out pumpkins for carving, you can purchase pre-cleaned gourds, ready to cut, on October 30 and 31. Queen Anne Farm's pumpkin patch will be open daily from the end of September through Halloween.
Gaver Farm's Fall Fun Fest takes place every day from September 3 through October 31. At the festival, kids can cruise down giant slides, pet and feed barnyard animals, wind their way through the corn maze, hit the playgrounds, and participate in many more of the festival's 60-plus attractions. Festival admission also includes a hayride to the pick-your-own pumpkin patch. If pumpkins are all you are after, you don't have to pay admission—just take a free hayride to the pumpkin patch!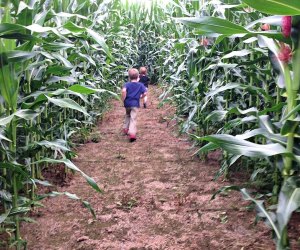 Find your way through the corn maze at Wayside Farm. Photo courtesy of Wayside Farm Fun
After remaining closed in 2020 due to COVID, Jumbo's is ready to reopen in 2021 for its Farm Festival from September 25 through October 31. The festival will take place on Fridays, Saturdays, and Sundays, and admission will be FREE on Fridays! There will be a 20-acre corn maze, hayrides, a petting zoo, play areas, and many more activities, plus a pick-your-own pumpkin field.
Pumpkin Patches in Northern Virginia
From September 25 through November 7, Wayside Farm will be open Friday through Monday for fall fun including an eight-acre pick-your-own pumpkin patch, a corn maze, a pumpkin playhouse, a playground, pig races, and more. You can also skip the activities and just visit the pumpkin patch. Reserve your spot online for the farm activities for a per-person fee, or for just the pumpkin patch for $20 for your entire family, which includes one hour in the patch and your first $20 worth of pumpkins.
Pig races, apple cider donuts, and pumpkin picking, oh my! Families can head to Great Country Farms any day of the week from October 1 through 31 for its annual Fall Pumpkin Harvest Festival. Kids will love the 12-acre play area and P. Rex, the pumpkin-munching dinosaur. Advance tickets are recommended for weekend visits and can be purchased online. Active-duty military and veterans can get FREE admission for up to six family members.
While Burke Nursery is well known for its annual Pumpkin Playground, it is limiting its fall activities due to COVID for the second year in a row. Still, families looking for a low-key experience can meander through the pumpkin patch to find the perfect gourds and take pictures in front of Halloween-inspired backdrops. The pumpkin patch will be open every day in October.
Cox Farms' Fall Festival will be back in all its glory this year on September 18 and 19 and daily from September 25 through November 7. The fun will include the farm's famous 20-minute hayride, tons of slides, a goat village, a tractor museum, and lots more. At the end of it all, you can choose your perfect pumpkin from the makeshift pumpkin patch, which includes pumpkins brought in from other farms.
Wegmeyer Farms grows a whopping 50 varieties of pumpkins, from traditional Jack-O-Lanterns to unique heirloom varieties. You can visit the pumpkin field to pick your own pumpkins right off the vine, or shop for pre-picked ones. Wegmeyer Farms will be open for pumpkin picking Thursday through Monday beginning September 18, and the farm asks that you reserve a time to visit ahead of time online.