8 Great Places to Go Apple Picking Near DC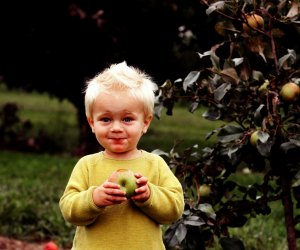 As late August and September arrive, so do the thoughts of apple picking near DC. This favorite fall tradition is a must for families, and it often goes far beyond plucking ripe apples from a tree. Many of these Virginia and Maryland apple orchards host fall activities of all kinds, from corn mazes and hayrides to petting zoos and playgrounds.
All of the apple picking farms and orchards listed below are within easy driving distance of DC. A few of them even made our list of best pumpkin patches near DC. Remember that farm conditions and produce availability change throughout the season, so be sure to call or check the farms' websites before you visit.
Read on for our list of eight great places to go apple picking near DC.
Apple Picking Near DC — Northern Virginia
This family-owned orchard, more than 250 years old, is open year-round. It offers a variety of fruits and vegetables, from cherries in early summer to apples and pumpkins in the fall. There is no entry fee, and pets are allowed. Call the orchard or check its Facebook page for operating days and hours and to see when apple picking starts. Note: Crooked Run Orchard does not accept credit cards, so be sure to bring cash or a check with you.
Apple picking season at Great Country Farms runs from late August through early October, with Honeycrisp apples available in August, followed by Gala, Jonagold, Jonafree, Candy Crisp, Ruby Jon, and Fuji varieties in September and October. Admission is $10 for ages 3-17 and 55+ and $12 for ages 18-54 for a three-hour visit (not including the price of the fruit), while kids 2 and under are free. But a load of additional activities, including a ninja obstacle course, various play structures, giant slides, farm animals, and more make the admission fee well worth it. Leashed dogs are allowed, but not in the picking fields. Be sure to try the farm's famous apple cider donuts!
With a variety of apples ready to pick as early as August—plus a market, a full kitchen, and a playground—Mackintosh Fruit Farm is a great orchard for families looking to pick their own fruit. The farm charges a $2 entry fee for anyone age 5 and older, plus the price of what you pick. Dogs are allowed on leash, but not in areas where crops grow on the ground. The farm is open to pick your own fruits, vegetables, and flowers on Thursdays through Sundays from 8am-5pm through October 31.
There are 325 acres of apples at Marker-Miller, with Ginger Gold and Gala apples available in August and a dozen other varieties ready in September and October. You can purchase containers to fill on-site. There's also a cow train, weekend wagon rides for $2 per person, and a playground with large wooden structures in the shape of a ship, castle, tractor, and more. Dogs are allowed on leash, and you can purchase food on-site to enjoy in the picnic areas.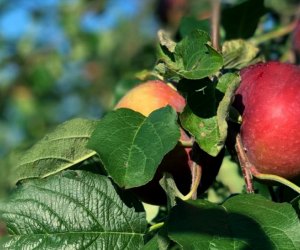 Ripe apples are ready for picking at Marker-Miller Orchards. Photo courtesy of Marker-Miller Orchards
Apple Picking Near DC — Maryland
From potatoes and berries to tomatoes and pumpkins, Butler's Orchard is a great spot to pick your own fruits and veggies throughout the growing season. The apple picking season runs from mid to late September. You must make a reservation online, which costs $3 for anyone 2 and over, and pay by the container for whatever you pick. There's also an on-site Farm Park that includes a petting zoo, giant slides, pedal tractors, and a playground.
Homestead Farm is open seven days a week, 9am-5pm, rain or shine. Apple picking season generally starts in late August or early September and runs through late October, with different varieties ripening at different times. Admission to the farm costs $2 per person over age 1, and produce is sold separately by the pound. Before or after you pick, you can visit the farm animals. There's also a refreshment stand open on Saturdays and Sundays.
This farm offers a variety of pick your own fruits and veggies from late May/early June through early November. More than 20 varieties of apples are available, starting with Ginger Gold in mid August and ending with Pinky Lady and Goldrush apples in late October through early November. Call the farm before you leave to confirm produce availability. Larriland Farm also offers tractor-drawn hayrides and other fall activities. Admission is free, with produce sold by the container,which you can purchase when you arrive. The farm is open 9am-5 or 6pm most days during the season.
Though Milburn Orchards offers a variety of pick your own fruit, apples are its specialty. The apple picking season generally runs from early September through early November, with more than 15 varieties available. Pickers must register online ahead of time for a $1.50 fee, and anyone ages 10 and up will have a minimum picking requirement. Produce containers can be purchased on-site. Kids will also love to play in the BIG Backyard, which includes a playground, a giant sandpit, a petting zoo, and other activities for a separate fee. If you're hungry, stop in for some lunch, apple cider donuts, or ice cream at the farm market.