17 Free Things To Do in DC On Cold and Rainy Days: Indoor Places To Play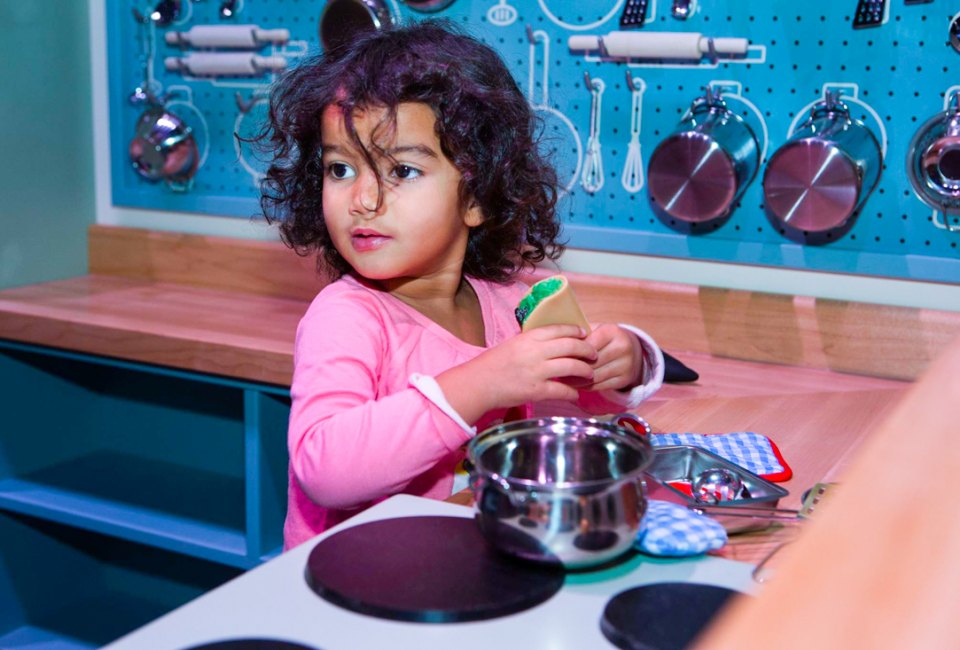 1/8/23
- By
Jennifer Marino Walters
Cold and rainy days make it harder for kids to burn their energy and stretch their little legs—especially without spending some serious money. But there are several free things to do indoors in DC, Maryland, and Northern Virginia that allow kids to run, climb, and explore without parents reaching into their wallets. From children's play areas at free museums to free nature centers to free indoor playgrounds at malls, these indoor places to play are all great options for bad-weather days.
Here are 17 free things to do indoors on cold and rainy days when the kids need to blow off steam. For more family fun that won't break the bank, check out our guide to Free Things To Do in DC with Kids.
Any of the DC area's free museums are great places to spend a cold or rainy day, but these two Smithsonian museums have dedicated play areas where kids can touch, climb, and play to their hearts' content.
RELATED: National Children's Museum Opens in Washington, DC

There's so much for young kids to explore at Wegmans Wonderplace. Photo courtesy of the National Museum of American History
1. Wegmans Wonderplace — National Museum of American History
This 1,700-square-foot exhibit for kids ages 0-6 features plenty of interactive elements, including a construction area, a climbing structure, a soft-play area for crawlers, a pretend farm and kitchen with play food and accessories, a mini portrait gallery, and more. There's also a nursing bench and a reading area with a cozy beanbag chair. On busy days, Wegmans Wonderplace uses a timed ticketing system through which families can pick up free tickets good for 30 minutes of play.
This huge exhibit for children of all ages is one of our favorite free things to do with kids in DC. It features all sorts of hands-on activities such as basket-weaving, building a giant igloo, arts and crafts, "walking" in snowshoes, and so much more. Kids can also explore a tipi, walk through a replica of an Amazonian stilt house, solve puzzles, and relax in the cozy reading area full of books. Even the grown-ups will have fun here!
There are nearly a dozen free nature centers in DC, Maryland, and Northern Virginia that allow kids to get up close to animals, learn about the natural world, and develop a love for the great outdoors. When the weather is bad, though, these four nature centers have great indoor spaces for kids to play and stretch their legs.
The indoor area of Hidden Oaks Nature Center features a small play structure, a reading nook, dress-up costumes, a kid-sized table with a toy tea set, several live animals, and plenty of hands-on activities. Little ones love to pull open the various drawers to discover tiny fossils, plant specimens, and other treasures inside them. Hidden Oaks is closed on Tuesdays.
RELATED: 10 Great Animal Farms and Petting Zoos Near Washington, DC

Learn to identify bones at Croydon Creek Nature Center. Photo courtesy of the nature center
This nature center a short distance from downtown Rockville features kid-friendly exhibits, games, puzzles, and small animals including reptiles, amphibians, and an owl. The nature center is open every day except Monday.
Although the planetarium remains temporarily closed due to COVID, the rest of Rock Creek Park Nature Center is fabulous and worth a visit. There's a bookstore, a Children's Discovery Room, exhibits on local plants and animals, live animals, a bird observation deck, and more. The nature center is open Wednesdays through Sundays.
This nature center features seasonal exhibits, a Children's Discovery Room, live animals, and more. Many of its programs and activities for kids, including storytimes and animal meet-and-greets, are free. Long Branch Nature Center is open Tuesdays, Wednesdays, and Saturdays.
Libraries Near DC with Free Indoor Play Areas
Visiting the DC area's public libraries is one of the best free things to do with kids. Almost all of the libraries offer dedicated children's sections and free kids' programs such as storytimes, performances, game nights, and more. Here are a few libraries we think offer a little something extra for kids.
RELATED: The Best Indoor Play Spaces for DC Kids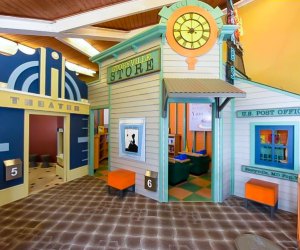 Explore a child-sized village at Storyville Rosedale. Photo courtesy of the Baltimore County Public Library
7. Storyville — Baltimore and Woodlawn, MD
Inside the Rosedale and Woodlawn branches of the Baltimore County Public Library you'll find Storyville, child-sized villages filled with books, toys, and activities for kids ages 0-5. Each village includes a pretend grocery store and mailroom, a puppet stage and theater, a home living area, a construction zone, a library, a baby garden, and a toddler area. It's like having a free mini children's museum right inside the public library! Storyville is closed on Sundays.
This adorable one-room library is filled with books, toys, puzzles, and activities just for babies, toddlers, and preschoolers. Founded in 1893, the library also offers free storytimes and other events for little ones. After playing and reading in the library, families can explore the great parks, shops, restaurants, and historic homes in the charming town of Kensington. Noyes Library is closed on Mondays, Fridays, and Sundays.
This library has one of the best children's sections in Northern Virginia. In addition to a huge variety of books, kids can enjoy a small play area, puzzles, computers, and rentable tablets. The library hosts various programs for kids of all ages, including storytimes, coding and dance classes, LEGO clubs, and more. The library is closed on Sundays.
Free Indoor Playgrounds at Malls and Stores
Free mall play areas sometimes get a bad rap, but they're great places for babies, toddlers, and even preschoolers to burn energy on a cold or rainy day—especially after being pushed around the mall in a stroller. But not all mall indoor playgrounds are created equal. Here are seven we think are especially cool.
Little ones never get as excited over fruits and veggies as they do while playing at this produce-themed play area on the first floor of Springfield Town Center. Kids can slide down a slice of watermelon, climb on a pile of grapes, shimmy across a giant banana, and more. There are plenty of cushioned benches for the grown-ups to rest on.
The small play area at Westfield Annapolis has a bright, colorful ocean theme. There's a blue whale for little ones to slide down, a tall lighthouse to crawl through, starfish to step on, and more fun activities.
RELATED: 7 Awesome Trampoline Parks Near DC for Indoor Family Fun

Dulles Town Center's Nationals-themed play area knocks it out of the park. Photo courtesy of Dulles Town Center
Little sluggers go batty over Nationals Play Park, a Nationals-themed play area at Dulles Town Center. Kids can slide down a hot dog, crawl through a bucket of popcorn, sit in a giant baseball glove, and more. The play area's convenient location in the food court makes it easy to grab a bite when the kids get hungry.
The play area at Arundel Mills has a fun Maryland theme. Kids can go inside a replica of Thomas Point Lighthouse, crawl through an oak tree, clamber onto a crab, and "swim" in a birdbath next to a giant oriole. Perimeter benches provide places for grown-ups to take a breather.
The large third-floor play area at Tysons Corner Center has a National Geographic Kids theme. There are animals to climb on, a honeycomb to hide inside, a log cabin to explore, and lots more. Plus, it's next to the food court, so families can easily fuel up in between play sessions.
The Mall in Columbia has one of the larger free mall play areas, giving toddlers and preschoolers plenty of space to run around. Its health and wellness theme means little ones can crawl through a pile of fruits and veggies and a water-bottle tunnel, step over a giant toothbrush, climb aboard (and slide out of) a pretend ambulance, and more. There is plenty of seating for the adults.
The Virginia-themed play area at Potomac Mills is unique in that it is geared to children up to 48 inches tall. Kids can climb aboard a ship, hang out in a mini replica of Monticello, crawl through a tree, and more. There are also two toddler nooks with wall-mounted mirrors, various manipulatives, and a giant piano keyboard.
Free Rec Centers in DC
Washington, DC is home to more than 30 recreation centers that are completely free for DC residents. They all offer varying indoor places for kids to play, such as basketball courts, tennis courts, gymnasiums, arts and crafts spaces, and game rooms. Try the indoor pools with water slides at Barry Farm Recreation Center and Deanwood Community Center, the children's pool at Takoma Community Center, the soft-play space for toddlers at Arthur Capper Community Center, Some of the fitness centers even have dedicated teen rooms.
Sign up for the Mommy Poppins Newsletter today!