Visiting Kensington, Maryland with Kids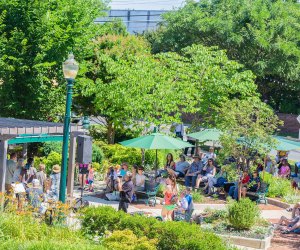 The historic town of Kensington, Maryland may be best known for its downtown Antique Row, but it is also a wonderful place to explore with kids. Located about 30 minutes from Washington, DC (just north of Chevy Chase), this Victorian-era town has stayed true to its historic feel and has avoided overdevelopment. From charming shops and restaurants to beautiful parks and playgrounds, you can easily spend a day in Kensington, Maryland with your family and find plenty to do.
Here are some great ways to enjoy historic Kensington, Maryland with your kids.
Historic Homes
Taking a walk along any of the residential roads near the center of town is sure to be a treat. Residential streets in Kensington, Maryland are quiet, peaceful, and serene, and each historic home—most of which are over 100 years old—is kept and maintained with a sense of pride. Sidewalks are easy to navigate, and large, old trees keep you cool.
The MARC train station, located in the center of town on Howard Avenue, is an actively running commuter train that travels from DC to Martinsburg and Frederick, Maryland (with a stop in Kensington along the route). In keeping with Kensington's historic feel, the station does not look much different than it did when it first opened in 1873. While you may have taken your kids on the DC Metro before, they've probably never seen an old-school railway station that looks like a little home. If you go on a weekday evening, you may even get a glimpse of a train stopping through.
Parks and Playgrounds
For such a small town, Kensington boasts several little community parks that are definitely worth spending time in. These were amazing to visit with my daughter during the height of the pandemic because they were peaceful, not crowded, and beautifully maintained. Here are a few you should check out:
Clum-Kennedy Park
At this peaceful little park across from Old Town Market, you can relax at picnic tables and benches next to a creek and meander along a pretty brick pathway.
Flinn Park
This park across from the post office has a magical cascading fountain around which my daughter learned to walk! There are also benches and picnic tables, as well as a commemorative brick walkway.
Howard Avenue Park
The Kensington Historical Society holds its Summer Concert Series at this small park across from the farmer's market every Saturday between June and October.
This park has a playground, basketball and tennis courts, and a very cool log cabin that you can rent for birthday parties and events.
St. Paul Park
St. Paul Park is a large park with lots to offer—a tot lot, a walking track, a youth ball field, benches, grills, and a picnic pavilion that you can rent.

Kensington Heights Neighborhood Park. Photo courtesy of the park
This North Kensington park features a fun playground and a moderately sized field on which to play various games.
The Kensington farmer's market runs every Saturday from 9:00am to 1:00pm year-round. It includes more than 20 vendors of fruits and vegetables, baked goods, flowers and plants, seafood and meats, and prepared foods.
It goes without saying that you'll need to visit Antique Row, where your kiddos will enjoy searching for treasures such as sports memorabilia, old books, and vintage toys. But you may also want to stop in at Tumbleweed, a fun local shop that sells unique gifts, home decor, and baby and children's items.
Dining
This pastry shop, run by a Belgium-trained pastry chef, serves a delicious variety of cookies, cakes, and pastries. If no one in your family has nut allergies, be sure to try a pistachio croissant—nowhere else in the area has them!
In addition to its large menu of gelato, espresso, and other coffee drinks, La Gelatteria serves all-day breakfast foods, sandwiches, salads, and soups.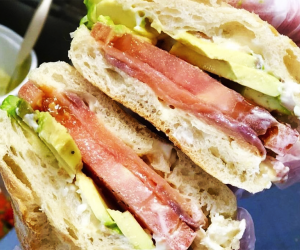 A sandwich at DeliCLUB. Photo courtesy of the shop
Take a break from shopping at Antique Row to share a sandwich with your little one on the amazing patio at deliCLUB. Highchairs are available!

Noyes Library for Young Children. Photo courtesy of the library
This charming one-room library just for small kids offers a variety of board books and picture books to choose from. It has an excellent area for babies, toddlers, and preschoolers to sit, read, and explore. Noyes Library is part of the Montgomery County Public Library system, so if you already have a library card, you'll be able to check out books.
I have really enjoyed bringing my daughter to Kensington, Maryland. It's a one-of-a-kind place for building strong and lasting memories, and I hope it always maintains its charm and heart!