Chicago's Best Indoor Places for Tweens and Teens To Hang Out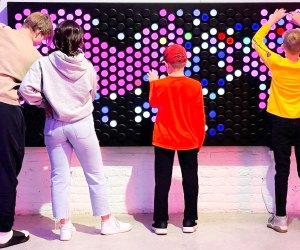 2/3/23
- By
Maureen Wilkey
Looking for indoor things to do for teens in Chicago? Here are out favorite safe, indoor tween and teen hangouts in the Chicago area.
How is it that teens and tweens seem to get bored so quickly? And is it worse when the weather gets dicey? No worries—we've got plenty of solutions for parents of tweens and teens who NEED to get out of the house, even if it's freezing and wintry mix-ing all over the place.
We also have some great lists for teen and tween birthday party ideas that will include some fun venues for non-birthday events too, and a list of 100 things for kids to do when they're bored. So get them out there and enjoy a few hours without the eye-rolling.

Photo courtesy of the WNDR Museum
Top Indoor Places for Tweens and Teens To Hang Out in Chicago
1. Offbeat Museums
Sure, we all know about MSI, The Field Museum, the Shedd Aquarium, and the Adler Planetarium, but there's a handful of newer, smaller museums that have recently popped up and may not be as filled with tourists and elementary kids as the Museum Campus. Teens and tweens might want to check out The Museum of Illusions, The Color Factory, or the WNDR Museum.
2. Indoor Mini Golf or Golf Simulators
We all miss being able to play outside at one of our favorite mini golf courses, but in the winter, teens and tweens can check out Big Mini Putt Club in Wicker Park or Puttshack in Oak Brook for some indoor fun. Play 18 in the Loop is supposed to be the most realistic golf simulator in Chicago, or teens can visit Top Golf in Schaumburg or Naperville or the punnily named Game of Irons. Be aware that some of these places impose a 21+ age limit after 8 or 9 p.m.

See a movie, but somewhere cool and unique! Photo courtesy of The Music Box Theatre
3. Unique Movie Theaters
Want to look artsy and cool? Check out an old classic like The Music Box Theatre on Southport or a new trendy spot like Alamo Drafthouse in Wrigleyville. The suburbs also abound with unique places to catch a movie (mainstream or indie), like the Glen Art Theatre in Glen Ellyn or the Tivoli Theater in Downers Grove.
4. Bowling Venues
Bowling in Chicago can take on many different vibes. You can visit a big bowling center, like the AMF locations in Hillside, Addison, or Naperville, or you can go back in time at a kitschy, old school alley like Timber Lanes in North Center or Diversey River Bowl in Lincoln Park. Or check out an upscale bowling lounge like 10 Pin in River North or Pinstripes, which has locations in Streeterville, Oak Brook, Northbrook and South Barrington. We have a full list of our favorites here.

This odd game keeps them moving, interacting, and having fun. Photo courtesy of the Whirlyball
It's like lacrosse in bumper cars. Plus, its locations usually also include laser tag, arcade games and pizza. You can play this weird game in Lincoln Park, Naperville, or Vernon Hills.
6. Arcades
Brookfield is home to The Galloping Ghost, the largest arcade in the world with 885 games, all set to free play so you can enjoy unlimited games for the $25 entry fee. You can also check Odyssey Fun World in Naperville or Nickel City in Northbrook, which offers some classic games for free and others for just five cents.

Teens can use the 3D Printer at the Woodson Regional Library. Photo courtesy of the Chicago Public Library
7. Library Teen Spaces
Chicago Public Library has 29 locations wtih YOUMedia teen spaces where teens can explore digital media and have a space to create videos, play games, or interact wtih other teens online or in person. The original space is a 5,500 square foot center at Harold Washington Library downtown. Many suburbs, like Elmhurst and Naperville, also have libraries with teen-oriented spaces.
8. Escape Rooms
Tweens and Teens can exercise their problem-solving skills with their friends in these unique one-hour experiences as they try to crack codes to get into the room. We recently enjoy the Heroes and Villains rooms at Fuzzy Logic Escape Room in Downers Grove. We have a whole list of great escape rooms for kids in Chicago and the suburbs.
9. Roller Rinks or Indoor Ice Arenas
Kids who are loving Stranger Things right now might revel in the retro fun of roller rinks. Although they may be using skates older than they are, kids can enjoy a skate at Fleetwood Skating Rink in Summit, Aurora Skate Center, or MLK Park & Family Entertainment Center's skating rink. Or, take a glide on the ice at McFetridge Sports Center in North Center, Glenview Community Ice Center, or Darien Sportsplex.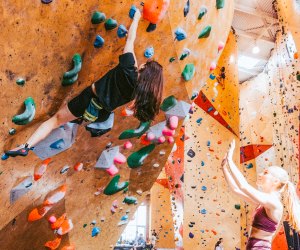 Climb the walls when you need to, just not at home. Photo courtesy of Brooklyn Boulders in the South Loop
10. Climbing Walls and Gyms
Teens and tweens who miss hiking around outdoors when the weather gets too cold can build some muscle indoors at climbing gyms like Brooklyn Boulders in the West Loop, Vertical Endeavors in Glendale Heights, or one of the five First Ascent locations throughout the city and suburbs.
11. Let's Go to the Mall!
It isn't the '80s, but there are still some interesting malls in and around Chicago. Rosemont's Chicago Fashion Outlets has designer stores for lower prices. Lombard's Yorktown Center retains some of the '90s vibe but still has a fun variety of shops. And Block 37 includes lots of teen friendly shops, from Akira to Zara, along with a First Ascent climbing gym, an AMC Theater, and an extensive food court connected via the underground pedway to several State Street shops.