Best Indoor Rock Climbing Gyms in Houston for Kids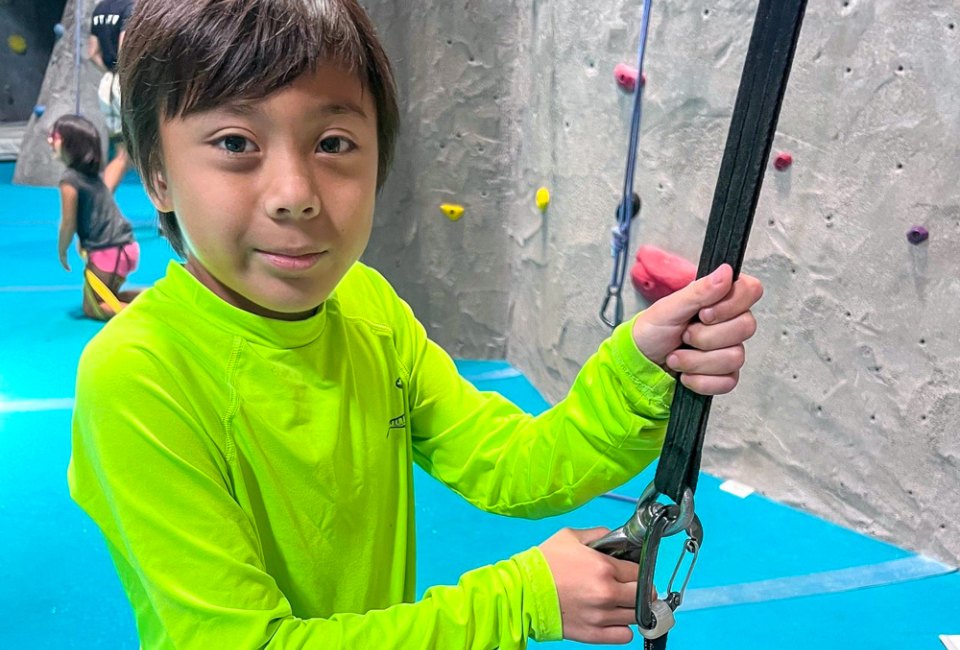 7/14/23
- By
Kate M
Rock climbing in Houston gives kids an indoor activity that provides plenty of exercise during the dog days of summer and the four days of Houston's winter. Plus, grownups can participate in most rock climbing gyms, too. Rock climbing is a great way for the whole family to gain strength and flexibility, to learn new skills and build confidence, and to practice teamwork.
Here are some great rock climbing gyms in Houston where families can learn how to climb together! And for more activities that take place in the air conditioning, check out our Indoor Fun Guide for Houston Kids.
Rock Climbing Gyms in Houston


Indoor rock climbing at a gym in Houston.
This gym offers a fun atmosphere for climbers of all ages. There are a variety of ways to climb, including climbing with or without a partner, and bouldering. Children must be at least 14 years old to belay, but younger children are welcome to climb with a parent or guardian. Texas Rock Gym has a Youth Climbing Team for children ages 5-17 and the gym is also a great location for a birthday party.
Related: Free things to do indoors with Houston kids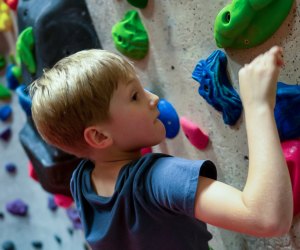 At inSPIRE, there are a variety of climbing routes, plus a Kidz Cave especially for children with a cargo net bridge, a bouldering wall, and auto belays. inSPIRE also offers climbing teams and climbing classes for kids ages 5 and up, climbing summer camps, and birthday parties.
Space City Rock Climbing is the largest indoor rock gym in the Bay Area with 5,000 square feet of climbing and bouldering terrain for both beginners and experts. Rock climbing summer camps, birthday parties, and lock-ins are also available.
Related: Best indoor spots to host a kids' birthday party around Houston


Most indoor climbing gyms have walls for a variety of experience levels.
Momentum's two locations are some of our favorite spots to exercise with the kids. The Katy location caters more to children, with a specific spot for birthday parties, and features taller walls for harnessed climbing, while the Silver Street (Heights) location is specifically meant for bouldering.
This family-friendly indoor climbing gym is perfect for your little mountain climber. With options for weekly classes for those 6 and up, day passes, camps, birthday parties, and more, you can help them take their passion to the next level with rock climbing walls, bouldering courses, and even a ropes course.
Gyms with Rock Walls for Houston Kids


These gyms have rock climbing areas.
Iron Sports is an American Ninja Warrior training gym and has a rock climbing wall in addition to many other obstacles. They offer classes for kids ages 3 and up, as well as camps for kids. Iron Sports is also a fun location for birthday parties.
This YMCA location has a rock climbing wall in addition to traditional fitness equipment and a swimming pool. Childcare is available.
Life Time has 12 locations in Houston, and each has a rock wall available for use as part of their regular gym membership. Day passes are available to use the facilities.
All photos are courtesy of the venues.
Click Here to Sign Up!