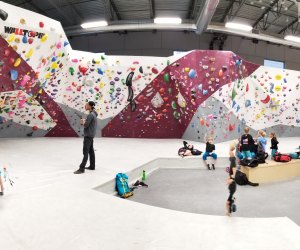 Rock Climbing Gyms & Walls Around Houston
Getting out of the house and getting exercise can be a challenge during the dog days of summer and the four days of Houston's winter. Rock climbing is one indoor activity to get the kids moving and is a fun way to bond with your children. Rock climbing is also a great way for children and adults to gain strength and flexibility, to learn new skills and build confidence, and to practice teamwork.
Here are some great spots around Houston where families can learn how to rock climb together!
Rock Climbing Gyms
Texas Rock Gym - West Houston
1526 Campbell Road
The gym offers a fun atmosphere for climbers of all ages. There are a variety of ways to climb including climbing with or without a partner and bouldering and makes safety the top priority. Children must be at least 14 years old to belay, but younger children are welcome to climb with a parent or guardian. Texas Rock Gym has a Youth Climbing Team for children ages 7-17 and the gym is also a great location for a birthday party.
Related: Free things to do indoors with Houston kids
Stone Moves Indoor Rock Climbing Gym - Northwest Houston
6970 Cypress Creek Parkway
Stone Moves allows kids of all ages to climb on all walls and has routes available for all levels. It offers structured climbing activities for kids each week, such as a climbing team for kids ages 9 and up, a home school program, and merit badge opportunities. You can also throw a birthday party or overnight lock-in at Stone Moves.
inSPIRE Rock Climbing - Spring and Cypress
At inSPIRE, there are a variety if climbing routes, and it even has a Kidz Cave especially for children with a cargo net bridge, a bouldering wall, and auto belays. inSPIRE also offers climbing teams and climbing classes for kids ages 4 and up, climbing summer camps, and birthday parties.
Space City Rock Climbing - League City
201 Hobbs Road
Space City Rock Climbing is the largest indoor rock gym in the Bay Area with 5,000-square-feet of climbing and bouldering terrain for both beginners and experts. Rock climbing summer camps, birthday parties, and lock-ins are also available.
Related: Best indoor spots to host a kids' birthday party around Houston
Momentum Indoor Climbing - Katy and Heights
Momentum has two locations that opened in 2018 and they are one of our favorite spots to exercise with the kids. The Katy location caters more to children, with a specific spot for birthday parties, and features taller walls for harnessed climbing, while the Silver Street (Heights) location is specifically meant for bouldering.
Rock Walls
Iron Sports is the American Ninja Warrior training gym and has a rock climbing wall in addition to many other obstacles. They offer classes for kids ages 5 and up, as well as a monthly Friday night event for kids. Iron Sports is also a fun location for birthday parties.
Trotter Family YMCA has a rock climbing wall in addition to traditional fitness equipment and a swimming pool. There is also daycare available.
Life Time Fitness Gyms have rock walls available for use as part of their regular gym membership. Day passes are available to use the facilities.
GlowZone has a fabulous glow-in-the-dark set of climbing walls for kid climbers of all abilities.
Photo courtesy of Texas Rock Gym
This post originally published in 2016.