Momentum Indoor Climbing: Adventure & Fun For Climbers of All Sizes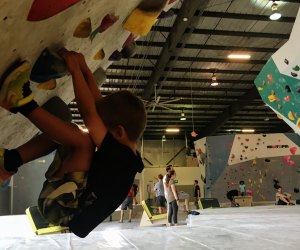 For any rock-climbing enthusiast, entering Momentum Indoor Climbing makes you feel like a kid entering a candy shop. This recent addition to Houston's indoor gym and rock climbing scene has two locations in the city - Silver Street and Katy - and both offer challenging and fun routes and amenities for both kids and adults. Plus, it doesn't hurt that the facilities are extremely nice: clean, colorful, and well air-conditioned! Each location has a bit of a different flair, so you can visit both and your kids will find something new to do each time.

Parents can wait at the top of certain bouldering routes to encourage their little climbers at Momentum's Silver Street location.
There's something incredibly satisfying about rock climbing; completing a route is like finishing a jigsaw puzzle, except leaving your forearms feeling like jelly. It's also a great sport for children because it's low impact, builds strength and endurance, and has a certain calming effect. If you're a beginner, there are two ways to enjoy rock climbing: Bouldering, which lets you move more freely and climb without using a rope, and roped climbing, where you can climb as high as your nerves and legs will let you.
At the Silver Street location, bouldering is the game. The huge facility (43,000 square feet to be exact) has dozens of routes that range from beginner to seasoned expert. There is even a portion dedicated to weight training, and an upstairs room for cardio and group classes, like yoga. In the central section of the bouldering area, there are several routes like the one pictured above where parents can climb and wait at the top to encourage and keep an eye on little climbers, and then safely scale down a dedicated latter of sorts.

Children's area at the Silver Street location.
There is also a sectioned-off children's area with shorter climbs where you can safely introduce kids to climbing or let smaller climbers gain their confidence. My family and I brought our 4- and 5-year-olds, who loved this area, but it is absolutely accommodating for the daring 3-year-old as well as grade schoolers. I personally loved seeing my first-time climber realize he had the strength to climb up something he first saw as intimidating. And don't worry, the flooring is a padded mat. There are also vending machines and restrooms right around the corner.
If your kids are interested in improving their skills, Silver Street offers a variety of camps, programs, classes and more for kids of all ages starting at 3-years-old.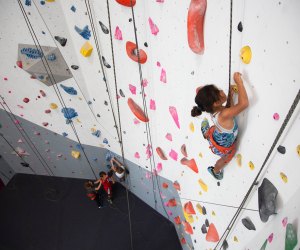 Kids can safely climb higher routes at Momentum's Katy location. Photo courtesy Momentum Indoor Climbing
At Momentum's Katy location, you can climb using a rope. This 35,000-square-foot gym has walls as tall as 52 feet and routes for everyone. It may seem intimidating at first, but once you climb your first wall, you'll never look back! Because even though you and your kid will likely fall lots of times before reaching the top, it's about the journey and challenging yourself. Plus, Momentum's staff will help every step of the way. There are instructors on-site to teach your family about the basics as well as tips and tricks.
Both facilities aim to be family-friendly. It definitely does not feel like a young-adult hangout where kids are shunned. You can even host your kids' birthday party here, and they have a plethora of resources to teach your kids more about this exciting sport. (Did you know climbing is an Olympic sport?)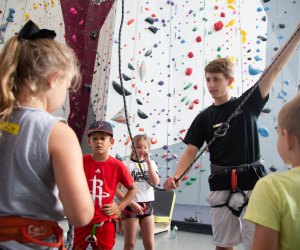 An instructor teaches children about climbing safety at the Katy location. Photo courtesy Momentum Indoor Climbing
More information before planning your trip
Each facility offers shoes for rent. If you're wondering whether these are absolutely necessary, they are! They provide climbers with the best grip and sets you up for success.
Monthly memberships are available for individuals and families. Prices decrease as you add family members. The membership includes unlimited use of the facilities, monthly guest passes, free WiFi, free yoga classes, and access to locker room and showers.
Day rates are $20 for adults and $14 for kids 11 and under, and $6 for those necessary shoes.
Don't forget to bring water bottles. There are cubbies and free lockers available for your use.
Chalk (to use on your hands so that lovely sweat and oil don't mess up your grip) is also available, and the Silver Street location has an in-house REI co-op where you can purchase your own climbing gear.
Bottom line: Even if climbing makes you nervous or you're new to the sport, try it at least once.
All photos by the author unless otherwise noted.