Spring Break 2023: 25 Fun Things To Do on Long Island
3/31/23
- By
Jaime Sumersille
Spring break 2023 is on the horizon, so we've scoured Long Island for ideas to keep your family entertained and engaged during the vacation. We've rounded up lots of outdoor activities and also prepared for April showers with indoor options.
Most Long Island schoolkids are on break the weeks of April 3 or April 10. Some of our picks take place on specific days, and others are anytime activities. You can find more seasonal fun in our roundup of 25 fun spring activities and our Guide to Spring Activities on Long Island.
Subscribe to our newsletters to get stories like this delivered directly to your inbox.
Top Activities for Long Island Kids During Spring Break 2023
1. Hunt for Eggs
The Cold Spring Harbor Fish Hatchery hosts its annual Easter egg hunt on Thursday, April 6, Friday, April 7, and Saturday, April 8. Children can collect as many eggs as possible in 20 minutes, then redeem them for a prize. Check out these other Easter egg hunts across Long Island.
2. Get Lost
These family-friendly escape rooms provide out-of-the-ordinary fun for tweens and teens.
RELATED: Cheap Spring Break Travel Ideas for Families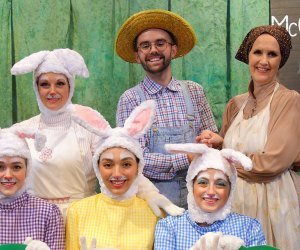 The Adventures of Peter Rabbit comes to life at Theater Three.
3. See a Live Show
There are plenty of kid-friendly plays and musicals being performed over spring break. The Adventures of Peter Rabbit at Theatre Three, is an adaptation of Beatrix Potter's beloved story. Seussical The Musical runs at the Engeman Theater on Saturdays and Sundays. Based on the beloved movie, The Wizard of Oz has performances in both Bellmore and Elmont, with a cast meet and greet after each show.
4. Go on a Penguin Egg Hunt
Hunt for penguin eggs and have brunch with the Easter Bunny on Easter Sunday, April 9. Seatings are available at 10am, 12pm, and 2pm. Aquarium admission is included with brunch. Little princes and princesses should also check out the aquarium's princess tea party on Sunday, April 16.
5. Plan an Overnight
You don't have to go far to find a cool family-friendly hotel for a staycation.
6. Grab Your Hiking Boots
Head outside for a nature hike on one of Long Island's many family-friendly trails. Be sure to take along the binoculars and pack some snacks.
RELATED: Gorgeous Spring Day Trips Near Long Island for Families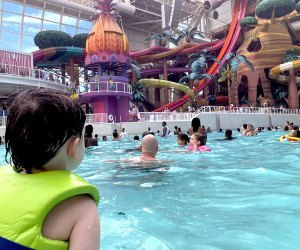 American Dream, in East Rutherford, New Jersey, packs in plenty of family attractions. Photo by Gina Massaro
7. Enter a Dreamy Wonderland
Visit the American Dream Mall in East Rutherford, New Jersey. More than just a mall, it features North America's largest indoor water park, a Nickelodeon Universe theme park, a Sea Life Aquarium, mini golf, and even a Toys 'R' Us.
8. Hit the Skatepark
Young daredevils can hone their skills on skateboards, rollerblades, and even bicycles at these Long Island skateparks.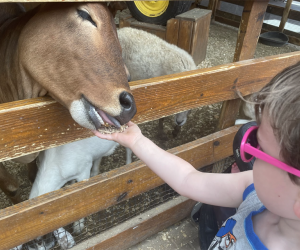 Feed the goats at White Post Farms. Photo by Gina Massaro
9. Visit the Farm Animals
White Post Farms opens daily for the season on April 1. From April 1-9, the farm also has magic shows, an egg hunt, the Easter Bunny, and more fun Easter celebrations, including on Easter Sunday. Long Island has no shortage of animal farms or petting zoos, and each one has unique experiences to offer visitors.
10. Go for a Stroll
If you've got a little one, head outdoors to enjoy one of Long Island's great stroller-friendly park walks.
RELATED: Great Rainy Day Activities for Long Island Kids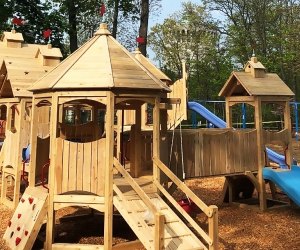 Check out the Woodland Playground at Sands Point Preserve.
11. Visit a Playground or Two
Check out our list of the top playgrounds on Long Island. If you have a toddler or preschooler, there are plenty of playgrounds with equipment built just for them.
12. Explore a New-to-You Park
From our favorite state parks to local county parks in Nassau and Suffolk counties, Long Island green spaces offer plenty to see and do. Enjoy hiking, great playgrounds, boating, guided nature hikes, scavenger hunts, and more.
13. Hit the Roller Rink
United Skates of America has indoor skating sessions; some even feature the Easter Bunny.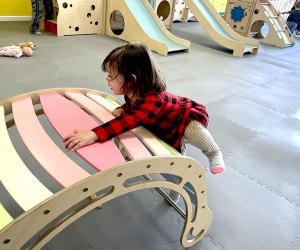 Bring the toddlers to an indoor play cafe like La La Land for pint-size fun. Photo by Gina Massaro
14. Enjoy Food and Fun
These Long Island play cafes offer snacks and play spaces.
15. Stare at the Stars
Watch a show in the immersive, full-dome planetarium at the Cradle of Aviation and stick around afterward to explore the rest of the fun. Family movie night is Tuesday, April 11, and Moana is being screened. Junior Jet Club is also always a hit with the little ones.
16. Jump Around
Instead of the couch or the bed, let kids jump around at a trampoline park.
17. Go Back in Time
Garvies Point Museum hosts Dinosaur Daze on April 1 and 2, where young paleontologists can learn from dinosaur experts, see real fossils, and play dino dress up. For more dino fun, check out the dinosaur exhibit at the Center For Science, Teaching, and Learning. Young paleontologists will not want to miss it.
18. Smell the Flowers
Old Westbury Gardens opens for the season on April 1, which is also the date of their Storybook Stroll, where children can hear a story as they walk through the gardens and then create a craft. And catch their spring dog days event, which is always a blast to take the kids and fido to.
19. Celebrate at a Spring Festival
There's plenty of fun blossoming at these spring festivals on Long Island.
RELATED: The Best Museums for Kids on Long Island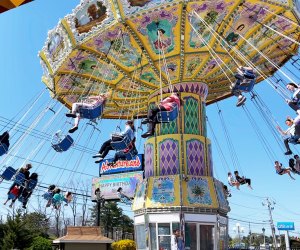 Get ready for thrills and fun at Adventureland. Photo by the author
20. Hit the Theme Park
Local hot spot Adventureland is open daily from Thursday, April 6-Sunday, April 16.
21. See a Lighthouse
Climb 182 steps to reach the Fire Island Lighthouse observatory and enjoy a bird's eye view of the Great South Bay. Or check out other picturesque Long Island lighthouses.
22. Head to the City
All aboard the LIRR for an NYC day trip. Take in a Broadway play, visit one of the top attractions, or indulge in a meal at an iconic eatery.
23. Have a Glass or Pint
Kids don't get to have all the fun at these family-friendly wineries and breweries on Long Island.
24. Explore the Shore
Whether you choose to visit the rocky shoreline for picturesque views of the Long Island Sound or head to the South Shore for smooth sand, here are our favorite beach walks for families.
25. Take a Day Trip
Head north to visit Legoland, which opens for the 2023 season on March 31st. Enjoy a cycling adventure on an abandoned rail trail in New York state, New Jersey, Connecticut, or Pennsylvania. Or check out one of these other awesome day trips.
Unless noted, photos courtesy of the venues
This post is updated annually.