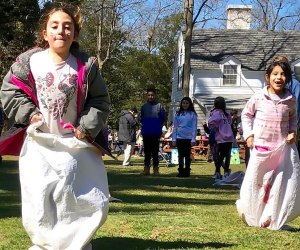 25 Spring Break Activities for Long Island Kids
These are not ordinary times for everyone, and this certainly is no ordinary, week-long spring break for Long Island families. In fact, the Coronavirus has already taken kids out of school way before spring break would have started and there is no way of knowing when they'll be heading back to school.
Which means, you've still got to keep them busy! But, instead of our usual list of spring break activities for Long Island kids— which normally includes museum outings, visits to indoor play spaces and spring break camps—we've come up with lots of creative suggestions for boredom busters. From virtual ninja classes to awesome kitchen science experiments to the latest podcasts for fun and learning we'll help keep your kids happy, inside and out.
Visit our Coronavirus Guide for Parents for more tips about navigating through these unprecedented times. And, for the latest on what's canceled and what's still happening around Long Island, click here.
1.Take a hike. At least the weather is warming up, so head outside for a nature hike on one of Long Island's many family-friendly trails. Don't forget to practice social distancing, and take along the binoculars and some snacks.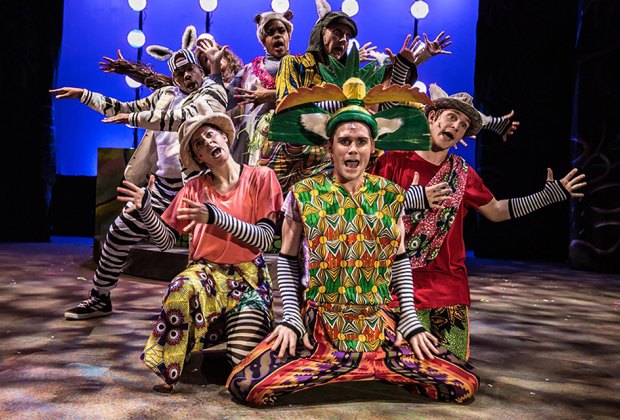 The Disney tale Madagascar-A Musical Adventure takes the stage at the Engeman Theater.
2. Hit the beach. Check out our list of the best beach walks for Long Island families. A long stroll on a sandy beach is sure to soothe the souls of your entire family.
3. Reading is a tried and true way to pass the time. Choose books from your own shelf or download some from your library. Organize your own family book club or help kids create an online one with their friends.
4. Speaking of libraries, even though they are closed, many offer an array of downloading and streaming services beyond books, including music, movies, and more. All you need is your library card. And, check out this list of the best podcasts for kids.
5. State parks and Nassau and Suffolk county parks offer plenty to do and see, from hiking to playgrounds to boating, and much more. And, due to the virus, NYS is waiving all park fees.
6. Take Refuge. Although the nature center building is closed at Quogue Wildlife Refuge, the trails and animal cages (and bathroom facilities) will be open every day, from sunrise to sunset.
RELATED: Great Spring Fairs and Festivals for Long Island Families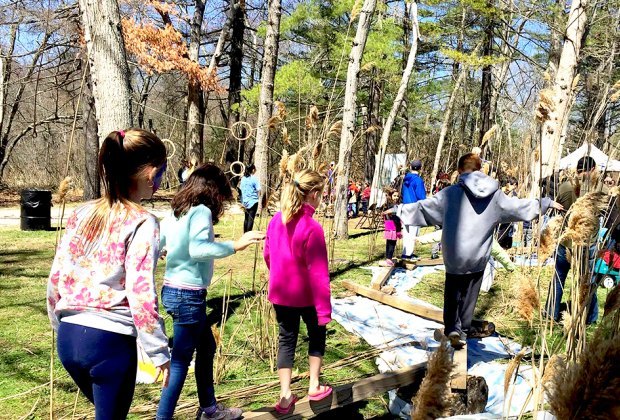 Discover the secrets of Long Island's natural world at the Suffolk County Environmental Center. Photo courtesy of Suffolk County Parks
7. The grounds of the Sands Point Preserve is also open to the public for hiking and nature walks. There are more than 200 acres with six marked trails to explore.
RELATED: Guide to Spring Break Camps Across Long Island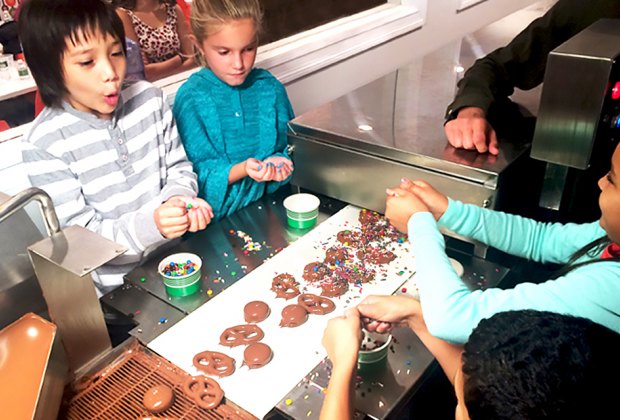 Create some tasty treats at Chocolate Works.
8. If you've got a little one, bundle him or her up and head outdoors to one of Long Island's great stroller-friendly park walks.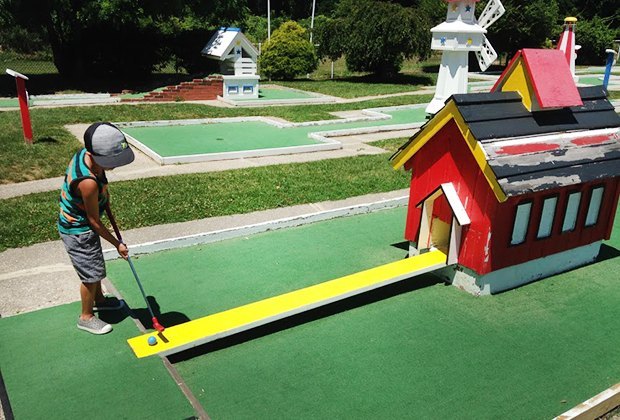 Enjoy a spirited game of mini-golf at Tick Tock in Greenport. Photo by Jaime Sumersille
9. Calling all nijas! Check out these free virtual ninja classes available every morning at 10:30 a.m.
10. Have fun and get messy by whipping up a batch of slime or rock candy for some silly fun in the kitchen. Or, mix up a batch of play dough and have fun creating.
11. Why stop there? Turn your kitchen into a laboratory for the day, using some of these easy science experiments from everyday household ingredients.
12. Break out some board games and have a game-playing marathon. Or deal out the cards and teach your kids some new tricks.
13. For some virtual fun (and learning), check out these mostly free online resources and apps, and games.
14. Get moving! Try out some new exercises, have a headstanding contest, make up some new dance routines. The only rule is everyone has to play fair.
RELATED: Great Stroller Walks for Long Island Families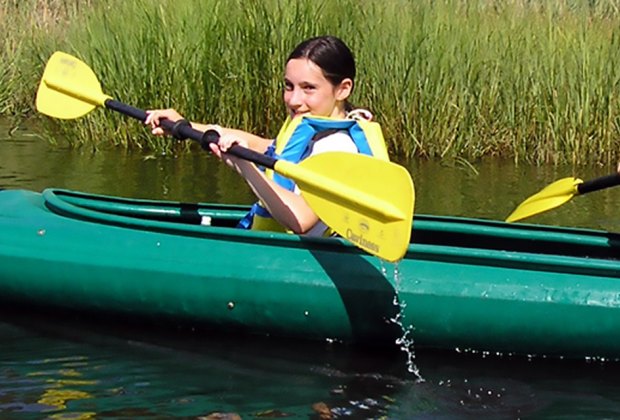 Experience marine life and more at the Long Island Aquarium's Spring Fun-cation Camp. Photo courtesy of the aquarium
15. Have a tea party, complete with tiny sandwiches and freshly brewed tea in real teacups. Fancy dress optional!
16. Do some spring cleaning. Make it fun by turning up the music and challenging kids to see who can finish their chores the fastest. Get some tips from Tyding Up expert Marie Kondo.
17. Chances are your backyard you could use a good spring cleaning, too. Hand out those rakes and start cleaning out beds. Along the way, have the kids collect twigs, pinecones, and other small items and help them create a magical fairy garden.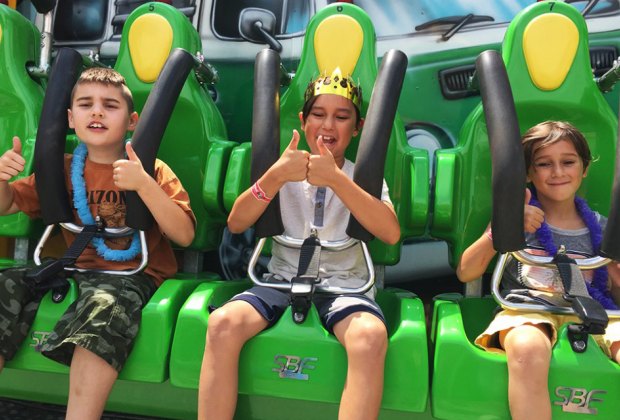 Head to Adventureland for a day of thrills. Photo by Jame Sumersille
18. Plein Aire anyone? Gather up the art supplies and get creative. Head outdoors to your backyard or a local park and start sketching and painting like the French impressionists did-outdoors!
19. Social distancing is a must, but lots of pop stars, singers, and everyday folks are posting songs, stories, and more on social media just for kids. One example, children's book author Oliver Jeffers is hosting a virtual story time for kids every day at 2pm.
20. For more virtual things to do, check out what's happening for kids on Facebook, You Tube and more, click here.
21. Plan a family movie night (or day). Can't decide which movie? No problem! Check out this list of our picks of the top 50 movies for kids. Don't forget the popcorn!
22. Put on a play. Help your kids write a short play or act out a favorite story. Film it on your phone so you can share their creativity with family and friends.
RELATED: The Best Museums for Kids on Long Island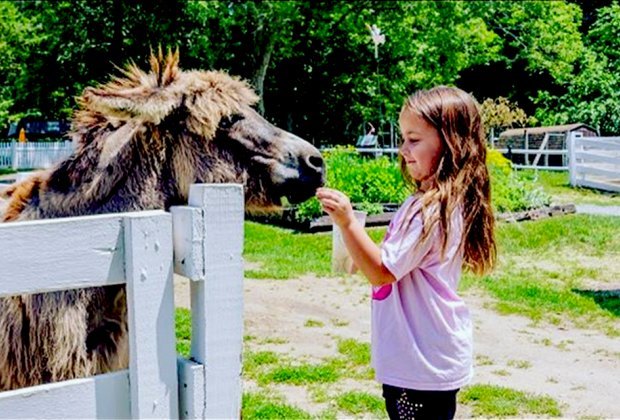 A visit to the Long Island Game Farm is sure to put a smile on your child's face.
23. Or a concert. If your kids were playing an instrument in school, encourage them to keep practicing. Once they've nailed a song, let them perform it for you. No instruments? Help them make their own with this simple
DIY whistle-making craft
.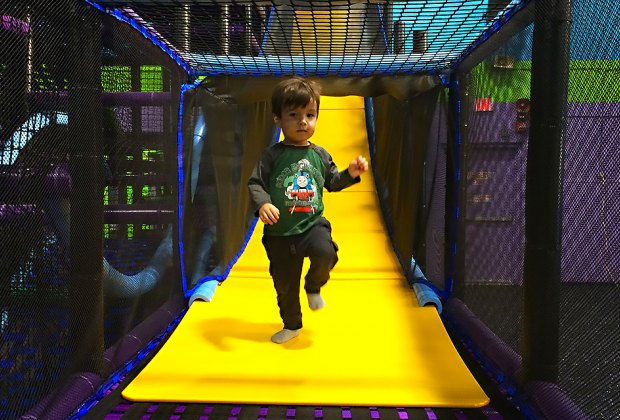 Little ones will thrill to Xplore Family Fun Center. Photo by Thien August
24. Rainy day fun. A little rain shouldn't stop you from having some fun. Embrace those raindrops, open those umbrellas, and go puddle jumping.
RELATED: Nature Centers Sure to Delight Long Island Kids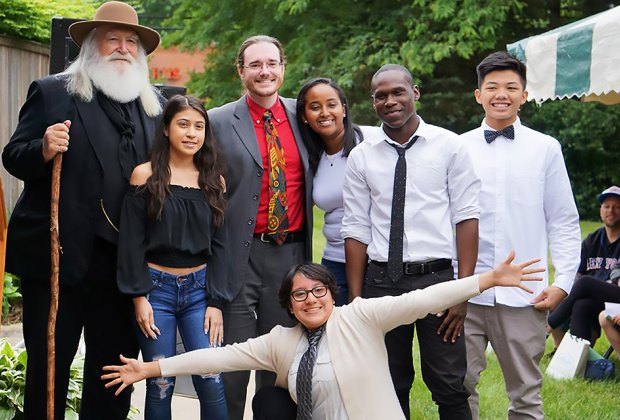 Celebrate the 200th birthday of Walt Whitman with a visit to the poet's Long Island home in Huntington Station.
25. Go hunting. Scavenger hunting, that is. Hand your kids a list of nature sights, sounds and objects. Then, take them around the neighborhood to see how many they can find.
Unless noted, photos are courtesy of the venues.
This post is updated annually.