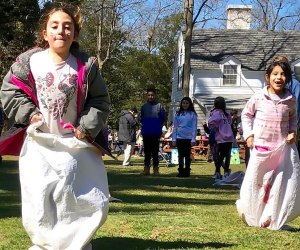 25 Spring Break Activities for Long Island Kids
If your family is planning a stay-cation here on Long Island during spring break and you're searching for things to do, you've come to the right place.
For most public school students on Long Island, spring break runs from Friday, April 19 to Sunday, April 28. We've rounded up 25 fun activities that will keep your kids busy and happily entertained. Between day and weeklong camps, indoor events for rainy days and nature excursions that get your family outside, there's something for everyone.Try one or more of these activities, and we're confident you'll never again hear those dreaded words: "I'm bored " (Well, at least not during spring break, anyway).
As always, for more seasonal entertainment check out our Spring Fun Guide, and our Events Calendar. And here's to the arrival of spring.
1. So many spring break camps, so little time. No matter what your child is into—from theater to art to science, and everything in between—there is a camp perfect for him or her. A few worth trying are Spring Break Camp at the Suffolk County Farm, The Coder School, an indoor skating camp in Port Washington, Holiday Break Art Camp, or School Vacation Theater Camp.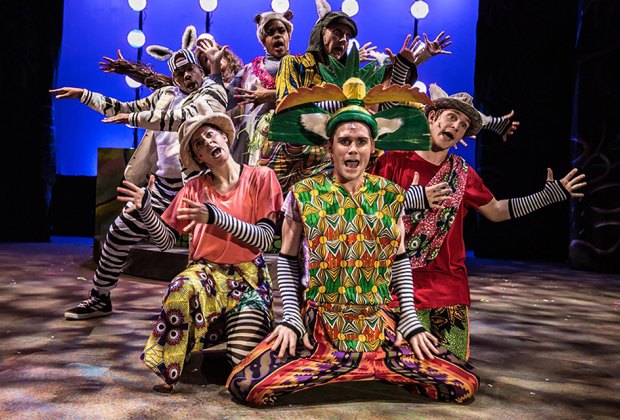 The Disney tale Madagascar-A Musical Adventure takes the stage at the Engeman Theater.
2. Take in a show. Live performances sure to charm younger ones as well as the adults include Madagascar-A Musical Adventure at the John W. Engeman Theater in Northport.
3. Head to NYC. Manhattan has so much to offer kids, so hop on the LIRR and spend the day taking in the sites, including the Statue of Liberty and NYC's many family-friendly museums, including the Intrepid Sea, Air & Space Museum, and the American Museum of Natural History. And, don't forget the Liberty Science Center in nearby Jersey City.
4. Speaking of museums, don't forget to stop by your local library to get free museum passes for the whole family.
5. And speaking of libraries, there's bound to be something going on for kids during spring break at your library, including storytime events for little ones and activities for teens and tweens. Most are FREE, of course.
6. Take a hike. Now that the weather is finally (hopefully) beginning to warm up, head outside for a nature hike on one of Long Island's many family-friendly trails. Don't forget binoculars and snacks.
RELATED: Great Spring Fairs and Festivals for Long Island Families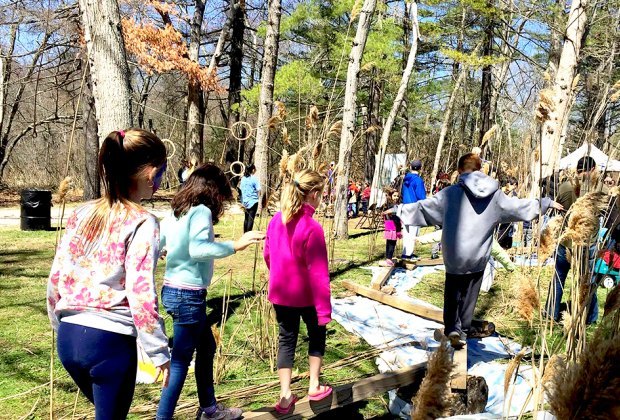 Discover the secrets of Long Island's natural world at the Suffolk County Environmental Center. Photo courtesy of Suffolk County Parks
7. Nassau and Suffolk county parks offer plenty to do and see, from playgrounds to boating, camping, and much more.
RELATED: Guide to Spring Break Camps Across Long Island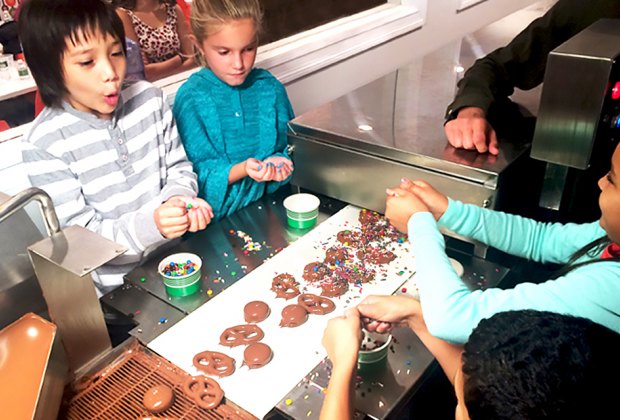 Create some tasty treats at Chocolate Works.
8. What could be sweeter than sampling some treats at one of Long Island's delectable candy shops? For the ultimate experience, spend an afternoon learning how to make chocolate at Chocolate Works.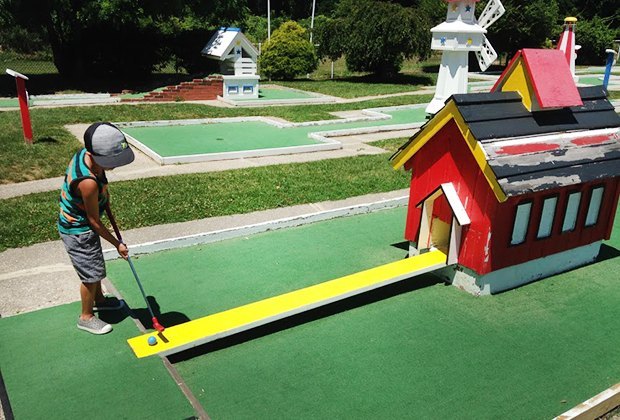 Enjoy a spirited game of mini-golf at Tick Tock in Greenport. Photo by Jaime Sumersille
9. Tee off. Challenge your kids to a game of mini-golf, something the whole family can enjoy. Some miniature golf venues across Long Island offer amenities such as heated stations, snack bars, and gorgeous views, plus other activities, including go-karts, batting cages, arcades, and more.
10. Treat the family (and yourself). Hey, this is your vacation, too, so take the evening (or morning or afternoon) off and head to a family-friendly restaurant ... and don't forget those where kids eat free.
11. Lace up your skates. Whether your family enjoys roller skating or ice skating, there is a rink just waiting for you.
12. Explore an art museum. The Nassau County Museum of Art, for example, has plenty of hands-on workshops, exhibits, events, and activities for your little artist, including Story Tots on Fridays, Studio Saturdays, and Family Sundays.
13. Explore a science museum. Let your kids sharpen their STEM skills at one many science museums in Nassau and Suffolk counties, including the Science Museum of Long Island and Long Island Science Center.
14. Check out one of the many spring festivals happening around Long Island in April.
RELATED: Great Stroller Walks for Long Island Families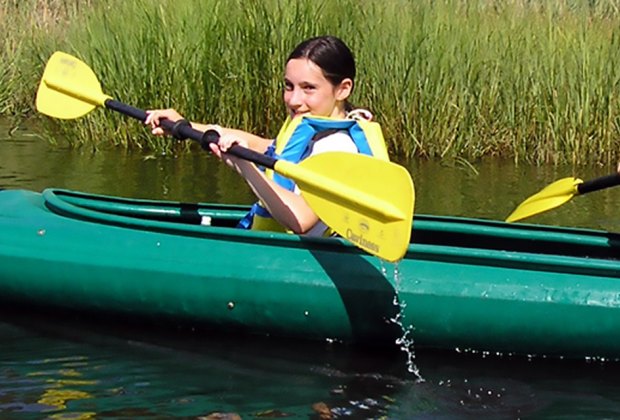 Experience marine life and more at the Long Island Aquarium's Spring Fun-cation Camp. Photo courtesy of the aquarium
15. Under the sea. Your kids can spend a day or the whole week at the Long Island Aquarium during its Spring Fun-cation camp, which Includes movies, crafts, games, animal feedings, and more.
16. Prepare for rainy days. If the sun doesn't cooperate, it's best to have a backup plan, such as one of these indoor play spaces around Long Island, where your kids can run, jump, play, create art, and do much more.
17. Relax a bit. Even moms and dads deserve a break. Check out these Long Island cafes with indoor play spaces. Let your kids can play while you sit back and sip a latte.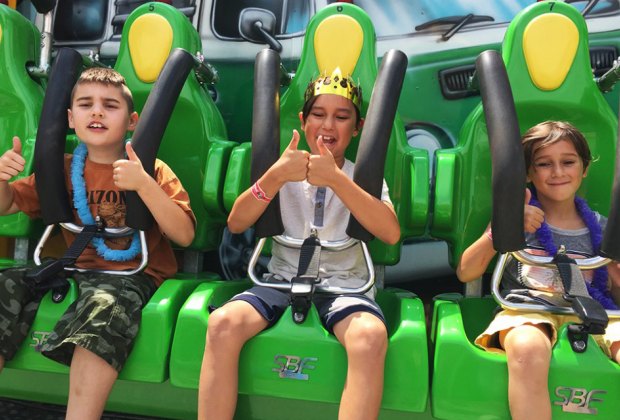 Head to Adventureland for a day of thrills. Photo by Jame Sumersille
18. Go on an adventure. Adventureland opened on Sunday, March 24. If the weather is nice, head to Long Island's popular amusement park for thrills, rides, and games.
19. If you've got a little (or older) daredevil who loves to skateboard, roller skate, roller blade, or ride a BMX, take him or her to a Long Island skate park for an afternoon.
20. Take the family bowling. It's another great rainy-day activity, with or without bumpers. There are plenty of bowling alleys to choose from in Nassau and Suffolk counties. You'll also find a few on the East End.
21. Get artsy. Long Island drop-in art classes offer kids the chance to learn a new medium and explore their creative side.
22. Your kids don't have to wait to go swimming just because it's not yet summer. Dive into one of these indoor pools across Long Island.
RELATED: The Best Museums for Kids on Long Island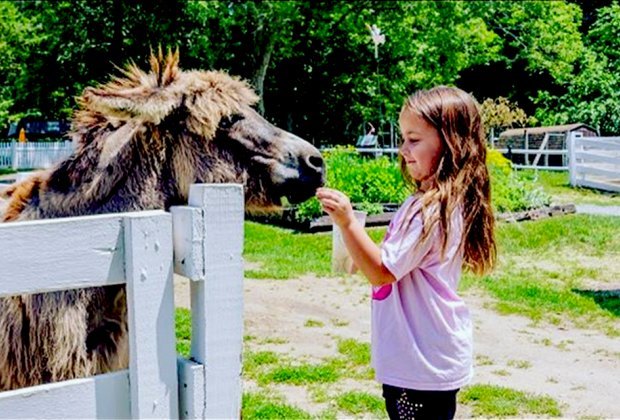 A visit to the Long Island Game Farm is sure to put a smile on your child's face.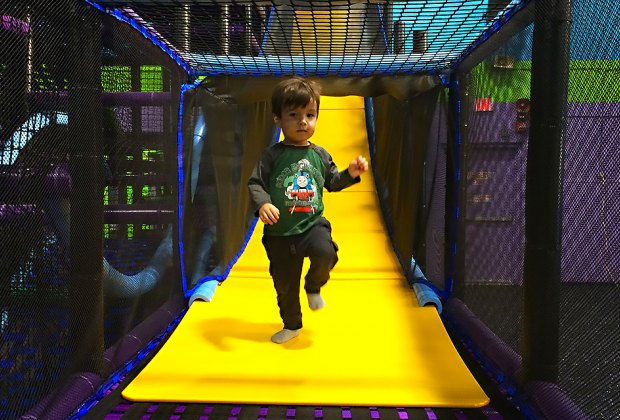 Little ones will thrill to Xplore Family Fun Center. Photo by Thien August
24. Explore Xplore. Port Jefferson's newest indoor play space, Xplore Family Fun Center, has opened, featuring huge inflatables, a 20-foot, dual-tower soft playground with slides, swing, bouncy web, zip line, and more.
RELATED: Nature Centers Sure to Delight Long Island Kids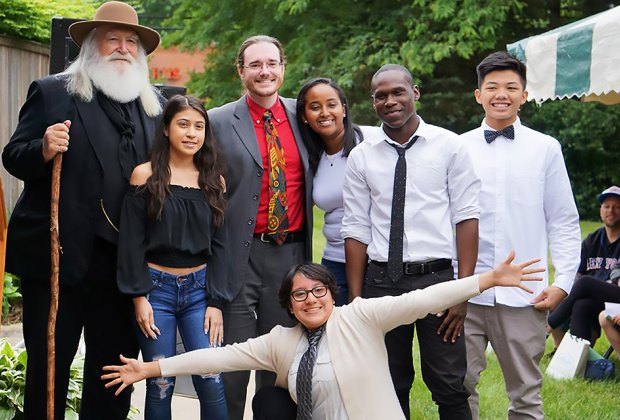 Celebrate the 200th birthday of Walt Whitman with a visit to the poet's Long Island home in Huntington Station.
25. Take in some history. Learn all about Long Island's rich history at one of its many family-friendly historic sites, including Sagamore Hill, the home of President Theodore Roosevelt, and the Walt Whitman Birthplace, which is celebrating the famous poet's 200th birthday this year.
Unless noted, photos are courtesy of the venues.
This post is updated annually.