Best Parks in Nassau County for Long Island Kids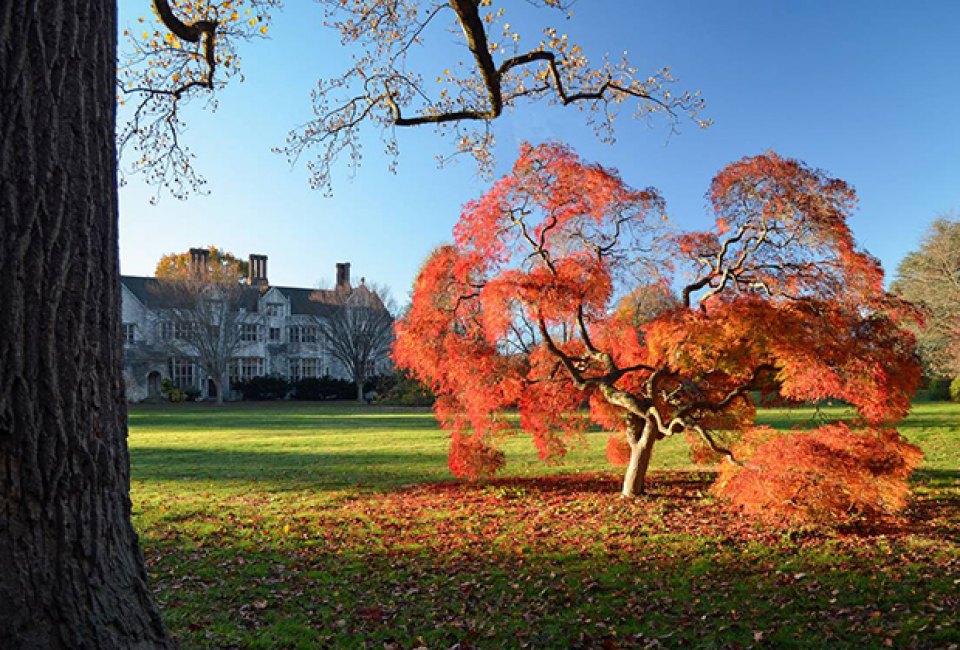 9/26/17
- By
Thien August
With more than 70 parks and recreation facilities, Nassau County is literally full of places to play. Many of these parks have pools—both indoor and outdoor—great playgrounds, and winter skating. Others, which we feature here, offer some of Long Island's most unique opportunities for recreation. From a re-creation of a 19th-century village to an aerodrome field to castle-like mansions, Nassau County has plenty to offer.
Hiking and biking trails, swimming pools, and outdoor adventures can be had all across the county. Our guide to playgrounds and parks is a great place to start.
Cedar Creek Park — Seaford
With an archery range, dog park, tether car speedway, an aerodrome field for model airplanes, as well an award-winning playground and a year-round roller rink, Cedar Creek is worth a visit. The archery range is free and open to the public from dawn to dusk seven days a week. Archers must bring their own equipment. An Academy of Aeronautics card is required for a permit to use the aerodrome field, but spectators are welcome at no charge. Spectators are also permitted at the tether car racetrack, one of only a few in the United States, and which attracts visitors from all over the world. The park is run by Nassau County.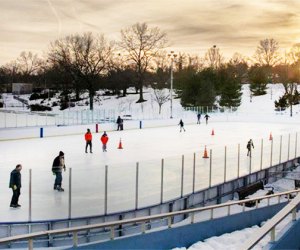 The fun doesn't end with the summer at Christopher Morley Park. The outdoor ice rink is a popular winter destination.
Christopher Morley Park — Roslyn
With 98 acres, this county-run park, located in northern Nassau, boasts a recently renovated playground with a nontraditional climbing apparatus, a basin for model boats, shuffleboard, horseshoes, outdoor ice rink, outdoor pool, and tennis courts. Additionally, there are 30 acres of peacefully wooded nature trails and a dog run. The park hosts a farmers' market on Wednesdays from 7am to 1pm mid May-late November. Golfers can enjoy a 9-hole, par-30 course. Families can get fit along the one-mile fitness trail. There are 20 stops along the trail with equipment and instructions for doing pull-ups and balance activities.
Eisenhower Park — East Meadow
Larger than Central Park in New York City, Eisenhower Park offers visitors a multitude of athletic and recreational activities. Fitness facilities include a world-class aquatic center and gym, 16 tennis courts, ice skating center with two NHL-sized rinks, athletic fields, and basketball courts. There is also an outdoor fitness trail with stations incorporating different exercises. For families eager to spend some time together, there is an 18-hole miniature golf course and three renovated playgrounds, one of which has a sprinkler pool. The Let All the Children Play play area is one of only a handful of playgrounds on Long Island designed with disabled children in mind. The park, Nassau County's largest, hosts many seasonal events throughout the year, including outdoor movie nights, concerts, and celebrations.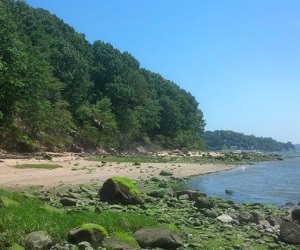 Follow the path down to the beach at Garvies Point.
Garvies Point Museum and Preserve — Glen Cove
Tour the dioramas illustrating Long Island's geological history as well as Native American archaeology. An interactive exhibit encourages children to climb aboard an authentic dugout canoe, gather some fish, then pick corn and other vegetables and place them on a realistic looking fire for a "meal." After touring the museum, visitors can amble out back, enjoy a picnic, identify butterflies in the colorful garden, then head down to the beach. A short but steep woodland path takes you to the rocky shore of Long Island Sound. The museum hosts workshops and events all year long.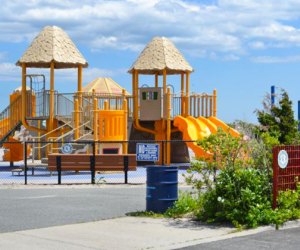 Nickerson Beach Park boasts a playground for the kids and more.
Nickerson Beach Park — Lido Beach
With 155 acres of recreation, including a half-mile of beachfront on the Atlantic; a fun zone for kids that includes a playground and basketball courts; a pitch-and-putt golf course; and a food concession open in the summer, Nickerson Beach Park is more than just a beautiful beach. For families looking to do some camping, there are 74 recreational vehicle sites and 13 sites for tents. Group area camping is also available; reservations are required.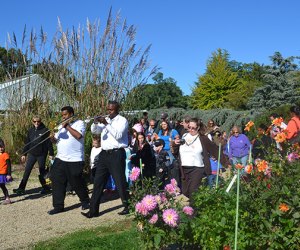 Celebrate the seasons at Planting Fields.
Planting Fields Arboretum — Oyster Bay
This state park is the former estate of the Coe family and an original Gold Coast estate. It includes the original 409 acres of property, including historic buildings, English gardens, and greenhouses. Take a stroll through the lush grounds and woodlands and admire the largest collection of camellias in the Northeast. Enjoy a picnic on the lawn or grab lunch at the café. Tours of the Tudor-style Coe House are available, and public events are held year round.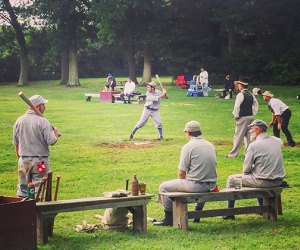 Field of Dreams? No, it's just old-time baseball at Old Bethpage Village Restoration.
Old Bethpage Village Restoration – Old Bethpage
Step back in time and visit a re-creation of a 19th-century village. The 209-acre living history museum features a variety of homes, shops, and businesses. Each fall the village hosts a fair with family-friendly activities, including rides and games, a petting zoo, as well as old-time games and crafts. On Sundays catch a game of baseball, 1860s style.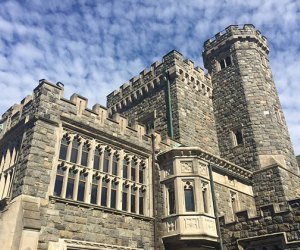 Discover the castle-like mansions at Sands Point Park and Preserve.
Sands Point Park and Preserve — Sands Point
With not one, but three castle-like historic mansions, this park is a treat for the imagination. Return to the era of The Great Gatsby with a tour of Hempstead House, Castle Gould, and Falaise. For those looking to enjoy the outdoors, the preserve offers six hiking trails through the woods and around ponds, as well as trails leading down to the beach. The breathtaking views of Long Island Sound make the trek worthwhile.
Wantagh Park – Wantagh
Another Nassau County park, Wantagh Park is right on the water. This park often gets overshadowed by Jones Beach State Park, which lies just south. But Wantagh Park is quieter and easier to access. The main attraction is the swimming complex that includes an Olympic-sized pool, diving pool, kiddie pool, training pool, and an interactive sprinkler pool with two water slides. There are a variety of fitness facilities, fields, and courts in addition to a fitness trail. Or simply walk along the water and enjoy the views. There is also a dog run with separate areas for large and small dogs.
A version of this post was originally published in 2013. It was updated in September 2017.
Top photo: Planting Fields. Photo by Bill Barahs. Unless noted, photos courtesy of the parks