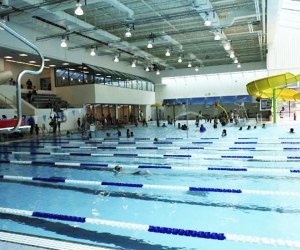 Indoor Swimming Pools for Families on Long Island
If you haven't had a chance to get away this season and spend time by the pool, there's still hope—and you don't have to brave the crowds at the airport to get there.
Why not visit one of the many indoor swimming pools Long Island has to offer? We've rounded up some of Nassau and Suffolk County's most affordable and family-friendly indoor pools that are open to the public. Check out each location's website for family swim schedules and rules, as well as information on lessons. And don't forget to take a look at your school district's website under the "athletics" link or similar to determine if it offers a community swim program.
For swimming lessons around Long Island or other kid-friendly activities you can enjoy in winter, check out our guide to indoor play spaces and our Long Island classes and enrichment guide.
Island-wide
You don't have to be a member or enrolled in a swim class to enjoy the family swim sessions offered at Goldfish Swim School. The times of the session vary by the day of the week, but they generally last from an hour to an hour and a half. Cost is $5 per person, up to $15 total per family.
Nassau County
399 Nassau Boulevard
Echo Park Pool is open seven days a week from 10am to 10pm for Town of Hempstead residents with a daily, seasonal, or annual pass. The facility has an Olympic-sized pool with a dive tank, men's and women's sauna, lockers, and a snack bar. Swim classes are available.
Merrick and Stewart Avenues
Built in 1998 for the Goodwill Games, the Nassau County Aquatic Center at Eisenhower Park is one of the finest swimming facilities in the United States. While it regularly hosts major swimming and diving competitions, it is also open to the public. Pool hours are from 9am to 5pm daily.
130 East Merrick Road
Facilities here include a fitness center, gym, indoor pool, and seasonal outdoor pools. Residents and non-residents are welcome to purchase a day pass, yearly membership, or summer membership. Special plans for families, couples, and seniors make this an affordable option.
Magnolia Boulevard and West Bay Drive
The Olympic-size pool at "The Rec" is open seven days a week to residents and non-residents of Long Beach. Click here for open-swim schedules and here for information on membership.
RELATED: The best outdoor pools on Long Island open to everyone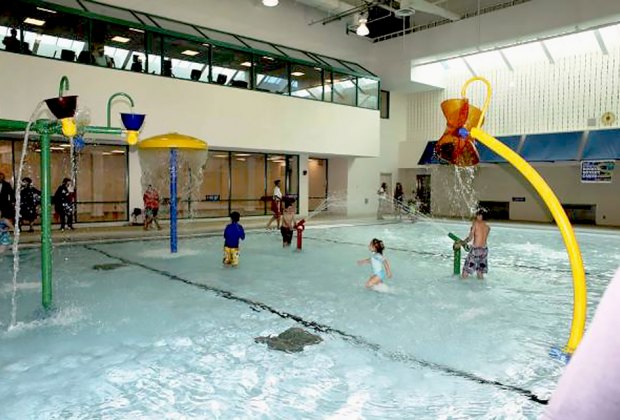 The North Hempstead Aquatics Center has a wading pool and six spray towers. Photo courtesy of the Town of North Hempstead
1801 Evergreen Avenue
Two words: Water slide. The North Hempstead Aquatic Activity Center is open to Town of North Hempstead residents seven days a week. In addition to the 100 feet of spiraling water-slide fun, there is a wading pool and six water-spray towers. Go ahead, just try to get the kids to come out for lunch.
125 Dosoris Lane
While the YMCA does not offer daily passes to the pool as some municipal pools do, there are many benefits to joining. Perhaps the allure of one-stop shopping for kiddie yoga, pee-wee sports, crafts, and FREE drop-in child care will inspire you to buy a membership so the whole family can go for a dip whenever the mood strikes. Members are free to use any of the six YMCA of Long Island facilities.
Suffolk County
300 Mastic Beach Road
Brookhaven Aquatic Center is open seven days a week to residents and non-residents of the Town of Brookhaven with a special family swim day on Sundays. Rates can be found here. The facility offers a 25-meter, heated indoor pool with programs including parent-and-child lessons, learn-to-swim programs for ages 4 and older, adult lessons, water aerobics, parties, special events, and more.
RELATED: Water safety musts for kids at the pool or beach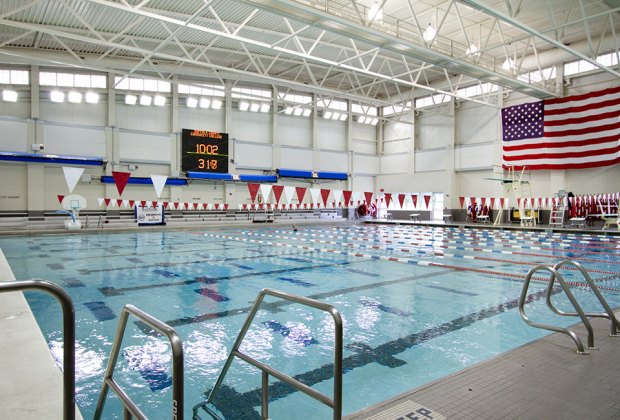 Water in the Suffolk County Community College Health Club's pool is heated to a toasty 82 degrees. Photo courtesy of the club
1001 Crooked Hill Road
Enjoy the Olympic-sized swimming pool (25 meters) at the community college's Brentwood campus. The pool is heated to 82 degrees and can be enjoyed by people of all ages (young children must be supervised by an adult). Swim lessons are held Saturday mornings at 9am. There is also a lap pool. You do need to become a member to use the pool, but various membership levels are offered.
Just like the YMCA program in Nassau County, Suffolk YMCAs do not offer daily passes to the pool. Members are free to use any of the six YMCA of Long Island facilities, including these in Suffolk: Bay Shore, East Hampton, Holtsville, Huntington, and Patchogue.
This article was originally published in 2013. It was updated by writer Gina Massaro in February 2020.