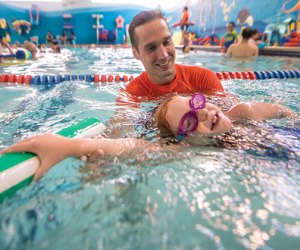 Indoor Swimming Lessons for Long Island Kids
Indoor swimming lessons are a great way to ensure kids can be safe and have year-round fun at Long Island's beaches and indoor pools. From private swim classes to community pools, there are plenty of destinations for indoor lessons. All of these indoor swim spots have modified class sizes, adapted with lane and/or face shields and other COVID-19 safety protocols. The great thing about these pools is that when summer is gone, kids can continue lessons, adding to their skills.
Of course we've rounded up a slew of indoor activities and other classes and enrichment opportunities in our guides as well for folks who are eager to learn and evolve.
There are lessons facilities for those as young as 6 months, continuing through lifeguard training. In addition, Long Island has well-maintained outdoor pools for long days of family fun, including these on the East End. For more outdoor adventures, see our guides to Long Island's best parks and playgrounds and LI's best amusement and water parks.
Indoor Swimming Lessons for Kids Across Long Island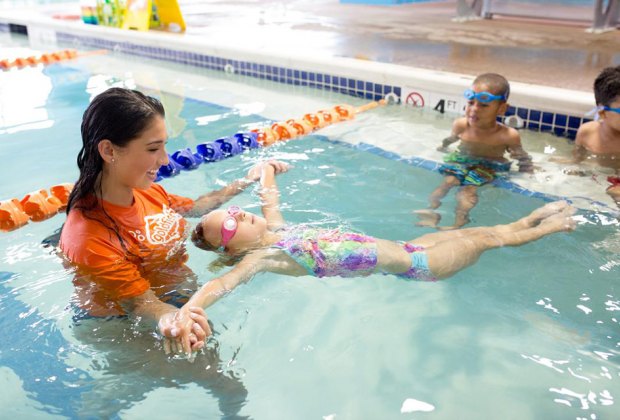 Goldfish Swim School's Jump Start program gets kids water ready in a hurry.
This facility offers swim programs for children from 4 months to 12 years of age. Offerings include Jump Start clinics—daily classes designed to get kids water-ready in a short time — and in a 90-degree heated pool. During Family Swim times, which differ per location, the whole family can participate. Advanced swimmers can join the Swim Force competitive team. Goldfish operates on an annual membership plan.
Saf-T-Swim — 12 locations in Nassau and Suffolk counties
This popular franchise offers baby-and-me classes starting at 2 months of age, and small-group classes are available for kids ages 4 years and older. Individual lessons are available. Saf-T-Swim boasts pools heated to 88 degrees, and classes are available year-round. Check each location's website for locations and special pricing, family swim time options and coupons. Locations include New Hyde Park, Garden City, Oceanside, Bellmore, Levittown, Deer Park Melville, Smithtown, Commack, Coram, Bohemia and Riverhead.
YMCA of Long Island — 5 locations in Nassau and Suffolk counties
All seven YMCA locations offer swim lessons for kids of all abilities, following the instruction template of the national organization. The YMCA is the leading provider of swim instruction in the nation. Instruction is available privately or in group sessions for those between the ages of 6 months and 13 years, as well as lifeguard pewp and training for older teens. Special-needs children are also accommodated. YMCA members receive discounted lessons fees. The Y's Nassau County location is in Glen Cove. Its locations are in Bay Shore, East Hampton, Huntington, and Patchogue.
Indoor Swimming Lessons for Kids in Nassau County
Hofstra University's Saturday Classes for Young People program offers swim lessons for kids from beginner to advanced levels and resumes this summer in a one-week camp setting. This camp is for children entering grades 2-10 and will include swim and diving instruction, water safety and pool games.
As the swim school branch of the Long Island Aquatic Club caters to children ages 2-10. Kids under 3 years of age learn on a 1:1 student-to-instructor ratio, and over age 3 learn with a 1:3 ratio. Private lessons are available, as are spring and summer sessions are available. This swim school also hosts a skill-based stroke clinic for children ages 6-15 years, as well as the competitive LIAC team.
The aquatic center in Eisenhower Park offers American Red Cross-certified swim lessons for children ages 6 months through teens. Lessons are offered only to Nassau County residents with a Leisure Pass. The first session since 2020 will begin in mid-May and run through the end of June. A summer session is yet to be determined. Access to bathrooms, changing rooms, etc. are limited and there is a 1:6 student-to-instructor ratio at this time.
Take group or private swim lessons at the recently renovated Kroll Family Aquatics Center at the Sid Jacobson JCC. There's a six-lane lap pool available, as well as a heated kiddie pool. Parent-child lessons are open to babies, toddlers, and preschoolers, starting at 6 months old and up. Those ages 5 and up can go solo in class, and the very best swimmers can try out for the competitive swim team here, too! Non-members are welcome to register for swim classes. They also offer Family Swim Time on Sundays. NOTE: Lessons, classes and Family Swim Time are only open to JCC members at this time. Due to safety protocols, they are not giving out equipment, so bring with you any equipment you wish to use (flippers, kickboard, etc.).
Swim and Scuba offers baby-and-me, private, semi-private and small-group lessons for children 6 months and older. In addition, advanced students can take swim-team preparation classes to work on stroke efficiency and turns. Membership allows the family to swim year-round.
Indoor Swimming Lessons for Kids in Suffolk County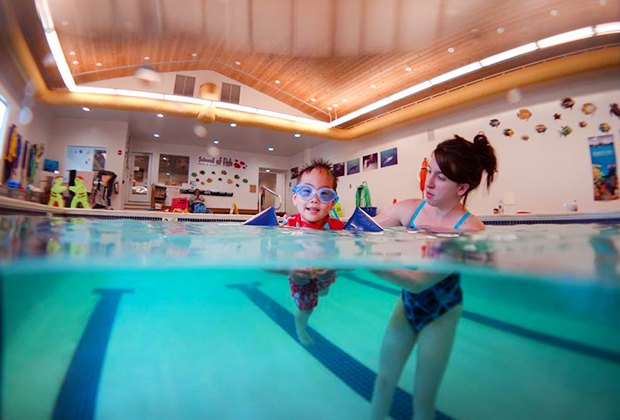 Kids can be introduced to the water at the School of Fish and Scuba in Rocky Point.
This school teaches swim classes to all ages year-round. Children must be potty-trained (swim diapers are not permitted). All instructors are Red Cross water-safety-instructor certified, and swimming lessons are sold in packages of six half-hour private lessons. There are never more than four students and four teachers in the water for instruction and parents may watch from a viewing area that includes a fully stocked playroom.
Other Options for Swimming Lessons on Long Island
UrSwim — Huntington
urSwim is a unique program based swim instruction school based out of Huntington. If you have a residential pool or access to a private pool you can schedule an instructor to come to you. Owner Marina Mentzel has developed a program for personal swim coaches to provide individual or group lessons from babies to adults. They also offer lifeguards for hire for private events and American Red Cross certification courses. They currently serve all of Nassau, Suffolk and Fairfield, CT counties.
A version of this article was originally published in September 2014.
Photos courtesy of the schools.