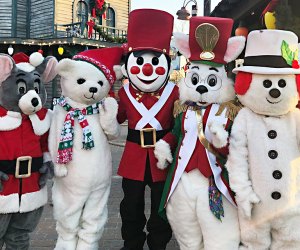 30 Things to Do Over Holiday Break with Long Island Kids
We get it. School vacation is intimidating for some parents. The kids will be home all week and in need of entertainment. Yikes!
Well, we're here to help. In this post, we've rounded up 30 of our top December break activities for Long Island families—some are even FREE—from drop-in play to lingering holiday-themed events. For even more inspiration, check out our roundup of great holiday shows for kids and Twelve Things to Do on Christmas Eve With Long Island Kids.
For most Long Island kids, Christmas break runs from Monday, December 23 through Sunday, January 5. For a full list of events and happenings on Long Island, check out our daily events calendar. And our December GoList has a number of fun activities for kids through the end of the month.
1. Visit Santa. All across Long Island, kids can visit and take pictures with Santa before he flies off for the season. From the Roosevelt Field mall in Garden City to Shamrock Farm in Cutchogue, kids can meet Santa, get a keepsake photo, and enjoy all the magic the holiday season has to offer. Some Santa hot spots, like Smith Haven and Walt Whitman malls, are also staffed by a Caring Santa who accommodates children of all abilities.
2. The Long Island Aquarium is the perfect place to visit during holiday break. Feed the otters, interact with insects, or just enjoy the gorgeous fish displays. Current indoor exhibits include an Amazon Rainforest, American Alligators, and a Critter Corner. The aquarium provides a full day of fun for everyone. And while you're in the area, you can do some returning and gift card spending at the nearby outlets!

Limitless scientific possibilities exist at the Long Island Children's Museum. Photo courtesy of the museum

3. With rotating exhibits, there's always something interesting to see at the Long Island Children's Museum. The usual fun with bubbles, climbing, and building are enhanced this holiday break by a puppet show of Dicken's classic "A Christmas Carol." Other events include "Illuminate The Holidays," an adventure in Beeswax candle-making, and a class in making Winter Wonderglobes.
4. Later, head next door to the Cradle of Aviation Museum. This year, enjoy "Avengers Night at the Cradle" on December 28. Kids can watch the movie in the dome theater and get photos taken with their favorite Avengers. You can also take a walk next door to ride the historic Nunley Carousel.
RELATED: 20+ FREE things to do with LI kids this holiday season

Take a drive to see some over-the-top houses like this one at 65 Elm Avenue in Coram. Photo courtesy of the house
5. Throw the kids in the car, pack up some snacks, and hit the road to visit some of these spectacular home holiday light displays before they turn them off come the new year.

The rink at Christopher Morley Park, a Nassau County facility, has delighted skaters since 1961. Photo by LMRose Photography
6. Lace up your skates and hit the ice at these year-round indoor rinks. If cool temps prevail, try an outdoor rink, like the one at Christopher Morley Park in Roslyn.
7. If you're looking for a little indoor fun for the family, hit the lanes ... the bowling lanes! Check out these if you're in Nassau County, or these in Suffolk County. Some, like Bowlmor, have arcades and games for kids (and adults) as well.
RELATED: Polar Express and other Santa trains near Long Island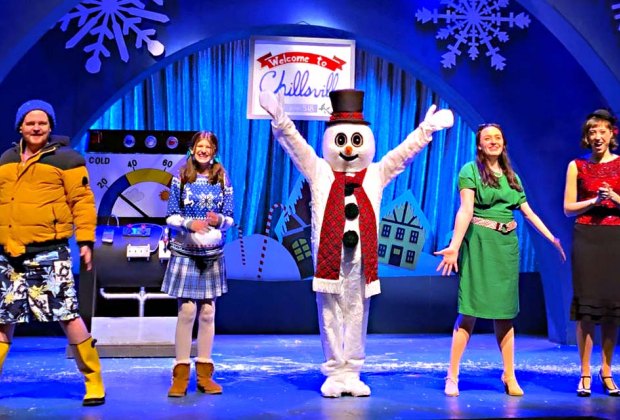 The holiday classic Frosty the Snowman will warm your heart. Photo courtesy of The Engeman Theater
8. Catch some children's theater at the Engeman in Northport. Great tickets are quite affordable, and kids can meet their favorite characters after the show. This holiday season, check out "Maltilda" or "Sister Act" on the Main Stage, or "Frosty" or "Frozen Junior" in the Children's Theater.
9. Suit up for a family swim session at these Long Island indoor pools.
10. Trains and the holidays go together like peanut butter and jelly. At least to most kids. Check out some of these model train exhibits for the locomotive lover in your family.
11. Visit Bayville Winter Wonderland to meet Santa, ride the holiday train, enjoy some arts and crafts, and check out the Arctic skating rink. This year, there is also a Christmas Tree Forest, arcade, rock-climbing, and skating.
RELATED: More great things to do with kids during the holiday season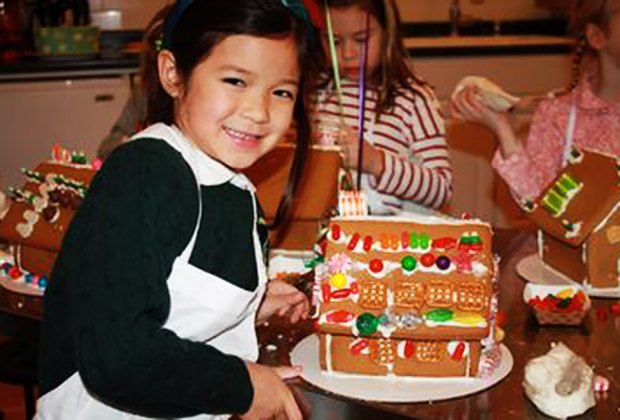 Kids can decorate to their heart's content at Gingerbread University in Riverhead. Photo courtesy of Gingerbread University
12. Bring out your child's creative side by decorating edible gingerbread houses, cookies, and other items at Gingerbread University in Riverhead. Or search around Long Island for other cooking classes for your tiny chefs.
RELATED: Outdoor ice rinks on LI for family skating

Get your hands dirty at Messy Afternoons at LICM. Photo courtesy of the museum
13. Get slimy! Check out Messy Afternoons at the Long Island Children's Museum, where kids 3 and younger can make messy crafts for free with museum admission.
14. Spread some holiday cheer by getting together with friends and caroling throughout the neighborhood.
15. Head to the movies. New flicks are opening, including Frozen 2 and Star Wars: The Rise of Skywalker.

Treat the kids to a decadent hot chocolate at Toast Coffeehouse. Photo by Thien August
16. Brrrr, baby it's cold outside. Warm up with some of the best hot cocoa spots on Long Island.
17. Set up a home-based art studio and try one of these boredom-busting crafts. If it snows, have kids scoop it up and experiment with food color dyes.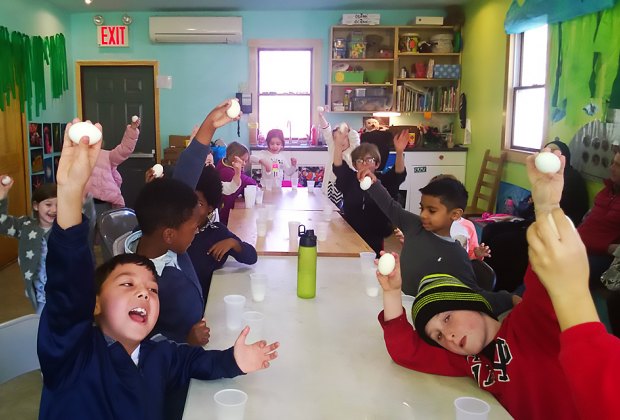 Experiments and much more are on the schedule at "Schools Out" camp at the Center for Science Teaching and Learning. Photo courtesy of CSTL
18. Need a break, or to get some work done? Sign up the kids for holiday camps at places like M.A.T.T.S gym in Bellmore or Syosset, or Sportime. (Find many more holiday camps in our event calendar.)
19. Let kids blow off some steam with open play at KZAM. Reserve ahead of time or check the website for open-play sessions.
RELATED: Sensory play spaces for LI kids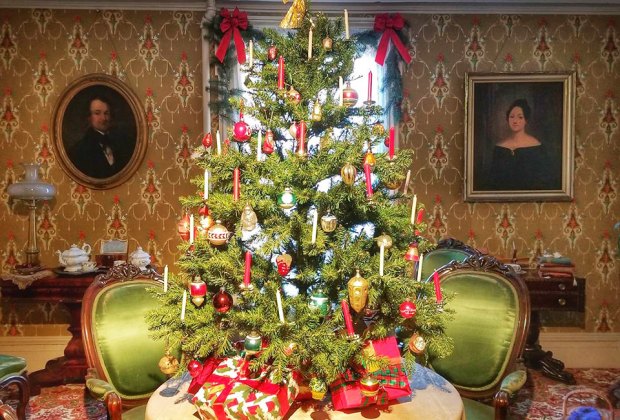 Check out vintage Christmas decorations at Raynham Hall Museum. Photo courtesy of the museum
20. Step back in history at Raynham Hall Museum, which is decorated for the holidays until the first week of January.
21. Head to Suffolk JCC for a slate of children's winter recess programming, including day trips, assembly programs, and swimming.
22. Libraries offer all kinds of fun activities during the holidays. If you're on the East End, the East Hampton Public Library offers family movie nights, a Lego club, and a mommy-and-me music class. This year, check out events like "Ugly Sweater Cookie Decorating" for young adults and a "Winter Wonderland Painting Workshop" for kids over 4.
23. Visit the Whaling Museum and Education Center in Cold Spring Harbor, where kids can view the exhibits and create under-the-sea crafts. This year, check out "crafternoons" and an artsy under-the-sea New Year's celebration.
24. Check out Kids' Studio Drawing and Collage at Southampton Arts Center, which includes New Years' Eve party favor-making and a puppet show.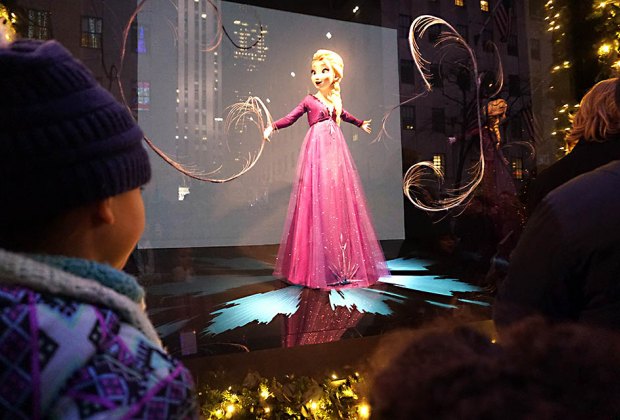 It's all about Frozen 2 at the Saks windows. Photo by Jody Mercier
25. Day trip it into NYC for a show, a holiday windows walk, or one of these holiday happenings.
26. Peruse our guide to indoor family fun to find a new-to-you play space or indoor kid sports zone.
27. Game away the afternoon at these Long Island arcades with video games and more.
28. Bundle up and day trip to a nearby snow tubing spot, or pretend it's summer and splash away at these indoor water parks.
29. Ring in the New Year with a kid-friendly countdown and family-friendly New Year's Eve activities at the Long Island Children's Museum, Long Island Explorium, or the Children's Museum of the East End. (Find more New Year's Eve parties for families in our calendar.)
30. Still looking for something to do? Try checking off one of your bucket-list items from our top 100 things to do on Long Island with kids.
This article was originally posted in 2017. It was updated by writer Rebeka Yahoves in December 2019.