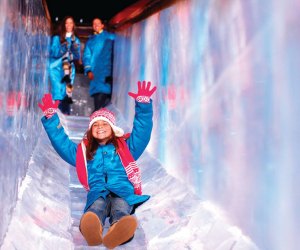 12 Inexpensive Winter Weekend Getaways for NYC Area Families
It's getting cold outside, but falling temperatures don't necessarily translate to falling prices when it comes to family vacations. Luckily, we've rounded up a dozen well-priced family getaways that are all either driving distance or a short nonstop flight from New York City. Whether you're in the mood for New England seaside charm, an urban weekend in New Orleans, Carolina comfort, or tropical heat, we've got plenty of budget-friendly suggestions for a quick winter weekend away with the kids.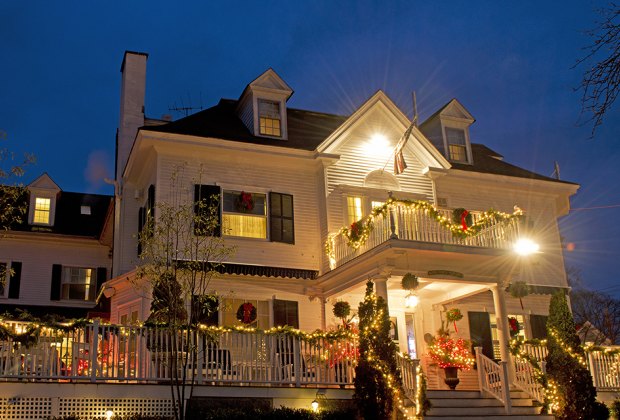 The Kennebunkport Inn is all decked out for Christmas. Photo courtesy of the inn
Kennebunkport, Maine
Kennebunkport is a coastal New England town that doesn't hibernate. Frosty activities include snowshoeing at Wells Reserve and taking a spin around the ice at the Waterhouse Center rink. February's annual WinterFest is a daylong frozen fiesta. Enjoy fire juggling, horse-and-wagon rides, a book sale, a chef tasting contest, and more. When you need to warm up, the ridiculously rich hot chocolate at Mornings in Paris will do the trick. The Kennebunkport Inn, The Boathouse and the Breakwater Inn & Spa are open all year, offering fine accommodations at low seasonal rates.
RELATED: 12 Hotels Around the World That Will Blow Your Kids' Minds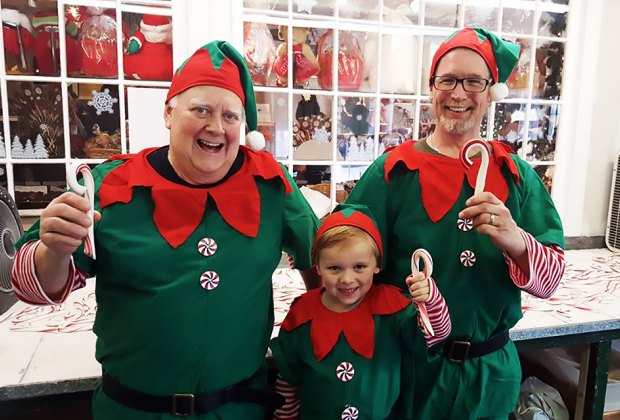 See how candy canes are made at Ye Olde Pepper Candy Companie in Salem, Massachusetts. Photo courtesy of the store.
Salem, Massachusetts
Salem may be synonymous with Halloween, but it's a fun getaway any time of year. The Peabody Essex Museum is home to one of America's largest collections of Asian art, and the stellar children's programming deserves a gold medal. Tween and teen literati will want to tour Nathaniel Hawthorne's House of the Seven Gables, the actual house where the author set his famed novel.
If your family lives to eat, Salem is a foodie nirvana. Get an overview of the culinary landscape when you book a nosh-filled walking tour with Salem Food Tours. For a sweet treat, make a beeline for the homemade confections at Ye Olde Pepper Candy Companie, America's oldest candy-maker. The historic Hawthorne Hotel is a cozy inn that provides yesteryear ambiance and affordable winter rates.

The Strong National Museum of Play. Photo courtesy of the museum
Rochester, New York
If you can get over the fact that it is located in a snow belt, Rochester rolls out the red carpet for kids. The city's top activities are indoors, so let the wind blow. The Strong (National Museum of Play) is a mecca of interactive learning and the only museum in the world completely devoted to the importance of play. One day here may not be not enough to explore the 150,000 feet of engaging exhibit space. Fan favorites include the recreated 1950s diner, the dozens of pinball machines, and the National Toy Hall of Fame.
The Rochester Museum & Science Center is a worthy stop. The George Eastman Museum's Discovery Room lets kids create animation strips and handle iconic early cameras. The new Hilton Garden Inn is in the center of downtown. It benefits from a heated indoor pool, spacious rooms, and fair prices.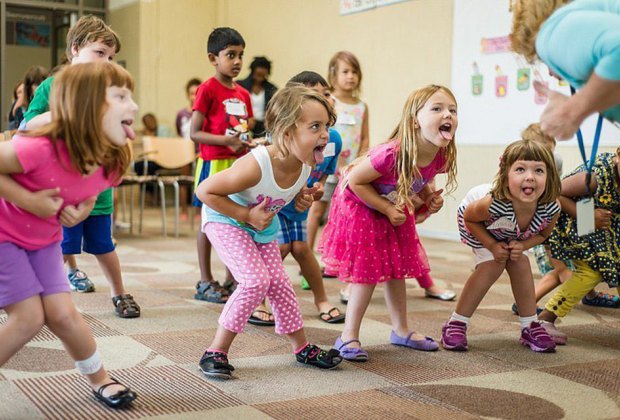 If you find yourself needing a kid-centric activity, head to Princeton Playspace. Photo courtesy of the venue
Princeton, New Jersey
This Ivy League town is a pedestrian's delight, only an hour from New York City and Philadelphia. It may not be far from home, but this quintessential college town feels miles away from urban stress. Tour the pretty Palmer Square area, and let little ones pop into jaZams, an indie but modern children's toy store. Show the kids what vinyl looks like at Record Exchange before browsing the kids' section at Labyrinth Books. Fuel up on ice cream or sweets like chocolate-covered Oreos at Thomas Sweet. The Princeton University Art Museum has an impressive permanent collection, including some Monets and pop art by Warhol and Lichtenstein. Let tots enjoy drop-in playtime at the 5,000-square-foot indoor playground Princeton Playspace.
Spend the night and you'll see that while there's no such thing as a free lunch, there is free breakfast when you stay at the newly designed Sonesta ES Suites Princeton. It caters to extended stay travelers, but families will appreciate the oversized suites and copious complimentary daily breakfast buffet. Families should enjoy hanging out in the nest area, the property's common space that's a twist on a family living room, with plenty of board games, books, and puzzles.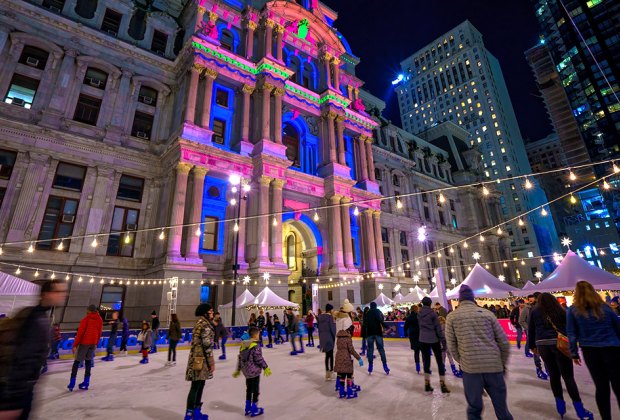 The historic city of Philadelphia offers lights, ice skating, Santa sightings, and an authentic Christmas market. Photo courtesy of Visit Philly
Philadelphia, Pennsylvania
Philadelphia is a favorite family getaway. This winter, put the cheesesteaks aside and try something new with the Visit Philly Overnight Hotel Package Winter Getaway. The deal includes one- or two-night accommodations, free parking, two free Philadelphia Sightseeing Passes (valued at $90), a free Lyft ride, a $25 gift card for one of Jose Garces' restaurants in Philly, and free skating and skate rentals at Blue Cross RiverRink Winterfest. There more than 40 participating hotels from which to choose, and the deal runs until February 29, 2020.
Need more ideas of what to see and do in Philly with the kids? Our sister site Mommy Poppins Philadelphia offers a rundown of the best things happening this winter, plus best bets for first-time visitors.
RELATED: Winter Day Trip Ideas for NYC Families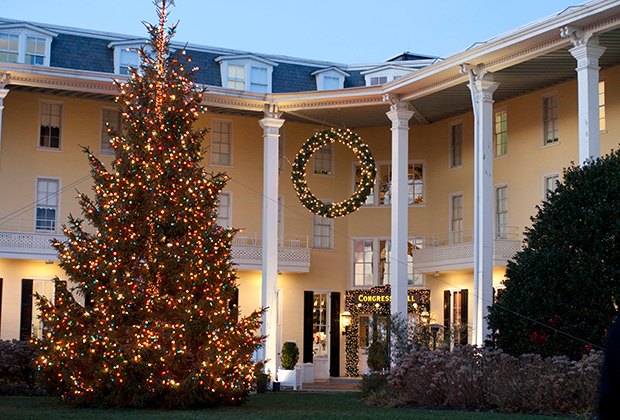 Cape May isn't just stunning in the summer. The seaside Congress Hall hotel lights up for the holidays and beyond. Photo courtesy of the hotel.
Cape May, New Jersey
Quaint Cape May is an all-American resort town bursting with old-fashioned delights. Its visual splendors include an architectural tiara of Victorian gingerbread homes in candy colors, shops selling saltwater taffy and fudge, and the magnificent Atlantic Ocean. Sure, summer rules, but there's enough winter charm to make it more than destination worthy. Bird observers have been flocking to Cape May for centuries. Enjoy nature's spectacle as you hike one of the peaceful trails at the Cape May Bird Observatory, open and maintained year-round, or visit the nearby Cape May County Park and Zoo, also open year-round.
Families who enjoy pedaling will find miles of flat roads, some with designated bike lanes, and there's indoor roller skating at Convention Hall during the winter. Cape May is 160 miles south of New York City, so keep your fingers crossed for slightly warmer temps. Stately Congress Hall is the oldest seaside hotel in America. The convivial lobby is a fine place to warm up by the fire as you listen to live music. Guest rooms offer soothing nautical-inspired décor and are loaded with amenities, so you'll feel pampered and relaxed at the same time. Check the website for significant off-season discounts and festive holiday events.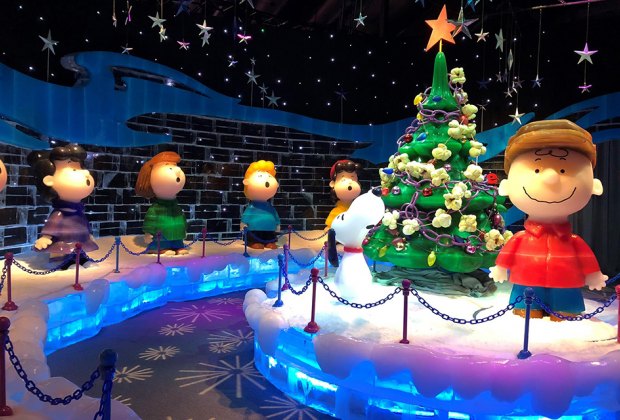 Be sure to see the ice sculptures at Gaylord National Resort. Photo courtesy of the hotel
National Harbor, Maryland
If you're interested in sweeping views of the Potomac, good shopping, and entertainment with easy access to Washington, D.C., consider staying at National Harbor, home to the iconic Ferris wheel the Capital Wheel. Gaylord National Resort welcomes families with open arms. In addition to an inviting swimming pool, there are nightly light shows in the atrium, and an over-the-top Christmas extravaganza that includes indoor snow flurries, ice slides, and ice sculptures. Take the public bus to a nearby Metro and you'll be in our nation's capital in a jiffy—always a hit around the holidays.

The Children's Museum of the Low Country provides an exciting day of hands-on activities. Photo courtesy of the museum
Charleston, South Carolina
Perfectly preserved Charleston is one of America's most photogenic cities. There is lots of easy charm in downtown Charleston, but families may want to consider staying at one of the nearby beach communities. The mild coastal Carolina climate provides a temperate backdrop for beachcombing, biking, and boating in all seasons. Isle of Palms is a sweet town just a few minutes from Charleston's downtown. Stay at Wild Dunes or consider renting a house. You'll have plenty of space, and the fully equipped kitchen allows you to prepare money-saving snacks and meals.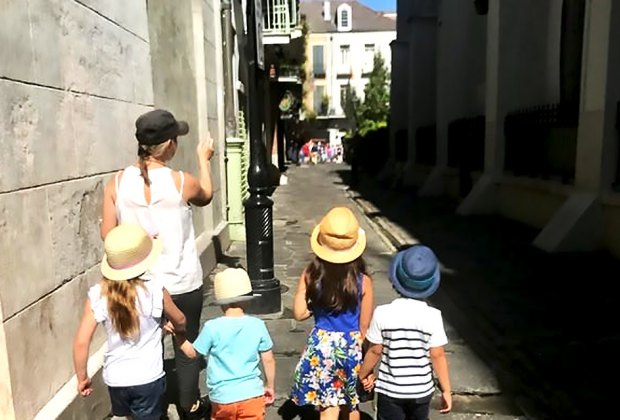 Visit the legendary French Quarter for a spooky tour by French Quartour Kids. Photo courtesy of French Quartour Kids
New Orleans, Louisiana
The Big Easy is a piece of cake to visit with kids since there's so much to keep them entertained. To experience quintessential New Orleans, take a walk through the French Quarter. The colorful buildings and unique architecture will enchant even the kids. Stop into Preservation Hall for an up-close jazz concert for all ages. Then, take a ride on the Steamboat Natchez. The paddle steamer is the last authentic steamboat operating on the Mississippi River. Landlubbers can stick to a streetcar ride. To cap off the day, sit down for a hot chocolate and beignets at Cafe du Monde. Any sweet tooth, young or old, will enjoy the zeppole-like confections.
Theatrical types will love Mardi Gras World, a warehouse where you can try on Mardi Gras costumes, see floats being built, and even meet the artists. Animal lovers should head over to the Audubon Nature Institute's zoo, aquarium, butterfly garden, and insectarium. A swamp tour is a fun way to get up close and personal with some indigenous wildlife — like a 10-foot gator. If that's not enough, check out City Park, which includes Storyland (a whimsical sculpture playground), an amusement park, miniature golf, a model train exhibit, and lots of outdoor space to explore. Loews New Orleans keeps kids happy with its Loews Loves Kids program. Parents will love the kids' closet stocked with everything from games and books to potty seats and baby bathtubs.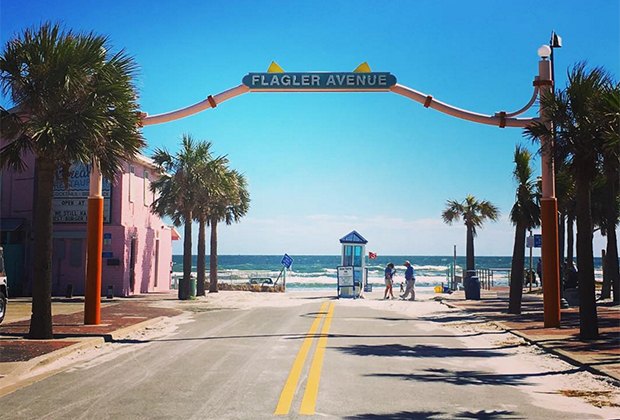 Soak up the low-key vibe at New Smyrna Beach. Photo by Allison Andersen via Instagram.
New Smyrna Beach, Florida
Finding a wallet-friendly Florida beach vacation in winter is like finding a needle in a haystack. But unpretentious New Smyrna Beach defies the odds. This art-infused town is loaded with old-time Florida charm that won't empty out your purse. It's a quick two-hour flight from JFK, thanks to JetBlue's nonstop service to neighboring Daytona Beach. Stroll the adorable streets filled with independently owned shops, sample the homemade ice cream, and swim in the warm waves.
Check out The Hub on Canal, a communal studio space where more than 80 working artists create and exhibit. They offer a wide range of drop-in art workshops for kids and families for a reasonable fee. You'll also find a skate park, guided kayak tours, paddle boards, a Black Heritage Museum, and more family fun options. You can even sneak in a visit to the Daytona International Speedway. The Hampton Inn is a budget-minded overnight option. It's an oasis of lush plants and tropical trees, an instant elixir for your winter-weary soul. Large rooms, welcoming common areas, and a coin-operated laundry seal the deal.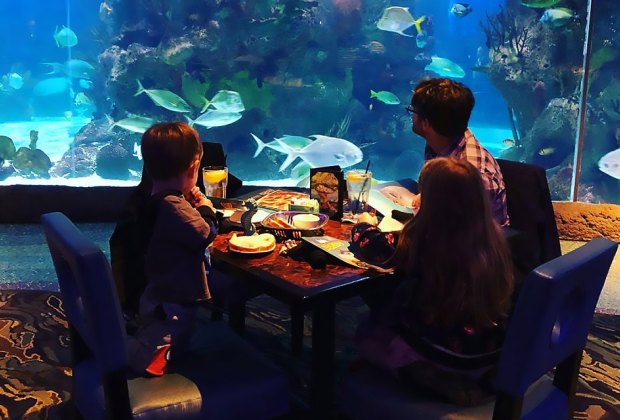 Dine with the sea life at the Aquarium restaurant. Photo courtesy of the restaurant
Nashville, Tennessee
Music-minded families will love a trip to Nashville. Of course, The Grand Old Opry is country music Mecca, so you might want to splurge on tickets to a backstage tour or a show. Kids may see some of the names of their favorite singers on the Music City Walk of Fame, and a visit to the Country Music Hall of Fame will also yield some familiar faces. For a more intimate music experience, tweens and teens might enjoy The Bluebird Cafe, where you can pair dinner with a music-in-the-round session, during which three or four artists jam in a circle in the middle of the 90-seat venue.
When you've had enough music, check out the Soaring Eagle Zip Line at Nashville Zoo; Adventure Science Center, which includes a planetarium; unique European cars at Lane Motor Museum; and Tennessee Central Railway Museum. The Parthenon is a full-scale replica of the famous Greek structure and houses an art museum. At Aquarium, families dine with sea life swimming all around them—and real-live mermaids, too. Save your splurge for the lodging: The Omni Nashville Hotel has a great location and is very kid-friendly. When kids check in to the hotel they receive a backpack filled with an activity book with stickers, crayons, card games, binoculars, and a small tabletop game. Free milk and cookies on the first night is also a nice touch.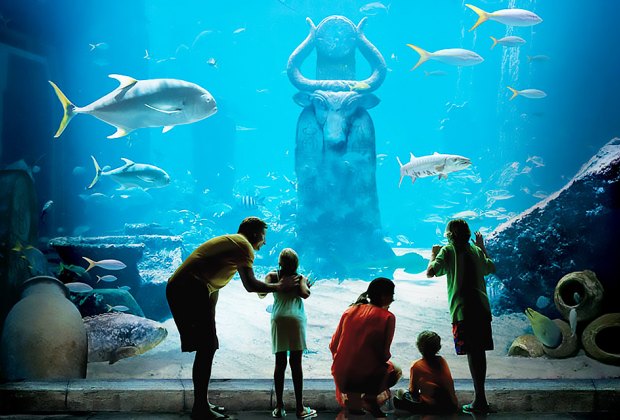 Comfort Inn guests have full access to Atlantis amenities. Photo courtesy of Atlantis
Paradise Island, Bahamas
A vacation at Atlantis is a big hit with kids, and while staying at the resort can cost you big bucks, there are deals to be had that make an on-site stay more affordable. Consider staying at the moderately priced Comfort Suites Paradise Island, located right next to Atlantis, which provides its guests with full access to all Atlantis amenities. Visit both venue's websites to compare seasonal specials that offer children free lunch and dinner. The nonstop flight to Paradise Island from JFK is just over two hours.
A version of this article was first published in 2016; it has been updated for 2019.