Adirondack Mountains with Kids: 40 Things To Do in this Family-Friendly All-Seasons Destination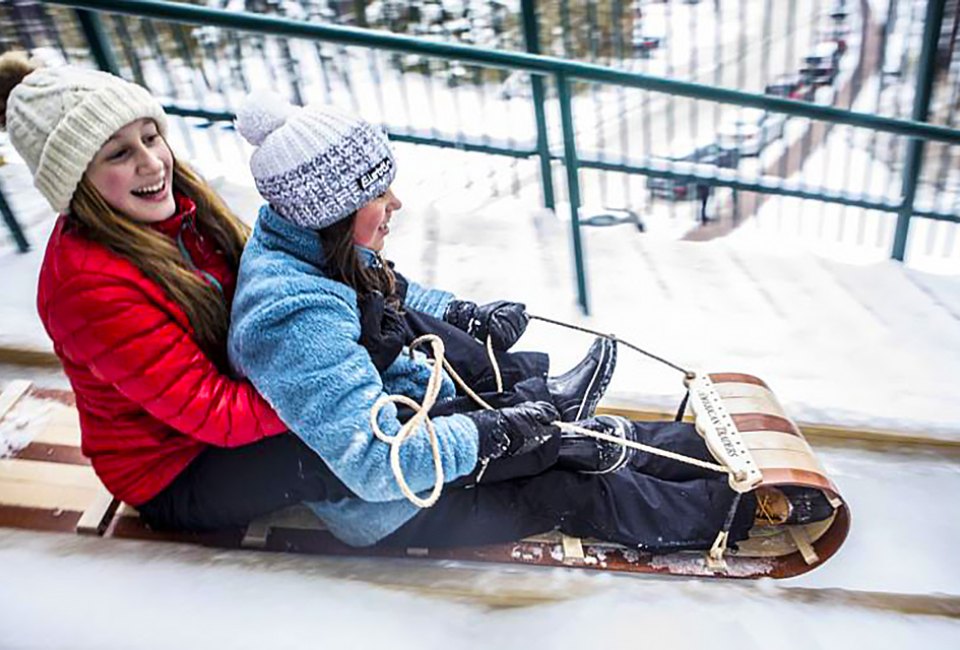 1/28/23
- By
Anna Fader
The Adirondacks Mountains are one of the most idyllic family vacation spots in the Northeast. The enormous, pristine natural setting features numerous lakes and quaint towns sprinkled across gorgeous mountains. Visitors to the Adirondack Mountains find tons of all-season outdoor adventures as well as fun, family-friendly attractions. While Lake Placid and Lake George draw throngs of visitors, we opted to stay in Schroon Lake, a cute town that's a little more laid-back, centrally located, and makes a great jumping-off point to explore the region.
Visitors can spend time hiking, boating, skiing, sledding, and even bobsledding or speed skating! In short, the Adirondack Mountains offer tons of things to do, no matter your family's interests. We've rounded up our top picks, whether you want to immerse yourself in history at Fort Ticonderoga, connect with nature at the Wild Center, or slide onto Mirror Lake in a toboggan, the Adirondack Mountains are a dreamy destination for a memorable family vacation. Of course, we've even got some options for great Adirondack hotels so you have somewhere to unwind following your Adirondack Mountains adventures.
Find more family vacation ideas in our Adirondacks, Catskills & Hudson Valley Family Travel Guide.
Subscribe to our newsletters to get stories like this delivered directly to your inbox.
Because the Adirondack Mountains are so vast, we've divided this list of fun things to do into activities convenient to each region, whether you choose to stay in an Adirondacks hotel near Lake Placid, Lake George, or the central Adirondacks region. Here's our big guide to the best things to do in the Adirondack Mountains with kids.
Best Things To Do in Lake Placid with Kids
Pop in here to learn how runaway slaves made their way to freedom.
Search for the ladybugs painted on all the hand-carved animals on this historic carousel in Saranac Lake.
RELATED: Where to Ride a Thrilling Mountain Coaster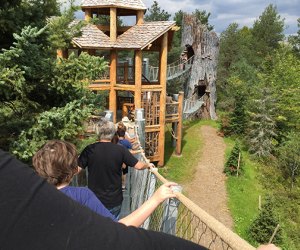 Embark on the daring Wild Walk at the Wild Center in Tupper Lake. Photo by the author
Part natural history museum, part nature center, the Wild Center is a full day of fun with loads of exhibits, animal encounters, and the Wild Walk, an elevated path in the treetops where kids can experience what it's like to be part of nature themselves.
Stroller-friendly paths and a butterfly house make this a fun place to hike for those with little ones.
Take a ride down Lake Placid's Toboggan Chute and go gliding across a frozen Mirror Lake. This thrilling ride is only open when weather conditions allow, but is typically open from January through February. Admission is $15 for adults, $10 for kids, and includes a toboggan.
This state-of-the-art museum just reopened following a major renovation. It aims to keep the spirit of the Olympic flame burning brightly for its visitors. Take a journey through history featuring interactive exhibits and innovative displays.
RELATED: 100 Things To Do in New York State with Kids Before They Grow Up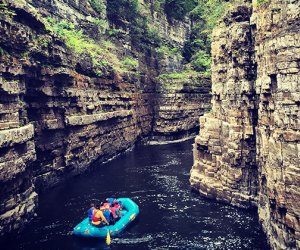 Stunning views await as you float through the Ausable Chasm. Photo by the author
Hike or float through the Grand Canyon of the Adirondacks. Have your cameras ready: It's totally stunning!
Leaving from Utica or Old Forge (Thendara) you can ride round trip on historic rails and enjoy sweeping views of the Adirondack Mountains. Check out the special rides, including the Polar Express, or river and rail kayaking combo excursions.
This Mirror Lake beach is situated right downtown for easy access. You can swim or rent kayaks or paddle boards. There's also a playground.
If you don't want to hike to the summit, you can drive on this scenic road to view the gorgeous views during the summer and fall seasons.
Enjoy an easy half-hour stroll on pathways and bridges and be rewarded with a spectacular waterfall view.
RELATED: The Catskills with Kids: 25 Fun Things To Do in New York Catskills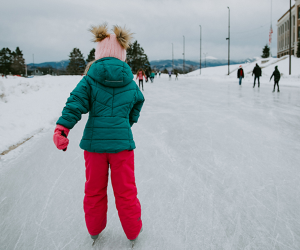 Have your own Olympic moment at the Olympic Speed Skating Oval. Photo courtesy of Lake Placid Legacy Sites
Skate on the same ice world champions have. One of the few rinks of its kind, Lake Placid's outdoor ice skating rink has undergone a major renovation in recent years.
13. Frozen Delights
No vacation is complete without ice cream. Find homemade flavors and ice cream treats at Emma's Lake Placid Creamery or stop by the classic, seasonal, drive-in Mountain Mist Custard in Saranac Lake.
Hit the slopes at the Lake Placid ski resort, which boasts 94 trails spread over three separate peaks and the greatest vertical drop east of the Rockies. Return when the snow melts to ride the Cliffside Coaster, take on the Skyliner Zip Line, and plenty more action-packed attractions.
Enjoy tasty barbecue at outdoor picnic tables during the summer months. Play equipment allows grown-ups to enjoy their meals and margaritas a little longer.
Mt Van Hoevenberg is keeping the Olympic spirit alive through the Lake Placid region. Its bobsled experience is a once-in-a-lifetime opportunity for families to get the thrills of zipping down the half-mile-long bobsled track. Riders must be at least 9 years old and 52 inches tall.
See more of the best things to do in Lake Placid.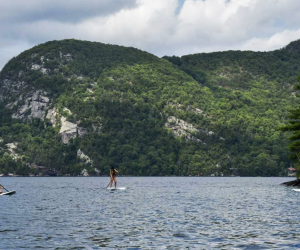 During the summer months, Lake George beckons visitors to enjoy water sports. Photo by Mommy Poppins
Top Things To Do in Lake George with Kids
17. Boating
Whether you want to rent a boat or just take a lake cruise, you can't leave the Adirondacks without getting out on the water.
Worth a full day, this seasonal museum teaches you about life in the Adirondack Mountains in a fun, interactive, indoor-outdoor experience.
Musket and cannon firings, fife and drums, and other daily programs bring history to life at this 18th-century star fort. You can also explore the gardens, orchards, and corn maze on-site. The restaurant is good, too.
This cherished cultural institution is akin to the Tanglewood of the Adirondacks. Look for kid-friendly performances during the summer and fall.
This easy 1.2-mile hike offers great views.
RELATED: 15 Family-Friendly Catskills Resorts for Your Next Weekend Getaway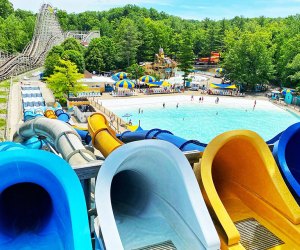 Six Flags Great Escape and Hurricane Harbor offer big-time theme park thrills with a stunning Adirondack Mountain backdrop.
This Six Flags amusement park has all the heart-pounding roller coasters you've come to expect at Six Flags. Make sure to check out the Alpine Bobsled and Comet—the famous wooden coaster.
Perfect for toddlers and preschoolers, enjoy kiddie rides in a shaded park.
Putt your way through caves, coves, and waterfalls.
RELATED: Explore Ice Castles Across America with Kids this Winter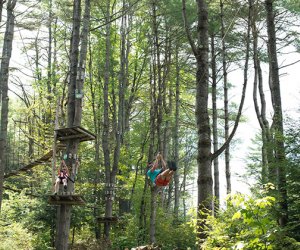 Go zipping through the Adirondack Mountains forest at Adirondack Extreme Adventure Course.
Challenge yourself at this treetop adventure course offering trails for all ages and experience levels.
Old-school drive-in movies make vacation memories.
Good pizzas and doughy pretzels come out of the wood-fired oven, but the salads and entrees are just as enjoyable. Just south of Schroon Lake, Sticks and Stones offers a lovely setting and outdoor seating, but it's a popular spot, so you might want to make a reservation.
This old-school cafe in Schroon Lake offers great pulled pork sandwiches and other homemade fare.
Set sail on Lake George in Minne Ha Ha or one of the other steamships in this fleet. There's no better way to see Lake George! Choose from brunch, dinner, sunset sightseeing, and more themed sails during the summer season.
RELATED: Letchworth State Park in Upstate New York Is a Must-See

Let the pros at Gore Mountain teach your child to ski or snowboard so they can join you later for family fun on the slopes in the Adirondack Mountains! Photo courtesy of Gore Mountain
Enjoy both downhill and Nordic skiing here in the winter, then return during the summer and fall when you'll find disc golf, gondola rides, downhill mountain biking, and more.
This is the best pizza in Lake George and they'll even deliver to your hotel room. There are a few video games in the restaurant if the kids need a distraction.
These amazing structures, made up of more than 20 million pounds of ice, are a sparkly, magical experience for grown-ups and kids.
Every February, Lake George springs to life with the Lake George Winter Festival. Fireworks, ice fishing, outhouse races, s'mores, and more are scheduled for weekends in February.
This 51-acre plot of waterfront on Lake George's south shore has been a popular attraction for swimming, sunbathing, boating, and more since it's opening in 1951.
Find more family-friendly fun in Lake George.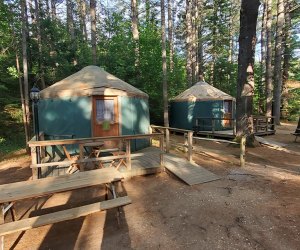 Spacious Skies Adirondacks Peaks Resort offers everything from rustic tent spaces to yurts, plus resort-style amenities.
Top Family-Friendly Adirondack Hotels
Camp, rent a cabin or level up your camping experience in a yurt. Enjoy the water slides and pools, gem mining, mini golf, inflatables, and more.
Located on the main strip in downtown Lake Placid, this newly remodeled hotel offers state-of-the-art accommodations with a nod to classic Adirondack architecture and decor.
Whatever time of year you visit, Great Escape Lodge in Queensbury has comfortable accommodations and fun activities for the whole family, including an indoor water park. Need we say more?
This lakeside resort is packed with activities for the whole family. With indoor and outdoor pools, a rec center, and a loaded schedule of activities, it's easy to fall in love with the Sagamore Resort.
With a variety of choices to choose from, the Mirror Lake Inn offers generous accommodations for families. Located on the shores of Mirror Lake, this full-service inn is the perfect home away from home.
Located directly on Lake George, Scotty's Lakeside Resort is packed with plenty of opportunities for family fun. A game room, beach, playgrounds, pools, boat rentals, and more make this spot perfect for large family gatherings.
Originally publishes in 2016. Ally Noel contributed additional reporting.
Places featured in this article:
Click Here to Sign Up!
i