Ride a Thrilling Mountain Coaster Near NYC This Summer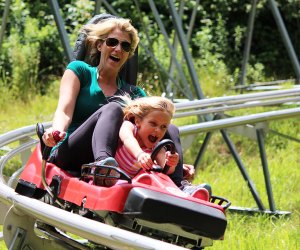 5/5/22
- By
Margaret Hargrove
There's no snow required for these thrilling mountain coaster rides. Come summer, several of our favorite local ski resorts switch gears from skiing and snow tubing to alpine slides and mountain coasters. These mountain coasters are as exciting as one you'd find at any theme park and come with better views as you wind through gorgeous mountain scenery at speeds up to 25 miles per hour with vertical drops of 500 feet or more. A mountain coaster is often a two-seater, so parents and children can ride together, enjoying the view from top to bottom.
If you want to see these popular ski resorts from every angle and have a blast doing it—even when it's hot outside—read on for our picks for a thrilling mountain coaster ride in New Jersey, New York, and Pennsylvania. Once you've conquered the coasters, take note: Many of these local resorts offer more off-season fun from adventure courses, zip lines, and ropes courses to thrilling water parks, making them great weekend-long destinations for active, family-friendly fun.
Subscribe to our newsletters to get stories like this delivered directly to your inbox.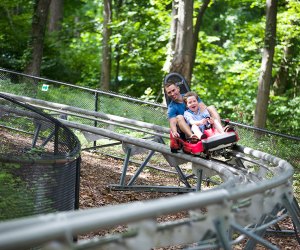 Feel the wind in your hair as you cruise down the Alpine Mountain Coaster at Mountain Creek Resort.
Mountain Creek Resort is home to New Jersey's only mountain coaster. The 2,805-foot Alpine Mountain Coaster dips through the trees and water park rides from the top of the mountain down to the bottom. Riders can ride alone or with a friend in a two-seater coaster car. The driver controls the speed with a unique hand-breaking system as it twists and turns along the 7-minute long track. The Alpine Mountain Coaster opens for the season in mid-June, and its season runs through Labor Day weekend. Tickets are $15 and riders must be 54-inches tall to ride alone or 38-inches tall to ride with an adult over age 16. No one under 38-inches is permitted to ride.
RELATED: The Best Poconos Resorts for a Family Vacation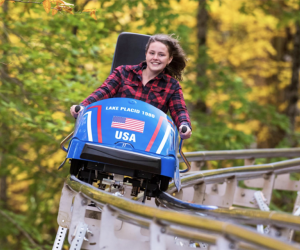 Live out your Olympic fantasies with a ride on the Cliffside Coaster at Mt. Van Hoevenberg in Lake Placid.
At 7,650 feet, the Cliffside Coaster at Mt. Van Hoevenberg is the longest mountain coaster in the U.S. The 1.4-mile mountain coaster travels along the 1980 Olympic bobsled track, so you can experience the thrill of what it was like to be an Olympic bobsledder during the Winter Games in Lake Placid. The views are amazing and the ride is equipped with an audio system that provides commentary as you glide through the twists and turns of the historic track. The coaster travels 2,250 feet uphill and 5,400 feet downhill, with an elevation change of 495 feet. Trust us, you'll feel like you deserve a gold medal after you complete the ride. the Cliffside Coaster opens Memorial Day weekend and tickets can be purchased online in advance. Kids must be at least 9-years-old to ride alone and driver tickets are $55. Kids ages 3-12 can ride as passengers for $10 with a driving adult.
Think of the Sky Flyer Mountain Coaster as a combination alpine slide and twisting roller coaster that sends you cruising through the trees on the ride of your life. It's built right onto the side of a gorgeous mountain in the Holiday Valley ski resort, an hour south of Buffalo, New York. One or two riders sit in a "car" attached to rails that pulls you up the hill, then it follows a zigzagging spiraling path down the mountain. You control the ride and have the ability to go as slow or as fast as you'd like. Drivers must be at least 8 years old and 54-inches tall. Kids must be at least 3 years old and over 38-inches (without shoes) to accompany a driver who is at least 16 years old. Riders must be able to perform certain physical tasks and demonstrate they understand the staff's instructions to participate. Single tickets are $10; buy a family 10-pack for $65. The Sky Flyer Mountain Coaster is open year-round on weekends (weather permitting) and daily from mid-June through Labor Day.
RELATED: Best Biking Rail Trails near NYC: Get Your Rail Explorers Off-Road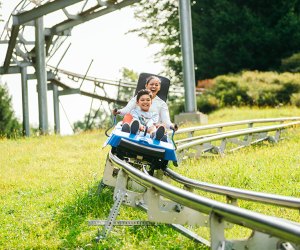 The Camelback Mountain Coaster whisks guests down the mountainside at speeds of up to 25 MPH.
Take a spin on Pennsylvania's only mountain coaster, located at the family-friendly Camelback Resort. The 4,500-foot steel track gives you a bird's eye view of the Poconos Mountains as you zip through the trees and down the slopes going up to 25 miles per hour. Kids ages 3 and older—and at least 3-feet tall—can ride the coaster with a driver ages 18+. To drive solo, riders must be 9 years old and at least 52 inches tall. Tickets are $18 and online reservations are highly recommended to secure a time slot. On-site ticket sales end a half-hour before closing time. The coaster is open from April through late November, although times vary depending on the time of year. Make sure your family wears closed-toed shoes with backs for your ride (no sandals, flip flops, or Crocs are allowed). And don't forget to smile! A camera snaps your photo as you ride the coaster and you can stop by the photo booth to purchase a photo memory before you leave
Where to Find More Mountain Coaster Rides
If you've conquered these mountain coasters near NYC and loved them, why not check out some more? New England is home to several thrilling mountain coasters, including Thunderbolt Mountain Coaster and Jiminy Peak in the Berkshires, and Cranmore Mountain Coaster in New Hampshire. Make a detour to check one of them out if your family vacation travels take you north this summer.