14 Great Water Parks for Kids near NYC in 2022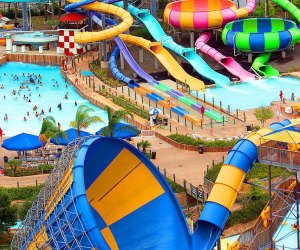 6/16/22
- By
Jody Mercier
Sign up for our FREE newsletters to get posts like this delivered to your inbox.
Open daily through Labor Day
Wildwater Kingdom features a slew of water slides, two giant wave pools, a pair of lazy rivers, and three water play areas specifically designed for the park's youngest visitors. Of course, there's also Dorney Park with its amusement park rides, midway games, arcades, live shows, and special sections like Planet Snoopy, inspired by the beloved Peanuts pup. Wildwater Kingdom's amenities include poolside cabanas and a wide variety of dining options.
Open daily from Saturday, June 18 through Labor Day
This is a particularly great destination for preschoolers, with attractions like the Splash Works area that features slides, geysers, and buckets that dump water on their heads. The Croc Creek Wavy Lazy River and the spinning teacup-style ride the Water Whirler are great fun, too. There are more thrilling attractions for older visitors, like the Megladon, a high-thrill raft slide that gives you a zero-gravity experience. The four-story Bullet Bowl slide, and another zero-gravity ride, the Humunga Half-Pipe, are a thrill a minute. Cabanas are available to rent at this, one of our favorite water parks for kids near NYC.
RELATED: Inflatable Water Parks near NYC to Cool Off

Tackle the slides at Camelbeach Mountain Waterpark in the Poconos.
Open daily from Friday, June 17 through Labor Day
Nestled in the Poconos, this is a winter ski resort turns into a water park for kids near NYC come summer. There are a variety of rides and slides, many geared toward older kids. A brand new Rival Racer slide debuts in July and lets water lovers fly down the mountain in a wet-and-wild waterslide race. Little ones should enjoy Kahuna Cove, located next to the Kahuna Lagoon Wave Pool, with gentle tipping buckets and interactive spray structures. The Pharaoh's Phortress play structure has eight water slides, a four-story-high tipping bucket, fountains, and spray guns. For the little ones, check out the Mummy's Oasis, which features slides, sprinklers, and plenty of levers to adjust the wet, wild fun. Camel Cove allows kids and families to control the action of a giant bucket (that dumps all its water every few minutes) with various valves and levers. The Blue Nile Adventure River is a 1,000-foot-long ride that takes passengers on a relaxing journey through waterfalls, past geysers, and across bubbling waters. Don't want to get wet? Camelback Mountain Adventures offers fun ranging from zip-lining to a mountain coaster and more.
RELATED: Check Out the 15 Top Water Parks in New Jersey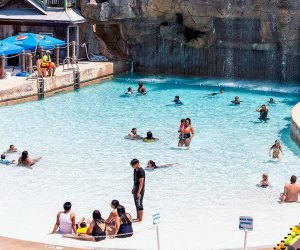 Cool off in the wave pool at Breakwater Beach Waterpark.
Open daily through Labor Day and the weekend of September 10-11
When it comes to fun at Jersey Shore boardwalks, it seems like the philosophy is too much is never enough. Casino Pier offers loads of over-the-top fun like classic amusement park rides, an antique carousel, an arcade, and go-karts, all right along the Seaside Heights boardwalk. Meanwhile, Breakwater Beach is a state-of-the-art water park in New Jersey with a massive interactive play area, including water slides, flumes, and a huge water play area for little kids.
RELATED: DreamWorks Water Park: Make Waves Year-Round at American Dream Mall

Get soaked with a 1,000-gallon dumping bucket at The Land of Make Believe & Pirate's Cove.
Open daily from Saturday, June 18 through Labor Day, plus the weekend of September 10-11
Note: Only cash and Discover cards are accepted.
A true family amusement park with rustic, old-fashioned charm, the Land of Make Believe mixes a traditional country-fair experience with thrilling rides. Pirate's Cove is where you'll find the water attractions, including America's Largest Wading Pool, pirate-themed water slides, rides, and a water playground. For nostalgia buffs, there's a Civil War locomotive ride, a World War II cockpit, a hayride, and a talking scarecrow. Families can go back and forth between the two distinct sections, and if you need to get out of the sun, you can hit the indoor arcade and impress the kids with your skeeball skills. Food is available for purchase, but you can also bring your own and eat in the spacious picnic area. Bonus: You pay just one ticket price for both the amusement and the water parks.
Open daily from Friday, June 17 through Labor Day
A water park and a state park, Tomahawk Lake is set on 200 acres of parkland and has various water slides and a water play area. There's a beach on a 20-acre lake, boat rentals for an added fee (pedal boats, swan boats, bumper boats, and kiddie canoes), a picnic area, sports fields, and miniature golf—it kind of feels like summer camp. In addition, there's an outdoor beer garden and old-fashioned country food concessions that sell homemade doughnuts, fresh popcorn, char-broiled hot dogs and hamburgers, and cotton candy. However, let's be clear: There's nothing flashy here, except for maybe the Apache Plunge raft slide that runs 610 feet in length. If you come expecting state-of-the-art facilities, you'll be disappointed. The mini-golf course doesn't have windmills, the kiddie area is a roped-off part of the lake with some plaster animals to climb, and there's a horseshoe pit. Need we say more? But if you're looking for simple country fun in a place where you don't have to deal with insane water park prices and crowds, this spot is for you.
RELATED: Swimming Lakes Near NYC For a Family Dip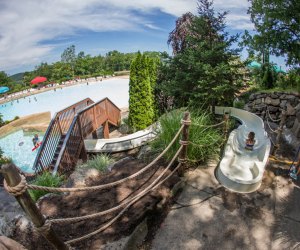 Enjoy slides, pools, and an interactive play area at Mountain Creek Waterpark.
First day of the season is Saturday, June 25; open daily through Labor Day. Reservations required.
A winter ski resort turned into one of the best summer water parks near NYC, Mountain Creek has about two-dozen wet attractions, including Fishing Village, a multilevel, interactive play fort with water slides and spray cannons. There are family-friendly slides, plenty of high-thrill slides, and even cliffs to dive off for older kids and adults.
RELATED: Ride a Thrilling Mountain Coaster Near NYC This Summer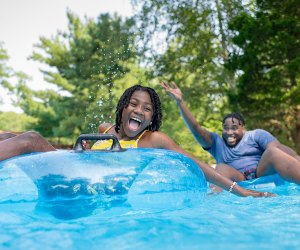 Hit the lazy river and more at Splish Splash Water Park.
Open daily from Saturday, June 18 through Labor day; reservations are encouraged
Often cited by families as one of the best water parks for kids in the country, Long Island's Splish Splash has 96 acres of rides, slides, and pools. Preschoolers can play in the kiddie pools, slip down the elephant slide, take a soak surrounded by bubbles and geysers, and romp in a shipwreck-themed water playground. There are even toddler swings that dip tiny toes in the water. Although many rides have height restrictions (like the Cliff Diver, which drops you eight stories in three seconds), little kids can ride several clad in a life jacket and accompanied by a parent. Cabana rentals are also available so you can relax in the shade when you need a break from all the sun and fun. Another unique Splish Splash attribute: When the park was built, the developers didn't cut down the trees; they just worked around them. So it's very pretty and comparatively eco-friendly.
RELATED: Long Island Water Slides and Theme Parks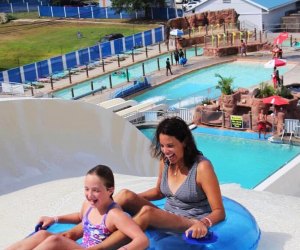 Runaway Rapids offers plenty of family-friendly thrills with a cool boardwalk location.
Open daily Saturday, June 11 through Labor Day
Run by the folks behind the adjacent Keansburg Amusement Park, this water park for kids near NYC is a summer family favorite, featuring more than 18 slides, plus splash zones, a kiddie lagoon, a toddler play area, and a crazy lazy river. Lockers and dressing rooms are available, along with lounge chairs and umbrellas. There is also a full-service snack bar. If you want to enjoy the attractions in both parks, you can opt to buy a combo ticket.
RELATED: Indoor Water Parks for Kids Near NYC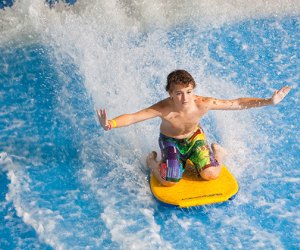 Catch some waves at Big Kahuna's FlowRider surf simulator.
Open daily from Thursday, June 16 through Labor Day; advance tickets required
We've loved the massive indoor water park at this NJ mainstay—formerly called Sahara Sam's—for years, and we feel the same way about its two-acre Beach Club outdoor water park for kids, which features the 25-meter Mystic Shores leisure pool, a children's splash zone, and Tidal Waves, a 12,000-square-foot wave pool.
Open daily from Saturday, June 18 through Labor Day; tickets must be purchased online in advance
Located in Ocean County, the gateway to our favorite Jersey Shore beaches, this Six Flags water park offers 12 attractions, from splashy play areas for tots to thrilling slides. The toddler-friendly Caribbean Cove offers tons of water fun with a pool, slides, water guns, and a giant dumping bucket. Other kid-friendly attractions include the 696,000-gallon Blue Lagoon wave pool, the Discovery Bay water playground, and a float down the Taak It Eez Ee Creek: a 2,150-foot lazy river featuring mild waterfalls and rapids. The park also offers some nice amenities like cabanas and a nursing station. Of course, if you hit Hurricane Harbor, you may also want to visit the nearby Six Flags Great Adventure & Safari, including the chance to take your own car through its drive-thru safari.
RELATED: How to Get to NYC Beaches by Ferry or Train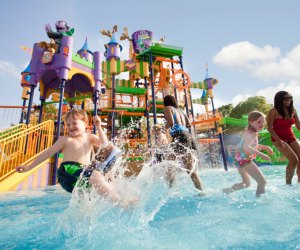 Cool down at the Count's Splash Castle at Sesame Place.
12. Sesame Place – Langhorne, Pennsylvania
The water park is open daily through Labor Day, plus the weekend of September 10-11; reservations are required
The world's only theme park based on the award-winning TV series Sesame Street, Sesame Place isn't exclusively a water park. However, it offers lots of water attractions, and fans of the show are sure to have fun, both wet and dry. There's the interactive Count's Splash Castle, with more than 90 play elements, including a 1,000-gallon tipping bucket. Big Bird's Rambling River offers a leisurely float along a 1,000-foot waterway of bubbling, swirling waters with surprises like water-filled tipping coconuts, waterfalls, and spraying geysers. Got older kids? Don't worry; there are things for them to do, too, like Sky Splash, an exhilarating ride that takes passengers from gentle ponds with whirlpool-like jet streams to slides with speeds of up to 20 feet per second, culminating with a final plunge into a pool of water. Amenities include cabanas, strollers, and lockers for rent. Everyone can appreciate its standing as the world's first Certified Autism Center theme park.
RELATED: 7 Play Fountains in NYC Where Kids Can Get Totally Soaked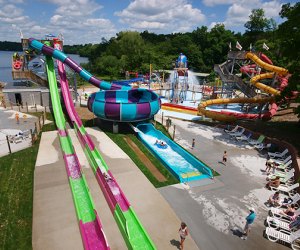 Quassy has something for everyone, complete with a gorgeous lake view.
Open through Labor Day plus the weekend of September 10-11
The Splash Away Bay water park at Quassy includes seven attractions catering to all ages including Slide City, a five-slide complex for the under-48-inches set. Admission prices include access to all the rides at the attached amusement park, too. The beautiful lakeside location and view make you leave all your city worries behind for the day.
RELATED: Great Theme Parks and Amusement Parks Near New Jersey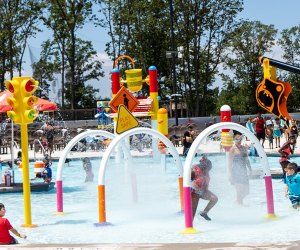 Diggerland's Water Main is now open for splashing.
Open daily through Wednesday, September 7, plus September 10-11; reservations are recommended
This construction-themed South Jersey amusement park is home to The Water Main, which includes a tot splash area, main pool, slide tower, and several pool activities, including a challenge course and basketball. There are cabana rentals, too. Admission to the water park is included in the ticket price for the theme park, so visitors can enjoy both options on one trip. The park's newest expansion features a wave pool that generates waves nearly four feet high. The entrance is zero-depth allowing little ones to walk in and relax with the gentle waves while bigger kids can continue forward to face the larger waves at this water park for kids near NYC.
A previous version of this post was first published in June 2009, but it has since been updated and revised.
Photos courtesy of the parks