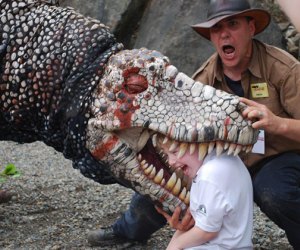 12 New Theme and Water Park Rides and Thrills Near New York
If summertime means theme and water park fun and roller coaster thrills for your family, then you'll want to check out what's new for the 2016 season at some of our favorite amusement parks in the Northeast and mid-Atlantic regions.
While the recent cool spring temps along the East Coast have put a hold on opening day for some amusement parks, others are already open for junk food eating, coaster screams and arcade fun. We found two brand-new roller coasters and more little kid friendly fare like a five-slide complex and new home for Jersey dinosaurs in our search across parks in the greater New York City area, including Coney Island's Luna Park, and a bit beyond, like Six Flags in New Jersey and Edaville's Thomas Land in Massachusetts to round up more than a dozen new rides, features and thrills for summer 2016.
Read on for all the details, including height requirements and expected opening dates.
Caribbean Cove – Six Flags Hurricane Harbor, New Jersey
Opening late June 2016
All ages
Six Flags' 45-acre water park adds a new toddler and little kid friendly section this summer with Caribbean Cove where tots will find 55 interactive features, a 2-foot, gradual entry pool and plenty of spray nozzles and splashing fun. Older kids will enjoy the slide, water guns and a giant bucket that douses those who get too close. Bonus: There are 300 lounge chairs and a shade canopy should you need a break.
More summer splashing and water slides can be found at these five other New Jersey water parks.
Endeavor – Luna Park, Coney Island, Brooklyn
Opening spring 2016
Height requirement: 48 inches
Luna Park's latest addition to the iconic Coney Island boardwalk will be the Endeavor, a high-flying spin 60-feet above the Brooklyn beachside park. A reimagining of an old Coney Island favorite, the 1970's Enterprise, 24 riders sit suspended in individual seats as the whole thing spins 25 mph in a circle, turns on its side and returns to the ground. Earning a "high thrill" rating, the ride, which is expected to open this spring, possibly as early as late April, according to a park representative, is probably best for pre-teens and up.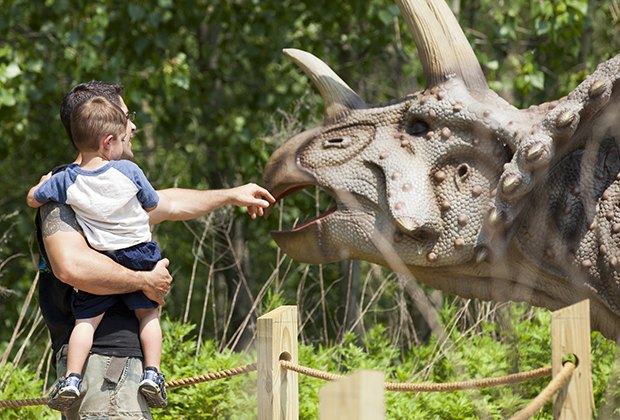 Meet a Triceratops at Field Station: Dinosaurs in its new Bergen County home.
Field Station: New Location for Dino Park – New Jersey
Opening Memorial Weekend
All ages
We've raved about this outdoor dinosaur theme park in the past and mourned its demise when its lease ran out on its Secaucus location, so we welcomed the news that it had found a new—permanent—location just over the George Washington Bridge from New York City in Overpeck County Park, making it convenient for Westchester, New Jersey and car-able NYC families. Check out the 32 life-size animatronic dinosaur models that make noises and even move their hands and make other motions as the kids follow the trail, discovering a new beast around every corner. While the dinos will rule over a grassy 6.5-acre bit of the Lenoia, New Jersey, section of the park, it actually plans to move the whole operation to a larger tract (30-plus acres!) of the parkland in Teaneck, New Jersey (yes, the park is big enough to span several towns!) in another year or two.
New pool, tour and gardens – Hershey, Pennsylvania
Summer 2016
All ages
Possibly America's sweetest town is revamping a number of its Hershey Chocolate theme spots for the 2016 season, including Hershey Chocolate World's iconic Chocolate Making Tour with upgrades to its vehicles, more high-tech demos and even a cow-naming competition. Look for a new 16,000-square-foot conservatory, an atrium filled with hundreds of butterflies and educational wing at the Hershey Gardens this July, and a brand-new 30,000-square-foot splash zone at the Hersheypark-affiliated Hershey Lodge, including two indoor pools, twister slides, a water play structure and outdoor splash pad. Opening Memorial Day, the $13-million hotel water feature overhaul also includes a fitness center, game room, whirlpool and full bar. Find more fun near Philadelphia with our regional list of great theme parks.
RELATED: Best Water Parks Near NYC for Toddlers and Preschoolers
GaleForce Roller Coaster – Playland Castaway Cove, New Jersey
Opening June 2016
Height requirements: 48 inches
For those who don't mind stomach-flipping twists and turns, the 125-foot GaleForce roller coaster headed to Ocean City's Playland hurls its riders across the track at 64 mph with multiple launch points and dives, including a 90-degree drop. A representative told us they hope to open it by mid- to late June, though the rest of the Jersey shore amusement park is already open for weekends, weather dependent.
RELATED: Best Jersey Shore Beaches for Families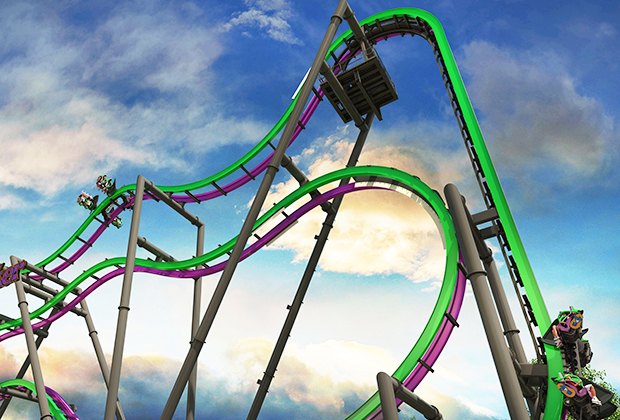 Got a little daredevil at home? Six Flags will reveal The Joker with two 90-degree drops this summer. Image is an artist's rendering.
The Joker – Six Flags Great Adventure, New Jersey
Opening Memorial Weekend 2016
Height requirements: 48 inches
New Jersey's Six Flags already has several roller coasters and 13 rides it deems "scream machines," but its latest addition, The Joker, promises to be full of scary twists and turns, including a 120-foot-tall, 90-degree hill and two 90-degree drops that make the brave inhabitants of its 4D free-fly coaster. Warning: Riders flip head over heels at least six times on this ride. Grab a "face-off" seat to face each other during that tumble.
Shake N' Roll – Diggerland, New Jersey
Opened March 2016
Height requirements: 48 inches but a child 36-48 inches can ride on your lap
Jump aboard a steam roller at the 14-acre Camden County, New Jersey, construction vehicle theme park, Diggerland. The 1-ton double-drum mini vibrating asphalt rollers steamed right in to the park for opening day. Kids operate the Shake N' Roll on a closed course, steering it over dirt and stone at a speed that tops out at 5 mph for safety's sake. Bonus: Diggerland just opened an adults-only construction zone with full-size vehicles right next to the kiddie park, so if you've harbored fantasies of operating an excavator, strap on your radio headset and check out Diggerland XL. We foresee some very fun but strange corporate retreats in the future.
Slide City and Reverse Time – Quassy Amusement and Water Park, Connecticut
Open dates vary
Height requirements vary
Slide City, a new five-slide complex for children at the Connecticut lakeside Quassy water park, Splash Away Bay, is designed for kids under 48 inches tall, making it great for the younger daredevil set. A two-person racer slide, mini river slide, two serpentine twisty slides and one bowl-style water slide make up the brand-new kiddie splash zone. Parents can ride alongside a youngster in the one open-air slide, but otherwise this a kids-only section. Opens Memorial Day Weekend. Or take to the air with the Quassy's new Reverse Time "family thrill ride" that lets 24 riders dip, dive and spin in a circular motion. (Must be 52 inches tall to ride alone; 48 inches with an adult; opened in April 2016.) Bonus: Free kayak rentals and new four-seater paddle boats are now available as is an expanded Spaceport Quassy outdoor play area.
Find more Connecticut amusement parks with great kiddie rides in our statewide roundup.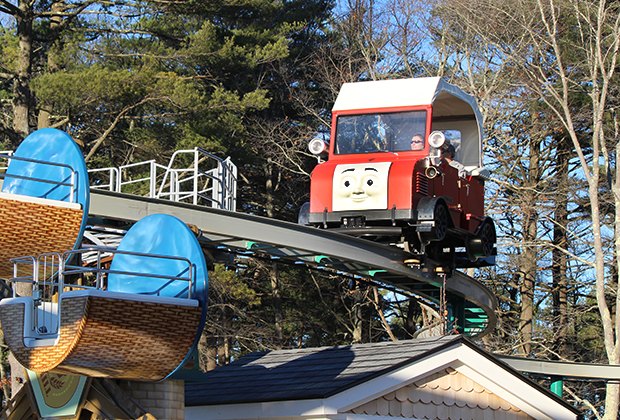 Preschoolers can hop aboard Winston with mom or dad for a tour around Thomas Land.
Winston – Thomas Land at Edaville, Massachusetts
Opening Memorial Day Weekend
Height requirement: Those under 42 inches must ride with an adult
Sir Topham Hatt's personal track inspector joins the fun at the year-old Thomas Land kiddie park in Carver, Massachusetts, with a new monorail-inspired ride. Our reviewer and her boys had a great time at the opening of this Thomas the Tank Engine-themed park last year, so we were happy to learn more. The sweet ride takes kids on a tour above the park, offering up enchanting views of Sodor. Edaville tells us it also plans to open up a new pirate ride by fall and a soft play area this summer.
Check out these Boston-area theme parks if you're in the New England area this summer.
Honorable Mentions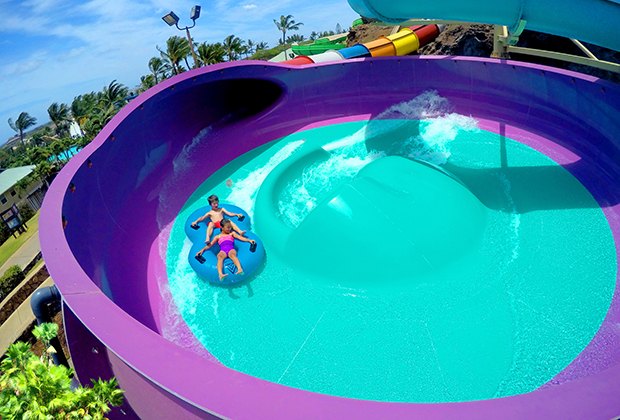 Zoom Flume Water Park in the Hudson Valley expects to open a two-seater, 300-foot water slide dubbed the Typhoon Twister in June.
Preschooler favorite hangout Sesame Place gets a new show starring Abby Cadabby in 2016, its 36th season, and Morey's Piers will open a 27-hole, multilevel mini golf spot May 1 to add to the Wildwoods Jersey Shore fun, as well as expand the go-kart track at the Adventure Pier. Long Island's Splish Splash water park reveals the Picnic Grove with shaded pavilions and reserved picnicking areas; Dorney Park refurbishes its ThunderHawk 1920s coaster with all-new trains and paint; and the Hudson Valley's Zoom Flume Water Park will add a new 300-foot, two-seater water slide, the Typhoon Twister in late June (likely ages 5 and up). Teens can check out the new virtual reality coaster at Six Flags New England, too.
Tip: Theme parks can be expensive, so adding a car rental to the mix can be a drag for car-challenged urbanites. Consider the Coaster Bus, which will bring you, the kids and your pounds of gear, directly from NYC, and other spots, to about a dozen area theme and water parks, including Six Flags and Hersheypark.
Top image: Older kids will love getting devoured by a T-Rex. All photos courtesy of the parks.