Best Water Parks for Toddlers Near NYC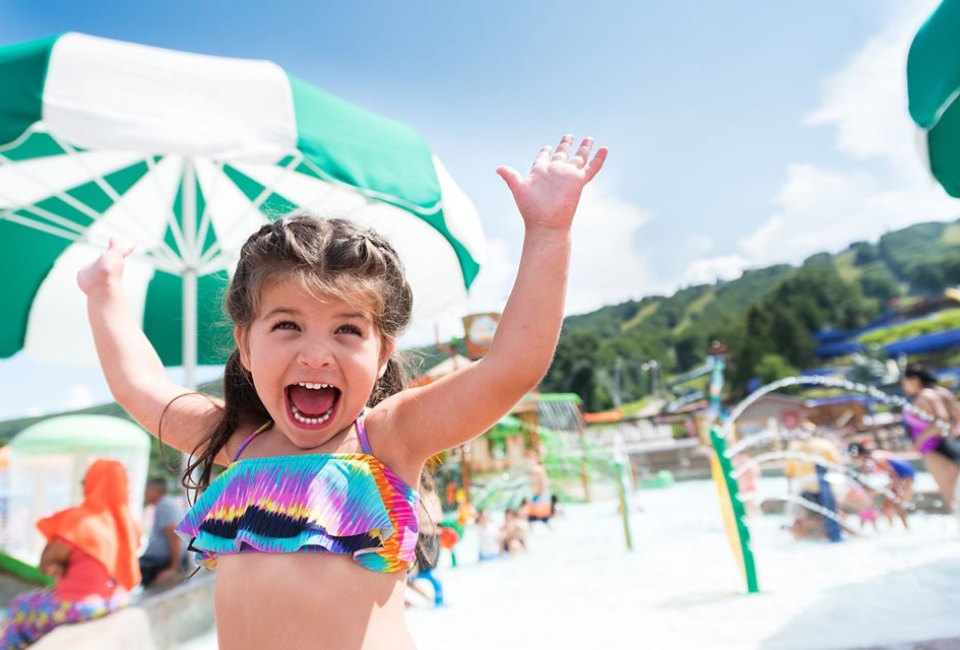 7/11/21
- By
Jody Mercier
When temperatures soar, there are always New York's FREE neighborhood pools or sprinklers for a quick cool down with the kids, but on sweltering summer days, nothing beats the heat like a trip to a water park near NYC.
Families with toddlers in tow aren't looking for big slides or big waves, though, so we've rounded up our top water parks for the preschool set. Prepare to find toddler-sized attractions, along with perks such as nursing stations and FREE mini life jackets—and don't worry, there's plenty of big-kid fun to go around, too. So read on for details on 14 parks within two hours of New York City catering to the littlest water explorers.
Check out our NYC Beaches, Pools, and Water Fun Guide for more family-friendly ideas on how to cool down in the city and beyond.
Sign up for our FREE newsletters to get posts like this delivered to your inbox.
309 Resort Drive
Open daily through Labor Day
About 1 hour, 45 minutes from Midtown

While this Poconos water park is farther flung than other picks on this list, it debuted an entire section devoted to little squirts in 2016, making it worth the trip for parents of preschoolers and toddlers. Mummy's Oasis provides three levels of fun for the park's smallest visitors with pint-sized versions of popular attractions such as slides, tipping buckets, sprinklers, and geysers to splash in. A shallow-entry pool with plenty of adjacent seating for mom and dad means you can lounge while your little one plays.
Good to know: Children ages 2 and younger enter for free. Guests are allowed to bring one non-glass water bottle, and fountains are available for refills. Toddler-friendly snacks such as Goldfish, graham crackers, and cereal are available at many concession stands. Looking for more than a day trip? Investigate the stay-and-play options that give you access to Aquatopia, the resort's indoor water park.
RELATED: Best Theme Parks for Preschoolers Near NYC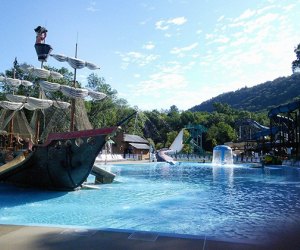 Kids are sure to have a blast on the Buccaneer ship in Pirate's Cove at the Land of Make Believe.
354 Great Meadows Road, Route 611
Open daily through Labor Day
About 90 minutes by car from Midtown

The Land of Make Believe has been around for more than 60 years, providing family-friendly entertainment that's more affordable than big-time amusement parks. One ticket grants access to both the dry and wet attractions, and there is plenty of little kid-friendly fun to be had within Pirate's Cove. Children will have a blast climbing on the half-submerged Blackbeard's Pirate Ship or hitching a ride on mom or dad's inner tube for a dash down Blackbeard's River Ride. Splashing in the tamer Pirate's Cove Wading Pool and Slide is sure to be a hit with preschoolers. There are plenty of toddler-friendly attractions on land, including a carousel, a Jump Around Frog ride, and even a barnyard full of live animals.

Good to know: Parking is free, and food is available for purchase on-site at nine locations. You can pack a picnic to enjoy in the designated picnic area next to the castle, and all coolers must be left in that area. No strollers are allowed in the water park. Be sure to pack a waterproof diaper cover or swim diaper for all diaper-wearing children. Payment is by cash or Discover Card only.
RELATED: Sea Life Aquarium, Legoland Discovery Center Open at American Dream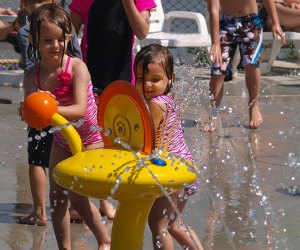 Quassy has the perfect splash pad for toddlers.
2132 Middlebury Road
Open Memorial Day through Labor Day
About 1 hour, 45 minutes from Midtown

This small, family-friendly spot in Connecticut is one of the most budget-friendly picks on our list. An all-day weekend pass runs just $29.99 for kids under 45 inches and $33.99 for taller tykes and adults; prices are even cheaper on weekdays. Youngsters love the Fish Pond, a splash pad for the under-4-foot set. There's also a Slide City full of pint-sized slides for the not-so-daring crowd and a Saturation Station, a giant water play area with tipping buckets, a water slide, plenty of water cannons to fire, and more wet-n-wild fun. Chill out or dry off with a visit to the nearby Quassy Beach for some fun in the sun and sand.

Good to know: Quassy's water park attractions are just a slice of the fun to be had here. There are plenty of kiddie rides in the adjoining amusement park, and admission covers both sides, so pack a change of clothes!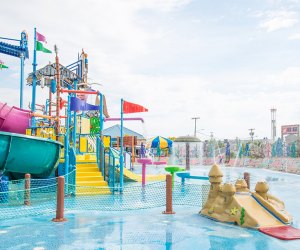 The open water play area makes Runaway Rapids a great place for your little one to splash and stomp around.
275 Beachway Avenue
Open daily through Labor Day
Just over an hour from Midtown

If you have a typical toddler, they hate car rides, and that car seat—Runaway Rapids earns its spot on our list because it's so close to the city. Our New Jersey Mommy Poppins team also loves it for its modest size, making it easier to keep an eye on kids. Located right along the Jersey Shore and operated by the adjacent Keansburg Amusement Park, you'll find a kiddie lagoon and toddler reef that includes mini slides that even the smallest tots can enjoy. These interactive splash zones operate in less than a foot of water, perfect for little ones. If you want to enjoy the attractions in both parks—and there are plenty of toddler rides at this throwback park—you can opt to buy a combo ticket. Plus, there's a deeply discounted price for those under 42 inches ($18!) and free life jackets. Tickets run 3 hours, which keeps crowds and lines down, so cool down and head back to the city for a well-earned car nap (for the kid, not you), or head to the FREE beach nearby (a rarity in New Jersey) to round out the day.

Good to know: Pregnant women are not allowed on the water slides.
RELATED: Amusement and Water Park Discounts: How to Score Ticket Deals at Theme Parks Near NYC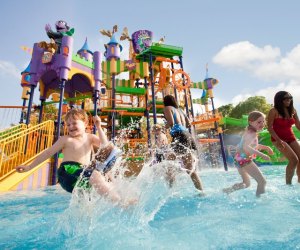 Toddlers can splash around at the Castle at Sesame Place.
Sesame Place – Langhorne, Pennsylvania
100 Sesame Road
Open daily through Labor Day and weekends thereafter, though water attractions open close in early fall.
About 90 minutes by car from Midtown

What toddler can resist Elmo? While Elmo and his many landlocked rides and Sesame Place attractions (including the neighborhood your tot will recognize from the iconic show) draw you into this popular destination, there are plenty of water options to keep cool. The Count's Splash Castle is a not-to-be-missed water playground, as is the Big Bird-themed lazy river. A water slide named for Oscar's bestie, Slimey the Worm, a 75-foot-long slip-n-slide, and a 10,000-square-foot Teeny Tiny Tidal Wave Pool are all great features. Get there early (we know you're already up!) to eat breakfast with some of Sesame Street's beloved characters. Check Sesame Place's site for the latest promotions, and purchase discounted tickets and meal deals before you go. The park also has a nursing room, changing stations in every restroom, and a pair of bottle-warming stations. It's the world's first theme park to be named a Certified Autism Center. Check out our review for more insider tips. Take note: Reservations are required in 2021, so be sure to book your tickets in advance and nab a morning or afternoon water park session, too.

Good to know: Food is available for purchase throughout the park. In general, you cannot bring food into the park, though exceptions can be made for baby food, formula, and special dietary needs; accommodation should be made in advance. Exit and re-entry is permitted, but be sure to have your ticket validated by staff if you plan on returning. Double-stroller rentals are available.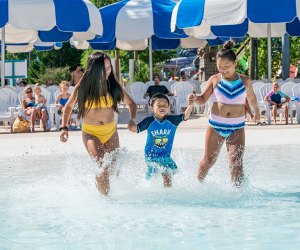 Frolic in the pool at Six Flags Hurricane Harbor.
1 Six Flags Boulevard
Open daily through Labor Day
About 90 minutes from Midtown

While the amusement park at this spot is undoubtedly better known, the freestanding water park offers good options for the youngest in your crew: Caribbean Cove, opened in 2016 and a zero-entry pool debuted in 2019 with the addition of Calypso Cove, a 100,000-gallon pool with an obelisk-style fountain and geysers. Mom and dad can drip-dry on the nearby lounge chairs while they supervise. In addition to Caribbean Cove, youngsters enjoy the park's take on a lazy river, the Taak It Eez Ee Creek, and the Blue Lagoon wave pool.

Good to know: Cabanas and strollers are available to rent. Outside food isn't allowed in the park, but you can use the park's "Dining Pass," a reloadable, waterproof, scannable wristband, to purchase food and drinks throughout the park. Unused balances will be refunded at the day's end.
RELATED: New Construction-Themed Water Park, The Water Main, Now Open at Diggerland USA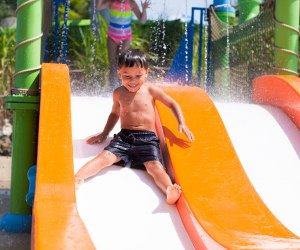 The Splash Works section at SplashDown Beach is designed for kids 42 inches and under.
16 Old Route 9 West
Open weekends beginning Memorial Day weekend and daily from Thursday, June 24 through Labor Day
About 1 hour, 40 minutes by car from Midtown

This water park, which bills itself as "America's Biggest Little Water Park," keeps little customers safe and happy at its Splash Works section, which is limited to tots under 42 inches. This allows preschoolers to safely test out mini water slides, geysers, and dumping buckets without fear of being splashed by overzealous big kids. Check out the Shipwreck Lagoon if you have school-aged kids and toddlers to entertain, or the whole family can enjoy old-fashioned pool-time fun at the Coconut Pool or Monster Wave Pool.

Good to know: Kids 2 and younger must wear the park's $9 swim diaper, but the purchase grants the tot FREE admission, including future visits. Outside food and beverages are not allowed, though there is food available for purchase throughout the park, and private cabana rentals come with waiter service. An adjacent picnic area is a perfect spot for a midday nosh. Read our full review for more tips and info on visiting SplashDown.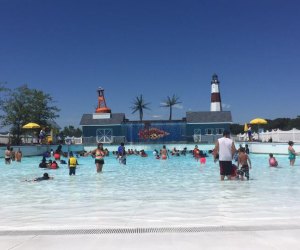 The zero-entry pool makes wading for parents with toddlers a breeze.
2549 Splish Splash Drive
Open daily through Labor Day
About 90 minutes by car from Midtown

Options for the preschool set might be more limited at this Mommy Poppins favorite, but there are enough attractions to keep them entertained. Head to the Octopus Pool, where kids can climb on the namesake creature or experience the tipping buckets and mild water slide at Monsoon Lagoon. Kids can enjoy some of the larger attractions, including a pair of wave pools, but those under 48 inches are required to have a life jacket, which can be borrowed for FREE throughout the park.

Good to know: Cabana rentals, though pricey, are available. Outside food or drink is not permitted, except for unopened water bottles. Food is available for purchase throughout the park. Picnic areas are located outside the main entrance and in designated spots between the parking lots. Parking is $15 per car.
RELATED: Family-Friendly Guide to the Hamptons and North Fork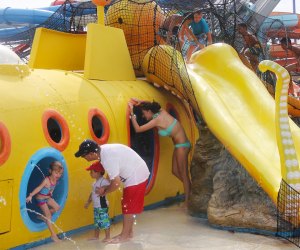 Kid's Cove at Wildwater Kingdom offers plenty of room for toddler romping.
3830 Dorney Park Road
Open Wednesdays through Sundays through Labor Day
About 2 hours by car from Midtown

Wildwater Kingdom, the water park portion of Dorney Park, abounds with fun for the pint-sized set. The Lollipop Lagoon has playful animal fountains, squirt guns, and an abundance of mini water slides. In Kid's Cove, there is more room to romp, splash, and climb. Splash Landing houses a zero-entry pool perfect for toddling legs. Parents are encouraged to frolic with their kids on these small attractions or escort them on one of the family-friendly attractions in the main water park, such as Island Water Works, Runaway River, or a wave pool. A brand new Seaside Splashworks water playground debuts this season with a special toddler-sized splash zone and plenty of places for families to play together, plus an ever-popular tipping bucket that douses revelers with 317 gallons of water every 3-4 minutes. Visitors who do not have season passes must make reservations to visit in 2021.

Good to know: The popular Pre-K pass returns this year and lets kids ages 3-5 enter for FREE all season long. You must register online before Sunday, July 4, and visit to activate it any day before Labor Day. No outside food or drink is permitted, except for one sealed water bottle per person. Food is available for purchase throughout the park, and picnic areas are located at designated spots in the parking lot. Re-entry is permitted as long as you have your hand stamped by staff as you exit. Strollers and wagons are allowed, and on-site stroller rentals are available.
100 Pineridge Drive
About 1 hour, 45 minutes from Midtown
Open daily through Wednesday, September 8, plus select dates thereafter

Diggers, backhoes, excavators, and more are the stars at Diggerland, South Jersey's construction-themed wonderland, and this season brings the debut of its brand new water park, The Water Main. Pay one price for admission to both parks, which are a dream come true for construction-obsessed kids (and parents might find driving big rigs thrilling, too). Water-loving families can enjoy construction-themed splash pads, water slides, in-pool basketball, leisure swim areas, and even personal lockers to store all your belongings while you get soaked. Jackhammer Bay is the spot for toddlers, with its shallow pool, mini-slides, spraying jackhammers, water geysers, and more cool (literally!) features.

Good to know: Admission wristbands are good for re-entry all day, and there's a handful of shaded picnic tables outside the gates, so visitors pack a cooler and enjoy a picnic lunch. The only food that can be brought into the park is one clear, unopened bottle of water per guest; certain exceptions apply for baby food and those with allergies. Cabanas are available for rent, and life jackets are available for use at no charge for little ones. Swim diapers are required if your child isn't potty trained; bring your own or purchase one at the park.
RELATED: Best Amusement Parks for Preschoolers in and Near NYC

Kalahari Resorts' indoor park boasts a retractable roof and plenty of lifeguards on hand for safety.
Indoor Water Parks for Preschoolers Near NYC
250 Kalahari Boulevard
Open year-round
About 2 hours by car from Midtown

Kalahari Resorts offers more than 220,000 square feet of wet-n-wild fun. Day passes are available—though you must book them online in advance—and include admission to the kid-friendly Tiko's Watering Hole and Coral Cove Play Areas, both designed for the youngest water-park goers. There are some outdoor water features and a pool for the summer season, too. Tots feel comfortable playing at the water tables (complete with baby seats), zipping down mild slides, and floating in a mini lazy river. Parents can take comfort in the fact lifeguards and life jackets abound.

Good to know: At this hotel-operated facility, towels are provided, giving you one less thing to schlep from home. Outside food is not permitted, although you will find plenty of food available for purchase. There are plenty of non-water attractions here, too, including an arcade.
1 American Dream Way
Open year-round
About 30 minutes from Midtown Manhattan

This long-awaited water park finally opened last year, unseating Kalahari as the largest indoor water park in the nation. What will you find for little kids? Plenty of favorite characters, like the Madagascar crew and Kung Fu Panda, whose namesake Temple of Awesomeness packs a punch for little ones. Explore the multi-level water playground with geysers, dumping buckets, and plenty of kid-sized slides. The Penguins Frozen Fun Zone lets toddlers conquer six kid-friendly slides, and everyone can splash in the heated wave pool or meander down the lazy river. Book your timed-entry tickets in advance to visit.

Good to know: Guests are allowed to bring one unopened bottle of water per person. Children ages 2 and under enter for FREE. Both poolside cabanas and skybox suites are available to rent. When you've had your share of sun and swimming, there's plenty more to explore in the mega-complex, including a multi-story candy store, a giant Nickelodeon Universe theme park (separate tickets required), Angry Birds mini golf, and a Legoland Discovery Center and Sea Life Aquarium.
160 Cooper Road
Open year-round everyday but Wednesday
About 2 hours from Midtown

While Sahara Sam's does have the Outdoor Beach Club, the real attraction for kids is the water park, which has a retractable roof for warmer days. Little explorers will delight in The Lizard Lagoon, an indoor, kids-only section with kiddie slides, swings that dip tiny toes in the water, and more. Outdoors, kids can enjoy the Splish Splash section. Reservations are currently required to visit.

Good to know: Children younger than 2 are FREE, and so is the parking. Bring your own towels or purchase them on-site.
555 Resorts World Drive
Open year-round
About 2 hours by car from Midtown

With 80,000 square feet of splash zone, the newly reopened Kartrite features a Puddle Ducks water playground with gentle bubblers, swings, slides, and sprinklers just for toddlers and preschoolers (although most of the water slides here are for children 48 inches high or taller). The resort offers one-day "splash passes" for access to the water park, although at $59-$99 each, the better deal for families might be to stay overnight at the resort, with access to the water park included, plus other amenities such as arts and crafts, a game room, and more.

Good to know: Children younger than 2 are FREE. One-day passes are sold online only, for 60-day windows, and weekend day passes sell out quickly.
Photos courtesy of the parks
This article, originally published in August 2015, has since been updated.