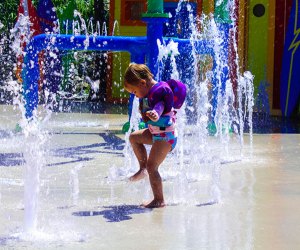 Best Amusement Parks for Preschoolers in and Near NYC
For young children, a ride on a carousel's painted pony, a spin with dad around the bumper car track, and a dripping swirl of frozen custard are the stuff summer memories are made of. No need to seek out the latest scary high-tech roller coasters (which means you can cross Luna Park's most scary rides off your list).
Rides that look mild (or frankly, downright boring) to big people usually provide just the right amount of thrills for toddlers and preschoolers. Happily, there are a number of amusement and water parks in or near the New York City metro area that offer these kinds of tame attractions. Here's our roundup of theme parks perfect for the pint-sized.
Find more seasonal rides in our Theme and Water Parks Guide for families.
New York City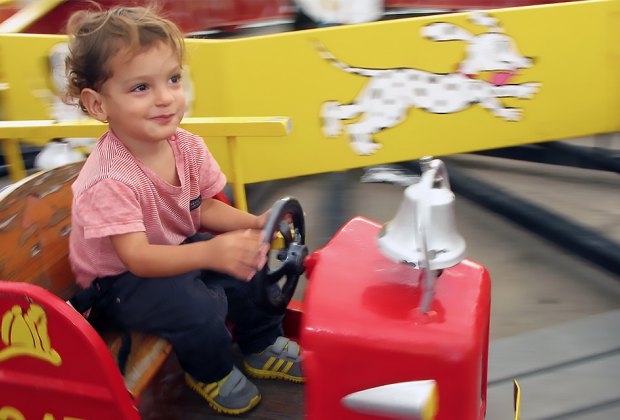 Drive a fire truck at Coney Island's Luna Park! Photo by Matthew Nighswander
1000 Surf Avenue
Open daily Memorial Day to Labor Day; open weekends only in late March, April, September, and October
2021 update: The park has implemented many new policies to help patrons enjoy their time at the park during the pandemic, such as requiring masks, encouraging advance ticket purchases and requiring personal information for contact tracing. See more information here.
Standing on the grounds of the late, great Astroland, Luna Park opened in 2010 and offers plenty of rides for $4-7 a pop. A new ropes course opens for the 2019 season, with both kid- and adult-friendly challenges. The park is reminiscent of its early 20th-century namesake, which closed in 1944 after a series of fires, making it a great multi-generational destination. On the website, you'll see rides organized into mild, moderate, high, and extreme thrills. There are plenty of options for everyone in the family. Located near the New York Aquarium and the beach, you can satiate the kids with a few rides before moving on to other activities.
New York State
Adventureland – Farmingdale (Long Island)
2245 Broad Hollow Road (Route 110)
Open daily June 24 through Labor Day; open weekends only late March through Memorial Day weekend and September through late October
Approximately 1 hour by car from Midtown Manhattan
2021 update: Season passes are sold out. Visit this link for a thorough 11 page PDF guide to the park's current pandemic guidelines.
With 10 kiddie rides, tots won't feel left out at this amusement park. Classics like the carousel, swings, and helicopters all promise fun not fear. There are rides that will provide bigger thrills, too, so everyone can enjoy the day trip. Locals dominate the scene, and there are lots of camp groups during the week. There is an air-conditioned, sit-down restaurant, which is a great place to cool off and take a break. The menu is loaded with kid-pleasing options and even gluten-free pizza.
Find more Long Island amusement parks or water slides and pools on our Long Island site.
Playland – Rye (Westchester)
1 Playland Parkway
1 hour from Midtown Manhattan
2021 update: Playland was closed for the 2020 season, and though their website is not yet updated for the season, they are planning an opening for 2021. Visit their social media for updates.
Open weekends in May; daily (except for Mondays) from June 1 through Labor Day
We love this local theme park right off of I-95. It offers all the classics and a whole section of rides just for toddlers and preschoolers in its Kiddyland area. You'll find an original mini coaster, kiddie train ride, a great slide, mini boats, fire trucks, carousel, and a dozen more rides. Most of the minimum heights start at 36 inches. Costumed characters and a shaded area with entertainment for little ones makes it even more of a win. Preschoolers will likely enjoy the fair-style games, as well a stroll on the boardwalk with an ice cream in hand. The park is also accessible by bus or Metro-North.
16 Old Route 9 West
Approximately 1 hour and 40 minutes by car from Midtown Manhattan
Opens for the season Memorial Day weekend; open daily from June 1 through Labor Day
2021 update: Though SplashDown Beach was closed for 2020, they will reopen for 2021. 2020 passes have automatically been extended to 2021 passes. Further questions can be directed to customerservice@splashdownbeach.com.
Speaking of water parks, we're big fans and SplashDown Beach, which bills itself as "America's Biggest Little Water Park," sure offers big fun for its littlest customers. You'll find the Splash Works kiddie area, plus plenty of places for the family to play together. There are slides big and small, including last year's addition: Megladon, a family-friendly raft slide, plus water park staples like the Croc Creek Wavy Lazy River and the Monster Wave Pool. If you're in the mood for a more relaxing pool experience, frolic in the good, old-fashioned Coconut Pool. Cabana rentals are available, too.
RELATED: Dinosaur Theme Park in NJ Roars Back to Life

Little kids can dig to their heart's content at Diggerland.
New Jersey
100 Pinedge Drive
Approximately 1 hour and 40 minutes by car from Midtown Manhattan
Open weekends from March through early June and September-October; open daily from June 8 through Labor Day
2021 update: Though Diggerland was closed for the 2020 season, they are currently open for weekends and all 2020 season passes that expired December 2020 have been extended through June 2021. Facial coverings are required. More pandemic-related safety notices can be found on their website.
This construction-themed amusement park is a must for Bob the Builder fans. Here, kids can operate diggers, backhoes, skid-steers, dumpe trucks, and tractors, and take a spin on rides like the Dig-A-Round, the park's version of a merry-go-round, and the train-like Excavator Express. Kids must be at least 36 inches to go on most rides, though some require a minimum height of 42-inches. Young visitors will have fun in the Kid Zone, which includes a jungle gym with tube slides, mini diggers, and more; and there's also a rock wall, four-story ropes course, and arcade. A major offseason expansion means the park is opening a whopping five new rides this season.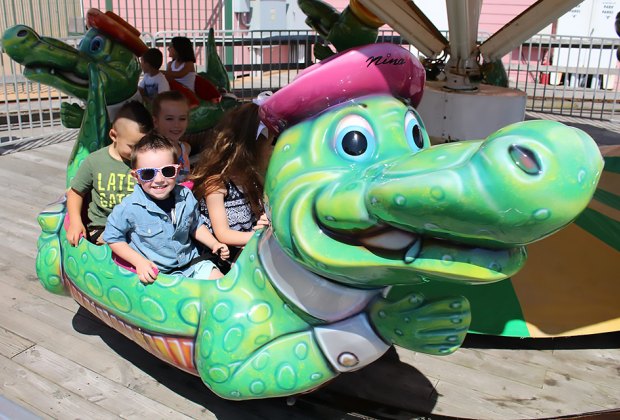 The Alligator and many other rides at Jenkinson's are sized just right for little ones.
300 Ocean Avenue
Approximately 1 hour and 15 minutes by car from Midtown Manhattan
Schedule varies by activity; visit the website for full details.
2021 update: Jenkinson's Boardwalk requires masks in all inside gift shops and attractions. More pandemic-related notices can be found on their website.
This boardwalk has it all: an aquarium, three mini-golf courses, a fun house, an arcade, midway games, and lots of rides geared toward the shorties. Fire trucks, boats, airplanes, helicopters, motorcycles, trucks, trains—kids have their pick of a huge variety of amusements made just for them. When you're done with the flashing lights and carnival music, saunter over to the beach for a relaxing afternoon of fun in the sun.
1 Six Flags Boulevard
Approximately 1 hour and 15 minutes by car from Midtown Manhattan
Open Thursdays-Sundays through Memorial Day weekend, then daily through Labor Day; open weekends and some evenings in September and October
2021 update: Six Flags opened for the 2021 season on March 27. Advance tickets are required for admission. Visit the website for more pandemic-related updates.
This popular park isn't only about death-defying drops and high-intensity thrills; it also has an awesome selection of kiddie rides. Young children will also dig the Six Flags Safari, where they can visit lion cubs, parrots, goats, and a multitude of exotic animals. Kid-friendly entertainment includes dance parties, animal presentations, and meet-and-greets with Bugs Bunny and the Looney Tunes gang. There's also an entire water park on-site with the Caribbean Cove attraction doling out lots of family-friendly fun.

Fly high on the Balloon Ride at the sweet Storybook Land in New Jersey.
6415 Black Horse Pike
Approximately 2 hours by car from Midtown Manhattan
2021 update: Storybook Land is currently open Thursday-Sunday in May, operating at 50% capacity. Face masks are required for children ages 2 and up. Advance reservations are required, unless you are a season pass holder. More pandemic-related notices can be found on their website.
Open weekends in March, April, September, and November; open daily May through August; open Thursday-Sunday in October, plus December evenings
This charming amusement park geared toward the 10-and-under crowd offers a magical experience for young children and parents. You can literally walk through all your favorite stories and nursery rhymes at Storybook Land, including Little Red Riding Hood, the Three Little Pigs, and Alice in Wonderland. The park's 17 sweet rides include Bubbles the Coaster, Beanstalk Bounce, Jumping Jumbos, and Turtle Twirl.
Also consider the Land of Make Believe in New Jersey, or find more preschooler-friendly rides from our New Jersey site.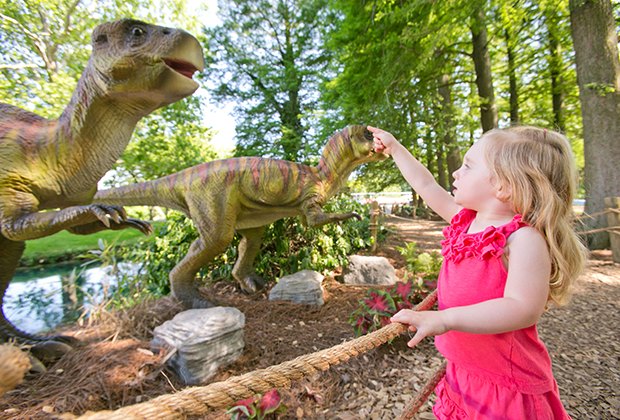 Check out the dinos at Dutch Wonderland's Exploration Island.
Pennsylvania
2249 Lincoln Highway East
Approximately 3 hours by car from Midtown Manhattan
Open daily Memorial Day weekend to Labor Day; open weekends in May, September, and October
2021 update: Dutch Wonderland will be open weekends beginning May 15. Masks are required. For more pandemic-related notices, please visit their website.
Lancaster County is known as a great family vacation destination. I've got so many wonderful memories of going there as a child. But when you inevitably tire of seeing horse-drawn buggies driving down the highway, take the brood to Dutch Wonderland. With a host of rides for kids under 36 inches, it's a preschooler's paradise. The Duke's Lagoon water play area has small slides located under shady palm trees. There are lots of food options, including some healthy choices like salad, yogurt, and fruit. As a bonus: It's also a great place to spot dinosaurs!
Dorney Park – Allentown, Pennsylvania
3830 Dorney Park Road
Approximately 2 hours by car from Midtown Manhattan
Open daily Memorial Day-Labor Day; open weekends in April, May, September, and October
2021 update: Dorney Park will be open for the 2021 season beginning May 22 with a welcome back weekend. A health screening questionnaire will be conducted upon entry for each guest, but temperature checks have been discontinued. Reservations are required for the water park. For more pandemic-related notices, please visit their website.
You are correct in thinking that this park is home to several roller coasters that send chills down the spine of even hard-core thrill seekers. But for the junior set, there's Planet Snoopy, with its 14 mild Peanuts-themed rides. Fly with the Red Baron, swing with Charlie Brown, and blast off on Snoopy's Rocket Express. A theater hosts live performances starring the gang that will entertain tots with singing and dancing. If the kids want more, Dorney has other family rides, including a carousel and a tilt-a-whirl. And remember, there's also the sister water park, Wildwater Kingdom.
RELATED: Best Water Theme Parks for Families Near NYC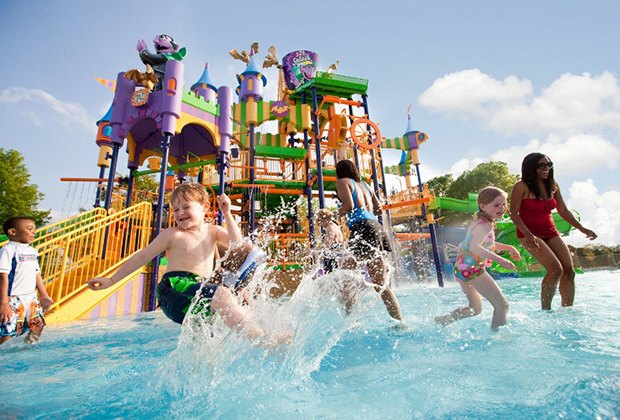 Splash around at Count's Castle at Sesame Place.
Sesame Place – Langhorne, Pennsylvania
100 Sesame Road
Approximately 1 hour and 30 minutes by car from Midtown Manhattan
Open daily Memorial Day through Labor Day; open weekends in April, May, and September through December
2021 update: Sesame Place is open Saturdays and Sundays in May, with the schedule extending beginning in June. Reservations are currently required to visit for the 2021 season. Face coverings are mandatory for all guests over age 2 when not eating or drinking, or in the water. More pandemic protocol information is available on their website.
Fans of the beloved puppet series will go gaga (especially if that's the only word they can say!) for this park. There are a ton of rides aimed at kids ages 2 to 6. Happily, there are dozens of options that will appeal to older siblings, too. The park is big, with wet and dry attractions, so bring a bathing suit. Don't miss the Neighborhood Street Party Parade, in which Big Bird, Elmo, and the gang sing, dance, and prance to the delight of their devoted fans. For a special treat, reserve a meal with your child's favorite Sesame Street character. Oscar's Wacky Taxi, a mild roller coaster, debuts this season and the amusement park has been tabbed as the world's first Certified Autism Center theme park.
Connecticut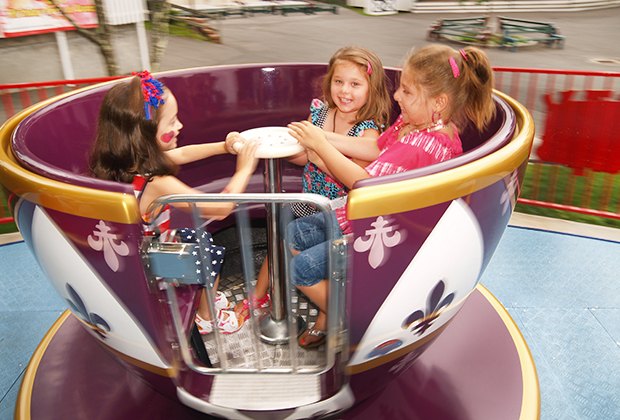 Every age enjoys the teacup ride at Quassy. Ride with mom or without!
2132 Middlebury Road
Approximately 1 hour and 45 minutes from Midtown Manhattan
Open daily Memorial Day through Labor Day; open weekends in April, May, September, and early October
2021 update: Quassy Amusement Park is open Saturdays and Sundays in May. The water park opens on May 29. Connecticut pandemic guidelines can be viewed here.
Quassy's lakefront location has been operating as an amusement park for more than 100 years, so it knows a thing or two about family-friendly fun. You'll find a selection of five kiddie rides in addition to eight other rides sure to thrill the whole family. If the cool lake breeze isn't enough to chill you on a summer day, there's also a water park on site.
Bonus: Though decidedly further flung, if you've got a train fan underfoot, Thomas Land (Edaville Family Theme Park) at Edaville in Massachusetts is worth the trip. It's about four hours away, so consider making this adventure a weekend getaway. The park is open every day in July and August, and stays open through the Fall and Winter, closing January 1.
All photos courtesy the venues except where noted.
This article first published in July 2011 but is updated and revised annually.