Visiting Adventureland on Long Island With Kids: What You Need to Know Before You Go
4/25/22
- By
Kristen Markel
Whether you love to get your adrenaline pumping with high-speed roller coasters or take things slow with train rides and antique cars, Adventureland on Long Island is a fun, family-friendly destination. The amusement park's rides and attractions have created smiles for 60 years, and Adventureland is still a great place to spend a day with the family.
Here are our favorite things to do at Adventureland, plus the six attractions you can't miss at this Long Island amusement park. Read our tips for visiting before putting on your comfortable shoes and heading out the door. You'll find more thrilling amusement parks nearby in our Guide to Amuseument Parks and Water Parks.
Subscribe to our newsletters to get stories like this delivered directly to your inbox.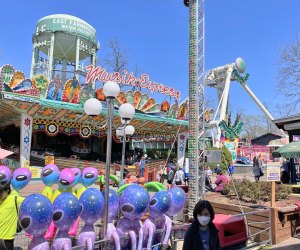 Climb aboard the Musik Express at Adventureland for a tune-filled mild ride.
Must-See Attractions at Adventureland
Turbulence Coaster
If you love to get your heart racing, you cannot miss taking a ride on Turbulence. It's Long Island's largest and only spinning roller coaster. Located in the park's center, kids 48 inches and taller can ride alone, while kids 44-47 inches need a grown-up to accompany them. It's always one of the longer lines at the amusement park, and the wait times are hard to judge, but the thrills are out of this world.
Train Ride
When your legs are tired, hop on the train where riders can catch a glimpse of the entire park. It's a great way to see if there are any attractions you may have missed. Be sure to check out the placards sharing photos and facts about the rich history of this 60-year-old destination scattered along the way.
Merry-Go-Round
This isn't just any merry-go-round; it's a double-decker one! There are plenty of great horses and other animals to ride on either level of this beloved Adventureland ride. The carousel lights up at night, adding even more magic for kids and adults.
RELATED: Awesome Amusement Parks on Long Island for Families

The Wave Swing greets park-goers long before they enter the gates thanks to its ability to send visitors swinging sky-high.
Wave Swings
One of the first rides you see as you drive up to the park, the Wave Swing is an iconic Adventureland attraction. Adults and little ones alike love this ride that gently takes you to new heights. If your little one doesn't want to go too high, not to worry, there's a kiddie version in the front section of the park.
Adventure Falls
Tucked away in the back of Adventureland, this large, log flume is one of three water rides at the park, and it's the perfect way to cool down on a hot summer day. Riders take several drops and end up soaking wet. If you are looking for something a little tamer, there's a smaller log flume, the Little Dipper Water Ride, in the front of the park that also provides a cool respite. Not interested in walking around wet? Visit one of the drying stations around the park. For a fee, the blowers speed the drying process.
FireBall
Be on the lookout for the newest addition to the park's lineup. Adventureland plans to debut the FireBall roller coaster sometime this season. Towering high above Route 110, the red and yellow roller coaster lets riders experience a complete free-fall sensation for 90 seconds. It's the first new roller coaster in the amusement park since 2015, and it's the only ride of its kind in North America.
Where to Eat Near Adventureland
Whether you are looking for lunch, dinner, or a sweet treat, Adventureland offers plenty of on-site dining options. If you want to get out of the sun, there's a large, air-conditioned, family-style restaurant in the front of the park, with pizza, hamburgers, salads, and wraps. Across from the stage, the 3Generations Food Court offers pulled pork sandwiches, mac and cheese, and other kid-friendly fare. Adventureland does not allow picnicking, so if you want to eat, you'll have to purchase park fare. If you've wrapped up your fun for the day, the nearby town of Farmingdale has a cute walkable Main Street teeming with great restaurants.
RELATED: 40 Best Amusement Parks in the US for a Family Vacation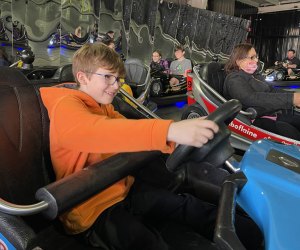 Classic amusement park attractions, like bumper cars, bring a smile to faces at Adventureland.
Know Before You Go to Adventureland on Long Island
Adventureland is a seasonal amusement park that's generally open from April through October. It's open weekends and school breaks in May, April, September, and October, and offers daily hours between Memorial Day and Labor Day.
Operating hours vary; check the park's calendar to confirm before visiting.
Purchase tickets online in advance for a $5 savings per visitor: $41.99 for guests ages 2-24; $31.99 for those ages 25+. Kids under age 1 are FREE. Everyone entering the park must have a ticket.
Unless noted, photos by the author
Places featured in this article: