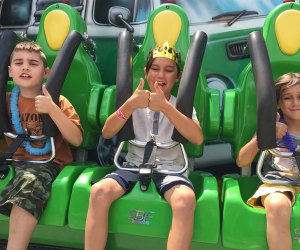 Awesome Amusement Parks on Long Island
Feeling the need for speed and splash? Long Island amusement parks are ready for you and your thrill-seeking family. If your kids are eager to check out the latest rides and attractions, or you can't wait to make new memories with your family at parks you enjoyed as a child, now is the perfect time to explore these local amusement centers.
For more entertainment inspiration, see our guide to Long Island amusement and water parks or our roundup of children's sports centers and fun zones in Nassau and Suffolk. Our guide to family fun on Long Island is loaded with reviews of local and regional destinations sure to delight your child.
Many of these parks are only open on weekends during spring: They open full time once school is out. See the parks' websites for operating hours, coupons, and special offers. Sign up for their newsletters and "like" or follow their social media pages for even more deals. Facebook and Twitter pages also provide up-to-the-minute information on weather-related park closures, so check them out before embarking on your next outdoor adventure.
Nassau County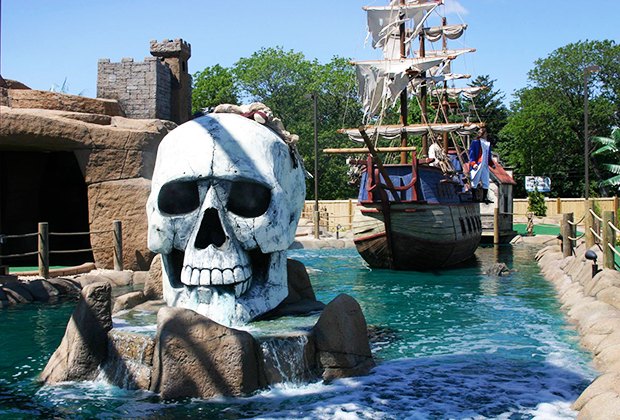 Pirate-themed mini-golf and more are sure to delight at Bayville Adventure Park.
Bayville Adventure Park — Bayville
Open spring through August; open for special events in the fall ​
A true, not-so-buried treasure, this pirate-themed amusement park is located across from Bayville Beach. In addition to its exciting rides and attractions such as Lost Treasure of Captain Blackheart Bay, Adventure Mini Golf, Bumper Boat Safari, and Tomb Stone Creek Treasure Hunt, it also offers a Jungle Tree Top Adventure ropes course and Bradley Bay's Rock Climbing Challenge. Three on-site restaurants should satisfy the cravings of pirates big and small. Open through August, the park transforms into Bayville Scream Park in September and Bayville Winter Wonderland in November. Birthday party packages are available.
Suffolk County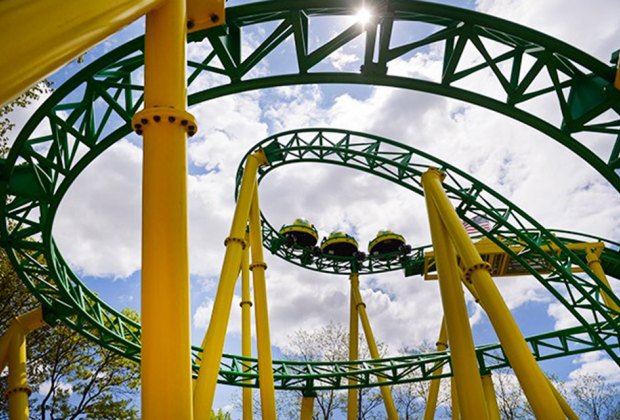 Thrill to the twisty coaster at Adventureland in Farmingdale.
Adventureland — Farmingdale
Open April-October
Families have been enjoying the rides, attractions, and games at this Long Island amusement park since 1962, Chances are, you may have visited Adventureland back in the day. From big-kid rides that thrill, such as the Turbulence and Rattlesnake Coasters and the Frisbee and Mystery Mansion, to kiddie rides, including the improved helicopter ride and everything in between, Adventureland is fun for the entire family. There are three water rides; a token-less indoor arcade that includes new games such as the Walking Dead and Quick Drop; two Midway Games—Bottle Flip and Top Spin; a gift shop; a sit-down, family-style restaurant; and plenty of snack stands. Food options include the 3Generations Food Court and 3Generations Sweet Shop. Guests can visit City Hall for general info, special-needs accommodations, first aid and more. Birthday party packages are available.
Boomers! Long Island — Medford
Open year round; some rides close for winter beginning in November.
Boomers! Long Island has something for everyone, including outdoor rides and attractions such as a roller coaster, spinning tea cups, mini jets, convoy trucks, and a kiddie swing. Kids also enjoy a train, two carousels, miniature golf, an indoor rock wall, and an indoor arcade with state-of-the-art games for kids of all ages. After a day of rides and games, stop by the on-site Nathan's Famous restaurant. Birthday packages are available.
RELATED: The Best Sprinkler Parks on LI for Kids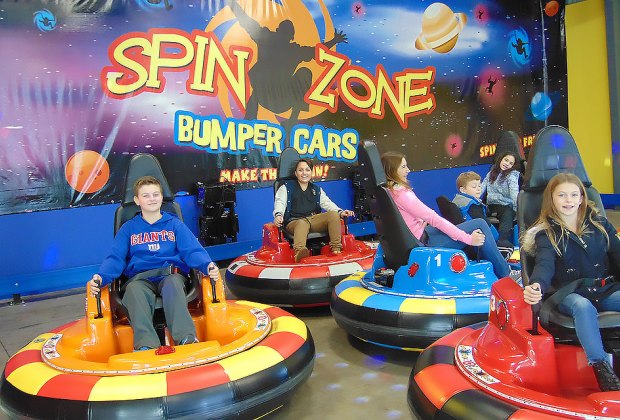 Dare to enter the Spin Zone at Country Fair Entertainment Park in Medford.
Country Fair Entertainment Park — Medford
Open March-November
There is so much to do at this park your family won't know where to start. There is a figure-8 go-kart track, two mini-golf courses, a 30-bay driving range, batting cages, an outdoor laser tag field (open in June) and an arcade. The Spin Zone bumper cars will have the whole family spinning in circles. There is an on-site restaurant that serves brick-oven pizza, burgers, and ice cream, and a bar that serves craft beer, wine and cocktails. In addition to birthday party packages, the park also offers year-round catering for large affairs, from weddings to company events and Sweet 16 parties.
RELATED: Super-Fun Water Parks, Slides, and Pools on Long Island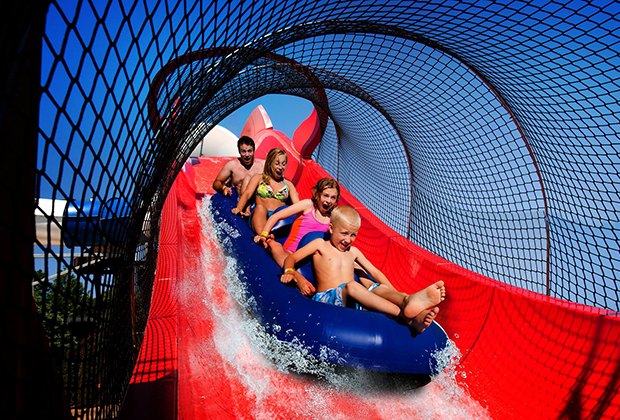 Delight in the four-person water slide at Splish Splash in Calverton.
Splish Splash — Calverton​
Open May-September
Take the Long Island Expressway to Exit 72 and head straight to Splish Splash, Long Island's favorite family water park. Its 95-plus acres include water slides, and other rides and attractions. For those daring (and tall) enough, there's Cliff Diver, Abyss and a unique water coaster, Bootleggers Run. Two high thrill rides will make a splash. On Riptide Racer, four guests line up on mats and race to the finish line—head first. Bombs Away features dueling 300-foot slides perched on a tower. Or head to the Lazy River or Soak City for a more relaxing experience. A large kiddie area offers plenty to keep little ones cool and happy, including the Octopus Pool and Pirates Cove. There are a number of restaurants, snack bars and gift shops. Cabanas and lockers are available for rent. Birthday party packages are also available.
RELATED: Pools on Long Island Open to the Public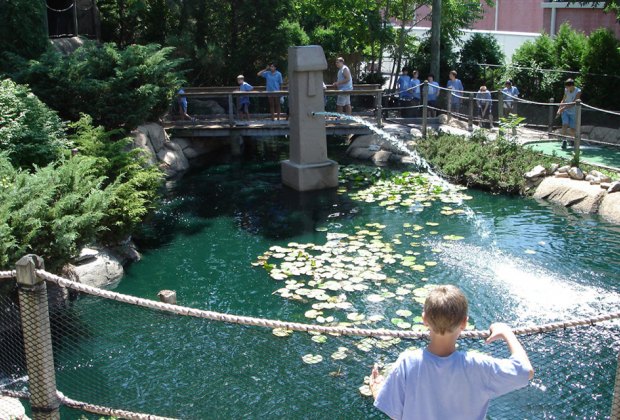 Enjoy mini golf at Tiki Action Park. Just beware of the pond in the center of the course.
Tiki Action Park — Centereach
​Open March through November or December
Say aloha to a fun-filled day at Tiki Action Park, where your family can enjoy Hawaiian-inspired mini-golf, complete with waterfalls, caves, streams, Hawaiian music, and a 10-foot tiki fountain. There is a thrilling go-kart track, Mission Impassable laser maze, and a flashy 50-game arcade that offers two-for-Tiki Tuesdays. The park is available for birthday parties and other catered events, including after-prom parties and corporate outings. There's an ice cream and snack bar and a gift shop stocked with Tiki-inspired apparel and collectibles.
A version of this article was originally posted in 2014.
Unless noted, photos are courtesy of the parks.