What's Open on Christmas Day on Long Island: 12 Things To Do with Kids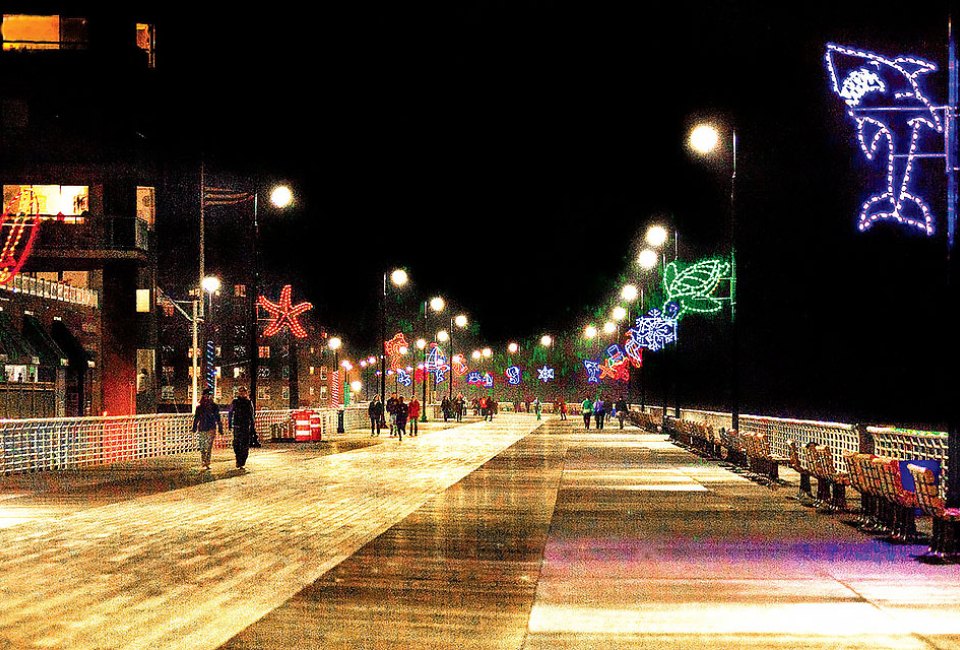 12/19/22
- By
Felissa Allard
Looking for fun things to do as a family after opening gifts on Christmas Day on Long Island, or perhaps you are not celebrating and wondering what is open on Christmas Day, Sunday, December 25? While many businesses are closed, there are a few kid-friendly destinations open, plus plenty of holiday activities, both indoors and out, to keep the group entertained. In fact, we've rounded up 12 activities the whole family can enjoy on Christmas Day.
For more seasonal fun, be sure to check out our Long Island Family Activity Calendar and our Holiday Fun Guide for Long Island kids. Plus, we have our best bets for things to do over the school vacation.
Subscribe to our newsletters to get stories like this delivered directly to your inbox.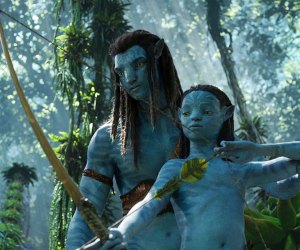 Go see the long-awaited blockbuster Avatar: Way of Water. Photo courtesy 20th Century Studios
Things To Do Christmas Day on Long Island
1. See a Movie
The long-awaited sequel to the first Avatar movie, Avatar: Way of Water was released over the weekend and is a good bet for teens and older. Families with younger kids can catch Puss in Boots: The Last Wish, which hails from the Shrek universe. Cinema Arts Centre in Huntingdon is showing Tim Burton's The Nightmare Before Christmas at noon too!
2. Lace Up Your Ice Skates
What could be better than racing around the ice at one of Long Island's indoor or outdoor ice skating rinks? Some rinks, including the Port Washington Skating Center are open on Christmas Day. Check with each venue for exact hours.
3. Stroll the Boardwalk
Who says the beaches are only for the summer? Long Beach's Boardwalk Lights make for a charming ending to the say of celebrations and illuminate from 5-9pm on the holiday.
RELATED: Free Holiday and Christmas Events on Long Island

The King Avenue Dancing Lights in Selden are a delight. Photo by James Stephen Smith
4. Check Out Holiday Light Displays
Gazing at the beautiful holiday lights displays on Long Island is a favorite holiday tradition, whether you celebrate Christmas or not. Choose from among the many planned professional holiday light displays, or take a tour to see the spectacular lights adorning the holiday homes around LI.
5. Take a Hike
Prefer to get out earlier in the day? Bundle up the kids and enjoy the great outdoors on a winter walk. Whether you're in Nassau, Suffolk, or on the East End, these family-friendly hikes help you burn some calories after the big feast.
6. Make It a Family Day
Tackle something on our list of 100 things to do on Long Island with kids, play board games, or make a family craft project with one of these dozens of DIY ideas.
RELATED: See the Iconic Christmas Window Displays in Manhattan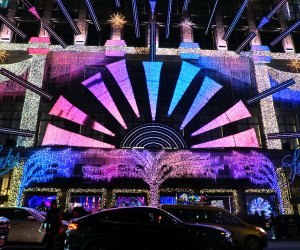 Gaze in awe at the decorated holiday windows in Manhattan. Photo by Jody Mercier
7. Day Trip Into NYC
Is there a place more magical at Christmas than Manhattan? Take a quiet but festive holiday walk, or a visit to one of these NYC hot spots that remain open on the holiday, including theaters and museums. You can even check something off our holiday bucket list for Christmas in NYC!
8. Go Bowling
Many of the area's bowling alleys are open, perhaps on an abbreviated schedule. Call ahead for lanes in Nassau County and Suffolk County to see what is open near you.
9. Enjoy Dinner Out
There are several Long Island restaurants open on Christmas Day, so take advantage of the chance to have someone else cook (and clean up) for you.
RELATED: Polar Express and Holiday Train Trips for Christmas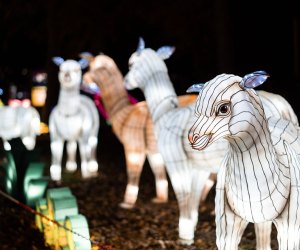 Take in the brightly lit lanterns at the New York Winter Lantern Festival in Suffolk County. Photo courtesy of the festival
1o. See Lanterns Light Up the Night
Come nightfall, why not check out one of the light festivals currently illuminating Long Island.
11. Volunteer
It's the season for giving, so why not give a bit of your time to those less fortunate by volunteering on Christmas Day? You can adopt a family for the season, donate toys, or perhaps work in a soup kitchen on Christmas Day.
12. Groove and Glide
United Skates is holding a special Christmas Day hip-hop skate, running from 7pm-10pm. Tickets are just $12, and it's best to purchase in advance. Admission includes skate rental. Spectators can attend for just $6.
A version of this post was first published in 2016.
Sign up for the Mommy Poppins Newsletter today!