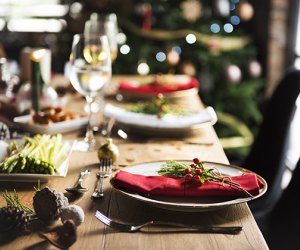 Long Island Restaurants Open on Christmas Eve & Day 2019
Cooking for the holidays can be stressful for even the most seasoned host. It can be a lot less fun if you're in the kitchen while the rest of the family is celebrating.
If you'd rather enjoy a meal out than spend hours preparing one, some Long Island restaurants are open to serve dinner on Christmas Eve and Christmas Day. Some even have kid-friendly menus. So take a look at this list to see which spots have the right menu for you. When it comes to holiday dining it's best to play it safe and call ahead for reservations. For more seasonal activities and events this month, check out our holiday guide and December GoList.
Nassau
​Atlantica at The Allegria — Long Beach
80 West Broadway
(516) 992-3730
Atlantica will be open Christmas Eve and Christmas Day, but you will need a reservation. Christmas Eve, the restaurant will be closing early. A prix fixe menu will be available on Christmas Day. Menu and times will be announced after Thanksgiving.
The Carltun — East Meadow
Eisenhower Park
(516) 542-0700
The Carltun will be open on Christmas Eve after 6PM with an a la carte menu. Call for reservations.
Ciao Baby — Massapequa Park
50-74 Sunrise Highway
(516) 799-5200
This Italian eatery, which always offers large portions, will be open for Christmas Eve from 3PM-10PM. Call ahead for reservations.
RELATED: Where kids can dine with Santa on LI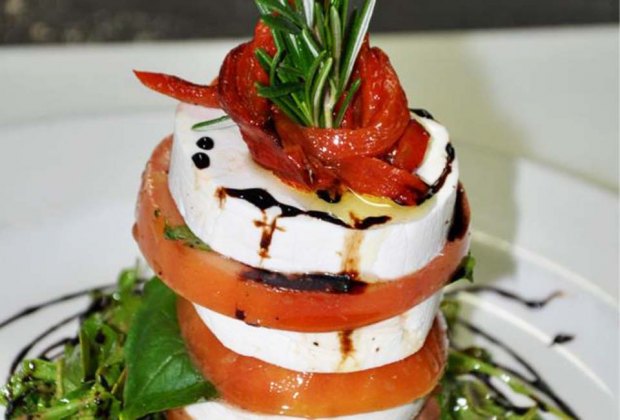 Eric's Italian Bistro offers signature specialties on Christmas Eve and Christmas Day.
Eric's Italian Bistro — Mineola
70 Old Country Road
(516) 280-5675
Eric's serves modern and classical Italian cuisine. Eric's will offer a prix fixe menu for $58.95 on both Christmas Eve and Christmas. Call ahead for reservations.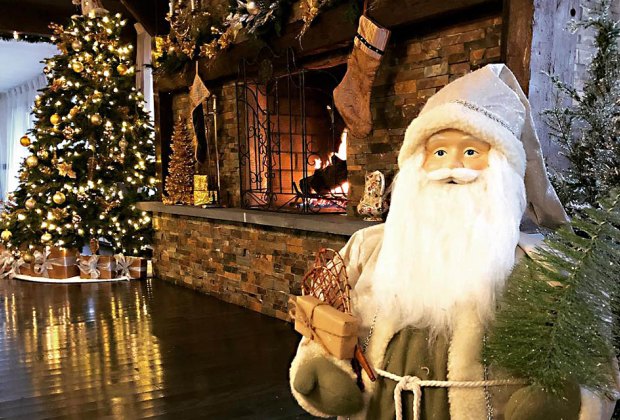 Celebrate the holidays at the beautiful Milleridge Inn.
Milleridge Inn — Jericho
585 N. Broadway
(516) 931-2201
The always festive Milleridge Inn will be open for Christmas Eve, with two options for dinner. At the Inn, from noon-7PM, it will host a lavish prix fixe dinner for $65.95 for adults and $32.95 for children ages 3-12. The menu includes turkey, pot roast and lamb shank. At the Cottage, from 3PM-7PM, there will be an extravagant buffet for $69.95 for adults and $35.95 for children ages 3-12. Featured at the extravagant buffet will be a Feast of the Seven Fishes, including a seafood display and a carving station, as well as a children's corner.
RELATED: Long Island homes decorated for the holidays
Morton's — Great Neck
777 Northern Blvd.
(516) 498-2950
Celebrate Christmas Eve and Day at Morton's, a legendary national steakhouse chain.
Suffolk
Bonwit Inn — Commack
1 Vanderbilt Motor Parkway
(631) 499-2068
The Bonwit Inn will be open with a special menu for Christmas Eve.
Desmond's at East Wind — Wading River
5720 Route 25A
(631) 929-3500
Celebrate Christmas Eve with the family at Desmond's. The three-course prix fixe menu is available from 4PMm-9PM for $44.95 a person. From the rib eye to the short ribs and red snapper scampi to sea scallops, you won't leave hungry. A separate children's menu is available.
Jewel — Melville
400 Broadhollow Road ­(Route 110)
(631) 755-5777
Enjoy a prix fixe dinner (price to be announced) on Christmas Eve from 4PM-9PM.
Lombardi's On the Bay — Patchogue
600 South Ocean Ave.
(631) 654-8970
Enjoy a buffet dinner on Christmas Eve. With six seatings, guests can enjoy a Tuscan table, a pasta station, a holiday seafood salad, and a carving station, as well as hot gourmet dishes. There is also a kids' station available. Dessert includes an ice cream bar. Adult tickets are $59.95; children 10 and under are $39. Call for reservations.
Prime — Huntington
117 New York Ave.
(631) 385-1515
The restaurant's regular menu is available on Christmas Eve, as well as specials to be announced. Call to make a reservation.
RELATED: A dozen great things to do with kids on Long Island during the holidays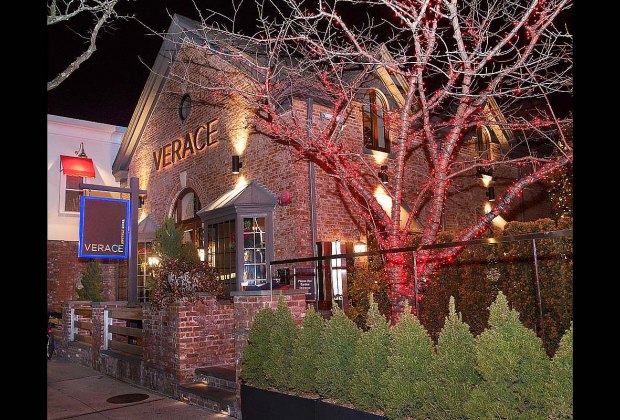 Verace offers a traditional Italian menu in an inviting setting in downtown Islip.
Verace — Islip
599 Main St.
(631) 277-3800
Verace, an Italian restaurant, will be open Christmas Eve. Menu and pricing will be announced at a later date. Call for reservations.
Wave Seafood Kitchen at Danford's Hotel and Marina — Port Jefferson
25 East Broadway
(631) 928-5200 ext. 150
Visit Wave on Christmas Eve for a prix fixe menu. Price is $69.95. The Christmas Day buffet is $58.95 for adults, $24.95 for children 4 to 12. Children 3 and younger are free. Call ahead for a seating time.
RELATED: Spectacular holiday lights displays on Long Island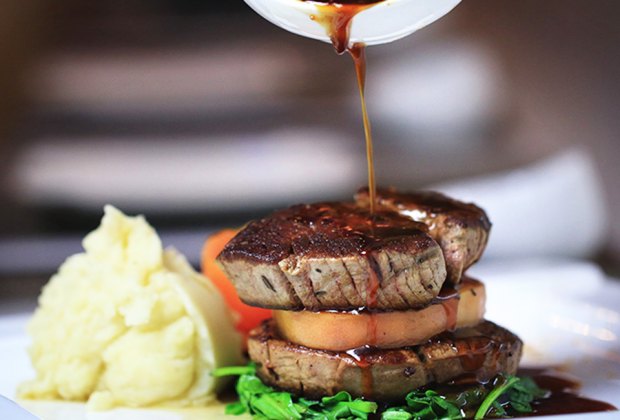 Kid-friendly 110 Japan Sushi Lounge offers steak with a Japanese twist.
110 Japan Sushi Lounge — Huntington Station
179 Walt Whitman Road
(631) 673-5888
This Japanese steakhouse is taking reservations for Christmas Eve and Christmas Day for its hibachi grills, table seating, and sushi bar. The regular menu is available, as well as a prix fixe menu. It is kid-friendly and perfect for large groups.
East End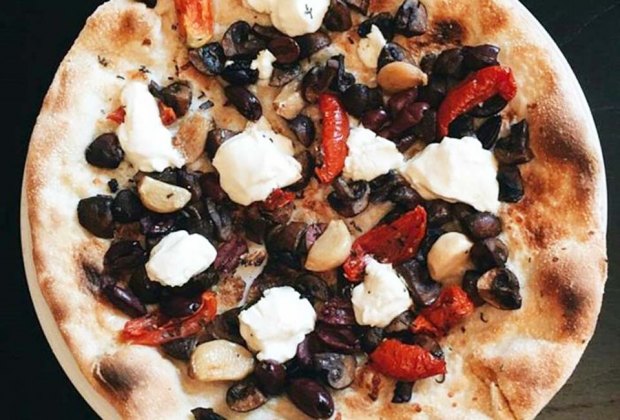 aMano brings a hint of the Tuscan countryside to Mattituck, using ingredients sourced from local farms.
aMano — Mattituck
13550 Main Road
(631) 298-4800
aMano brings Tuscan tradition to the North Fork, and is open Christmas Eve. There will be a prix fixe menu, as well as a "Feast of the Seven Fishes" menu, which features monkfish, branzino, squid-ink linguine, and butter-poached lobster. Reservations are required.
The Inn Spot on The Bay— Hampton Bays
32 Lighthouse Road
(631) 728-1200
A beautiful Victorian on the water, The Inn is open on Christmas Eve beginning at 5PM, and on Christmas Day from 2PM to 7PM, serving dinner. Call to make reservations.
This article was originally published in 2012. It was updated in December 2019.
Top photo via Bigstock
All other photos courtesy of the restaurants