See the Stunning Christmas Window Displays in NYC: Bloomingdales, Macy's, and More
11/29/22
- By
Jody Mercier
Few things signal the holiday season in NYC like the unveiling of the spectacular Christmas window displays at Midtown Manhattan's department stores. One of our favorite annual traditions, a holiday windows walk is a rite of the Christmas season in NYC. Below we're offering a sneak peek at the glorious Christmas window displays lighting up the city from Bloomingdale's to Macy's with Bergdorf and Saks in between. Find more stunning holiday lights displays and seasonal things to do in our Guide to Christmas and the Holidays in NYC, including a profile of American Christmas, the Westchester workshop that has a hand in mounting many of the stunning holiday decorations along Fifth Avenue.
Subscribe to our newsletters to get stories like this delivered directly to your inbox.
The crowds are definitely back in Midtown, and it's only the beginning of the holiday season—once the Rockefeller Center Christmas tree is lit, they'll only increase! Still, we enjoyed an enchanting winter walk, with few crowds, beginning our journey at Bloomingdale's, arriving right at dusk, and working our way south to Macy's, stopping along the way. The biggest crowds were at Rockefeller Center, with eyes trained on the Saks' light show, which gets a fresh new look in 2022.
RELATED: Best Holiday Lights Drive-Thrus and Christmas Light Shows near NYC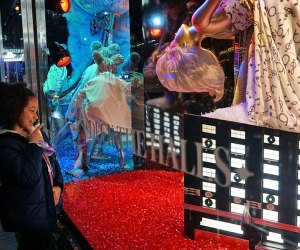 The mini Bloomingdale's model drew our eye in the series of displays that dripped with glamourous details.
Bloomingdale's 2022 Christmas Window Displays
Lexington Avenue at 59th Street
Celebrate the Best Holiday Ever with Bloomingdale's Christmas window displays. These playful scenes are meant to evoke a sense of childhood wonder with larger-than-life iterations of holiday moments. See whimsical ice skaters, a chromed-out sewing machine, an old-school camera, and a sparkly teddy bear all dancing in the brightly colored displays.
RELATED: Dyker Heights Christmas Lights: How to See the Dyker Lights with Kids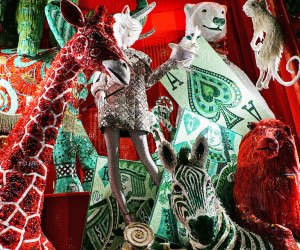 Bergdorf's ode to makers offers an eye-popping array of intricately detailed Christmas window displays.
Bergdorf Goodman's 2022 Christmas Window Displays
Fifth Avenue at 58th Street
Bergdorf's Magic in the Making holiday campaign is on full display in its exterior windows, which pay homage to makers—from scrapbookers to woodworkers, metal workers, mosaic makers, and more. We loved the intricate details in these displays, which are the result of nine months of planning. See if you can spot the papier-mache stilettos and don't forget to round the corner to catch the Alice-in-Wonderland-inspired ode to scrapbooking.
RELATED: Christmas Tree Lightings in NYC in 2022: Rockefeller Center Tree and More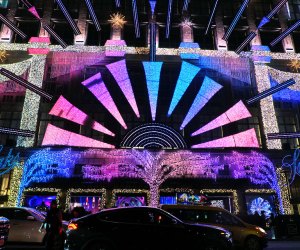 Seeing the light show at Saks is always a holiday season highlight.
Saks Fifth Avenue's 2022 Christmas Window Displays
Fifth Avenue at 50th Street
Elton John unveiled these shiny, simple windows in a star-studded performance that shut down Fifth Avenue for a serenade. There's no surprise that one display here features whimsical rockets in honor of the star. Adults will love the nostalgia of the old-school toys on display from a classic spinning top to a Viewmaster and a mesmerizing kaleidoscope. When you're done gawking at the windows, dip across the street to catch the reinvented light show, which gets a fresh look and features the music of the Rocket Man. Though its run time felt shorter, it thankfully plays more frequently!
RELATED: Rockefeller Center Tree in 2022: Tree Lighting and More Rockefeller Center Fun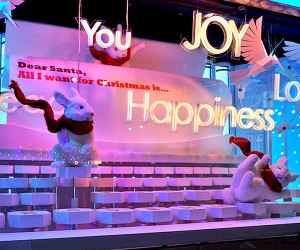 Woodland characters and Tip Toe bring plenty of holiday whimsy to the Macy's Christmas window displays.
Macy's 2022 Christmas Window Displays
34th Street at Broadway
Fresh off her jaunt down Broadway in last week's parade, the blue-hued reindeer Tip Toe has settled into the Christmas window displays at Macy's. Popping up in a series of nostalgia-inducing vignettes, Macy's celebrates togetherness in its display, which hits the right notes: The scene with hand-knit blankets transported me back to my grandma's living room of childhood Christmases past.
RELATED: NYBG Holiday Train Show 2022: What To Know Before You Go with Kids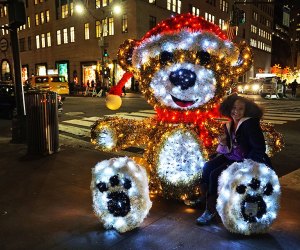 See the twinkling tinsel toys lining Fifth Avenue courtesy of the local BID.
More Spectacular Midtown Manhattan Christmas Displays
The Fifth Season
59th Street to 47th along Fifth Avenue
Fifth Avenue is again dressing up for the holiday season with a series of oversized toys twinkling along the avenue. Good news for holiday shoppers: On Sundays from December 4-December 18, Fifth Avenue for All means the avenue is closed to traffic from noon-6pm to allow shoppers time to wander the blocks car-free while enjoying special performances and peeping all the holiday displays.
The Shops at Columbus Circle
I'm a sucker for the longtime "Holiday Under the Stars" display that adorns the 150-foot-tall lobby at this towering development. The light-and-music display is even stunning in the daylight and makes a beautiful backdrop for the seasonal Broadway Under the Stars performances on Wednesday evenings through December 14.
Hudson Yards
34th Street at 11th Avenue
More than 2 million twinkling lights have been installed throughout the Hudson Yards complex, both indoors and out. Even the Vessel is lit up like a Christmas tree.
Louis Vuitton Flagship Store
57th Street at Fifth Avenue
The towering, 12-story-tall Christmas tree wrapping the facade of this Fifth Avenue showpiece returns for the 2022 season. Admire it from afar and then step closer to check out its Lego-inspired details and the accompanying Lego Christmas trees in the windows.
Originally published in 2020.
Photos by the author
Click Here to Sign Up!
i