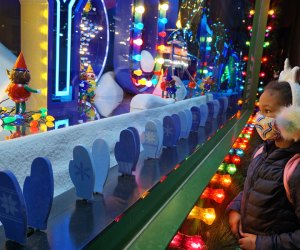 Holiday Windows Walk: See Midtown Manhattan's Iconic 2020 Christmas Displays
With the parade behind us and Santa ensconced in his (virtual) holiday home, there's no denying NYC is in the holiday spirit. Midtown's department store windows are again ablaze with festive, holiday decor, and we've got a sneak peek at some of our favorite annual holiday windows.
In a year when so many things have changed, a crisp winter walk to see these brilliant displays makes for a wonderful change of scenery, and that's one of the reasons visiting the holiday windows makes our list of must-do Christmas events.
Read on for a first look at the displays mounted by Midtown's biggest department stores, plus a few more twinkling seasonal installations that have caught our eyes. For more holiday happenings and festive fun, visit our Holiday Guide for NYC Families.
Editor's note: While we are trying to promote safer activities that occur outdoors or with social distancing guidelines in place, please keep your family and others safe by always wearing a mask and maintaining an appropriate distance.
For those nervous about trekking through Midtown Manhattan with COVID cases on the rise, we'll share that we enjoyed a relatively crowd-free walk. We began our journey at Bloomingdale's, arriving right at dusk, and walked south to Macy's, stopping along the way. The only time we felt crowds' presence was as we waited for the Saks' light show, though even there, the crowds were light, and there was plenty of distance to spread out; that may change once the Rockefeller Christmas tree is lit.

Bloomingdale's holiday windows showcase a happy rainbow full of displays inviting visitors to "Give Happy" this holiday season.
Bloomingdale's 2020 Holiday Windows
Lexington Avenue at 59th Street
Bloomingdale's holiday season campaign is "Give Happy," and the windows are an apt display of the emotion, coming to life in a rainbow of colors. From a green-hued, teddy bear filled display to a glitzy, glamorous, and bejeweled yellow heart-eye emoji, they're over-the-top fun. While interactive displays have long been a staple here and at Macy's, they've had to adapt given the pandemic. Gone is the usual karaoke window on Third Avenue with its high-touch microphones, though in-store visitors are invited to Share Your Happy Face at kiosks throughout the store for a chance to be livestreamed onto a window outside.
RELATED: Drive-Thru Holiday Lights Displays Near NYC

Find "joy" and more at the Bergdorf Goodman holiday window displays.
Bergdorf Goodman's 2020 Holiday Windows
Fifth Avenue at 58th Street
Taking on a "Bergdorf Goodness" theme, Bergdorf's windows manage to be both simple and stunning. Gazing into each of the windows is almost like looking through a kaleidoscope. Each of the 10 windows highlights a different theme—joy, goodness, unity, peace, hope, harmony, and more—in a sparkling combination of metallic and lights.
RELATED: Dyker Heights Christmas Lights in 2020: How to See the Displays

Saks Fifth Avenue's holiday windows celebrate the diversity of NYC and its seasonal celebrations.
Saks Fifth Avenue's 2020 Holiday Windows
Fifth Avenue at 50th Street
Saks' "This Is How We Celebrate" windows pay homage to the diversity of holiday celebrations by highlighting the diversity of the city the store calls home. Each window puts the spotlight on a different neighborhood, bringing to life the city streets in a compact form. We loved the reincarnation of the Roosevelt Island tram swaying gently over the East River and the miniature version of another holiday classic, the Dyker Lights. The popular light show returns, too, running every 10 minutes after dark. A series of livestreamed lightings occur throughout the holiday season, with celebrities stepping into one of the windows to flip the switch on select evenings, and they can be watched on the Saks holiday website.

Macy's says "thank you" with its holiday windows—to first responders and everyday New Yorkers.
Macy's 2020 Holiday Windows
34th Street at Broadway
Macy's windows theme, "Give, Love, Believe," is an endearing love letter to the city, its first responders, and everyday New Yorkers who have endured so much this year. In one window, "thank you" is spelled out in seven different languages. In another, the store invites visitors to "Believe in ... love, Santa, and equality." Clapping gloves add a touch of whimsy. You'll recognize characters from the iconic parade, too. We also loved the social distancing stickers here that reminded visitors to "stand a reindeer's distance apart."
RELATED: Must-do Holiday and Christmas Events in 2020

The Lotte New York Palace has a stunning Christmas tree in its courtyard.
More Spectacular Midtown Holiday Displays to See
Lotte New York Palace Tree
51st Street at Madison Avenue
This towering tree, located in the courtyard of the Midtown hotel, is a stunner. It gets less fanfare than it's neighbor in Rockefeller Plaza, and also fewer crowds. It's arguably a better backdrop for an only-in-NY holiday photo.
Pulitzer Fountain
59th Street at Fifth Avenue
Sitting in the shadow of The Plaza Hotel, there may not be any water flowing from this fountain, but there's plenty of festive spirit. Light sprays from the top, and glittering, oversized ornaments, plus a forest of white-lit Christmas trees, draws you in.
Hudson Yards
34th Street at 11th Avenue
More than 2 million twinkling lights have been installed throughout the Hudson Yards complex, both indoors and out. Even the Vessel is lit up like a Christmas tree.
Empire State Building
34th Street at Fifth Avenue
Lego Star Wars fans can appreciate the holiday window displays at the Empire State Building, which feature completed models of the At-At, X-Wing Fighters, and more. The Empire State Building is also celebrating by offering holiday-themed family portraits on its grand staircase, with a red-and-green lit model of the landmark in the background if you visit the observatory during the holiday season.
All photos by the author